When beloved history professor Robert Greene died in December, students and faculty alike grieved not only the loss of a remarkable friend and teacher, but also the Russian history classes he taught. 
"He was like a genius, and I always heard the best thing about his classes, and I really wanted to take his Soviet-era history class," said Maddie Hagan, a junior studying history and philosophy at the University of Montana. 
Now, Hagan won't get the chance; not only because Greene is gone, but because his position isn't being filled. Hagan had friends who had religiously enrolled in all his classes, from Imperial Russia to the Russian Revolution. But the popular Russian history classes might not be taught again. 
UM's declining enrollment has caused smaller programs like history and philosophy to cut funding, and oftentimes, faculty positions. Since 2017, UM has had a 13% decline in faculty — sometimes from layoffs, but often from leaving retired faculty positions unfilled.
As a result, programs and classes around campus have been cut, leaving students with fewer options to complete degree requirements. 
Hagan has been frustrated to see her academic options dwindle as important programs, faculty and classes are cut. Next semester, she has the choice between only three upper division electives for her philosophy major. With only eight courses on the syllabi for this semester, philosophy course offerings have been more than halved since 2011, the peak of UM's enrollment. 
"There's great students and great faculty and a great academic environment in history and philosophy, and in the humanities in general, and I don't think it gets the attention it deserves," Hagan said. 
In her three years at UM, Hagan has witnessed declining enrollment empty entire floors of residence halls, and felt the undercurrent of fear among faculty as budgets were slashed. Then, the global pandemic upended everyone's way of life. 
Hagan is one of only 9,500 students enrolled at the University of Montana this semester. After a decade-long decline in enrollment closed with a pandemic that has caused higher education institutions everywhere to struggle, UM is grasping at ways to reach new students and keep current ones. 
The numbers paint a grim picture. 
In that decade, UM lost 39% of its students and around 20% of its budget. Enrollment dropped below 10,000 students for the first time in 30 years. And in the last year alone, UM lost more than 700 students, for a 7.3% overall drop in enrollment. 
The continued decline and resulting loss of classes and faculty has lowered morale at UM. And the pandemic has worsened that blow. 
Before the pandemic, administrators — and in particular UM President Seth Bodnar — were optimistic that, this year, they'd break the downward trend. 
"If you had asked me at this time last year… I would've told you, based on the number of applications [UM had received], that our enrollment would've been up one or two percent," Bodnar said, referring to the point in 2020 just before COVID-19 hit the U.S. with force and UM lost hope for breaking the enrollment trend.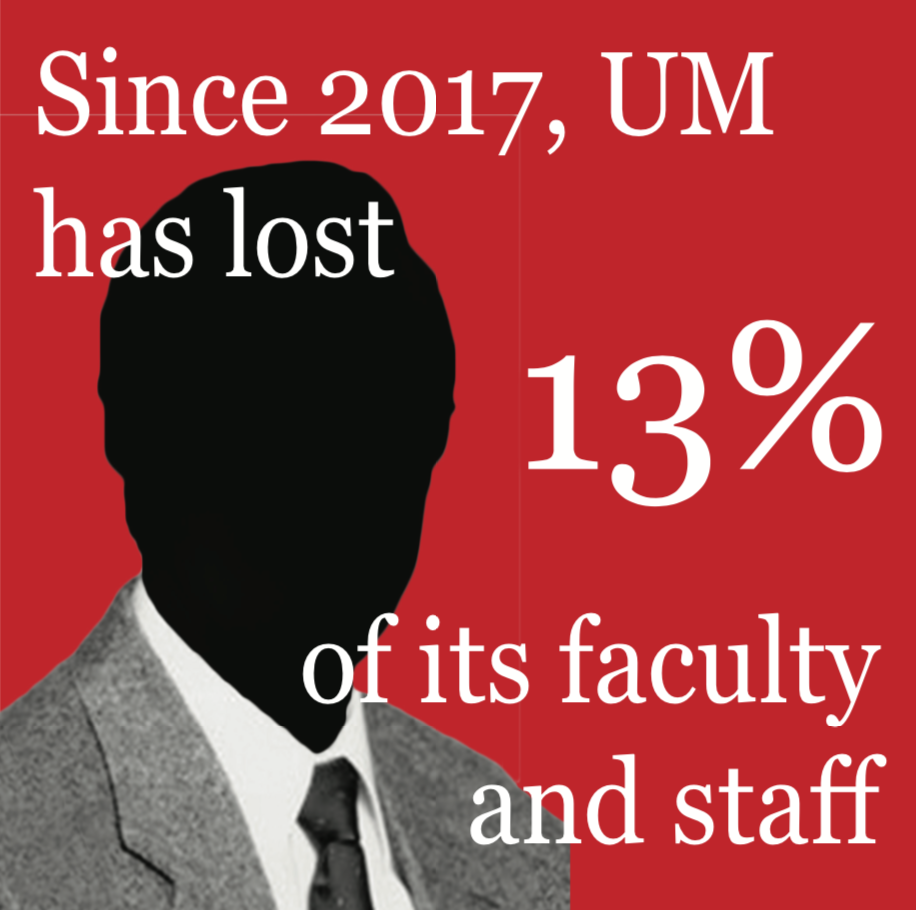 Leaders at the University have been jumping ship, with former provost Jon Harbor and former enrollment Vice President Cathy Cole both taking jobs elsewhere last summer, and multiple dean positions being replaced within the last year. 
Yet UM administrators hold onto hope that their institution will persevere through both the pandemic and the enrollment decline, emerging better off on the other end of this uncertainty. 
---
The overall decline in enrollment isn't unique to UM. According to a Statista report, overall enrollment in public colleges across the United States peaked at just over 15 million in 2010 and 2011, similar to UM's 2011 peak. Since then, overall enrollment has declined nationally, though not as drastically as it has at UM. 
Last year, though, the COVID-19 pandemic took a significant toll on higher education across the board. The National Student Clearinghouse Research Center  found that from fall 2019 to fall 2020, U.S. colleges and universities saw an overall 3.3% decline in enrollment; with a 4.4% decrease in undergraduate enrollment and a 13% decrease in freshmen enrollment. That's compared to UM's overall decline of 7.3%, undergrad decline of 7.5% and freshmen drop of 9.1%.
The study found that high school graduates were more likely not to enroll in colleges or universities right out of high school after COVID-19 shut down much of the world. 
Mary Kreta, UM's associate vice president of enrollment, said over the span of a three year average (from 2018-2021), applications have been up 41% and admitted students are up by 50%. The numbers were promising, and hopes of increased enrollment were high last year. 
But when the pandemic arrived, hopes of reversing the enrollment trend quickly dissipated. 
Two-year colleges, like UM's Missoula College, were also hit disproportionately by the pandemic. According to the National Student Clearinghouse, public two-year colleges' enrollment dropped by 9.5% from 2019 to 2020. 
"We do have a lot of students who are parents. We have a lot of students that may have more difficulties learning in a remote environment," Dean Thomas Gallagher of Missoula College said. "I know we're really concerned for a lot of our students, because there are a lot of issues resulting from isolation and perhaps depression and emotional issues that come along with that. So we've seen, as a result, we've seen some significant declines in our enrollment."
Missoula College saw an increase in enrollment in 2019, but lost that progress after the pandemic, with a sharp 21.1% decrease from spring 2020 to spring 2021. 
Gallagher said the numbers aren't good, but that the college has managed to maintain all its programs and reduce costs by limiting the number of course sections. 
Other UM colleges have had to get crafty with budget reductions over the years as well. 
Alan Townsend, dean of the W.A. Franke College of Forestry and Conservation, said his college has absorbed some cuts over the years, though projections for next semester's enrollment in the college are strong and research opportunities remain abundant. 
Dean Timothy Nichols of the Davidson Honors College said the college has had an 11% reduction in budget, but has had significant support from donors. Still, the college has had to absorb multiple small Intro to Honors classes, a special feature in the college praised for its typically small size, into one large class, and cut a position after a staff member left. 
Dean Barry Brown of libraries said the Mansfield Library has seen a budget reduction of 33% over eight years and 12% from 2020 to 2021. He said they've cut library staff, faculty and student employees over the years and canceled a lot of library collections. 
Even colleges that haven't had to deal with major budget cuts, like the College of Business, College of Arts and Media and the Alexander Blewett III School of Law, have had to cut faculty numbers down. 
"It's time to think creatively to reimagine, reinvent and rebuild our academic and creative enterprises toward relevance, renewed excellence, and radical inclusion," College of Arts and Media Dean Laurie Baefsky stated in an email. "Who better than [the College of] Arts and Media to inventively disrupt existing narrative of 'how things are done,' and invent new pathways in educating and preparing our next generation of creatives? We're ready for the challenge."
---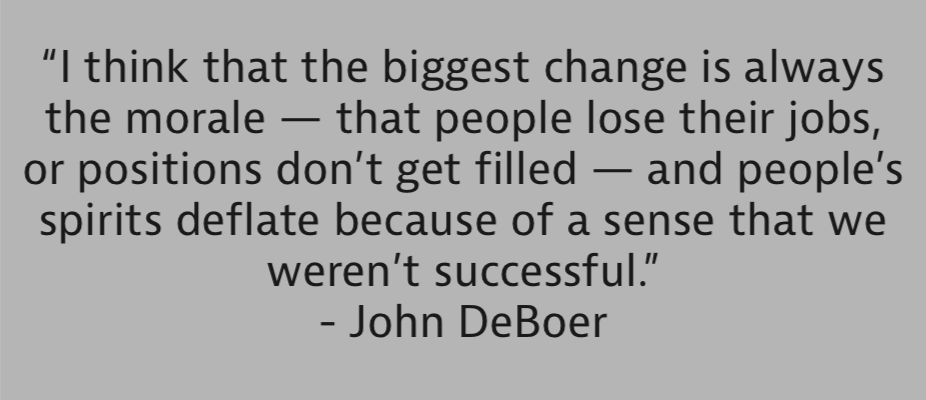 When Professor of Theater John DeBoer began teaching at UM in 2008, he was bubbling with enthusiasm and youthful optimism, much like the more than 14,000 students he shared campus with at the time. Eventually, he'd become an interim dean of an entire college. But until then, he was just excited to be teaching what he loved.
"I was so bright-eyed and bushy-tailed when I got here," DeBoer said. "I mean, it was a big old playground."
He said even when enrollment was at its all time peak, with nearly 16,000 students in 2011, the arts always had to find ways to stretch a dollar. Funding productions and projects can be spendy, but he said he never felt the arts were being slighted or underfunded. 
"Things changed, and we didn't do a good job of aligning ourselves with the new world, of what Montana students were expecting from recruitment, what students nationally were expecting from recruitment," DeBoer said.
He watched over the years as enrollment ticked down, first dropping below 15,000. And then the numbers fell just under 14,000 in 2014, and below 13, then 12 and 11. And then, finally, sinking under 10,000 in the first year of the new decade. But DeBoer doesn't like to think of enrollment as the benchmark for success. 
"I think that the biggest change is always the morale — that people lose their jobs, or positions don't get filled — and people's spirits deflate because of a sense that we weren't successful," DeBoer said. "And yet the small victories of the students that we're working with, the productions that we're putting on, the art that we're making, those feel better than ever."
DeBoer found the strong connections formed between professors and students remained stronger than ever.
Over the years, he faced the increasingly difficult experience of watching as his colleagues lost their jobs. In 2019, he was put in the position to make the cuts himself, when he was appointed interim dean of the College of Arts and Media — the newly established college that joined the School of Journalism, media arts, and visual and performing arts.
"Intellectually, you can process it as necessary. Emotionally, it's devastating," DeBoer said. "You have to continually acknowledge the humanity of the situation and not just brush it off as, 'well, we had to make a decision and we made it.'"
DeBoer stepped back into his professor role once Dean Laurie Baefsky was hired in fall 2020. 
He said he missed the time he had as a professor, teaching and creating art, though he can now empathize with authority when they have to make tough calls. 
"Every hard decision has its own unique details that informed the decision making process, and so you know ones that are entirely financial are really difficult. Because they're not based on performance, and they can make you really sad," DeBoer said. "But you have to live with that sadness. Part of being a leader is being open to being a little bit humble and a little bit vulnerable."
The continued drop in student enrollment created the budget issues that have led to cuts. While 40% of the University's budget comes from state funding, the other 60% comes from student tuition and fees, said Dave Kuntz, UM's director of strategic communication. So, when more than a third of students are lost over a decade, a lot of money is lost too. 
In the last year alone, the budget, at $126 million, decreased by 4.6% and almost 70 faculty and staff positions were cut. 
Kuntz said staff cuts are made in an effort to protect "academic excellence." And funding priority was given to departments with higher enrollment rates. Those decisions were never easy to make, though. 
Kuntz agreed that enrollment has made a direct blow to campus morale. 
"But I'll also say many folks on this campus are motivated by the mission to serve students, and continue to do so with this trend happening the way it is," Kuntz said.  
---

UM's Acting Provost Reed Humphrey has been at the University for 15 years. He was named acting provost after Jon Harbor left the position to take a job at Purdue Global University, Purdue's online school, in the summer.
"I've experienced a really stable University and I've been experiencing the decline at UM along with everybody else," Humphrey said. "The enrollment decline affects everybody, right? I mean, it's affected faculty, it affects staff. And it certainly affects our ability to deliver the kind of academic program that we would prefer to deliver."
Humphrey said he thought one of the core problems of enrollment decline is the perception the trend gives the University. He said the drop can lead people to believe there's a problem with UM's academics or campus life, which he said are both still top-notch. Though he said without careful planning, resources could become constrained and take a toll on those important aspects of University life. 
Another misconception, he said, is that the high overturn in leadership is a bad thing. 
"Change in leadership can be healthy," Humphrey said. "There's a balance there, right? It can be perceived as unhealthy, but inviting individuals into Missoula and into this campus environment can likewise bring new ideas. And this is a campus, like any campus, that is healthiest when it has refreshed ideas."
Humphrey will likely hold the acting provost position for the next couple of years, until administrators can conduct a thorough candidate search when the pandemic is over. 
Another new administrator is Mary Kreta, the associate vice president of enrollment who took over after Cathy Cole left the position to work at a small college in Iowa. 
Kreta has already started working toward refining recruitment strategies at UM, by improving communication with potential students and providing them with personalized interaction. 
For example, she said UM sends out email reminders for things like scholarship deadlines, and matches every student who tours UM with a faculty member from the department they're interested in for a conversation. They're also developing a text message program, increasing digital marketing and making phone calls to potential students. 
"I wanted to make a difference, and I felt the University of Montana was the best use of my skill set," Kreta said. "Because you have an incredible University that serves the state very well, and a campus community that is ready to roll up their sleeves and do the hard work." 
Another big part of recruitment strategies is trying to share UM's strengths; whether that be faculty-student interactions, research opportunities, or the incredible access to the outdoors afforded by Missoula. 
"We have a great education here that frankly we haven't done, and hadn't done in the past, as good a job telling students about," Bodnar said. "And so of course when I joined we said 'we're going to focus on that,' but almost more importantly I think we have an obligation for the students that come here to do everything we can to help them and support them in persisting and succeeding in higher rates."
A bright spot in enrollment is that retention rates, or the number of students who continue to enroll from semester to semester, were up to 88% from fall to spring this year. 
"Which means more students who come here are persisting and succeeding at higher rates, and that's incredibly important, and we're working to continue that growth," Bodnar said. "The pandemic obviously creates some challenges, but that's really important to me that the students who come here, they persist and they succeed to graduation, and we're making great progress there." 
Native American student enrollment also rose by 20.3% from spring 2020 to spring 2021, compared to national averages that show the demographic as having the largest decrease overall. 
Bodnar said having better outreach to Native American students was one of his priorities and he's happy to see its success. 
---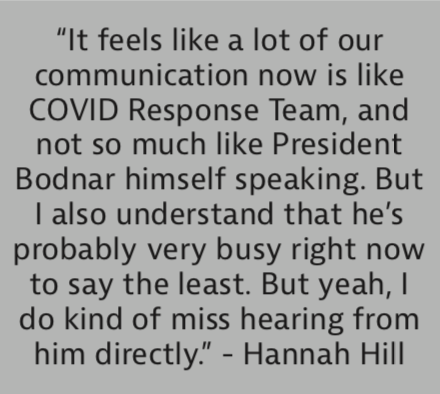 Hannah Hill, a student studying wildlife biology and ecosystem science and restoration, is aware of enrollment decline and wants to help change it. 
The sophomore from Nevada fell in love with the University's atmosphere on her college tour and now wants to provide that experience to new potential students. She joined the Advocates, the student group that runs tours, and became a tour guide herself. 
She recently gave her first campus tour, and despite the nerves, enjoyed telling the potential future freshmen about her favorite lounging spot on campus and the excitement of Griz athletic games during pre-COVID times. She hopes she sparked the same love for the campus in them that she felt on her first tour. 
Hill said the pandemic has made a lot of things more difficult, and she's aware the problem can't be fixed overnight. She feels like there's a lot of uncertainty about UM's future. She wishes there was more communication from administration across multiple platforms. She'd like to know things like what next semester will look like and when the start date will be. And even if they can't provide answers, she'd like to at least know when there will be answers. 
"It feels like a lot of our communication now is like COVID Response Team, and not so much like President Bodnar himself speaking," Hill said. "But I also understand that he's probably very busy right now to say the least. But yeah I do kind of miss hearing from him directly."
Bodnar said it's been more difficult for him to engage with students during the pandemic. 
"I've really missed that part of the job," he said. "I've missed being up in the student section for the passing out of pizzas during the third quarter of football games, or the student section at basketball games, or just walking and having lunch over at the Food Zoo and just talking to students."
Since March 2020, the Office of the President has sent out 29 emails, only 13 during this academic year, to students. Five of those emails were sent within the same fateful March week of spring break, as the University made the switch to remote learning. Since spring 2020 ended, though, there have been months-long gaps between emails from Bodnar, which are usually sent on holidays. 
In his first year as president, Bodnar sent more frequent emails. During Bodnar's first full semester as president in spring 2018, the Office of the President sent 33 emails to students, and in the fall that year he sent 17. In the fall and spring of 2019, he sent only a collective 11 emails.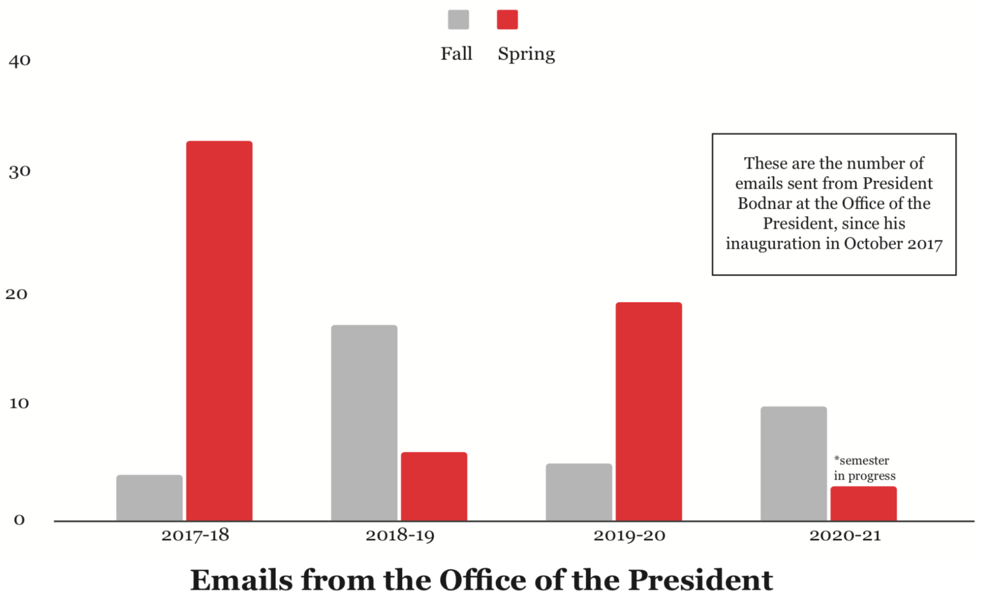 Though COVID Response Team emails, which provide in depth updates on the virus, come out weekly, there's still very little sense among students about what's happening behind the scenes at UM. 
Bodnar said he's been wondering about the best ways to communicate with students during the COVID-19 era. 
"At the beginning of this pandemic it was important, as that situation was changing pretty rapidly, to have a lot of communications from myself and my office as part of that response and as the modalities were changing," Bodnar said. "And as things have settled down, there's been less of a need for that kind of constant communication."
Hagan said she's only picked up on whispers of budget cuts and enrollment issues from faculty herself. She was shocked to learn that entire floors of dorms like Jesse Hall are completely vacant. She noticed the new coffee shop in Eck Hall last year, the renovation of the Corner Store and the ice rink installed on the Oval. 
"All of which I think are good things, but are more of a way to draw students in than benefit the students that are already here," Hagan said. 
She thinks the money should be allocated toward academics that are suffering, particularly when faculty jobs are on the line. Hagan said there's been some informal talks among history students about protesting for humanities funding if budget cuts are too large. And she said she'd organize it if it came to that. 
"It's so important that humanities are funded, especially in times of social strife, which I think that we're in. Having funding and having students and having that publicity surrounding humanities is really important," Hagan said. "And I hope that the administration recognizes that some of the best and brightest students at the University are coming from humanities and are worth supporting."