Snow sprayed under the feet of rapidly skating players as the University of Montana's hockey team took to the ice in front of 1,300 screaming fans. Party lights beamed around the rink, beanies and beer filled the stadium, fans and players alike slammed the glass barriers and the rink cat, Breezer, hid from all the noise. 
The first UM hockey game in a decade was sold out. Griz hockey merchandise quickly disappeared from a table near the front of Glacier Ice Rink. Maroon-clad fans jeered or gasped at every hit, high-fived for every save and erupted every time the puck sailed into the goal. The players chirped to the other team on the ice and slammed their sticks into the wall in front of the bench in celebration. 
A once nearly empty Glacier Ice Rink is now flooded with Griz hockey fans on Friday and Saturday nights when the new team hosts a home game. Extra bleachers for students had to be added after the first home game on Oct. 2. During the commotion in the rink, the coaches yelled through the noise and Tucker Sargent, the team's general manager, took tickets and performed other behind-the-scenes tasks.
Sargent is UM's championship-winning head lacrosse coach. As a student at UM in 2007, he was part of the Griz lacrosse team's national championship title. He was a league All-American and three time all-conference player.
As head lacrosse coach, he led his team to two national tournaments and continues to further the team with his coaching and management.  
But Sargent has a passion for hockey, too. Back in 2012 — the last time UM had a hockey team, according to Sargent — the players had to coach themseves and do their own marketing, on top of being students and athletes. Montana hockey didn't have much of a following then. 
The University of Montana was not required to make a financial commitment to the team because it was a club sport. 
On top of that, the players had to pay their own way to participate in club hockey. The Griz team couldn't keep up with all the responsibilities and fell apart. A University of Montana hockey team wouldn't emerge again until this year, when Sargent brought back Griz hockey as a club sport.
Now, Sargent markets and manages the club team, and it has accomplished coaches Mike Anderson and Will Grossmann to keep the team sharp. Sargent helps with on-ice practices as well.
Because Sargent brought Griz hockey back from its nearly decade-long hiatus, and a former Missoula-based junior hockey team gave the coaches players to recruit, the Missoula community has rallied around the team in a way that wasn't possible in 2012.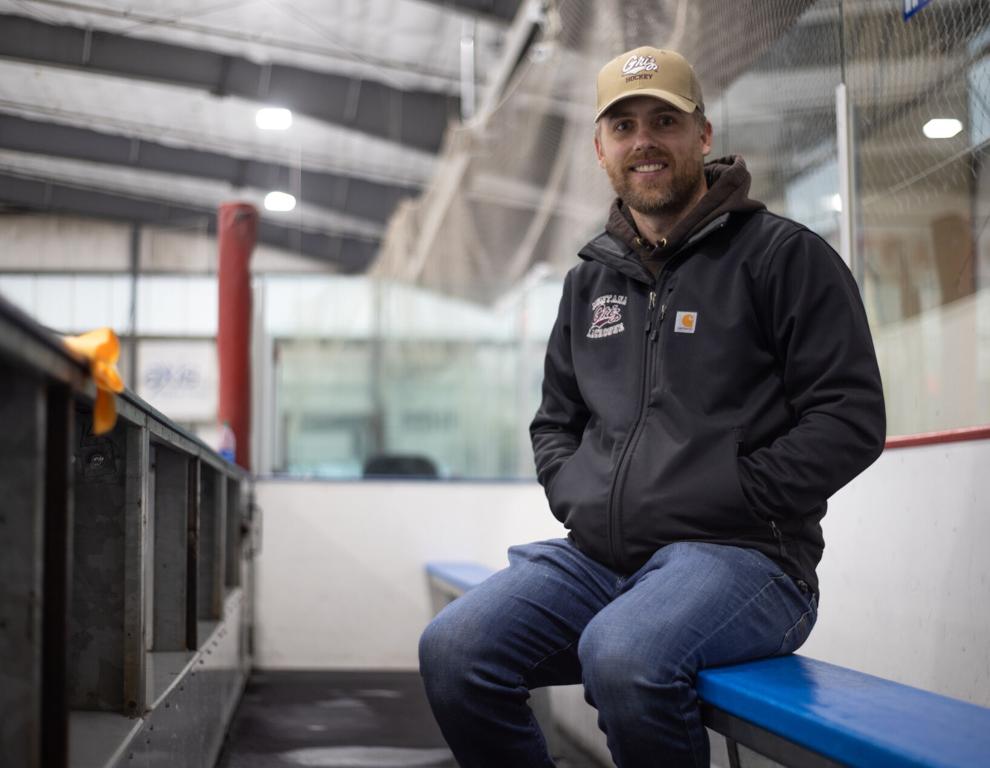 Grizzlies in Hibernation
After the loss of Griz hockey in 2012, the hockey community in Missoula saw little activity until 2016.
In 2016, the Glacier Ice Rink became home to the Missoula Jr. Bruins, a North American Tier III Junior Hockey League team. This NA3HL league is for players, typically those between high school and college, who are looking to get noticed by other coaches to further their hockey careers, or just to play hockey for a few more years. 
Junior hockey players live with "billet families" for the season — families who essentially adopt the players as their own kids. Missoula billets come to Griz games to see the players they're hosting. 
Many junior hockey players choose to go to college after they age out of the NA3HL or run out of eligible years of play, including a lot of the Missoula Jr. Bruins hockey team. 
But after struggles with funding tied to the COVID-19 pandemic, the Missoula Jr. Bruins team was sold by the owners, and it moved to South Dakota under new leadership in 2021.
Then, Sargent teamed up with the Jr. Bruins' former coaches to bring Griz hockey back. 
In February 2021, Sargent asked Jr. Bruins coaches Mike Anderson and Will Grossmann to run the new Griz hockey team, and they started recruiting players. 
Anderson, the Jr. Bruins' co-head coach, had his own college hockey career that took him from high school in Minnesota to Maine, where he played at the University of New England in Biddeford. In his home state of Minnesota, he played for the junior league Hudson Crusaders and at Saint Mary's University. Since college, Anderson has coached all levels of hockey, from 10 year olds in St. Paul, Minnesota, to college players in Missoula today.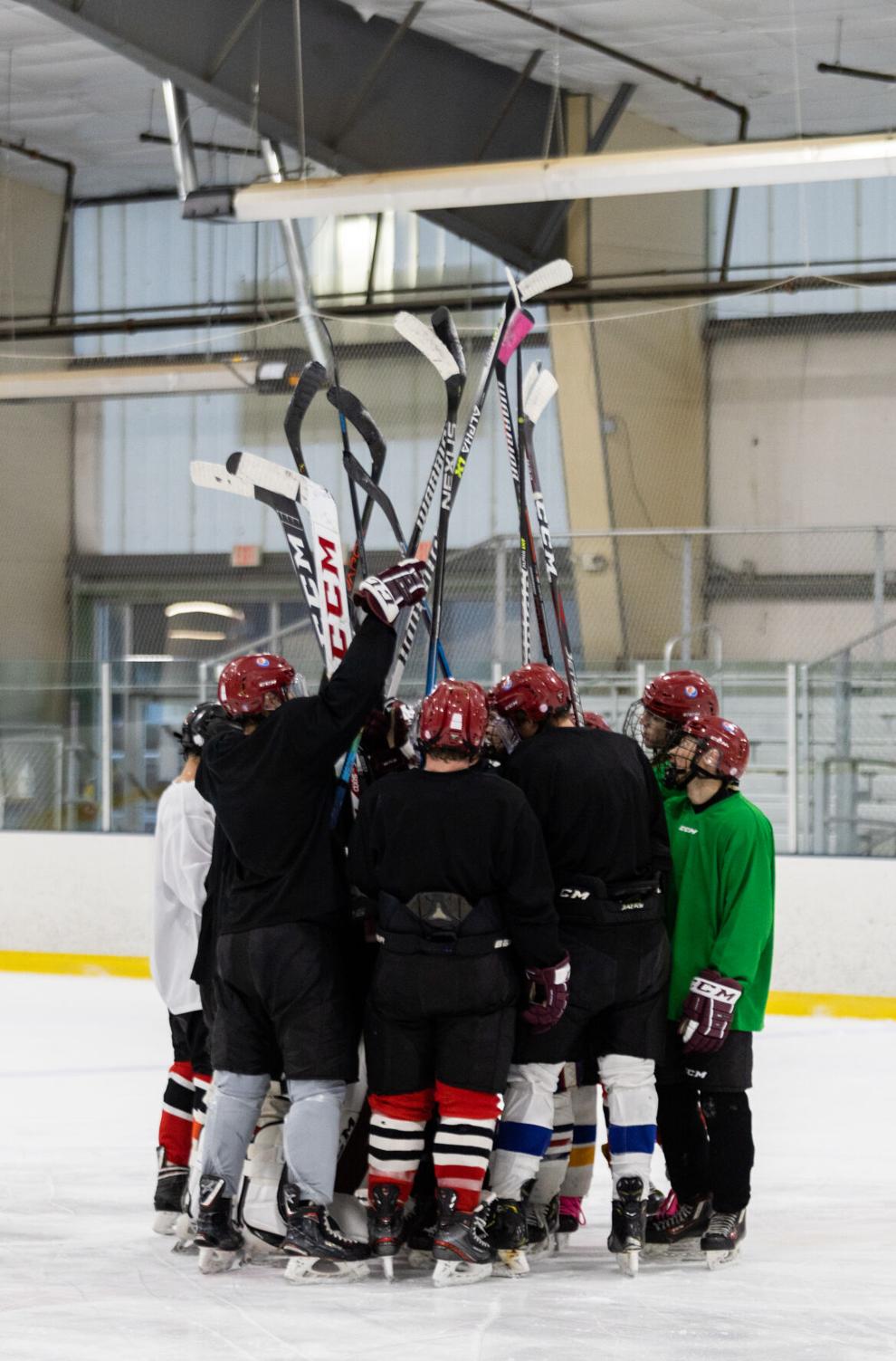 Co-head coach Grossmann has a strong background in hockey as well, in Ohio during college at the University of Toledo. His career there was cut short by his move to Missoula. He came to UM to study exercise science. Grossmann loves to help his niece with her hockey skills on the frozen ponds of Montana in the winter. He also helps with clinics and training camps, as well as working with Sargent at Hockeywolf, a local business that sells gear for the team. 
Sargent owns Hockeywolf, an equipment shop for lacrosse and hockey, in addition to his coaching job with Griz lacrosse and his new position directing the Griz hockey team.
Luckily for Sargent, Anderson and Grossmann, they had a place to start when they decided to resurrect UM hockey — recruiting former Jr. Bruins players. A few players currently on the team moved in from other NA3HL teams, but most came back to Missoula from the Jr. Bruins team.
"Once people experience Missoula, it tends to get a grip on them, and keeping them here or getting them back is a pretty easy sell," Anderson said. 
Now, Sargent markets the team and pairs with the Missoula Broadcasting Company to elevate the reputation of Griz hockey. He gets the word out for its games on radio, social media and in advertisements. The games are shown on the Griz Hockey website and broadcasted on ESPN 102.9. 
"If you want to elevate the program, you have to elevate the perception of the program first," Sargent said. "We want guys that want to be at the University of Montana, not just play hockey. We want the kids who want to be at the University of Montana for all the other reasons that Montana is awesome: the student life here, the academics, the programs that the University offers, the outdoors."
In the NA3HL, players can be traded or moved at any time, so by playing for the Griz instead, the players can form a tighter community and know that they will likely be together for the next four years.
Ty Dittman, a sophomore forward on the team from Colorado, said he enjoys being part of the hockey community in Missoula.
"It's kind of nice to have actual fans, and actually be a part of a hockey community," Dittman said.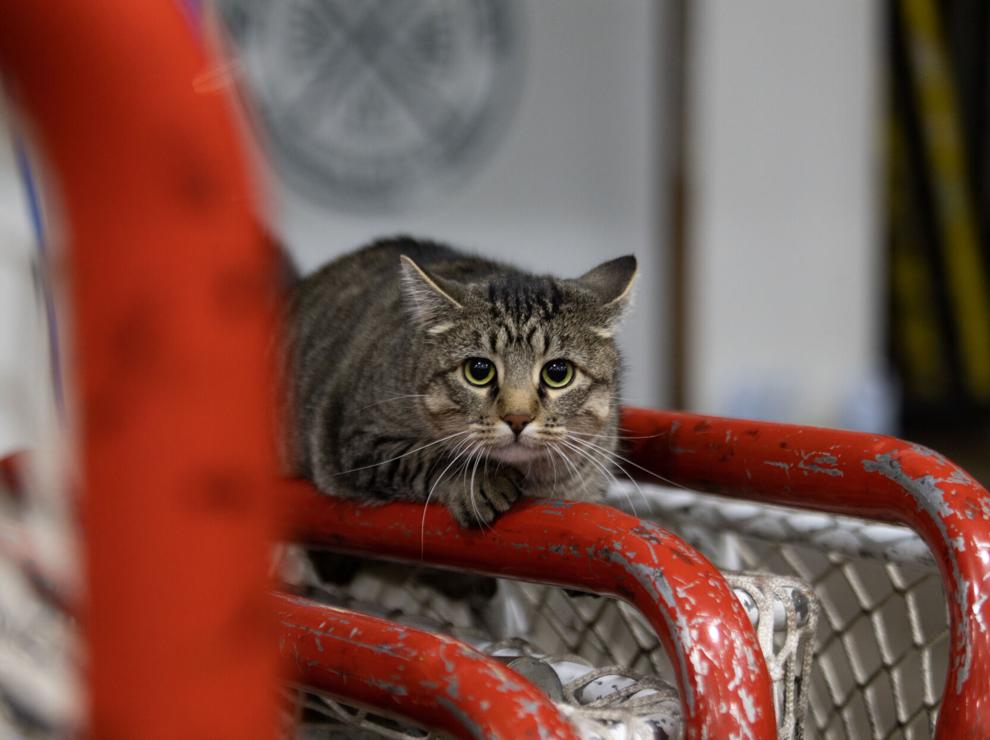 Out of the penalty box
Griz Hockey is different after its hiatus. The team has an experienced coaching staff, a dedicated manager and a fanbase that grows with every game. The team is in the midst of playing a 30-game schedule as a member of the American Collegiate Hockey Association (ACHA) against other college hockey teams. The students no longer have to take responsibility for all of the team duties and can focus on being student athletes.
Having someone proficient in marketing and running a team like Sargent gives the program a headstart on every other beginning club program. 
Sargent also focuses on growing a community with a strong emphasis on family on the lacrosse team, even inviting the players over for dinners and letting them play with his dogs. 
"Coupled with his experience, Tuck (Sargent) adds an infectious positive energy that makes you believe in what we are doing and he has really led the charge in building up the excitement and energy in the community," Anderson said. "He's just a super positive guy and we would not be a program without him." 
The players are now all University students. 
Being on the team helps players manage their time and responsibilities, according to Anderson. The players must take a certain number of credits and keep their grades up to play, even in a club sport. Anderson said he makes sure his players focus on school first, hockey second.
Sophomore defenseman Wyatt Ploot, a Dean's Leadership Scholar in the honors college at UM and a Kalispell native, said this focus on school is helpful for him. 
"It's a good break between classes," Ploot said. "I've noticed, just mentally, I can pay attention in class more and I have more energy, just because I get a break for something like this." 
Hockey is an injury-rich sport, so schedules, positions and starters are often changing. Sharp skates, big hits and a whole lot of "conkys," which is hockey speak for concussions, can take players out at any time. 
The team is also not untouched by the COVID-19 pandemic. Griz players have had COVID-19, and at times they can't make it to practice due to quarantine. An October road trip to the University of Washington had to be postponed because the Grizzlies couldn't take the chance of more players sitting out.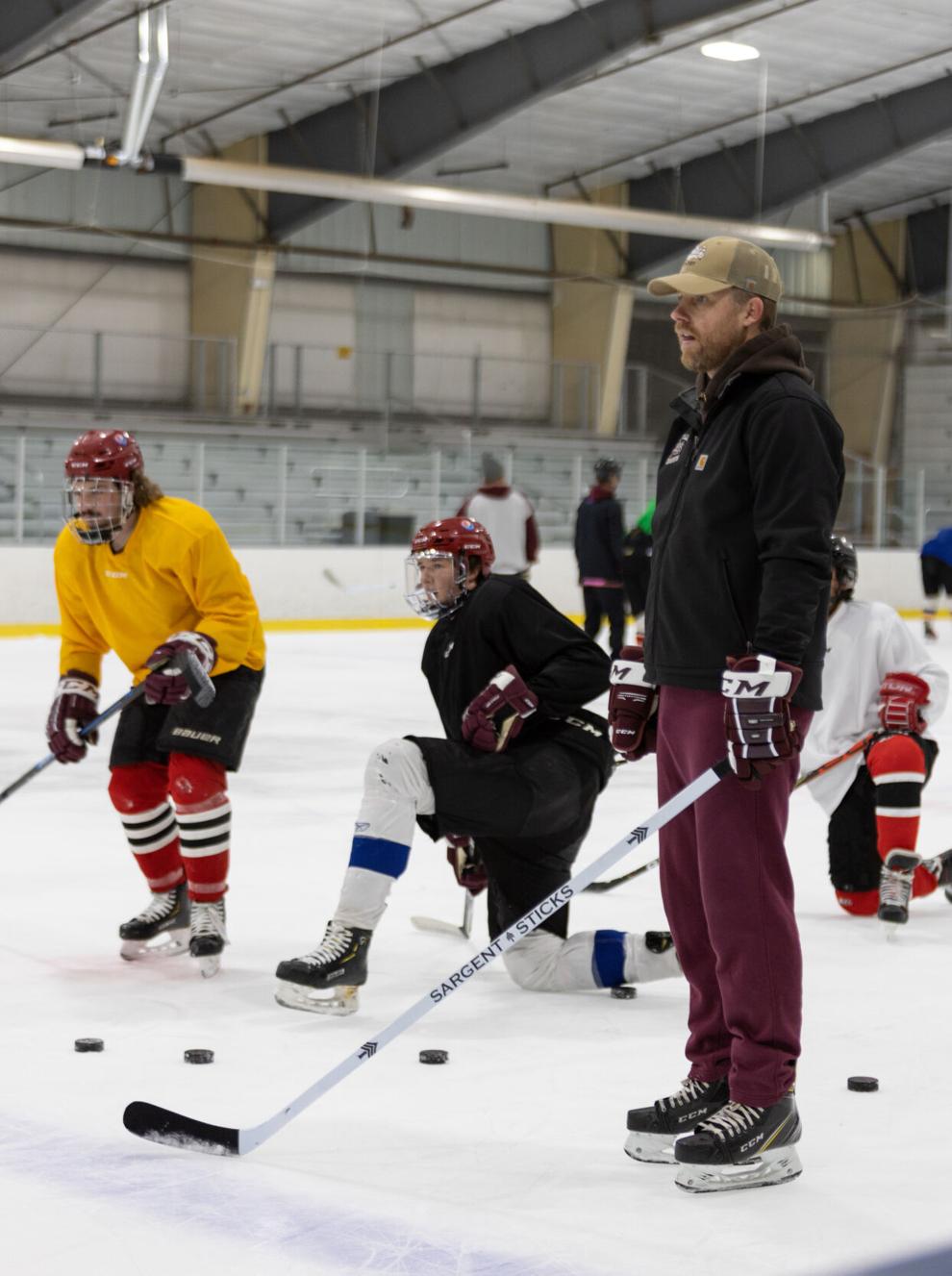 The players are from different backgrounds but quickly formed a family while working to shape this team, Sargent said. They are new to the program, come from all over the country, and span many different ages and levels of experience. Some came straight from high school, others from the Juniors league, and a few even came back after years off from high school-level hockey. Despite their differences, the team worked hard to connect and become friends on and off the ice. 
"You can talk about culture, and I think you have to talk about culture, but it takes commitment from the players to buy into it and it just takes the right guys to believe it," Sargent said. 
The Griz opened the season with four wins, two against their rival, the Montana State University Bobcats. The team lost its next three games, but is playing competitively as a first-year program. 
For the first game of the season, Sargent printed 800 tickets and was astonished when those tickets all sold and people were still flooding into Glacier Ice Rink. The first two home games broke the Glacier Ice Rink attendance record, at 1,100 and 1,300 fans. These numbers are larger than the average attendance for the last soccer and volleyball games, which averaged 451 and 1,072 fans, respectively. The team still sees less attendance than football and women's basketball, though.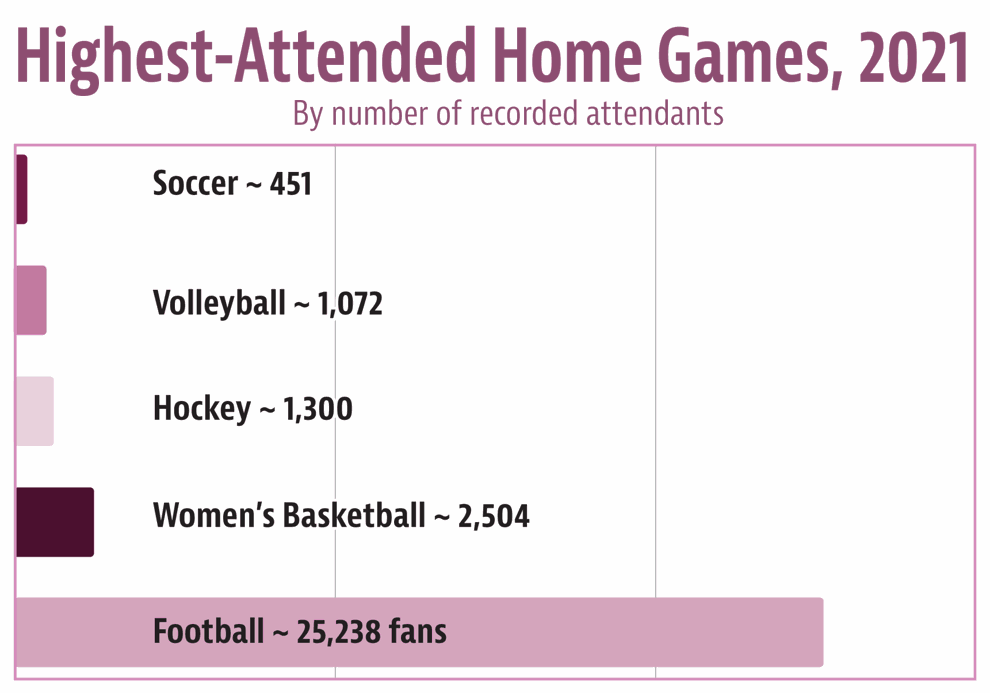 Rowdy students show up, along with avid hockey fans and old Bruins billet families. The team has gathered a steady fanbase of community members, too.  
"The team feeds off of (the community) support," Sargent said. 
Will Hays, a freshman goalie on the team, played last season with the Jr. Bruins and decided to stay in Missoula for the city and the hockey community. 
"The Griz just have a much tighter community. Like, the whole city is in on it," Hays said. 
Sargent said the team and coaches have been blown away by the backing of this hockey team in Missoula. 
"It's really fun, there's a lot of energy and there's a lot of people here. It always really surprises me," Serena Miller, a fan, said. 
The student section is filled every home game, and the University even offers a free shuttle to and from the game for students. 
"It's a very fun game; it's much faster than football, there's no stops, they get into fights, it's great." Aine Fannon, a UM student, said. "It's a little scary when the puck comes flying at you."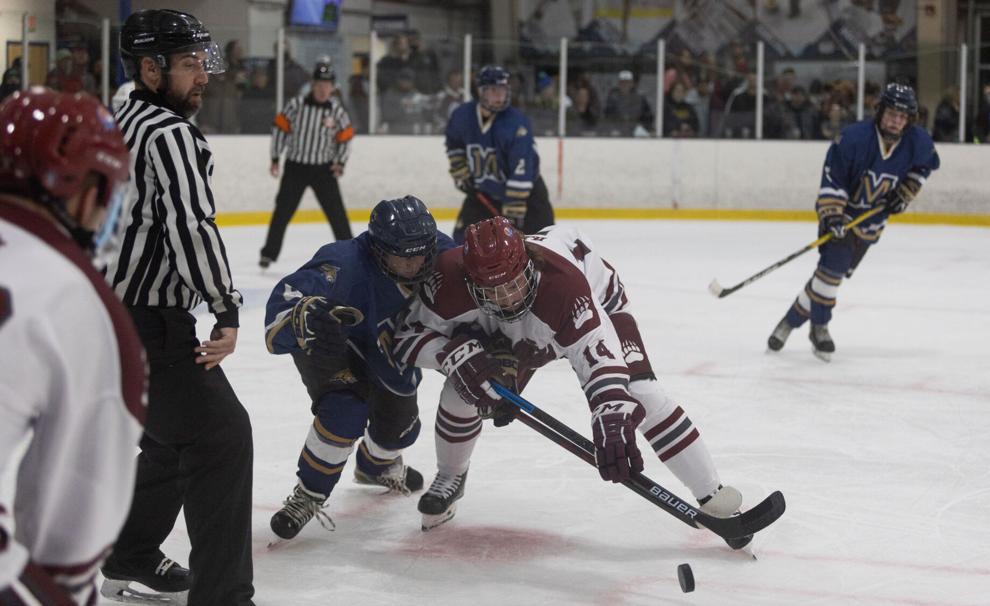 A new Ice Age 
Sargent is proud of how the team is playing as a first-year program. 
"It's a building process. We started with nothing. I'm very happy where we're at right now," Sargent said. 
Because it's a first-year program, the team is in its probationary year at the University. This means the team cannot qualify for playoffs after the end-of-year tournament, the Montana Cup. 
There's still a gap between teams that compete at the national level and the new Griz club hockey team, but Sargent thinks in five years, UM hockey can be a team that competes with the best in the league. 
"If you want a championship-caliber hockey team in Missoula, keep showing up, because recruiting gets so much easier when we can show kids coming in: This is who you get to play for. The city of Missoula, the University students, the University cares about its hockey team," Sargent said. 
Montana does not have an NHL team, and after the departure of the Missoula Bruins NA3HL team, Griz hockey offers the only option in town to attend a high-level hockey game in-person for those who enjoy watching the sport. 
More importantly, the revamped team provides role models for young athletes and entertainment for students, community members and hockey fans. Sargent said the youth hockey programs of Missoula are already strong, but this team gives kids even more reason to continue playing hockey and something to work toward. 
Anderson added that the team is overwhelmed by fan support.
"We were not entirely sure what to expect, but through the first three home games, we could not be more excited and humbled by the support we have received. The fan support we have takes our program to a level that most college hockey teams, club or not, never get to, and we have it in our first year," Anderson said. 
And, for players, being affiliated with the school for the first time in almost a decade is meaningful.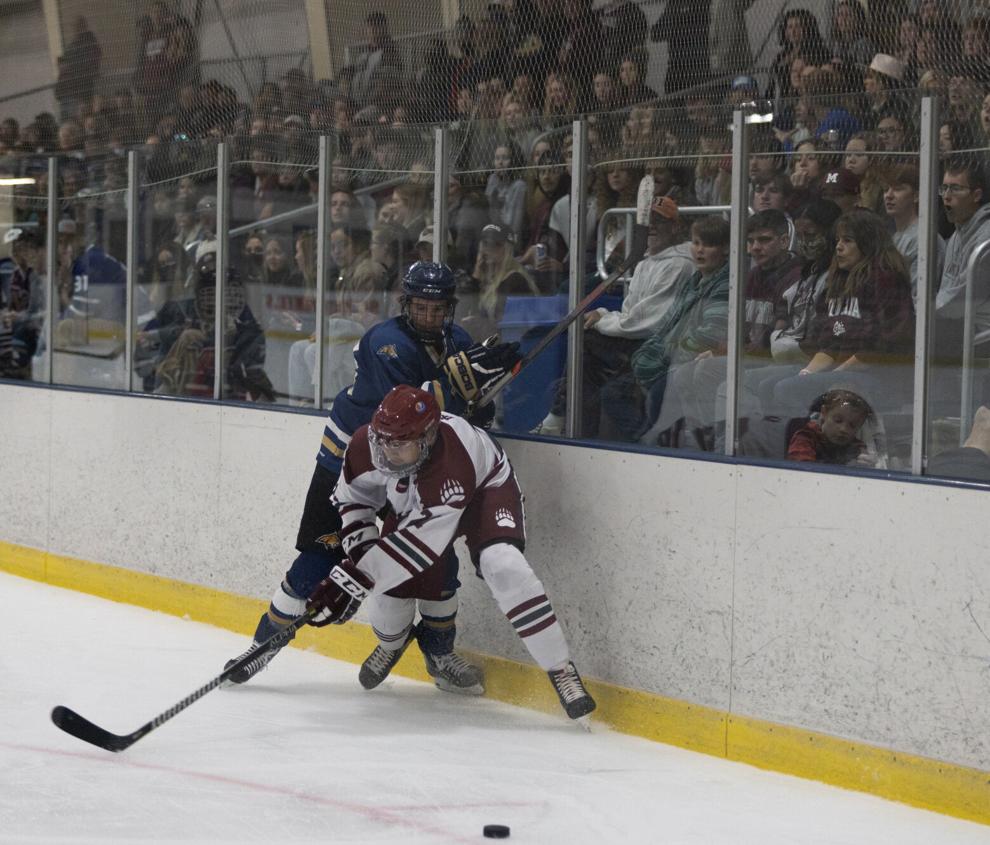 "Now we're playing for the school, so we're actually representing something," Dittman said. 
While Griz Hockey of the early 2010s wasn't sustainable in support or management, according to Sargent, the UM hockey team should keep growing in the future. The community and school support, along with recruitment, will help Griz Hockey excel in the coming years. 
Eddy Lochridge, a sophomore forward on the Griz hockey team and a Missoula native, said there's something special about having college hockey back in Missoula.
"College hockey in my hometown... it's a dream come true," Lochridge said.