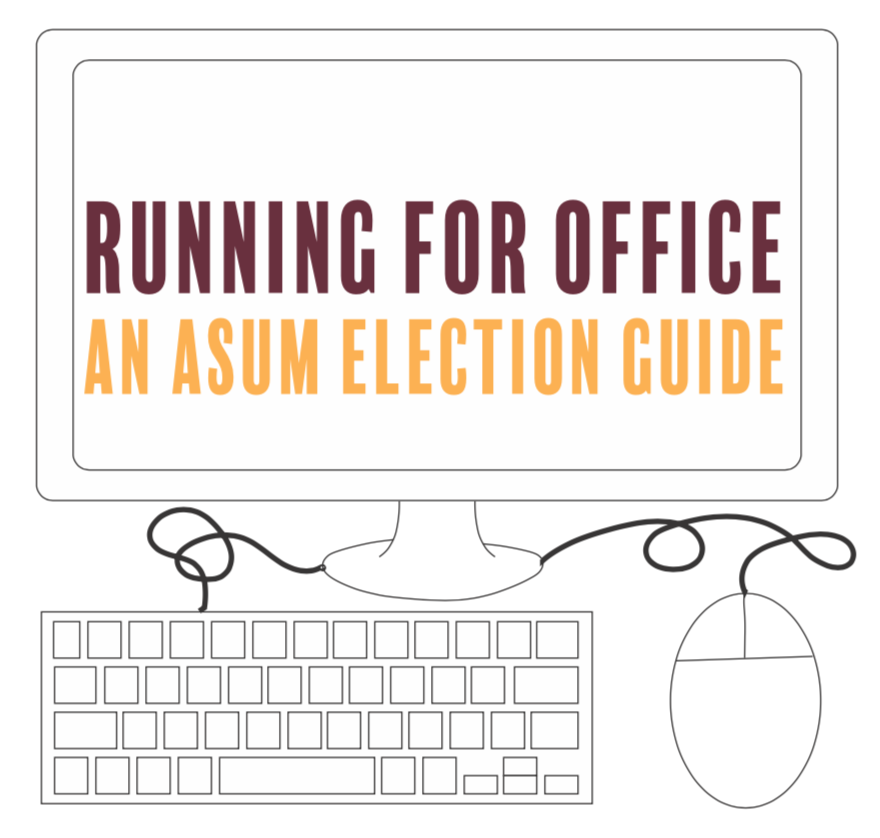 While the contentiousness of November's election is now a distant memory for most, students at UM can expect to look forward to more campaigning in the next week, in a University-wide election cycle that has come with no small drama itself. 
The Associated Students of the University of Montana elections for the 2021-2022 school year are underway. Limited mostly to social media campaigning, candidates vie for students' support with platforms offering sustainability, inclusivity and greater campus involvement. 
On the ballot this year are a host of candidates for senate, business manager, president and vice president, as well as referenda and fees for students to vote on. 
For the second year running, ASUM is holding campaigns virtually, as many students are still restricted by the COVID-19 pandemic. 
This year there is one candidate for business manager, Jack Rinck, and two pairs of candidates for president and vice president; Lyssa Schei and Sydney Lessinger, and Noah Durnell and Canyon Lock. There are 16 candidates for Senate — six more than last year — though in last year's election a dozen more senate candidates were write-ins. With 20 ASUM Senate seats available, one per 500 students, candidates would have to have committed a grave infraction, such as failing to submit expense reports by deadline, to not be voted in. 
Candidates for executive positions  — president, vice president and business manager — had to collect 100 signatures from currently enrolled students to be eligible to run. Though an amendment to the ASUM constitution that would negate the rule is being voted on by students this election, Schei and Lessinger were penalized for not reaching the required number of signatures.  
They did originally collect more than 100 signatures, but 13 of them were invalidated because of factors like invalid or missing student ID numbers. As a penalty, the ASUM Senate voted to suspend Schei and Lessinger from campaigning until the evening of March 30 and required them to make up the missing signatures. 
Schei said she did not knowingly mess up the count, but that collecting signatures remotely made it more difficult. 
"I just want to say, the two of us were trying to be cognizant of local and county COVID guidelines in terms of gathering our signature count," Schei said in the ASUM meeting. "...We think it would be in the best interest of students to waive this requirement entirely in the face of the pandemic."
Multiple grievances were also filed by students against both pairs of candidates, though no other punishments were doled out. One of the grievances made against the Durnell-Lock campaign was that it was encouraging its supporters to harass the other party by liking a controversial Instagram post. Durnell said he hadn't realized the post he liked, which he said was generally about feminism, had alluded to a post about Schei and Lessinger. 
"We want to resemble the culture that we believe ASUM to be, which is free of drama, definitely free of violence," Durnell said in the ASUM meeting. 
Later, Durnell-Lock posted on Instagram condemning the pages @asum_tea and @abolishgreeklifeumt for being "ill-intentioned" and for targeting Greek Life and ASUM. The ASUM Tea page was later deleted and the Abolish Greek Life page responded in an Instagram story saying its arguments are well-thought out and intended to encourage conversation. 
Remote debates were held between senators on Wednesday and will be held between executives on Thursday. The Kaimin will post stories following the debates on our website. 
Polls open at midnight on Wednesday, April 14 and will close at 8 p.m. on Thursday, April 15. All University students, including graduating seniors, can vote on the UMontana mobile app or ASUM website.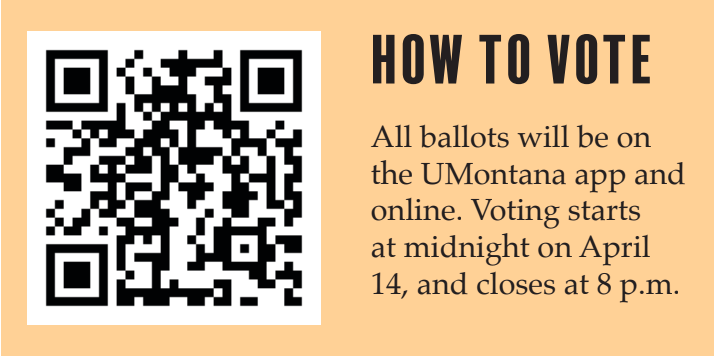 ---
President and VP Candidates: Lyssa Schei and Sydney Lessinger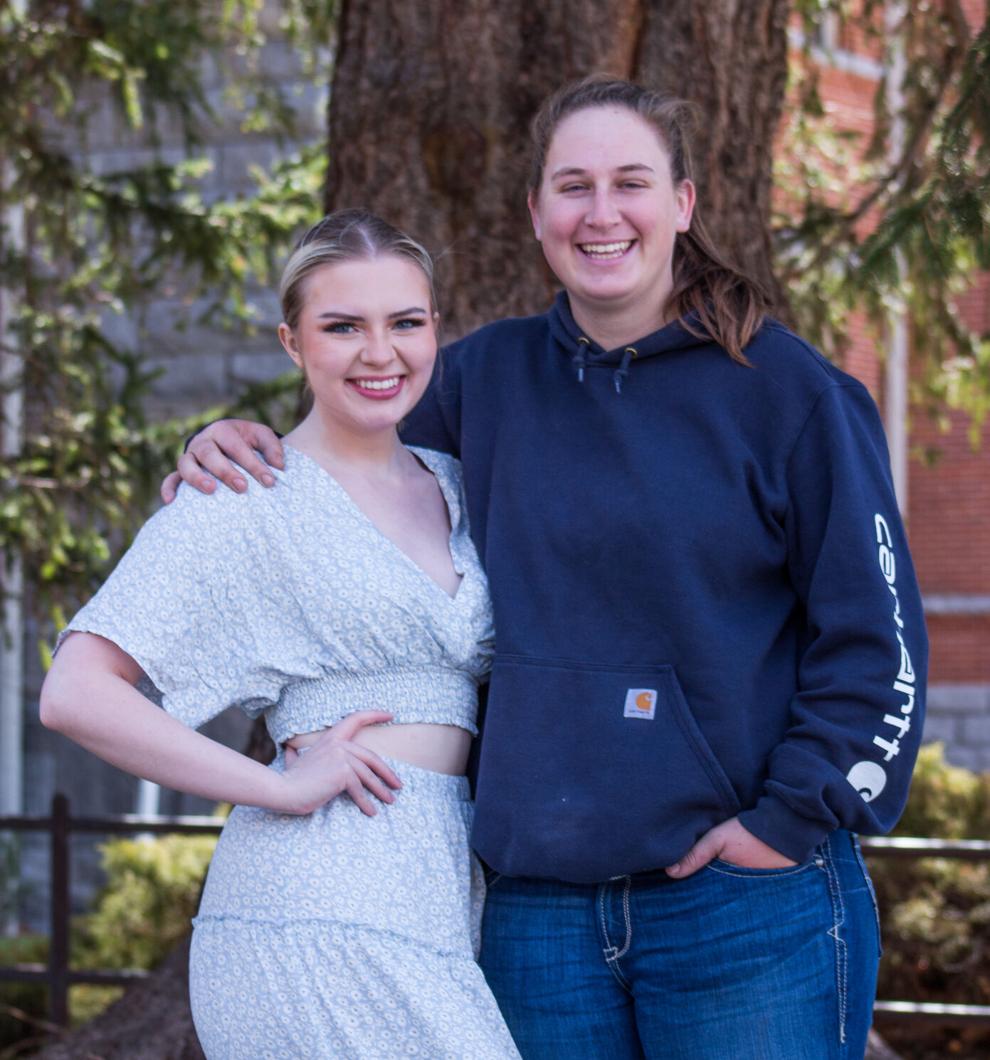 ASUM veteran Lyssa Schei and newcomer Sydney Lessinger have big plans for UM, including policies around gun safety, supporting low-income students and creating an ASUM Diversity Equity and Inclusion position. The duo decided to run for president and vice president of ASUM to put their ideas into action.  
Current ASUM senator and presidential candidate Schei — a creative writing major with a double- minor in political science and Japanese — has been involved in a wide range of activities both on and off campus. Schei chairs two committees on ASUM, is the vice president of the College Republicans, president of the Latter-Day Saints Student Association, involved in the Kappa Alpha Theta sorority, works for campus athletics and has competed in the Miss Idaho USA Competition. 
Schei's running mate, Lessinger, is a sophomore majoring in psychology. The VP candidate has never served on ASUM before. Her decision to run was a result of an hours-long discussion with Schei about the issues on campus they both had noticed and wanted to improve. After talking with Schei, Lessinger felt inspired. 
"I'm trying my best to get involved in the best way I know how, by just taking charge and helping people," Lessinger said. "That's all I've ever wanted to do, is help people." 
Lessinger, despite being a newcomer to ASUM, said she does have former experience serving on student government in high school, as well as leadership experience from high school sports, where she was a captain of three varsity teams. At UM, she is involved in Kappa Alpha Theta with Schei. She said she hopes to bring a new perspective to ASUM as a student who has never been involved in the organization before. 
"We're only doing this because we see the massive amount of changes that need to happen and that will help improve the student experience and keep students on campus," Schei said. "If we get the ball rolling, we'll count it as a giant success."
The changes Schei and Lessinger want to see are outlined in the duo's three-pronged platform, centered around the motto "Real, Strong Leadership." According to Schei, their platform consists of plans for campus safety, infrastructure improvements and whole-campus wellness. 
The duo's plans to help UM's campus community include implementing an Uber- or Lyft-based-based safe ride program that can be used by all students and faculty at UM, updating active shooter policies to prepare for the change in campus policy that will allow guns on campus beginning in June, providing free menstrual products in women's and all-gender bathrooms on campus, and bringing local Montana businesses into the empty spaces in the University Center. 
Schei and Lessinger also have ideas to assist low-income students at UM. One of these is a "swipe out" program, where students can donate money they don't use on their meal plans to students in need. They also aim to create a campus thrift store where low-income students can find Griz gear and formal attire at affordable prices, with a second purpose of encouraging sustainability.
Schei added she thinks it is important to hire an ASUM Diversity, Equity and Inclusion coordinator who can assist with giving wider access and funding to racial and ethnic student groups. 
The pair emphasized that one of their goals is to make ASUM more transparent. 
"Having been on ASUM for about two years now, I have definitely recognized that most students on campus do not know what ASUM is, or what they do for students," Schei said. "That's a huge problem, because ASUM is handling millions of dollars in student funds." 
Schei said the changes they want to make if elected will be a step forward in transparency from ASUM. Lessinger said one of her main projects, if elected as vice president, will be to implement "Fireside Chats", a designated time for students to talk to her about issues they see on campus, aimed at opening dialogue between the student body and ASUM. 
"What I also hope to accomplish is for [Schei] or I to be walking on campus and for people to know who we are," Lessinger said. "It's just such an unknown thing, and I feel like it needs to be so much more inclusive." 
For more updates on Schei and Lessinger's campaign, you can follow them on Instagram @scheilessinger.umontana2021. 
(Mariah Thomas)
---
President and VP Candidates: Noah Durnell and Canyon Lock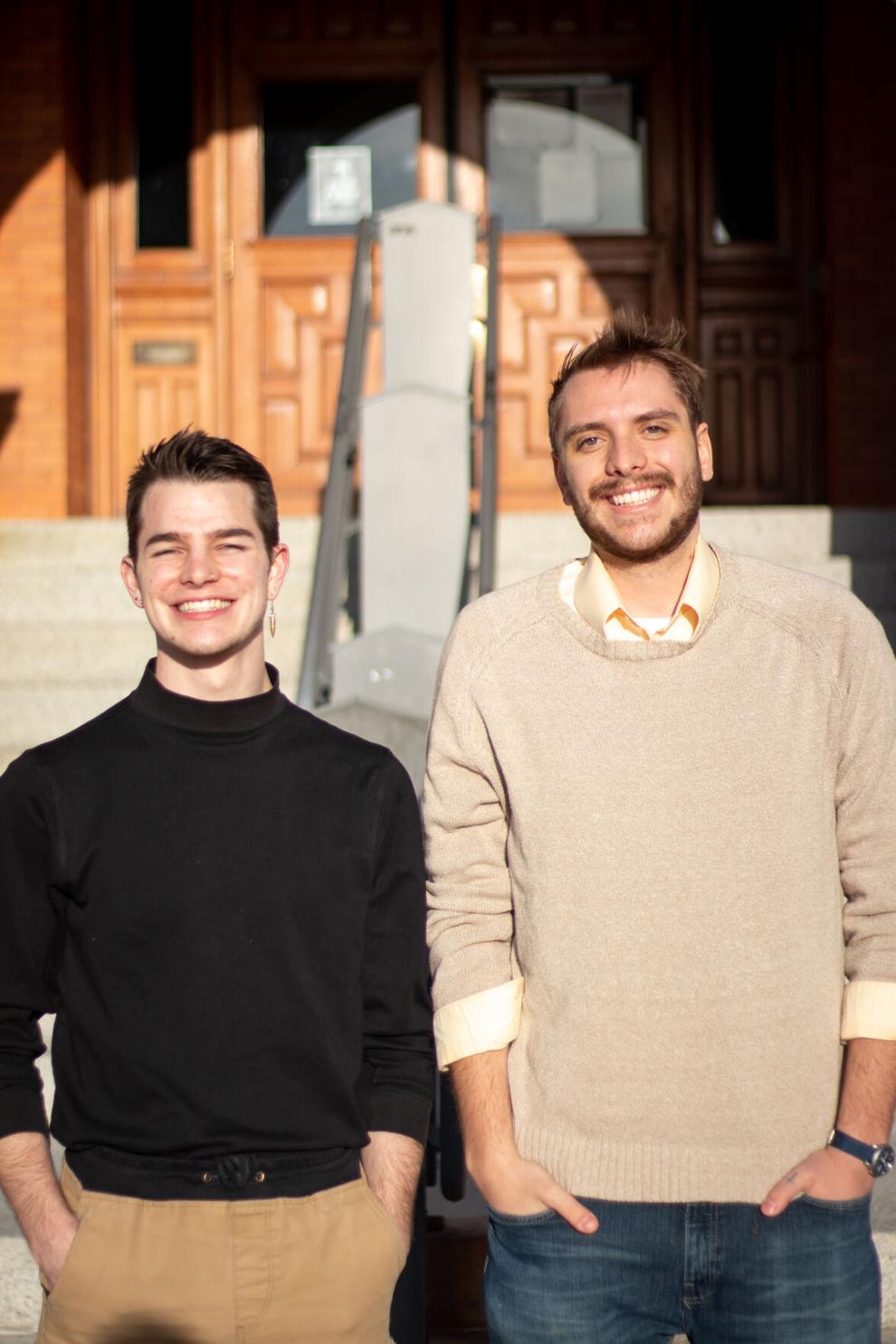 Noah Durnell and Canyon Lock don't mince words when it comes to describing their passion for UM students. 
"We want to represent things that are not easy to represent," Durnell said. "We want what is best for the students of UM and are ready for that task."
The pair are running mates for ASUM president and vice president. In these roles, they would be in charge of being the voice of the students at UM and advocating for UM students' rights.
It's no small task, but the pair said they were ready to "take back UM to the students." 
Durnell, running for president, is a fourth-year student at UM majoring in music performance with a minor in nonprofit administration. 
He has two years of experience working as a senator at UM, a position which built on his experiences as president of the UM Student Music Union. Durnell is currently the longest continuously serving senator in ASUM. In his time as a senator, he has authored and passed over 30 resolutions. Not a single one has failed, he reasoned, "because I write with the best intentions for students."
Lock, double-majoring in classics and political science, is a junior at UM. He is
running for vice president, and his story is a lot different than his running mate's. Lock is new to ASUM and the inner workings of UM politics. That's to the advantage of the students, he said. 
"I think it's valuable to have someone who understands how ASUM appears to a student — who hasn't been working in [ASUM] for a long time," Lock said. 
Lock said he thinks that because he has a more traditional college experience than his running mate, together they can find the perfect medium to advocate for a wide range of students on campus. 
"To represent students, I think you need to show that you can connect to them on so many different levels," Durnell said. "Canyon and I can do that."
Their main goal right now: Return UM to something it used to be.
This year has been tough, the pair said, but they are dedicated to investing in creating additional student mental health resources, making the campus more accessible to marginalized demographics and reconnecting the students. 
"We need to learn from the lessons of COVID and make sure it's better," Durnell said. "I think the fall [semester] is going to be a very vulnerable [time] that requires really skilled leadership. We have to consider 'how do we restructure things in the fall to make students more successful, how do we learn from some of the devastations of COVID-19?'" 
Another passion of the pair is environmental sustainability. They said it's time UM starts to walk the walk.
"I care very much about sustainability," Lock said. "I think it's really important. The University really brands itself on being sustainable, so it's especially important that we [push them to] put their money where their mouth is and really pursue more policies that reflect that branding."
With sustainability, they think UM has the potential to be a leader in the nation, not just for students, but also staff and faculty. 
"We want sustainability and to protect student employment," Durnell said. "Making sure our campus is as sustainable as possible and that we are being leaders in the nation of that. That we can implement sustainable practice among each individual student but also with the University."
The pair say that with their diverse backgrounds, their interests and priorities on campus are wide-ranging and are meant to benefit all students who walk the Oval. With the election growing closer, more than anything, they ask people to get out and vote, regardless of who they decide to vote for. 
"ASUM actually has a lot of influence on this University," Lock said. "It's an important and imperfect organization, but the work that it does to give students a voice is invaluable."
For more updates on Durnell and Lock's campaign, you can follow them on Instagram @durnell.lock.2021. 
(Clarise Larson)
---
Business manager  candidate: Jack Rinck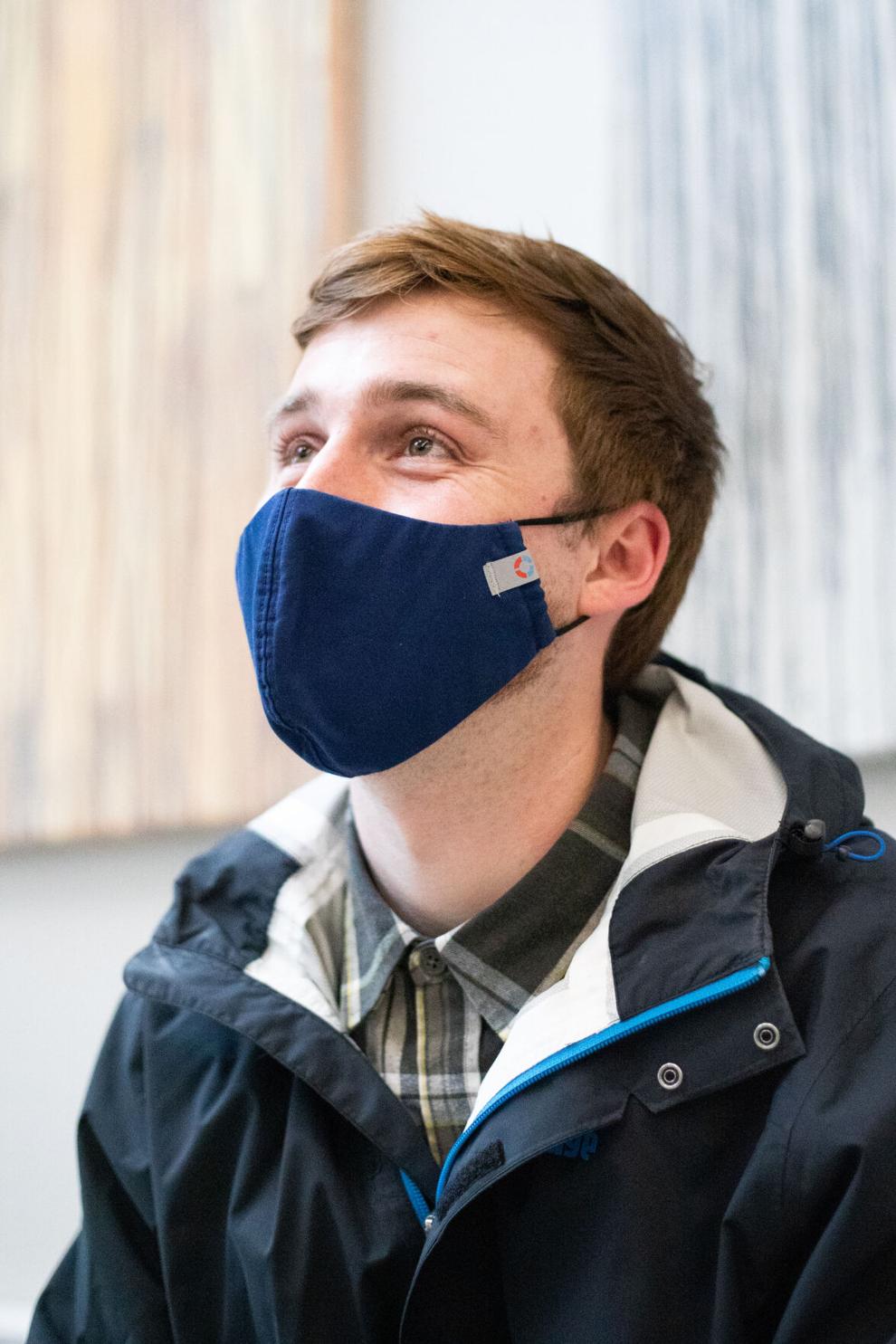 After two years as a senator and lobbyist for ASUM, UM graduate student Jack Rinck decided it was time to take his knowledge to the financial side of the association: Business manager. Rinck is running for the position unopposed, but that doesn't mean he's any less qualified.
"I have a wealth of institutional knowledge with ASUM; I've been there for quite some time," the former political science major said. "The business manager position is the most outward facing toward student groups, which I think is going to be really important next year as we move from Zoom to in-person activity."
The business manager position oversees all finances of the student government, documents yearly funding and plays a significant role in creating the annual student group budget. As last month marked a year of the COVID-19 pandemic, Rinck said his goal as business manager would reconnect vanished student groups. 
"A lot of groups that were recognized in the spring of COVID didn't recognize with us this year," Rinck said. "So re-engaging, reaching out, making sure those student groups know what our funding procedures are and our recognition processes and how to fill out things as simple as financial requests."
Rinck grew up in Sandpoint, a small town in northern Idaho. In 2017, he enrolled at the University of Montana for political science. As a freshman, he co-founded the UM Ski and Board Club. He enjoyed working with ASUM from the perspective of a club. 
But he wanted to do more. He decided to join ASUM as a senator in the fall of 2019. He won his reelection in the spring, continuing to serve during the emergence of the pandemic. 
He chaired the Zero Waste Oversight committee, the Marketing Outreach committee, and the Sustainability Board. Rinck has also served on several 
subcommittees. He said many of these meetings, while important, could be streamlined for efficiency. 
"We really have a lot of committees," Rinck said. "A lot of committees don't meet regularly, and it's just a really hard workload on senators."
After graduating in November 2020, Rinck continued to pursue a role in the student government. He started working as the ASUM lobbyist in Helena, where he follows student opinion at UM and backs or opposes bills based on the goals of the student body. 
"I've been living mostly in Helena since January of 2021," Rinck said. "Throughout the legislative session I've been representing ASUM in a formal capacity."
Rinck said his graduate degree, a master's in public administration, goes hand in hand with his ASUM experience. He hopes to go into state or local government after he leaves UM.
In his free time, Rinck likes to be outdoors, especially skiing. He also plays guitar and fly fishes as much as he can, even when his job in Helena gets in the way. 
For next year, all of Rinck's ideas would be addressed in tandem with the executive duo that wins this April, and he said he's happy to work with whoever wins. His ultimate goal is to get more clubs on campus.
"It's going to be really important to get more student groups back and active," Rinck said. "Especially in the first couple months this fall."
(Griffen Smith)
---
Students for senate
There are 16 candidates running for ASUM Senate positions. With 20 open spots, the top four write-ins could also receive seats. The first debate set in late March was canceled to extend the application deadline for senate candidates, but there was a second debate scheduled for April 7. 
Margaret Bell, first-year political science and philosophy double major, said her goals revolve around improving student experiences at UM and making the University a more cohesive, enlightened campus for all. Bell believes all departments are crucial to the entirety of UM, and it should feel that way. 
Elizabeth Bowles, sophomore and political science major, said she wants to be a voice for women's issues and to ensure women are being represented on campus. Bowles also plans on representing student groups and working toward compromise among various organizations like Greek Life.
Graham Cobb, a second-year law student, said he is running to provide a voice for graduate students. Cobb wants to bridge the disconnect between graduate-level students and the rest of the student body to help foster a better environment for learning and growing on campus. 
Alex Crisp, a freshman majoring in Latin and violin, said he plans on defending the humanities and promoting the cause of any department facing frequent budget cuts. Crisp also wants to promote environmental sustainability throughout the University and its functions. 
Trevor Funseth, a second-year law student, said his campaign is simple: He will never vote for an increase in student fees and he will never vote for anything that is considered a waste of student dollars. Funseth believes students already pay too much in fees. 
Tor Gudmundsson, junior and literature major with a teaching focus, said he wants to better engage the two-year institutions that are a part of UM, like Missoula College and Bitterroot College, and enable ASUM to participate in conversations around changes in general education. He also wants to increase student engagement on campus. 
Molly Keller, a freshman business administration major and pre-law student, said she wants to be a voice for first-year students and the Greek Life community on campus, who she said are underrepresented in campus decisions. Keller wants to be a voice for all those lacking representation on campus and said she will bring their thoughts and opinions to the greater majority of ASUM. 
Emma Kiefer, a grad student in the environmental studies program, said she wants ASUM to support students from marginalized racial and ethnic backgrounds who are struggling and lack meaningful representation in UM's leadership. Kiefer believes these students work hard to support themselves and others, but go unrecognized and are sorely underfunded.
Jack Kuney, freshman and sustainability science and practice major, said he wants to promote and provide a safe, sustainable and equitable experience at UM for all students. 
Nicholas Ververis, senior and accounting major, said the main ideals of his campaign are inclusivity and transparency. Ververis hopes to make sure students' voices are not lost in the bureaucracy of student government. He says he plans to be a direct voice for students who feel underrepresented, unheard and unimportant. 
Cassie Williams, junior and political science major, said she wants to promote student retention and academic success by bolstering a sense of community and connection on campus. Williams hopes to empower students to find where they belong within UM, and spread awareness about the myriad of student support services. [Note: Williams is the Kaimin's business manager, though she is not affiliated with the editorial side of the paper.]
The Kaimin emailed all ASUM Senator candidates, but Noah Vanderkar, Katherine Christison, Madison McKenzie, Annie Berget and Teddy Jumpp didn't respond by deadline.
(Grace Carr)
---
Articles and fees
Each year, ASUM introduces new articles and fees for students to vote on. If students pass them through ASUM, the fee initiatives (barring the existing MontPIRG fee) will then go to the Board of Regents for approval. Once approved, fees will appear on the next year's registration bills, and articles will be implemented into ASUM's constitution.
Amendment to ASUM Constitution
ASUM executive candidates currently need a petition signed by 100 registered students to be on the ballot, as required by Article VII, Section IV of the constitution. This referendum would remove the petition requirement from the constitution. ASUM senate candidates have not had the petition requirement since 2015, when the students voted to remove it. 
MontPIRG Fee*
The Montana Public Interest Research Group fee is an optional $5 student fee, which students can opt in or out of at registration, which began in 2012. Students are asked to approve it every other year, the last time being in 2019. If reapproved by students, the fee would continue to provide additional funding to the Missoula-based organization. The nonpartisan group is staffed by student interns each semester and does work on issues such as renter rights and consumer rights. The group also helps students and community members register to vote prior to elections. 
Change to MontPIRG Fee Sunset Provision
Amending the MontPIRG fee's sunset provision — which currently requires the optional fee to be reapproved every other year — would allow it to be automatically reaffirmed every two years, unless the percentage of students opting into the fee drops below 50%. If the percentage drops below half over four semesters, the fee will return to the ballot in the following spring. The fee has been approved with over 70% support the last three times it's been on the ballot. 
Arts and Culture Fee*
The University has proposed a new $25 arts and culture fee. The mandatory fee would provide funding for programs mainly put on by the College of Arts and Media, such as dance performances and plays. The fee would allow students to get into the programs for free. If students approve it, ASUM could endorse the fee before it's presented to the Board of Regents in May. 
BIPOC Student Group Fee*
The Black, Indigenous, and people of color student group support fee would create an optional $5 fee. This would provide BIPOC student groups on campus with additional funding for on-campus events and programming. The increase in funding for these groups was recommended by a senator who resigned earlier this semester. The senator, a student of color, introduced the fee because, as cited in the resolution placing this fee on the ballot, "these student groups are required to work twice as hard to fundraise for their cultural events." If passed, the fee would also have to be approved by the Board of Regents in May. 
*The fees would be per semester.
 (Jacob Owens)