Every day before coming to campus, Erim Gómez puts on a guayabera — a traditional shirt from Yucatán, Mexico. The roughly 60 guayaberas he wears are colorful and stylish, ranging from a light pistachio green to a light turquoise. And Gómez is proud to wear them because they reflect who he is and his culture. 
"I wear guayaberas because they honor my father. They honor my heritage, but they also show that students can be their authentic self because I'm also trying to be my authentic self," he said.
Gómez's office at the University of Montana's W.A. Franke College of Forestry & Conservation reflects his culture and identity, his life achievements and some of the things he's most passionate about. And it also shows where he came from.
On one wall are framed pieces from some of his favorite Chicano and Mexican artists depicting the activism and struggle of Latino and Hispanic communities. One of the frames is a 1969 Time magazine cover with Mexican American civil rights activist César Chávez. It sits in view of Gómez's desk.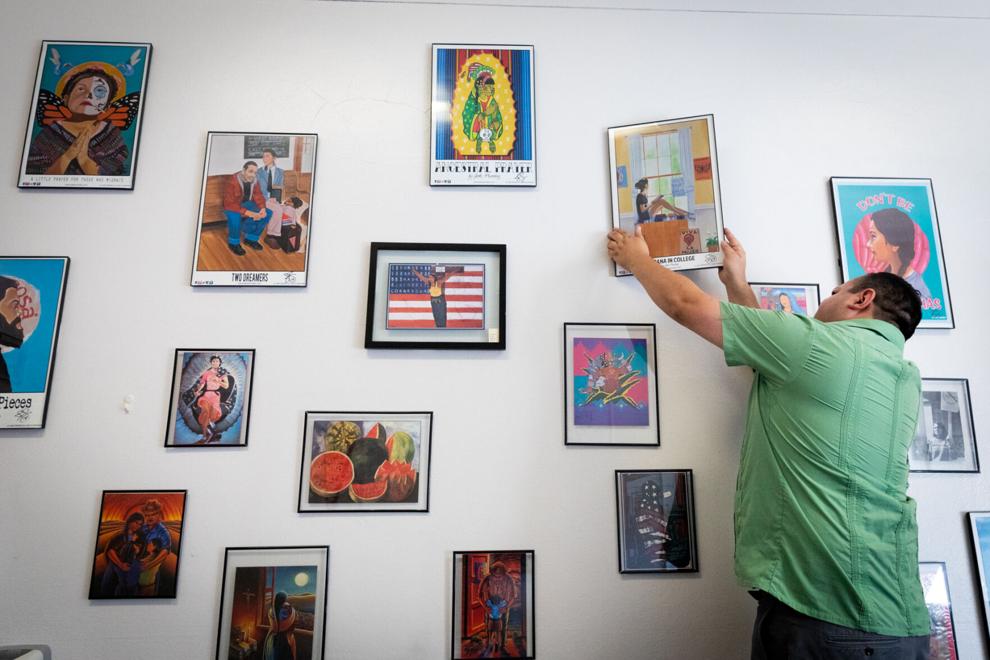 Kitty-corner to his desk is a wall crammed with framed photos of frogs, insects and other aquatic amphibians.
"I just love taking macro photos of what I like to call 'charismatic minifauna.' I even thought about calling my own lab 'The Charismatic Minifauna Lab,'" he said.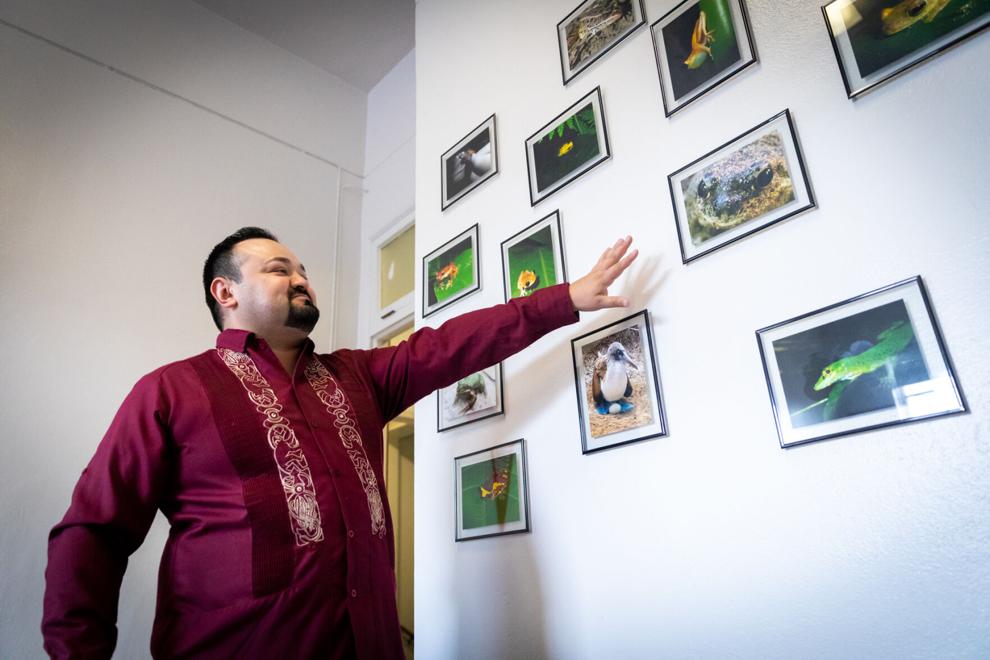 Gómez, a Ph.D wildlife biologist with roots in California and Oregon, is an assistant professor of wildlife biology at UM. He considers himself a naturalist at heart who has a deep love for wildlife.
This semester, Gómez is teaching courses about wildlife and people, fish and wildlife, and careers in wildlife biology.
Since arriving at UM in the fall of 2020, Gómez said he is taking his duties as a professor to teach far beyond just wildlife biology and conservation.
"I take it as an opportunity to help mentor and encourage all students, but also to help promote issues of diversity, equity and inclusion in academia and in our wildlife profession," he said. "I enjoy working on these issues and it's so great to be able to use my position as an assistant professor to help encourage and mentor BIPOC students. It's just an amazing opportunity."
Gómez is a first-generation Mexican American and first-generation college graduate. His efforts at UM come at a time when people of color are underrepresented in science, technology, engineering and math fields.
Overall numbers of people in the U.S. workforce, particularly among those who have a bachelor's degree or higher, show women and people of color are less likely to pursue a career in forestry and natural resources because of discrimination-related barriers they face when pursuing higher education.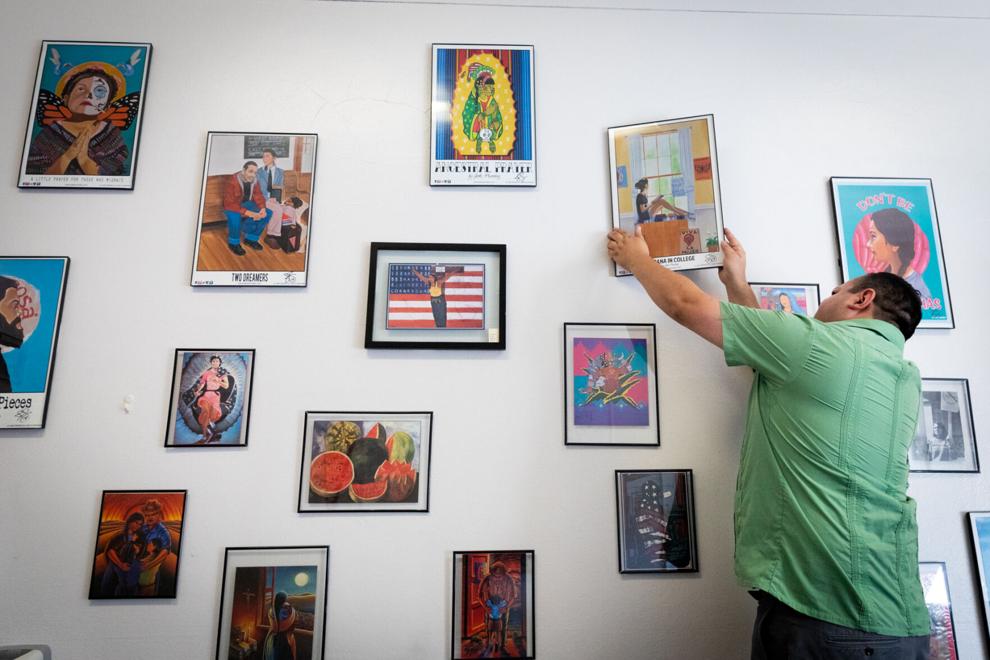 According to the Pew Research Center, Black and Hispanic workers are underrepresented in the STEM workforce where Black workers make up 11% of the U.S. workforce overall, but represent 9% of STEM workers. Hispanics comprise 16% of the country's workforce and only 7% of all STEM workers. Among adults with a bachelor's degree or higher, Black people comprise just 7% and Hispanics 6% of the STEM workforce.
According to the U.S. Census Bureau, in 2021 there is still a gap in higher education fulfillment among minority students because of unequal access to key educational resources and opportunities when compared to white student groups.
At the University of Montana, the presence of students from underrepresented groups such as American Indians or Alaska Native, Asian, Black, Hispanic and Native Hawaiian and other Pacific Islanders has been growing at a steady pace in the last three years. From 2019 to 2020 there was a 4.6% increase in the number of BIPOC students, and in 2021 that number grew again with a 6.2% increase between 2020 and 2021.
Despite a decline in overall student enrollment since 2013, UM Director of Strategic Communications Dave Kuntz said this proportional student growth shows the University is getting more diverse.
"The University's taking steps to increase access to resources to make sure that students not only enroll here at UM, but that they can stay through all the way to graduation," Kuntz said.
Kuntz said the University is focusing on reshaping itself in the 21st century by building "a campus rooted in internationalization" through student exchange programs and creating programs like Montana 10, which offers academic, social and financial support to help students succeed in college.
Connecting with the natural world
Gómez grew up west of Los Angeles in Oxnard, California, for part of his childhood with his three brothers — Edwardo, Edrik and Edem. Gómez remembers his suburban community was mostly made up of Latino and Hispanic families.
Both of Gómez's parents immigrated from Mexico. Gómez's father, Efrain Gómez, was born and raised in the state of Jalisco, Mexico. His mother, San Juanita Gómez, was born in Reynosa, Tamaulipas, which sits right on the border with Texas. Gómez said his mom's family moved back and forth across the border for many years for work purposes and most of her upbringing was in the U.S.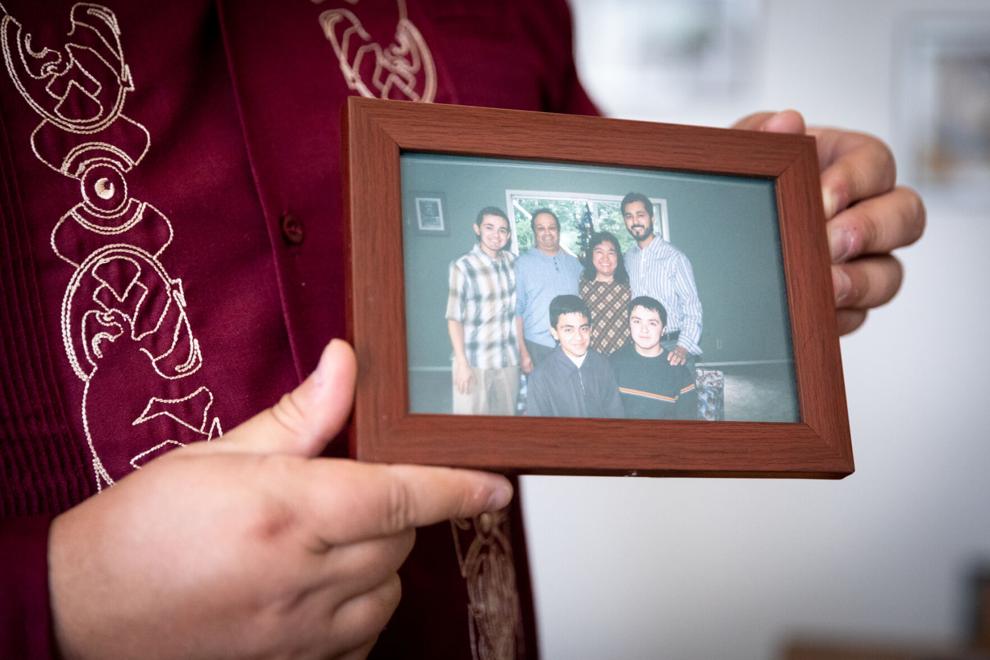 At age 11, Gómez and his family packed up and moved north to the coastal Oregon town of Coquille. His dad fell in love with the beauty of the southern Oregon coast and bought an 80-acre plot with the money his family had saved over the years in California to start the family's own working ranch.
For Gómez, living in Oregon and working on his family's ranch made him feel isolated, but in a way that allowed him to connect more with his own family and fuel his interest in conservation and ecosystems.
"From living in a suburb in California to this town in the southern Oregon coast on an 80-acre working ranch, it made me and my family closer," he said. "Believe it or not, but working on a ranch has made me a better ecologist. It allowed me to get that first hands-on experience and it gave me transferable skills to becoming a wildlife biologist."
Gómez was first drawn to science at a young age from reading countless National Geographic magazines and watching documentaries narrated by British broadcaster David Attenborough.
"Reading and watching those made me realize that there was an opportunity to become a scientist," he said. "I had two dreams as a kid: I wanted to work with amphibians and I wanted to work with grizzly bears. But growing up, I had different ideas of what I may or may not want to do. I thought about teaching. I thought about medical school. I thought about law school. But in high school, that was when I knew I wanted to get into science."
During his high school days in Oregon, Gómez first experienced wildlife conservation at the school's fish hatchery. There he learned about the ethics of conservation and the complications of the management of wildlife species.
"Gaining that experience at a young age made me realize that conservation was something that people actually did for a living and that it was an actual job, so that was really instrumental," he said.
Gómez´s time in middle school and high school solidified his interest in wildlife and conservation, thanks to the mentorship of one teacher.
"Norm Deveroux, who at the time was both my middle school and high school biology teacher, was really influential with my connection to wildlife biology," he said. "I think he's the one that made me realize that being a scientist was a reality and an option for me. Before then, I had never interacted with a biologist, and I didn't really know what they did."
After graduating high school in the early 2000s, Gómez earned his bachelor's degree in science from Southern Oregon University in environmental studies in 2007, his master´s in 2011 and eventually his doctorate degree in natural resource sciences from Washington State University in 2020.
But Gómez's trajectory through higher education was not easy. His college years were marked by hardships, barriers and a tragic family loss.
A journey through science 
Like so many people of color in STEM fields, Gómez lived in fear of not having enough money to pay for school, and he knew he needed professional experience too.
During college, Gómez worked at Safeway and as a janitor in order to make enough money so he could volunteer in laboratories in the summer.
"I knew people who could volunteer in Costa Rica doing turtle surveys for the summer and I had colleagues that had cars thanks to their parents, and so they could take that tech job across the country. I didn't have that," he said.
Then, while he was working two jobs and studying hard to earn lab experiences, tragedy hit. His brother, Edrik, died in a helicopter crash.
Edrik died on Aug. 5, 2008, in the Iron 44 tragedy in Oregon. He and nine firefighters lost their lives after their helicopter crashed in a remote area of the Shasta-Trinity National Forest. At the time, Gómez's brother was going into his junior year as an honors student at Southern Oregon University. According to official reports, the chopper his brother boarded had been over the maximum weight before the firefighters stepped on board. Edrik was 19.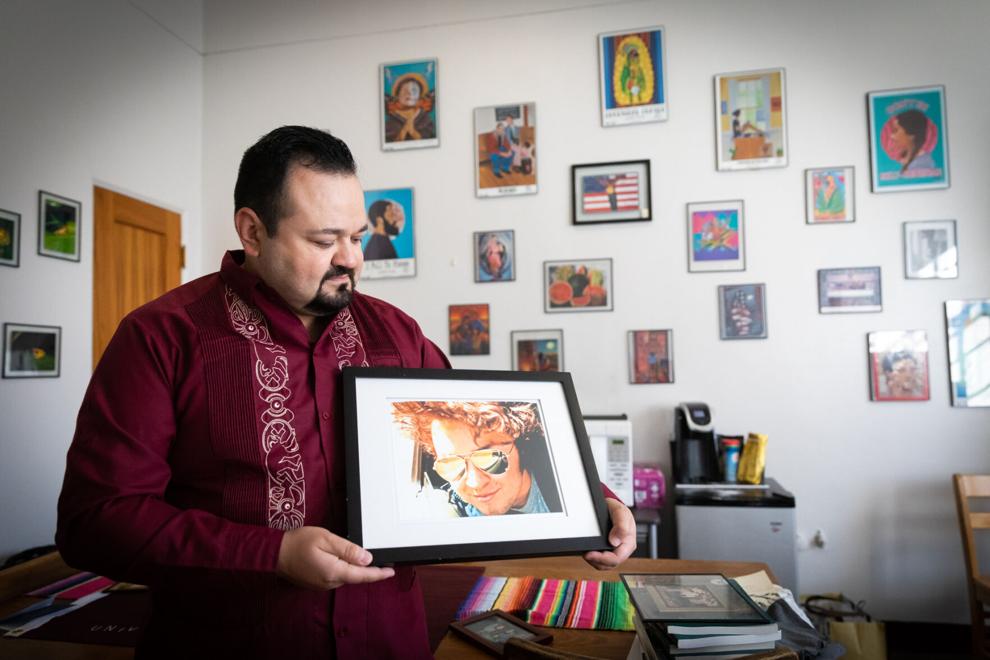 At the time, Gómez was in his second year of grad school at SOU. The sudden loss of his brother deeply affected him both personally and academically.
"It took me a little longer to finish my degree because of that tragedy. Me and my brother were really close. To this day it still hurts, and I don't think I ever want it not to hurt," Gómez said. "I guess that feeling of hurt is acknowledgement and knowing of the love that I had and still have for him. In a way, that pain almost makes me still feel connected to him."
Gómez graduated with his master's from SOU in 2011. Despite the tragic loss of his brother, he was determined to pursue the highest level of education a STEM college student can achieve — a Ph.D.
As he worked toward his doctorate at Washington State University, Gómez kept advocating for people like him. At WSU, he served as an adviser for the university's Latino student group, and he organized workshops and presentations to encourage BIPOC high school students to go to college and undergraduates to go on to graduate school.
Throughout his time in college, Gómez saw first-hand the lack of diversity in science academia.
"I never had a Latino professor, and I never had a professor of color teach in any of my STEM classes. I mean, it was that dramatic," he said. "My students now have something I never had back when I was in college — a professor of color."
This semester, Gómez is working toward starting a Society for Advancement of Chicanos/Hispanics and Native Americans in Science chapter at UM to encourage underrepresented students to study science. SACNAS is a national society that aims for true diversity in STEM fields, promoting advanced degrees and leadership.
Gomez uses his own background — and his classroom — to do this.
"Historically, this has been taught from an Anglo-Eurocentric perspective, so I try to incorporate components of traditional ecological knowledge and spend time critiquing some of the ways that we've done wildlife management in the past while giving a holistic view of our conservation heroes like John Muir and Gifford Pinchot, who did great things, but also had problematic and racist views," he said.
Alan Townsend, dean of the W.A. Franke College of Forestry & Conservation, said the college is committed to restructuring parts of its curriculum to make it more inclusive and, importantly, more critical.
The college ran workshops that focus on adapting curriculum and teaching to be more inclusive, he said, adding, "I've seen genuine desire amongst the faculty to change how they approach their teaching."
Even though these efforts to change curriculum are under way, Townsend said the college is not at the level he wants it to be. He acknowledged there's more work to be done in terms of hiring a diverse pool of faculty and retaining and supporting students from underrepresented groups.
"Diversity, equity and inclusion is a serious priority for me and for the college," Townsend said. "This is serious and difficult work that doesn't happen overnight and needs to be kept as a priority. We are not nearly as diverse in our representation as we should be."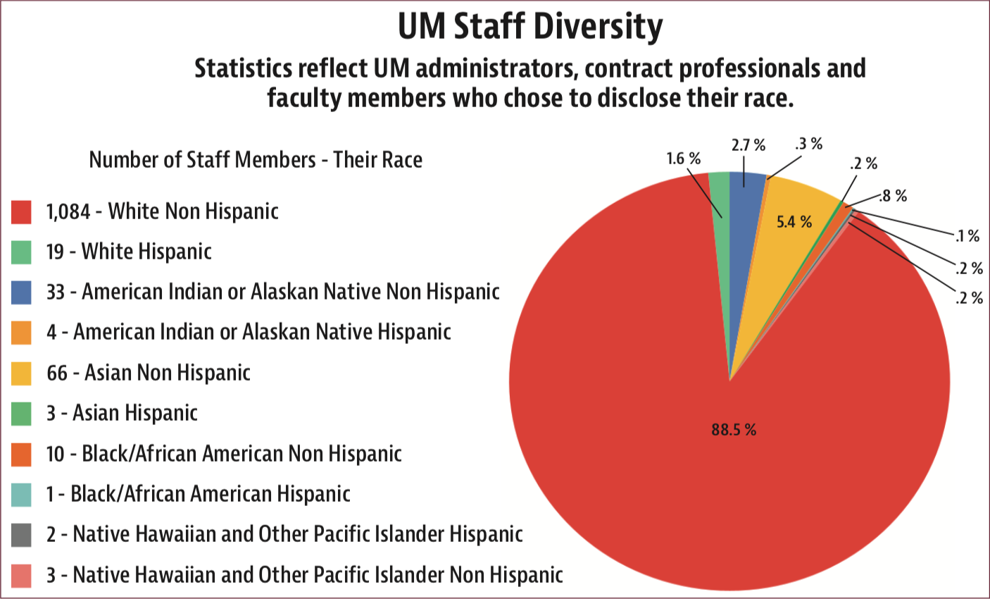 Senior Adrianna Medina, a Latina student majoring in parks, tourism and recreation management, said taking a class from Gomez was about more than relating to him as a BIPOC student.
"I have a disability, which is ADHD, and he really helped me learn and get through it," Medina said. "So that was really beneficial for my college experience because I know a lot of students who have trouble having a disability and going through Disability Services and not learning in the best way that they can. We also had that Latino perspective with each other, so it was really nice to have that connection, especially in a place like Montana where I see a lot of white folks."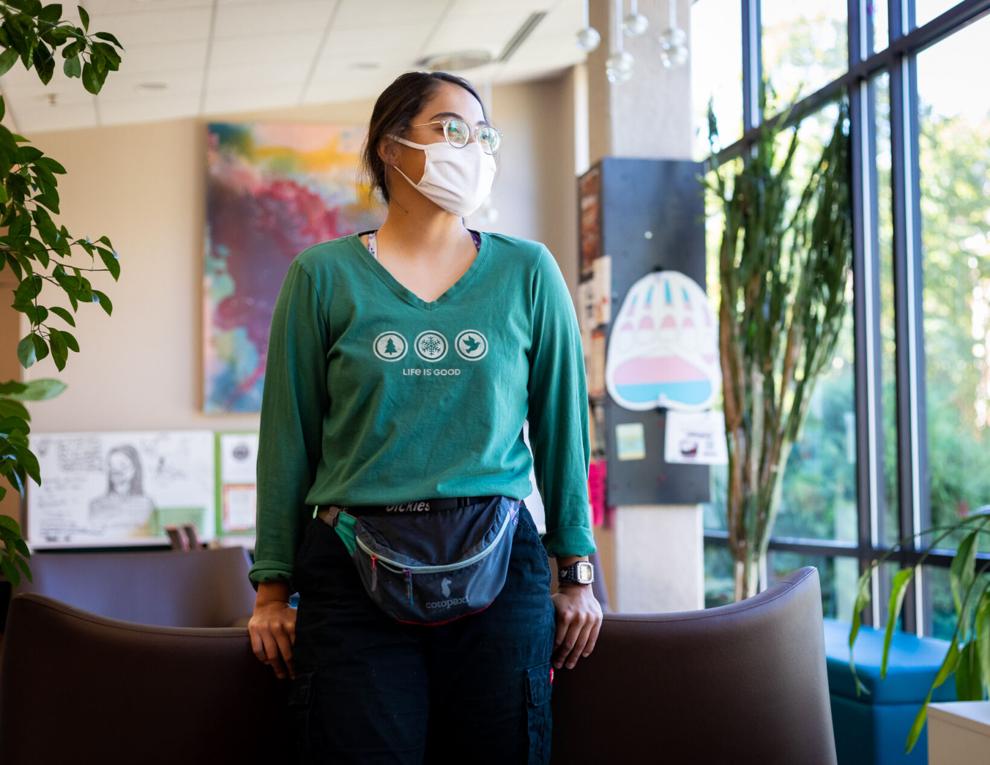 Medina, who is also the president of the Latinx Student Union at UM, said there needs to be more work on behalf of the University regarding diversity and the retention of Latino and Hispanic students.
"There's close to no efforts from the University on that, but LSU does a lot of research and engagement with the Latino community," she said. "Most of the time, our community members aren't UM students because there's not a very large Latino population right now, so we try to gather as much information from our Latino communities. There's not nearly enough engagement as there should be."
Around the University, there are more faculty who, like Gómez, are serving underrepresented students with efforts to promote more diversity, equity and inclusivity throughout campus.
Growing up on the Blackfeet Reservation, Wilena Old Person, the program coordinator at the College of Health, is determined to continue to strive for a more diverse representation of all BIPOC students at UM.
Old Person serves as the staff co-chair of the University's Diversity Advisory Council, where she works to provide institutional knowledge to President Seth Bodnar's administration.
The DAC started as a task force and transitioned to become an advisory council in 1992. Despite years of working with the University administration, Old Person said the council has yet to transition from simply talking about diversity to taking real action.
"One of the frustrations that we felt was that we are a discussion group when we want it to be action-oriented," she said. "We felt like we carried a lot of the weight of the diversity institutional plan, because students, staff and faculty would come to us with any issues they've had after reaching out to the Equal Opportunity Office because they wanted to have more action and get stuff done."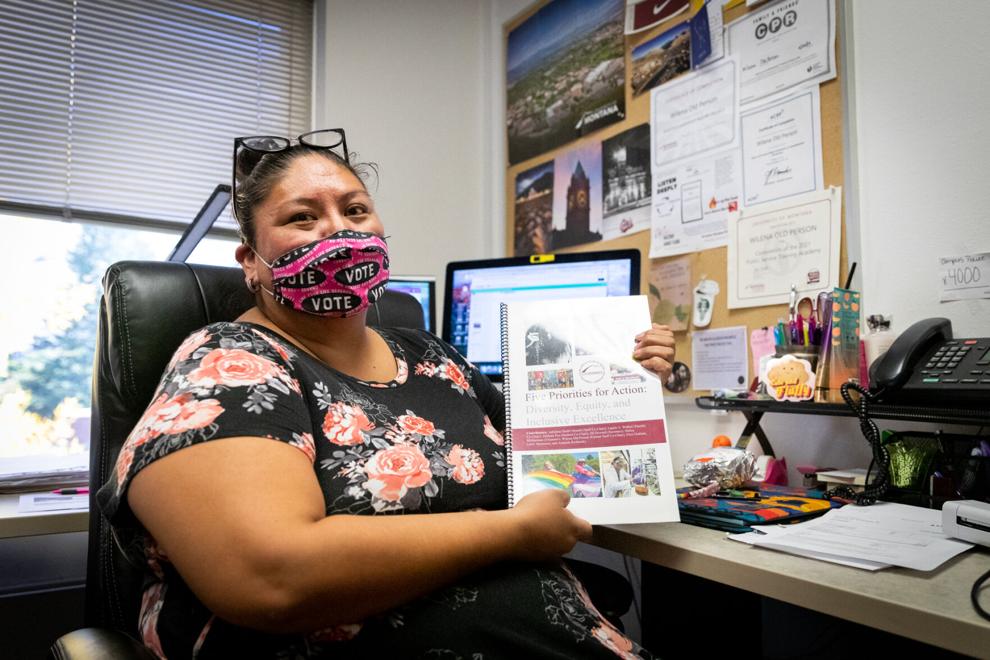 Even though the University claims to be making efforts toward diversity and inclusion, Old Person says issues of systemic racism still exist on campus.
"I felt like our students weren't being heard, and as a staff member of color, I would see systemic racism [directed] at the students and at myself, not only in this building and in my college but on this campus in our community," she said. "You know it's there. So to say that it's not there is not okay."
The DAC recently released a new Diversity, Equity, and Inclusion Plan, which "aims to identify the equity gaps unique to our institution, to flag the policies and practices that contribute to these gaps, and to implement new policies and practices that will bridge them."
Kuntz said the new plan provides a way to reach DEI goals that reflect the diversity of society and enriches the educational experience.
"Having a more diverse faculty and leadership that students can look up to and follow in the footsteps of is critical to building a healthy campus that's rich with diversity and provides opportunities for everybody," Kuntz said.
As for Gómez, he believes in what he and others at the University are doing to create a campus that's diverse — one that supports and encourages students of color to pursue careers in science.
"My hope is that with my students seeing me in this position helps inspire and remind them that they too can be part of the wildlife profession," he said.