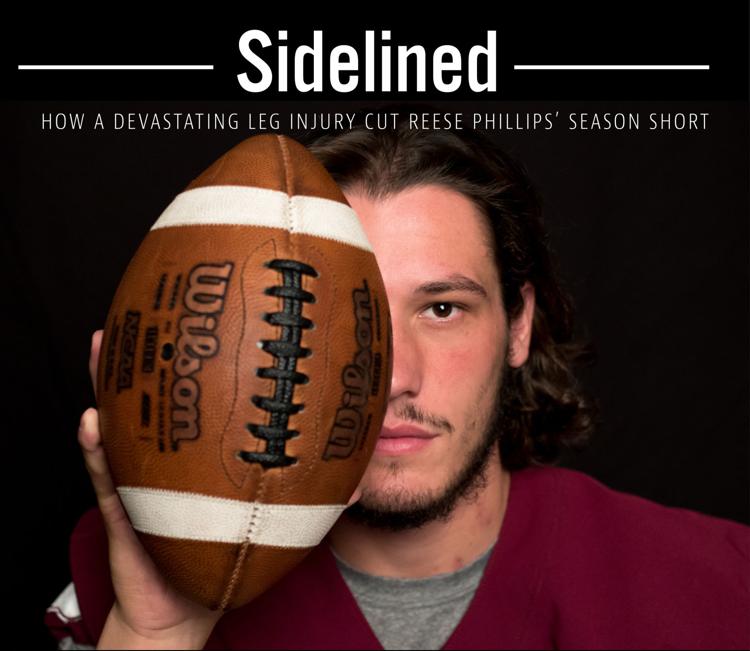 It was perfect football weather in Montana — low 50s, and clear, blue skies on a mid-September day. Montana played host to a winless Savannah State team, the final tune-up game for the Griz before entering conference play. They were led by senior quarterback Reese Phillips.
Phillips had waited five years for this. He waited five years to be out on the football field in front of thousands of fans. Five years to be suited up, putting his helmet on instead of setting it down. Five years to hear his name announced as the starting quarterback. 
It had taken time to get the rust off, but once he did, Phillips was playing like he always knew he could. The high school star from Chattanooga, Tennessee torched the Savannah State defense, completing his first 13 passes of the game.
On the fourth play of the second quarter, he was flushed from the pocket to his own left. He made it to the numbers before flipping the ball away underhanded. Perfection was gone, but Montana was ahead 14 points and in Savannah State territory again.
The next play, Phillips reached the ball toward Jeremy Calhoun, all the while keeping his eyes on the SSU safety. When he came downfield, Phillips pulled the ball up to throw. When the cornerback jumped inside of Keenan Curran, the quarterback was forced to tuck the ball and try to scramble back to the line of scrimmage.
Stefen Banks wrapped up Phillips in the middle of the line. When the pile cleared, Phillips lay face down, pounding the turf and writhing in pain. His right leg shook uncontrollably. His left ankle pointed up, nearly 180 degrees in the wrong direction. 
As quickly as Phillips had found football, he lost it again.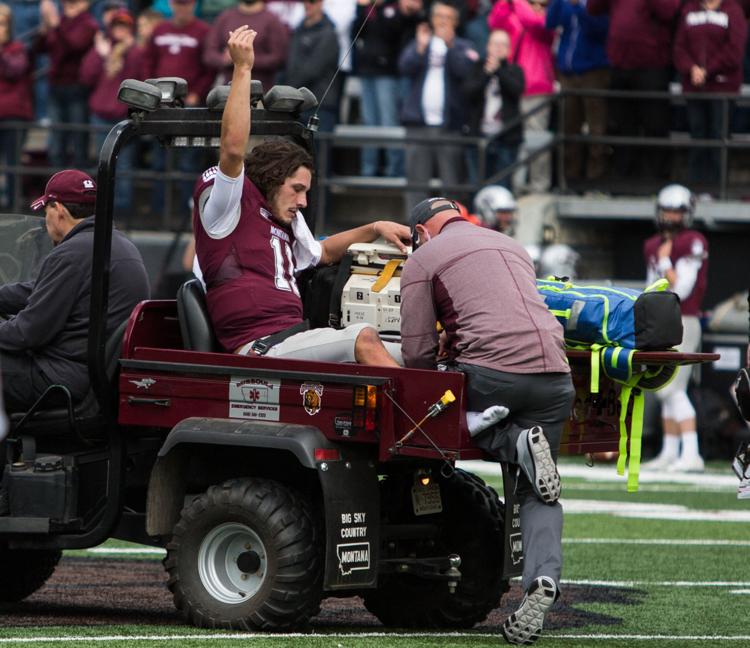 Phillips grew up in Chattanooga, Tennessee, the youngest of seven children. He came from a football family. His dad played quarterback, a high school star that didn't get the chance to play at the next level because of his size. His grandpa won a high school state championship before playing at Georgia. 
Phillips began playing high school football when he was in eighth grade and left Signal Mountain High School with five letters. As a sophomore, Phillips and Signal Mountain won a 2-A State Championship, in just the second year of varsity football for the school.
He took over as the starting QB his junior year. Another dominant season was cut short after the state caught an ineligible player on the team. After that season, he received an offer from Kentucky. The Wildcats offensive coordinator, Randy Sanders, was a former Tennessee Volunteer quarterback. Phillips, a diehard Vols fan, committed right away.
His senior year Signal Mountain lost out in the first round of the playoffs. After football season, Phillips graduated early and went to Kentucky for spring ball. Before he arrived, Kentucky fired nearly its entire football staff, including Sanders.
The coaching change made it tough, but Phillips stayed at Kentucky and redshirted his freshman year. The next year, he entered a QB battle with Patrick Towles. Kentucky had Drew Barker, a five-star recruit, coming in the next season. Phillips knew it was now or never.
Neal Brown, the offensive coordinator, picked Phillips for the starting job. Head coach Mark Stoops picked Towles. After a 5-7 season, Brown announced he was leaving to become the head coach at Troy.
Phillips thought about leaving, transferring down and starting clean. But Brown told him about the new coordinator Shannon Dawson. The quarterback agreed to stay through the spring, but wouldn't commit further.
"Then I fell in love with the new [offensive coordinator] Shannon Dawson," Phillips said. "I talk about him all the time because that is my dude. I really felt like he was going to give me a fair chance."
Then two days before spring practice started, Phillips ruptured his Achilles tendon, ending his season. He regretted not leaving, but grew a friendship with Dawson that made the year in Kentucky worthwhile.
Phillips got his first taste of Montana football at the start of that year, watching them defeat No. 1 North Dakota State 38-35 on ESPN.
'Damn, this is dope. This is an FCS team?' Phillips thought, watching the crowd at Washington-Grizzly Stadium.
While injured, he helped Dawson analyze film and come up with plays. When Dawson was fired at the end of the year, it was the last straw for Phillips. He threw just nine passes at Kentucky.
He called coach Stoops on Christmas Eve to tell him he would transfer. He went to Dawson, his most trusted coach, for advice.
"I know Bob Stitt and Montana, they are looking for a quarterback of the future," Dawson told him.
"I trust you, whatever you think I should do, I'll do it," Phillips answered.
"Do you care to go across the country?" Dawson asked.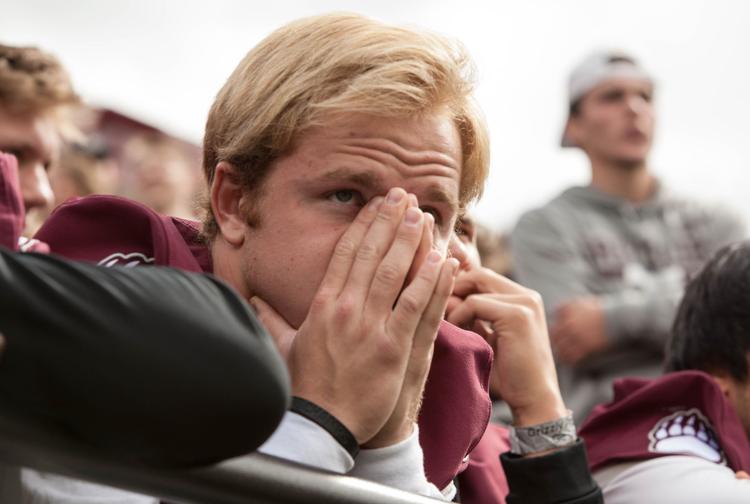 In his first year, Phillips was third-string behind Brady Gustafson and Chad Chalich and still recovering from the Achilles injury at Kentucky.
"I was raw when I first got here, it was not like how I was playing (this year)," Phillips said. "It took me a long time to come back from the Achilles, just learning how to step up in the pocket. I didn't do that when I first got here. I forgot how hard that was."
He expected to be the starter his senior year, but redshirt-freshman Gresch Jensen had a good spring camp, creating a quarterback battle with Phillips. The senior won the job in the fall a few weeks before the first game.
In the season opener against Valparaiso, he looked like a quarterback who hadn't taken competitive snaps in five years. The heavy favorites going in, Montana led by just four points at halftime.
In the second half, something clicked. Phillips threw four touchdowns and the Griz won 45-23. 
The next week they challenged No. 7 Washington. Montana was outclassed in that game, losing 63-7, but Phillips again felt like he played well. Coming home for the game against Savannah State he was playing the best football of his life. The opening of that game came easy to Phillips.
He remembers one play in particular. The defense forced him up in the pocket. While he was falling, he flipped a shovel pass to running back Alijah Lee. 
"It got called back but at that point I got up and was like, 'Damn, I've never done that before,'" Phillips said. "I wasn't really trying but I was like, 'I'm about to ball,' because that was a really veteran type of play and I hadn't been doing that."
After a 13-for-13 start in a game the Griz were going to win easily, Phillips felt his college career come to an end.
"I felt that it was about to happen basically," Phillips said. "I was falling forward and just knew it was coming because I could not move my foot. It was just stuck and I was falling forward like, 'Shit.' Right when I went down it all popped and I felt it all."
The experience of a previous major leg injury told him it was over right away. The trainers tended to him, first getting his dislocated ankle popped back into place. He cried profusely as they worked to get him more stable and onto the cart.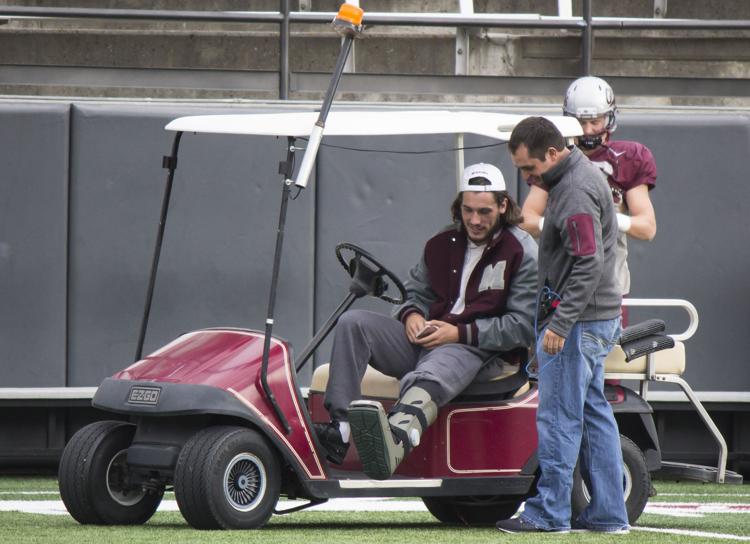 Then the entire Montana team cleared the sideline to surround and support their quarterback. When a referee threatened Montana with a flag, receiver Keenan Curran said that they could throw the flag if they wanted but the team was going out to support its brother. 
Phillips did his best to hide the tears. He put a towel over his head and sat up in the cart, waving at the crowd and giving a thumbs up. It was difficult maintaining his composure, but Phillips thought it was something he needed to do.
"I don't know, I just felt like, knowing that was probably the last time I was going to be on a football field like that and being the quarterback, knowing that they still had to play a game, that's what they needed to see," Phillips said. "They knew I was hurt, they knew it was really bad."
His mother, Elaine Reese, watched from the crowd. She had quit her job in Chattanooga to move to Montana for his senior season. She couldn't see his leg and was waiting for him to get back up.
"When the cart came out I knew that it was serious," Reese said. "I didn't even stick around, I went up and found somebody and said, 'Get me to my son.'"
Phillips took an ambulance to the hospital, where he tried to watch a little bit of the Griz game as he waited for x-rays. It was too difficult to watch, so he switched to the Tennessee game, which he joked was even harder to watch. 
The Griz went on to win the game 56-3. Redshirt-freshman Gresch Jensen scored four total touchdowns. Despite the big win, the mood was somber in the postgame press conference.
"I'm proud of our players but it's hard to think about that when you have one of your guys go down like Reese did," Stitt said. "Just knowing his story and how long he's waited to get to that point and how well he was playing, it breaks my heart and I know it does for everyone else in our football program."
The verdict of the x-rays came in. Phillips broke his fibula, the smaller of the two bones in the lower leg, in three different places. He ruptured all of the ligaments in his ankle. He also dislocated his ankle, but they put that back into place on the field.
Surgery lasted three hours, with doctors putting a plate and screws into his lower leg to hold it all in place. He stayed at the hospital that night. He tweeted the next day.
Coming to Montana was/is the best decision of my life. I've never felt so much love and support. The best teammates, coaches and fans around

— Reese Phillips (@ReesePhillips11) September 17, 2017
Two days later, he issued an official statement through Griz athletics: 
He had received a lot of attention from the moment the injury happened. Everyone watching the game knew how serious it was. If you didn't see it live, photos of it could be found online.
The Missoulian posted a photo showing the injury on its website and Instagram. Reese saw the photo and started crying. Phillips checked with the Missoulian Griz beat reporter Amie Just, who argued that the photo shouldn't go up and refused to Tweet any photos showing it. Eventually he got on the phone with editor-in-chief Kathy Best.
"I actually called them and I talked to Kathy (Best) and I was pissed, I was really mad," Phillips said. "I understand as a journalism student if it bleeds it leads, I get that that was the storyline, but I felt disrespected."
Best said she talked to Phillips about removing the photo. It was taken down from Instagram but left on the site. She said it was left up because it was in the context of other stories and columns, and depicted the game's key moment.
After the game, support came from all over the country. Former Griz players Chase Reynolds and Tyrone Holmes reached out. Former Kentucky Wildcat and New York Giant quarterback Jared Lorenzen tweeted him. Phillips then released a statement through Griz athletics and things got crazy.
"A lot of people don't know what's going to happen when you lose your quarterback so I tried to even be a little funny, and after that is when I started going around town and people knew me," Phillips said. "Random people came up and were like your statement was awesome, that is what people needed to see."
On the Tuesday following his injury he returned to Washington-Grizzly Stadium to support his teammates at practice.
Phillips' leadership ability set him apart from Jensen. Even if his leg was broken, his voice wasn't. He said that Jensen is one of the best young quarterbacks he has ever been around, but he doesn't have that vocal leadership yet. Phillips knows he can help him grow in that department, but being at practice wasn't easy.
"I try to stay positive all the time, but it's definitely hard," he said. "The first couple of practices I definitely had to duck off by myself and kind of hide my face because I was getting emotional. That was really hard, but I knew that's what the guys need."
Montana played at home again the next week, a huge match-up with Big Sky favorite Eastern Washington. Phillips, in a wheelchair, watched the team warm up on the field. When the first group of offensive players came out of the tunnel, he huddled them up and gave a pre-game speech, a tradition that a broken leg wasn't going to stop.
He went into a box before the game and watched the rest from there. Just before the team came out onto the field, his mom started crying. 
"I have to tell you something," she said.
"What do you have to tell me?" he asked. 
Then the team burst from the tunnel, fireworks shooting off on either side as the smoke machine hid the players for the first couple of feet. When the players came into sight, so too did a large white flag with a maroon 11, Reese's number.
The idea came from Phillips' brother, Brock Sparks, who lives in Charlotte, North Carolina. 
"I wanted to do something to kind of lift Reese's spirits up so I was like; what can I do other than go out there and be with him, what can I do since he's not going to be on the field physically?" Sparks said. "It just popped into my head, make a flag with his number on it. So that's exactly what I did."
Sparks and his girlfriend created the flag, getting the materials together and then sewing on the maroon number 11. He brought the flag with him when he came to visit, keeping it a secret from his little brother.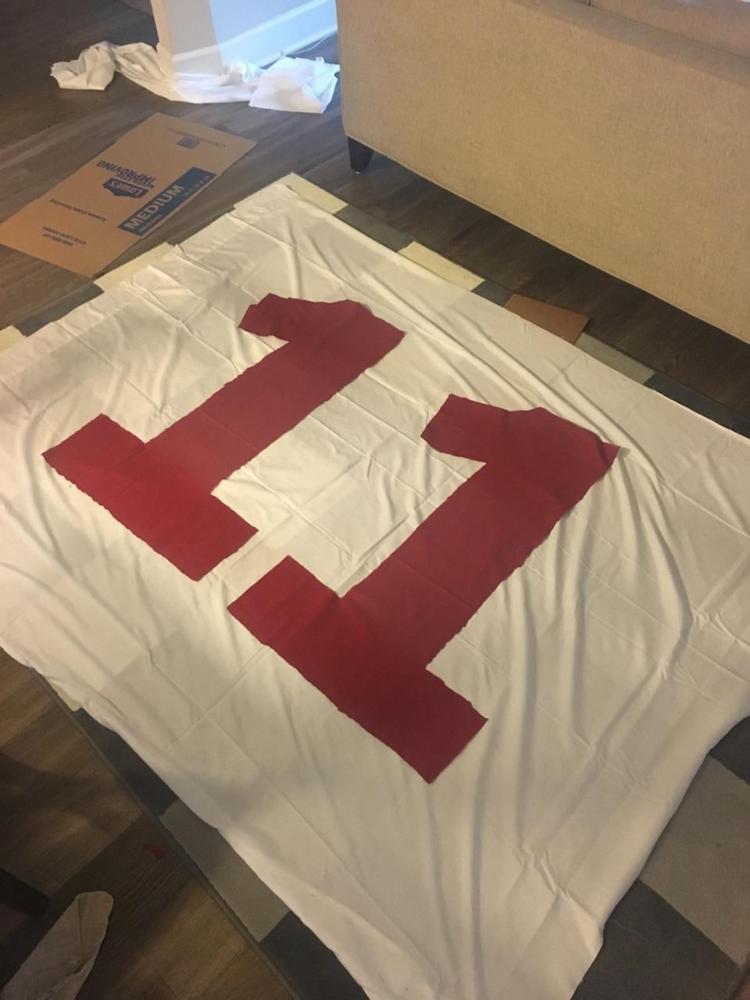 He texted Curran during the middle of the week to see if anyone could carry the flag out of the tunnel. The receiver took it on himself to carry the flag, and also helped keep it hidden from Phillips before the game. He has now carried the flag out at three games and will continue to all season.
"Him coming out of the tunnel with the team is something he can't do, he can't even put pressure on his leg, so that is basically him coming out in spirit with us," Curran said. "He's one of my best friends and it's an honor for me to bring it out."
Phillips watched the Eastern game but was unable to travel to Portland. His leg, still in a splint, was in too much pain for the journey. He watched the game from home.
"It's a lonely feeling. All your best friends are going to play and you're just here and can't walk. It's like, 'Shit, I can't even go to the bathroom without breaking a sweat,' so that's tough," Phillips said.
But he doesn't plan on missing another game this season. The splint was removed and he was put into a boot the Monday after the Portland State game. He was with the team in Pocatello last Saturday.
Quarterback coach Andrew Selle has been the biggest supporter of Phillips, talking with him every day. In 2010 Selle suffered a career-ending injury during his senior year at Montana. He still remembers the pain he went through, but hopes his lessons can help Phillips.
"At this point there's not a whole lot that I can tell him to make him feel better other than just talking about what I went through and what I learned from it," Selle said. "You try to help any way you can but it's a process he's going to have to work through on his own and find a way to move on with his life."
Moving forward, Phillips is unsure if he wants to pursue a medical redshirt, which would allow him to play another year. He hasn't been given an exact timetable for recovery, but hopes to be able to put pressure on his toes at two months. After that, he is hoping that in seven or eight months he will be cleared. But even then, he knows he won't be the same player he was.
If he returned to Montana, he would likely be the backup to Jensen. He could always try to go somewhere else, but said that he loves Missoula and wants to finish here. There is only one thing that could get him to return.
"I would like to walk off the field on my own, that is the only reason I would come back, I just don't really know if it's worth it or not," he said.
As a journalism major, he could stick with the sport of football and pursue a reporting career. He also has weighed coaching as an option of what to do after school.
If he does want to pursue a coaching job, he'll start by talking with Stitt and his former coordinator Dawson. No matter what he does, his mother knows that he will find a way to come out on top. He always has.
"I've watched him from the very beginning and from getting his scholarship to Kentucky to here, all the obstacles he has endured," Reese said. "Most people would have just given up a long time ago. It seemed like no matter what happened to him he kept his head up and just kept moving forward."
Reese Phillips' playing career is likely over. He threw nine passes as a Kentucky Wildcat. He played nine full quarters at the University of Montana. He suffered a major injury on each of his legs. But even if he didn't lead Montana to the playoffs or break any records, he will go down in Montana history. 
The community support, the tweets and texts, they all show what he meant to Missoula. But an entire team leaving the sideline, surrounding their quarterback—that shows what he meant to Montana Grizzly football. 
"These are my guys, we are so much more than just teammates," Phillips said. "We are kind of like family and they showed that. That's what Coach Stitt preaches all the time. I think people don't understand when he says it, about the closeness, but now they've seen it. Now they know."