For the last three weeks, the Kaimin's coverage has focused, sometimes exhaustively, on the coronavirus. The pandemic has filled our news sections and driven our feature stories.
We covered the University's refusal to release campus-specific COVID data and the faculty senate's demand for that same data. Later, we were the first to report that UM would release the numbers on Sept. 9 — the 15th day of instruction and the last day for students to withdraw and receive a tuition refund. We've examined the impact UM football's canceled season could have on Missoula, and how students with disabilities face disproportionate challenges while learning remotely or navigating UM's COVID-adapted campus.
Our reporters have been working hard to make sure this paper reflects campus life in the time of the pandemic. We've talked to many people, and paired their personal stories with the news. Sometimes, though, the clinical detachedness of numbers, statistics and policies threatens to overshadow the individual student experience. And conveying that experience is part of the Kaimin's responsibility.
Our first cover story explored UM's reopening and the significant role students living on campus play in keeping the University open and healthy. It raised the question, is it fair to expect these students to shoulder the burden of an entire campus's safety? This week, reporter Nikki Zambon and photographer Emma Smith set out to capture student testimonies nearly a month after move in day — slices of life that demonstrate what campus living is actually like right now.
Below are three profiles that examine, in microcosm, the varying and personal challenges students face. From frustration and confusion on campus COVID policies to nostalgic longing for years past, students reflected on the challenges and pressures of living on a socially-distanced campus.
—Addie Slanger, Features Editor
---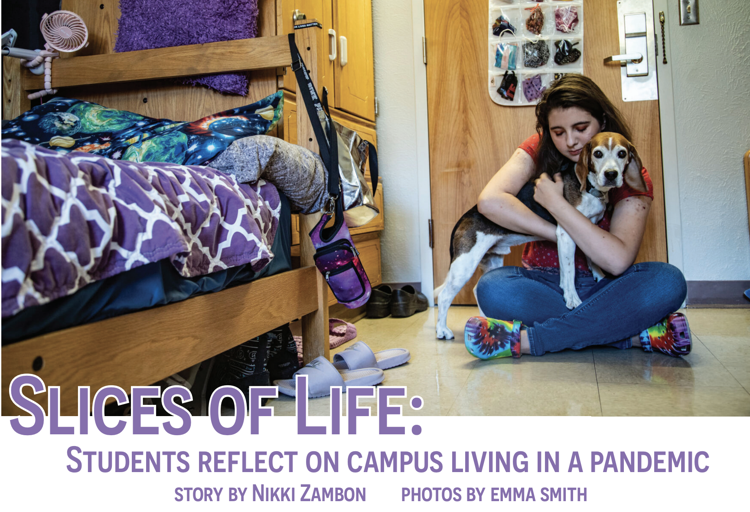 "It happens all the time that people are invited to other people's dorms," Jeremyah Romero-Gatz, a freshman from Missoula living in Miller Hall, said. "It happened to me the other day, and I had to say, 'No, I'm not comfortable with that.'"
Romero-Gatz spoke with me on the phone while riding down a hill on their bicycle. They said they could talk and bike at the same time, no problem, but, later that evening, I received an extremely detailed text message from Romero-Gatz recounting a nasty crash that occurred shortly after we chatted.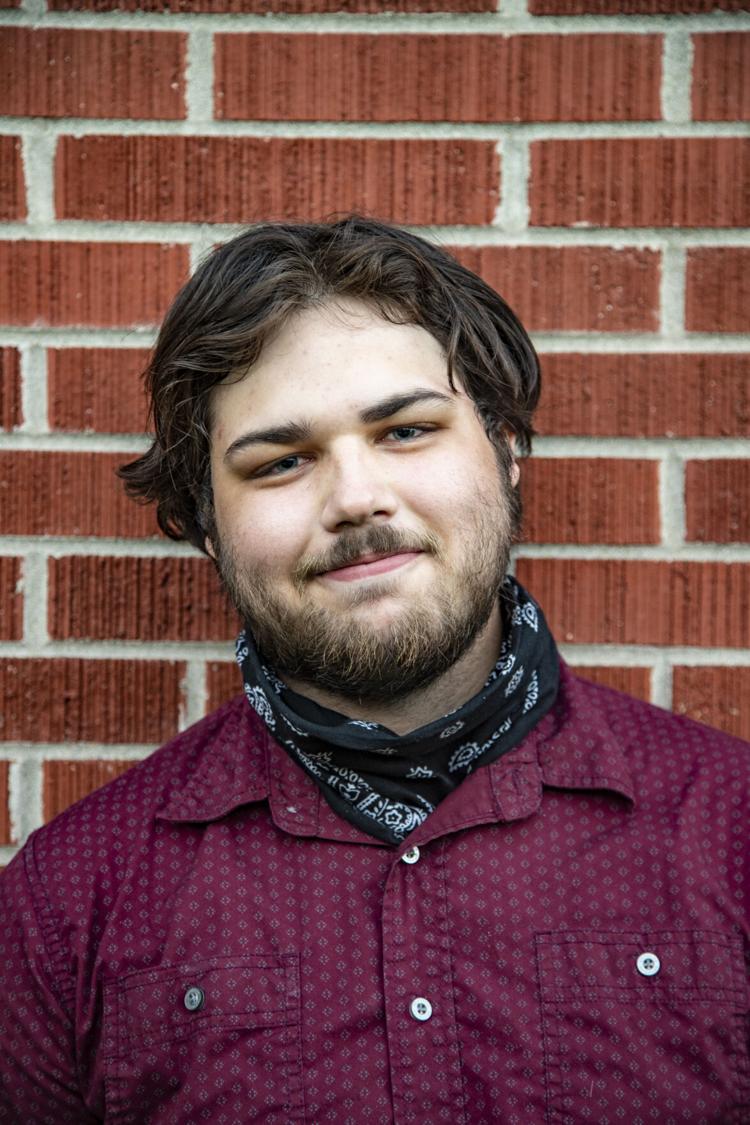 They have been biking a lot these days, trying to be in nature as much as possible before summer bows its head and takes its leave. Romero-Gatz had heard talk of students partying, but chose to ignore it.  
They described how simply "hanging out" now makes normal college peer pressure look like child's play. 
"It's not the same level of social stigma as drinking — like, instead of just getting drunk, you could kill your grandma." 
Miller Hall is known for being a close-knit community with an emphasis on LGBTQ+ inclusivity. One of the hardest parts of living under socially-distanced conditions is the inability to actually spend time with your community. 
Not only does the community suffer from the distance, but dorm floors are significantly less crowded this year, too. In order to keep the bathrooms and hallways uncluttered, UM Housing decided to reduce the number of students on each floor. For example, under normal guidelines, Jesse Hall can house 40 students. This year, the administration set the cap at 30. Currently, only 21 residents occupy the building. 
The students living in UM housing aren't allowed to have visitors, rooms are restricted to the residents occupying them and nobody else is permitted inside. 
The University opened student housing with health protocols, such as tequila-scented sanitizer at every corner, and an expectation that 18-year-olds not touch one another. 
Romero-Gatz has been abiding by these rules as much as possible, but expressed frustration at their own helplessness.
"Me telling people that we have to follow these protocols for the benefit of all of us doesn't matter because I'm just 17. No one gives a shit what I have to say."

"Do you mind if we take the elevator? I'm still recovering from surgery."
Cassidy Martinez, a junior living in Miller Hall, was wearing bright, rainbow-colored Crocs.
She slid her left foot out of the pocket of vibrant plastic and showed me a purple scar, running down the top of her foot like a racing stripe.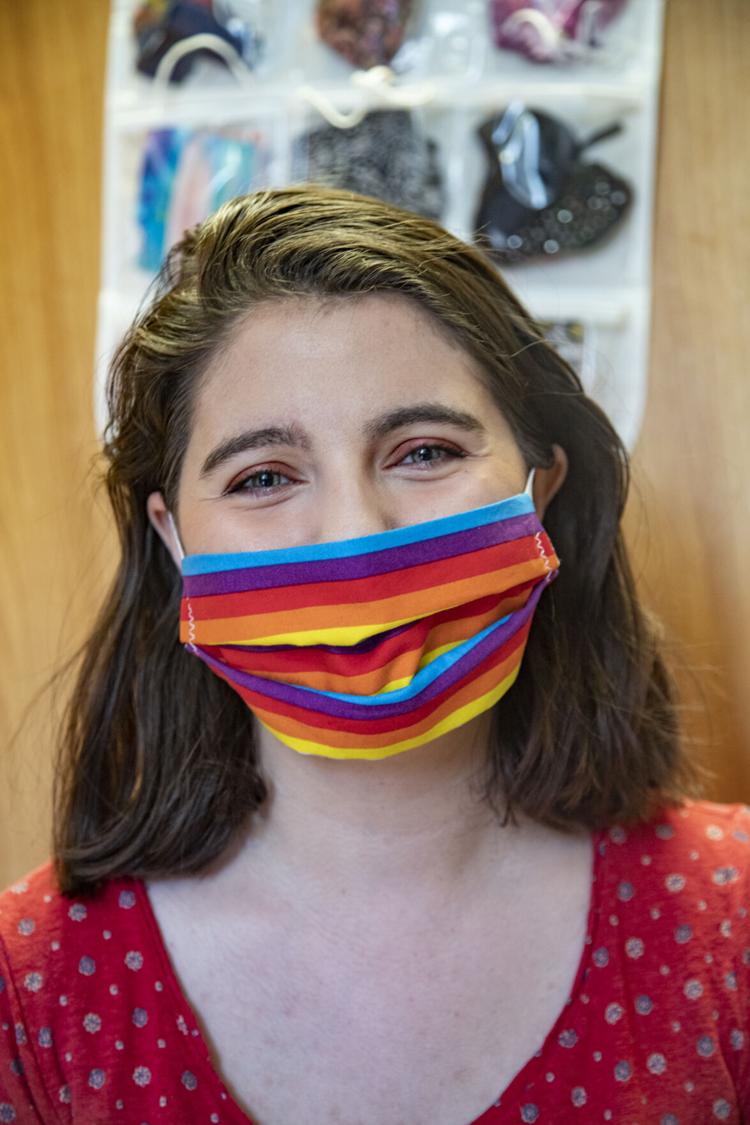 We were headed to the Oval, an area spacious enough to have a socially-distanced discussion about dorm life during a pandemic.
It had been three weeks since the University imposed strict new health protocols in response to the coronavirus. On campus, students were getting used to wearing masks in classrooms, maintaining a six-foot distance and entering and exiting buildings single-file.
After several hours a day, these protocols can wear you down. The masks are hot and humid, like a custom-fit steam room for your nose. Hands begin to crack with tiny lesions from all the washing. But that all fades away the moment you walk out of your last class, tear off your mask and head to your protocol-free apartment to forget about the pandemic. For those who live in student housing, however, such relief is more difficult to come by.
Martinez had foot surgery last spring and was told she couldn't put 100% of her weight on her foot for eight weeks. Earlier this summer, she planned on driving up to Missoula with her grandma and 11-year-old beagle, Leo, to settle into a handicap room in Miller Hall. Instead, the University administration temporarily placed her in Lewis and Clark Village on the first floor.
"The way they explained it was that it was a lot safer to have one bathroom for three people than one bathroom for 30 people," she said. "And they felt it would be a healthier option than on-campus living."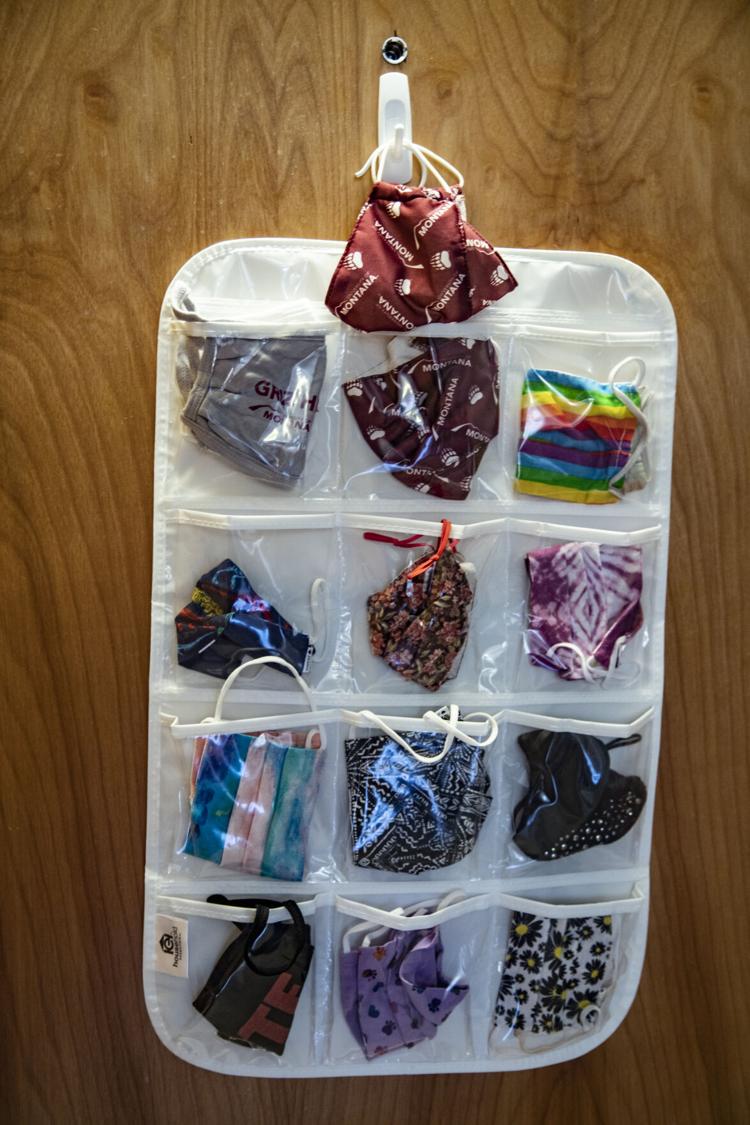 Martinez said Lewis and Clark Village wasn't too packed in the summer. Though her dorm had two bedrooms, she was the only student living there at the time. Protocol was relaxed. Wash your hands, wear your mask — kind of like the rest of Missoula. The only notable restriction was the laundry room, which had a maximum occupancy of one person.
Martinez finally moved into a single room in Miller hall the first week of August.
"Honestly, we were on our own for that first bit of time. We had to figure out where we were going to get food for that first two weeks," she said.
Although UM's food pantry, Pizza Hut and a few other dining options were available, the campus meal plan didn't begin until school started. Martinez laughed when she told me about the two weeks of "meal preps" she did while still living in Lewis and Clark Village: peanut butter and jelly sandwiches, Costco muffins and anything that could be microwaved.
The University implemented what they called a "staggered move-in," in hopes that eager students wouldn't put the community, or their entire semester, at risk. UM only allowed students to park in certain lots on campus for twenty minutes to unload items. They could also schedule a two-hour reservation beforehand, but there was no overnight parking.
Martinez was upset that she couldn't park overnight in her dorm lot. She was nervous about getting home late from work and walking across campus alone in the dark. In the past, she would have called GrizWalk, a service in which students escort people across campus in a funky, golf-cart-type vehicle between dusk and dawn. To Martinez, a student-run GrizWalk is essential. When young people learn to take care of one another, communities like the University thrive. But now, GrizWalk is staffed not by students, but members of the UM Police Department.
Of the many COVID rules that come with campus living, mask usage is the most crucial.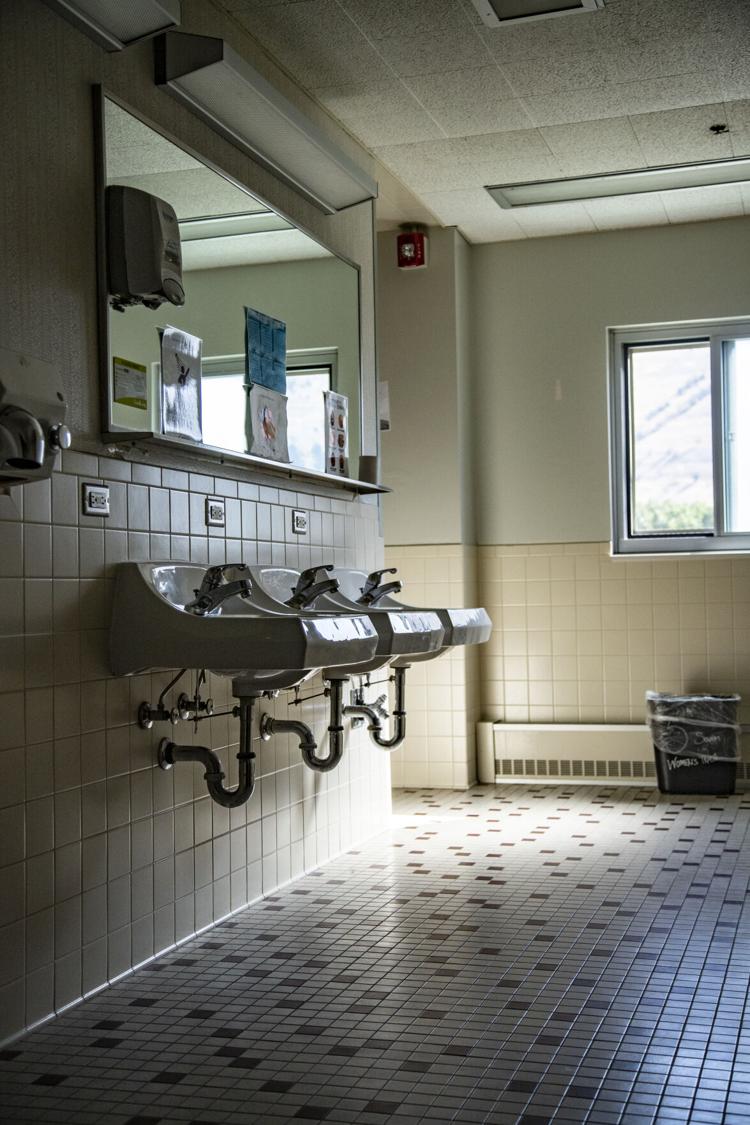 If students are seen by Resident Assistants (RAs) without a mask, they receive a verbal warning. If they are seen without a mask for a second time, they receive a "documentation," or, as some students refer to it, "being written up." For further mask infractions, students must meet with their Area Coordinator, the hall supervisor, to assess their behavior and the potential consequences.
At midnight two weeks ago, Martinez went down the hall to use the restroom and forgot her mask. Her resident assistant (RA) reported her, but she had no prior warnings or incidents. She brought it up with her Area Coordinator and they said there was nothing they could do. What had happened, happened.
So far, Martinez feels conflicted about living on campus but relieved to be able to have an in-person semester at all. At this point, people are playing the waiting game.
As she picked up her bag to return to her dorm, she turned and said what many of us have repeated over the last three weeks:
"I guess we just have to do our part to stay safe and hope for the best."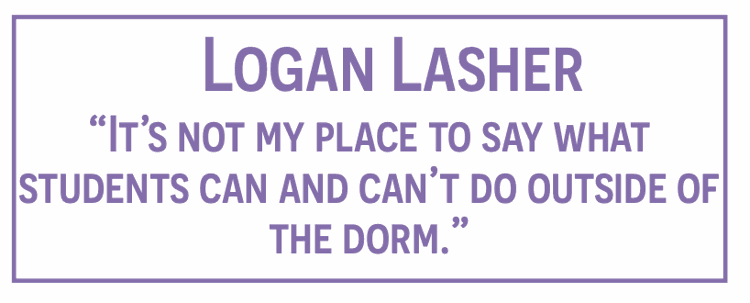 Logan Lasher, a 20-year-old second-year resident assistant (RA) in Craig Hall, said student move-in this semester was sad compared to last year.
He had gotten used to the excitement in the air — post-summer reunions that prompted shrieking, big embraces and playful banter. This year was different. He greeted people by asking them to please wear their masks.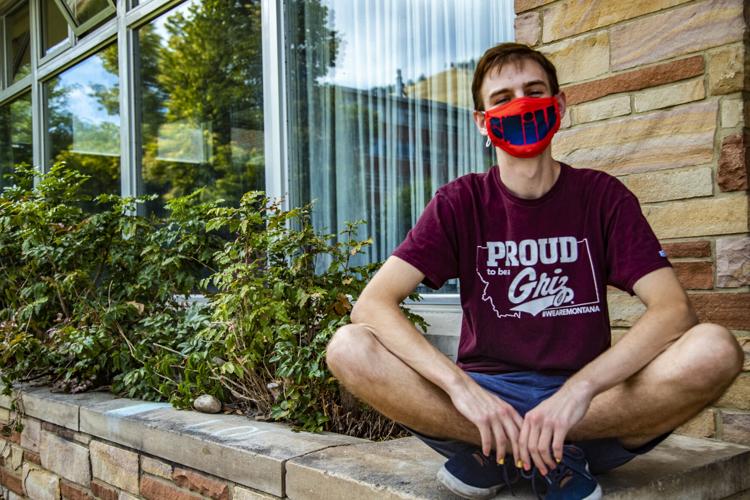 He reluctantly, if not dutifully, told large families they could not accompany their loved one into the dorms. The sweet magic of it all had been transformed into a dystopian action-heist movie, in which cars moved nonsensically around cluttered lots and furniture appeared and disappeared in 20-minute intervals. 
Yes, this year was different.
The RAs were given the same spiel as the students: you are accountable for your actions on campus and should behave accordingly. Abide by health protocols and don't do anything against normal school policy. But beyond that, Lasher said he was in the dark. If someone tested positive for COVID-19 in his dorm hall, he wouldn't know about it. Privacy rules on campus make it impossible to know if someone contracts coronavirus, unless the students themselves share the information.
This semester, Lasher said he has written significantly more documentations of student misconduct than he had at the start of previous semesters. The shift in rhetoric from "written up" to "documentations," he explained, is an attempt to discourage a punitive, intimidating living environment. 
"Craig Hall is known as being one of the less-cooperative buildings. Mostly, I'll ask people to put their masks on and they apologize and do it because they don't want to get in trouble, but sometimes they just walk right past me, or grab a disposable one from the front desk and shove it in their pocket," he said.
The students sometimes feel that getting reported for being with their friends is unfair. For example, student athletes, who often reside in Craig Hall, have raised a point that is both troubling and understandable to Lasher: 'Why do we have to wear masks in our dorms around our teammates when we train with them everyday?' He has tried to explain that not wearing masks puts the whole building at risk, but said some students just don't want to hear it.
Lasher lives alone, in a room that looks out on a large, grassy area of campus. He often sees his residents hanging out in big groups without masks.
"At times, I feel nervous. But it's not my place to say what students can and can't do outside of the dorm," he said.
It's going to get cold soon, though, which Lasher worries could jeopardize adherence to social-distancing rules. If the guest policy were lifted, he worries that students would become careless and put other residents at risk by congregating in large groups inside the dorms.
  When students argue about COVID-19 protocols, Lasher tells them he knows what a normal campus looks like. How fun and lively it could be. He also knows what a campus looks like when it gets shut down due to a worldwide pandemic. 
So, Lasher argues, why not just wear the mask?