While walking down the oak-lined streets of University Avenue, Tiffany McFarland pointed to houses that once held fraternities and sororities at the University of Montana.
"It's no longer Greek Row," she said. Only Delta Gamma and Phi Delta Theta remain on the street.
She turned onto Gerald Avenue, now the dominant street for UM Greek life, and walked the last couple of blocks to her former home: the Kappa Kappa Gamma sorority house. 
"This is Kappa," she said, gesturing to the mansion with prominent pillars, the Greek letters "KKG" emblazoned above an arched doorway and a "No Trespassing" sign posted on the front door. "It's a gorgeous building, from a distance."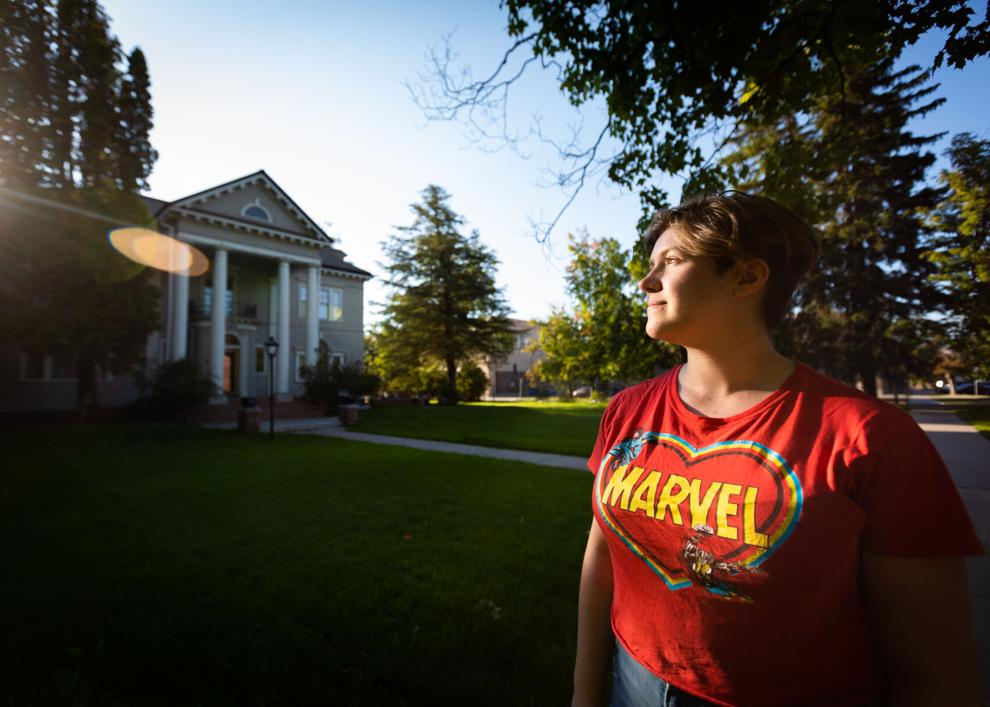 McFarland was one of 20 women in the Kappa Kappa Gamma sorority last spring, and one of only four who had planned to return this fall. She was house chair of the sorority and planned to become the next president of the Panhellenic Council. But instead of McFarland returning this fall, her sorority chapter was suspended.
Before suspension, KKG was put on probation, meaning the sorority was considered at risk of losing its place on campus if recruitment numbers didn't increase. With only four girls planning to return in the fall, the sorority was suspended, meaning that chapter of Kappa Kappa Gamma no longer has a place on UM's campus. If, in four years, nobody comes forward to bring KKG back, then the sorority could be permanently lost at UM.
Years of financial problems, a decline in membership and a culture of secrecy that alienated its members are to blame for KKG's suspension, according to three former members.
KKG is not the first sorority to close at UM, and it may not be the last. Greek life membership numbers continue to steadily fall, and some students are advocating for abolishment of the system. They say it perpetuates sexual assault, discrimination and homophobia.
But what is at stake for the more than 300 students who are a part of that system? And what can be learned from one fraternity that closed and made a comeback? 
A history of UM Greek life
Kappa Kappa Gamma was UM's first sorority, established in 1909, followed by Kappa Alpha Theta later that year. After several moves, KKG landed in the mansion of former Missoula mayor John H. Toole, where it stayed until the suspension this spring. 
Because of this long generational line, the sorority is hoping to give over the deeds of the house to the John H. Toole Foundation, which McFarland said may allow Kappa members of the future to live in the house once again. But if that doesn't work, the sorority may have to sell on an open market. 
"We don't have the income any longer to keep our house," McFarland said. "It's massive, obviously. When you don't have income, it's hard to keep upkeep."
As house chair of Kappa, McFarland said multiple issues contributed to the sorority's suspension. She said she helped find and report asbestos in the house. Long years of neglect and financial issues led to the asbestos problem, and other general upkeep issues with the house, according to McFarland.
In addition to issues with the house, Kappa Kappa Gamma experienced a 2015 embezzlement scandal. Former house mother Sherri Lynn Sweet took $10,000 from KKG. According to previous Kaimin reporting, Sweet confessed to using the house's debit card to buy clothes and alcohol and take out cash withdrawals for herself.  
It was reported in 2015 that Sweet would take a plea deal, paying back the money for a lesser sentence. 
"I would say [the embezzlement] has definitely affected the members," McFarland said. "I think at the time, they had enough reserve that it didn't matter. And then as we had lower admission rates and the house just got older, we started to see the effects of the mistreatment and neglect."
While KKG's situation is specific, Greek life chapters closing at UM isn't new. In the last century, 10 fraternities and eight sororities have been closed at UM.
Declining membership has been a pattern across UM Greek life in recent years. Between fall of 2018 and spring of 2021, sorority membership declined by 30%, from a total of 245 women to only 171, according to UM's Greek life reports. Fraternity membership saw less of a drop, but still declined by almost 10% over the same time period, from a total of 165 men to 149. 
This means that since the fall of 2018, overall Greek life membership has declined by almost 22% — from the two-year high of 410 members to only 320 in spring of 2021.
Kappa's suspension 
But while some sorority members were aware of these issues, Reagan Smith, a junior social work major, said she didn't have any clue what she was signing up for when she showed up on KKG's bid day last year. 
After a year in KKG, Smith said she wouldn't join again. While she met great people, she said the sorority's environment was not a good one.
Both Smith and McFarland joined Kappa after it had already entered probation in 2019. McFarland explained the probation meant KKG was an "at-risk" sorority because of its low recruitment rates. Neither of them was told about the probation until after they were under contract as members. 
McFarland didn't feel great about keeping the truth from recruits, but nobody in Kappa was allowed to talk about the probation with anyone outside of the house.
"I know that [telling recruits about probation] would have even lowered our membership, but I think it would have been more honest," McFarland said. "They came in and they learned that they were basically our last hope, that we were so low on membership that if they quit, we were basically done."
Smith said she was upset she got roped into something she didn't even know was happening after signing a contract that said she'd pay her dues for the year. 
"They literally don't tell you anything and then they loop you in and you're like, 'Oh okay, we're kind of fucked over,' and I had no idea," she said. 
Miranda MacKenzie joined KKG as a freshman — a year before the probation, but not before the house had issues. She said she too was told to keep the problems within the sorority secret from potential recruits. 
Pressure was put on the women to make up for lack of members, and many of them, including Smith, McFarland and MacKenzie, held multiple leadership positions. 
MacKenzie was both vice president of the organization and secretary last year. The year before, she was marshall and the sorority's Panhellenic delegate. 
"One of the most frustrating parts was being tasked to do things that were practically impossible," MacKenzie said.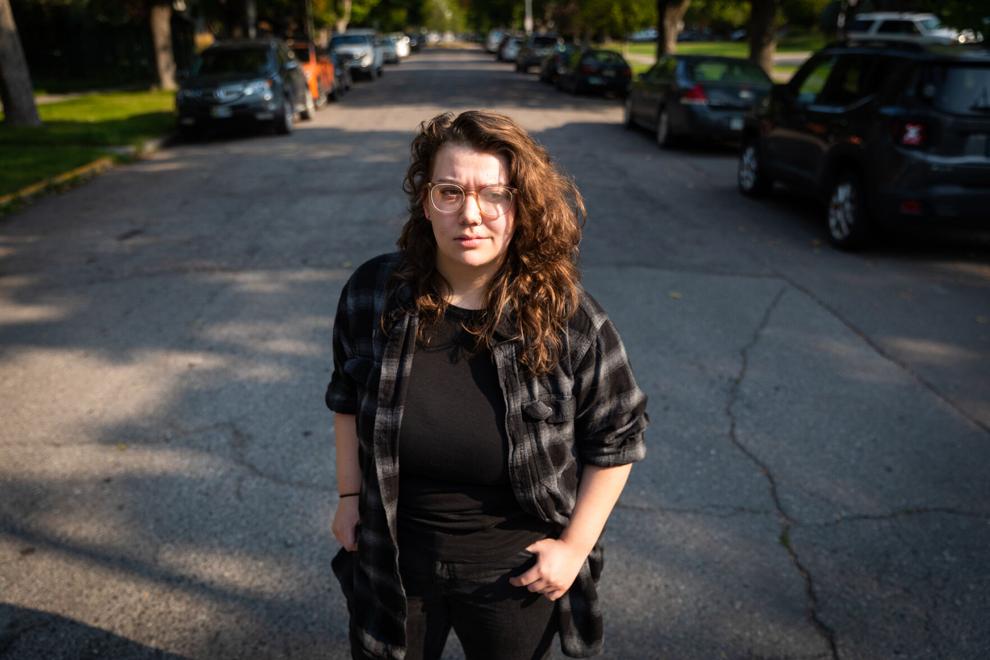 By her second semester, Smith was Diversity Equity and Inclusion chair, education chair and new member chair. 
 While she was there, Smith tried to find the bright sides to her sorority situation. She did legitimately care about the women she lived with and the organization she'd joined. 
"I was kinda sad to watch it die the way it did, but I wanted to get people back into it and spark their love for Kappa again, because it's a good organization, but I think it was ready to go," she said. 
While she felt connected to other Kappa members, Smith didn't think she could've stayed for another year, even if the sorority wasn't suspended. She couldn't afford it anymore. And she was denied a scholarship she'd applied for. 
"I think that one of my biggest problems with Greek life is how inaccessible it is to people that aren't financially able to afford it," Smith said. "I think that if they continue to keep making people pay as much as they are, they're not gonna reach a lot of people that they could be reaching and get as many members as they wanna get."
Smith said she paid about $3,000 per semester for her four-person bedroom — which, by the spring, only had two girls in it because there weren't enough people to fill the rooms. McFarland said it came out to $750 a month. 
"There was no way I could go back and live in the house," Smith said. "It's too expensive."
According to the UM Greek life website, average first-year dues for fraternities are $300 to $500, while for sororities it's $900 to $1,200. The average active membership per semester is $500 to $5,000 for fraternities and $1,500 to $4,000 for sororities. 
"Ours was probably one of the more expensive plans, but our house was pretty grand," McFarland said, adding that they also had chefs.
Despite the expensive costs, McFarland still paid less at Kappa than she did living in the dorms on campus.  
Smith also said the Greek life system is inaccessible for people with disabilities. As DEI chairman, Smith encouraged fellow members to be more empathetic and find ways to make Greek life more welcoming to people with different abilities. 
She pointed out there were no ramps or elevators in the KKG house. She also noticed that nontraditional students were less likely to join a Greek life chapter, because the system caters to the typical undergrad who comes in at 18. 
These issues within the Greek life system were also pointed out by a new Instagram page that popped up on a lot of UM students' radars in spring of 2021: @abolishgreeklifeumt. 
The page, started by a group of a half dozen graduate and undergraduate UM students, is run anonymously. The page administrator said contributors don't attach their names to it because they fear harassment and retaliation. It has around 200 followers. 
The administrators consistently posted during the end of last spring and have posted four times this semester. The administrators said their goal is to start discussions about the systemic issues of Greek life and work to address those issues — and they don't think reform is enough. 
In a direct message conversation with the Kaimin, a page administrator said they were glad to see KKG shut down, because there are other student groups on campus that "don't contribute to rape culture and a culture of exclusion."
"Greek life is rooted in a history of exclusion, rape culture and especially homophobia," one of the page administrators said. "Gender roles are upheld in violent ways and alcohol and parties are in male-controlled spaces. It's not safe for students, and we think that the dangers outweigh any benefits that members may find."
UM's Fraternity and Sorority Involvement Director, Lacey Zinke, stated in an email that Greek life's top priority is safety. She said she works to promote resources to her members, organizes safety training and informs Greek life leadership of their responsibilities in promoting safety. 
But MacKenzie supports the abolish Greek life movement. 
"I am kind of behind the abolish Greek life movement because the amount of reform that it would take is really extreme, and that's part of the abolish Greek life movement is like it's not gonna change," MacKenzie said. "We need to get rid of the system altogether."
McFarland said the history of UM Greek life is one that should be acknowledged, and that there needs to be conversations around the culture created by athletics and Greek life. She added that one of Greek life's biggest problems is its refusal to be more transparent. 
McFarland acknowledged that Greek bylaws treat men and women differently. In particular, she said fraternities have more freedom with hosting events and running informal recruitment. 
"It's bullshit. It's fucking bullshit. I think fraternities need to be held to the same standards sororities hold themselves to, honestly," McFarland said. "I think there should be room for critique, and I think sororities may need to relax some of their rules a bit, because we're not delicate females to be protected anymore."
MacKenzie was similarly upset by gendered differences in the Greek life system, especially when it came to the LGBTQ+ community. 
When she went through recruitment as a freshman three years ago, she was open about being bisexual and asked each of the sororities if she would be safe in their houses. She said Kappa was the only one that assured her she would be, and the only one who offered her a bid. 
"At one point, we were the most diverse house on campus," McFarland said. "When we talk about LGBTQ members, we have a history of non-binary members. So, we got labeled the weird house, and admittedly we were the most socially awkward house."
Kappa was stereotyped as being "rude," Smith said, earning the nickname "Kappa cows." McFarland said they were often referred to as the "weird" house and MacKenzie said they were called "Kappa Kappa Gayma." 
The women said each house had its own stereotypes, and that created tension among them. They were supposed to be a "Panhellenic family," but they weren't. Smith said she wished they all could have just been accepted for their individual selves and not judged based on which sorority they were a part of. 
"But honestly, that's what drew me to Kappa — that everyone was very genuine to their individual self as well as the sisterhood identity," McFarland said.
MacKenzie acknowledged that race was an issue within Greek life as well. The system is predominantly white, and has a history of excluding people of color, she said. Even within Kappa, she noticed members making off-handed comments and micro-aggressions she found to be racist. 
The Fraternity and Sorority Mutual Relationship Agreement between the University and Greek life says members must "provide to all people the equal opportunity for participation without regard to race, color, religion, creed, service in the uniformed services (as defined by state and federal law), veteran status, age, political ideas, physical or mental disability, or sexual orientation." 
The agreement also says that abuse or harassment of any kind isn't tolerated, though the document does not require a mandatory reporter, someone who must report harassment, discrimination or sexual assault to the University, as is required of dorm RAs. This is one point the abolish Greek life Instagram page finds unsatisfactory about the agreement. 
The Greek life system is not subject to Title IX requirements barring discrimination on the basis of sex because of a memorandum from 1989 exempting "social" fraternity and sororities as "single-sex" organizations. 
"I think there can be a lot of power in women-only spaces," MacKenzie said. "The problem is the roles it enforces."
An abrupt eviction
By the end of spring 2021, as the abolish Greek life page was posting regularly about issues it attached to the entire Greek system, Smith was ready to be done with the whole situation. She left the house the weekend before finals and didn't turn back. But things at the house became even worse mid-finals week. 
MacKenzie was right in the middle of things. She woke up the Wednesday morning of finals week to another Kappa girl banging on her door. 
When she opened the door, her friend held up a piece of paper telling her she'd been evicted. They'd all been evicted. Alumni of KKG had come to inform the members they were being booted out early by taping the notices to their doors. All three women said some members were only given 12 hours to leave. 
"No one knew they were coming," McFarland said. "There was no pre-warning. I didn't even know they were coming, and then I walked into the house to chaos."
MacKenzie described the day as madness. Everyone started packing, venting, yelling. They were angry together, and she strangely felt closer to them after that last day in the house. 
Even though she was given more than 12 hours, MacKenzie left that day. She called her mom, who drove down from Great Falls and helped her move home for the summer early. 
"That's part of why I wasn't so sad when I left," MacKenzie said. "Yeah, it was like my sorority's over, but we were violently evicted. It was a little hard to feel upset about moving."
The members were told they were being evicted for several reasons, the main one being possession of alcohol. Regardless of a member's age, the house was supposed to be dry. But MacKenzie said in her three years there, nobody had taken the rule seriously and the housemother had a "don't ask, don't tell" treatment of it. 
So, when they had a small party of just Kappa members for one of their birthdays, the day their suspension had gone through, they didn't think it would be a big deal. But the housemother reported them. 
Other women were told they were being evicted for other code violations, including not wearing shoes on the first floor. McFarland said that rule was meant to protect the women and the ancient hardwood floors in the house, which could be ruined by the oils and sweat from people's feet.
A fraternity's return
In 2019, Sigma Alpha Epsilon, a UM fraternity, had a similar experience to that of Kappa Kappa Gamma. The frat couldn't recruit enough members or afford to stay in its house, so it shut down. 
Last year, though, five men brought SAE back with the help of alumni and a plan to change its legacy, though not all believe the University should support a fraternity with that kind of history. 
"The house shut down for a reason and it should stay that way," the @abolishgreeklifeumt Instagram page said in a DM. 
Both MacKenzie and the page referenced the fraternity's nickname on a national level: "sexual assault expected." MacKenzie said that her freshman year, before SAE was suspended and restarted, she was told to never go to a party there because of this reputation.
But many others see the return as a good thing. 
Cavin Pitera, a sophomore business major who joined SAE when the house returned his freshman year, is now president of the frat. 
"The five starting guys kinda made it clear that this house focused on academics, strong brotherhood bonds and more of just helping out the community than, you know, partying and girls," Pitera said, adding that this was what he'd been looking for in a frat when he rushed last year.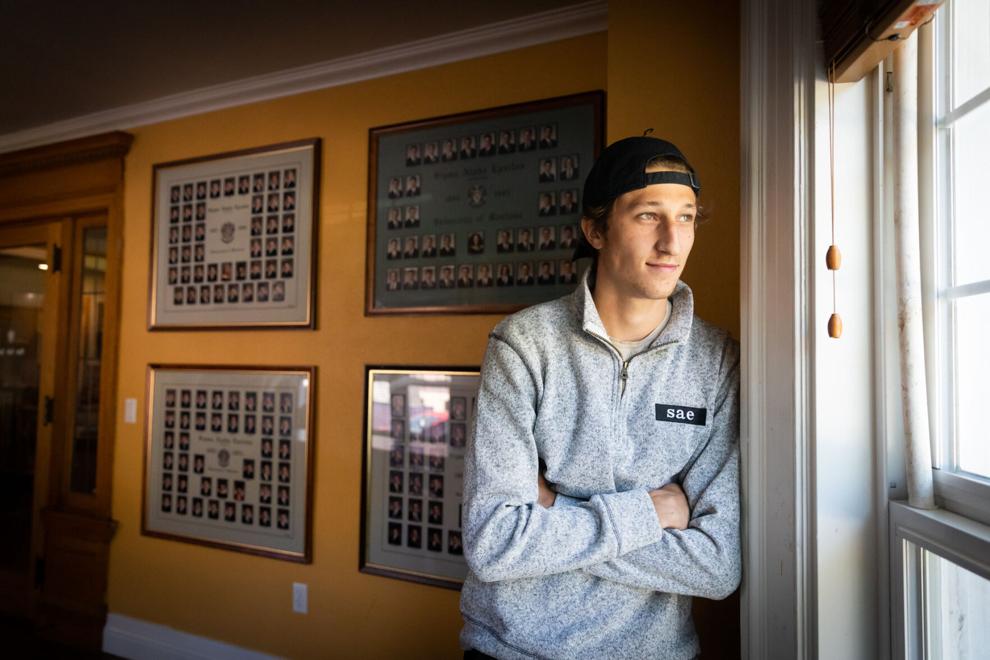 Pitera said through SAE he's formed deep connections with his "brothers," opening up to them in a way he never used to open up to people. He said his social skills have gotten stronger and he's been more motivated to do well in classes. 
He said SAE is attempting to ingrain its new values and push beyond stereotypes. Pitera said the house hosts study tables for the brothers, and has some of the members on duty to supervise events to ensure safety. 
"That's something we take, I personally take, really seriously and a lot of the other guys, all of them, do as well," Pitera said in relation to the sexual assault reputation of Greek life. 
He said members watch closely to see how men interact with women, and they're willing to call out red flags. If a member makes a sexual comment to a girl, according to Pitera, he'd be suspended or expelled from the fraternity. He added that believing women who come forward about sexual assault is an important step in changing this reputation. 
"It happens everywhere, not just athletic teams, not just fraternities, and it's terrible," Pitera said. "I wish it didn't happen at all, but like I said, we are really just trying to recruit guys that we know will be true gentlemen."
He said the shutdown of SAE was a good thing, because it gave them the chance to start fresh and become a force of good within UM. 
Lane McAlpine, one of the five original members who brought SAE back, said the process took a lot of work. Alumni put a lot of money into things like fixing up the house and sponsoring members to live in the house for free during the first semester back. 
He said he sometimes lost sleep over the stress of making sure SAE recruited the 20 members needed to fully reinstate itself. But SAE reached its goal last year, even winning six awards from Interfraternity Council in spring 2021, including the men's "chapter of the year" award. SAE also raised its average grade point average from 2.23 in the spring of 2019 to 3.21 in spring 2021, according to UM Greek life reports. This is the highest GPA of any UM fraternity.
"The best part would have to be, I would say, the new friendship," McAlpine said. "I never thought I would make friends with a bunch of freshmen who I'd never met, but we just got really close."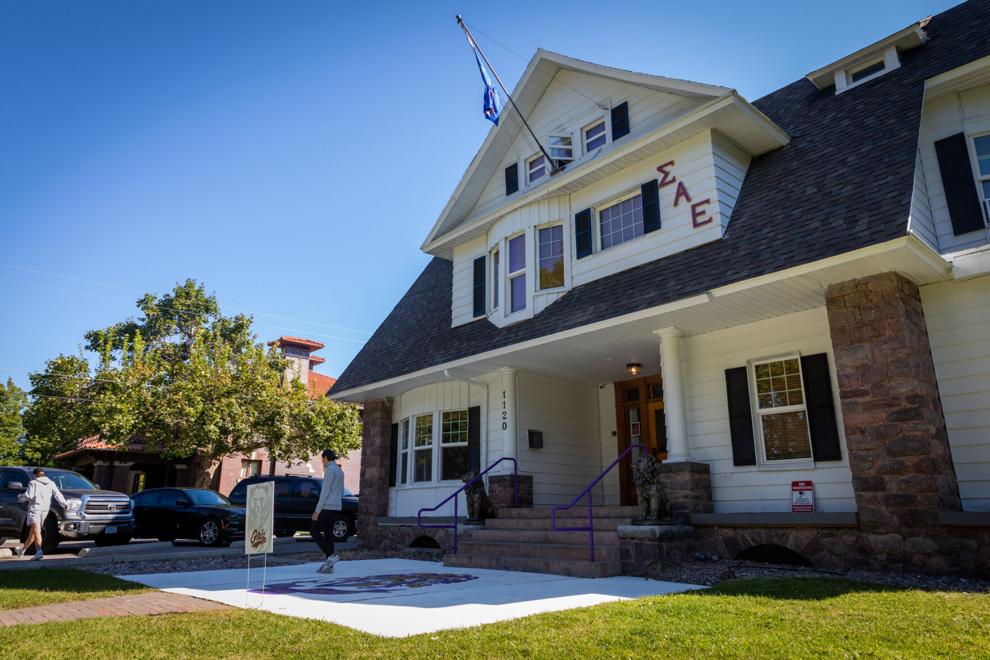 What's at stake?
The KKG women expressed that the positive aspect of the sorority was the relationships they formed with other members.
"My favorite part about being in Kappa was when we were having good days the energy about the house was so positive," McFarland said. "We all really just wanted to look out for each other and we did put in the effort to make sure we knew we were present for one another."
MacKenzie still lives with two other women from her Kappa years; one is her best friend. 
McFarland and MacKenzie said the opportunities they had to grow as leaders and learn new skills were good aspects of being in KKG, too. 
"If UM loses Greek Life, it loses an alternative for students," McFarland said. "It loses an opportunity, especially for women-defined communities where they can more easily gain leadership roles and gain the confidence and skills they need to enter what is admittedly a male-dominated world and space."
Smith was particularly fond of the philanthropic and community service opportunities Greek life presents. 
There was speculation floating around — even among the sorority members themselves — that losing a certain number of Greek life chapters at UM would mean the campus could lose some sort of accreditation or status as a Greek life school, but Zinke, the Fraternity and Sorority Involvement Director, stated that's not true. 
Even without the looming doom of Greek life hovering over the heads of its members, the declining membership and loss of the oldest sorority house still points to problems within the system that need to be addressed — including decreasing interest in Greek life, and the broader issues of equity and inclusion. 
Now in her third year at UM, without the sorority that meant so much to her from the start, McFarland is focusing on classes and marching band. She keeps in contact with some of her former sorority sisters and catches up with them when she sees them on campus. 
"It's just reaching out and maintaining connections for me," she said. "[I'm] just doing it like every other college student instead of living in a house with 20 people to call my sisters."