Ben Porietis knew his neighbors weren't home. Eyeing the pumpkin sitting innocently on the porch across the street, his friend Rob Hutchinson made an absurd, alcohol-induced suggestion, and a loosely conceived plan was born.
Porietis and Hutchinson were never caught for their prank, which eventually became one of the University's most prominent and beloved annual traditions. And until now, their identities were not known.
Now, UM promotes the tradition as a quirky, unique part of campus culture, but school officials have not always been so laid back. For years, the prank persisted in the face of disapproving scrutiny from UM officials.
But before it could become the fabled act it is today, someone had to think of the idea.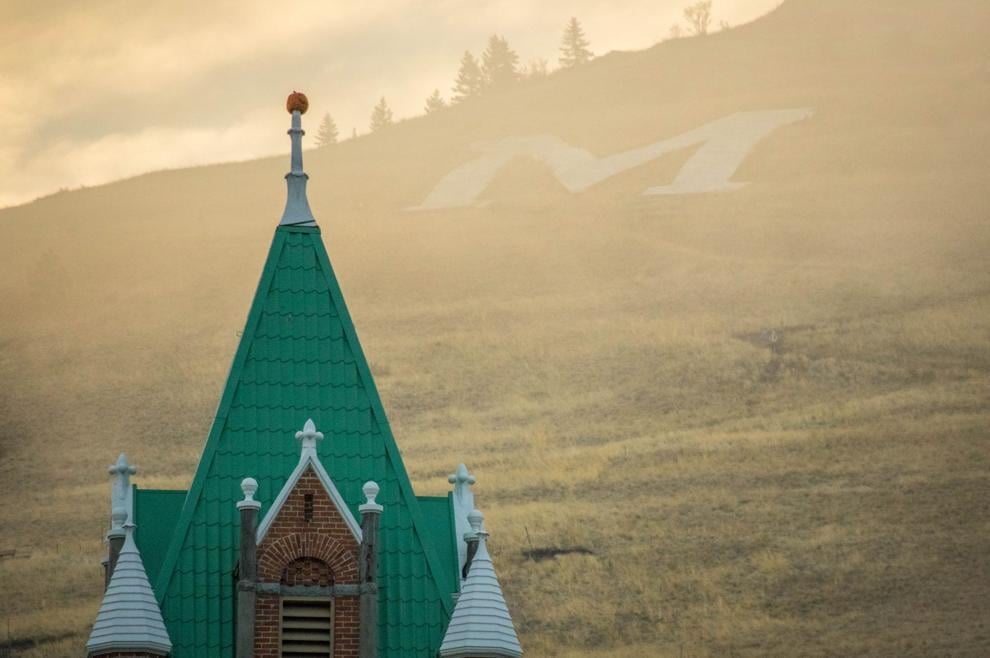 Porietis and his three roommates hosted a party on Tuesday, Oct. 29, 1996, two days before Halloween. It was the usual early-evening, open-door-policy kind of college party they commonly hosted before ending their night with a drink elsewhere.
About 30 partygoers were dressed in costumes and stuffed into the four-bedroom house on a dead-end road off the Clark Fork River, near the Orange Street Bridge. People spilled out of the doors, drink in hand.
Porietis took a break on the front patio steps, sipping cheap beer with Hutchinson. Porietis met Hutchinson in an improv class the two unwillingly took to satisfy a graduation requirement, and bonded over a mutual passion for rock climbing.
They were both tall and blond, and fit from all the time they spent rock climbing in the Bitterroots. Porietis drove a Volkswagen camper van and sported long, shaggy hair and an unkempt beard. His footwear of choice was usually a battered pair of sandals.
Hutchinson usually substituted bland Carhartt pants for bright pink tights to climb. Porietis likened him to a Southern California surfer boy.
They looked toward the Clark Fork River and let their conversation drift. They found themselves admiring the pumpkin on their neighbor TJ's porch. It was huge. Like a distant relative of James' giant peach. Hutchinson had an idea.
TJ returned home from his bartending shift to find a ripped-out piece of notebook paper in place of his giant pumpkin: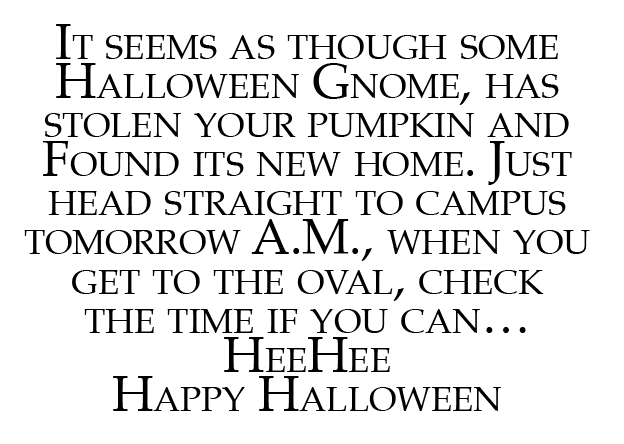 The pumpkin was the talk of campus the day after Hutchinson and Porietis impaled it in 1996. Students thought it was comical. As Porietis remembers it, though, then-UM dean George Dennison called for the expulsion of the students — if it was indeed students — who defaced his office building. Main Hall was not "architecturally suited" to have a pumpkin atop its spire, the UM facilities director said at the time. The prank was dangerous, and the pumpkin was going to be expensive to get down.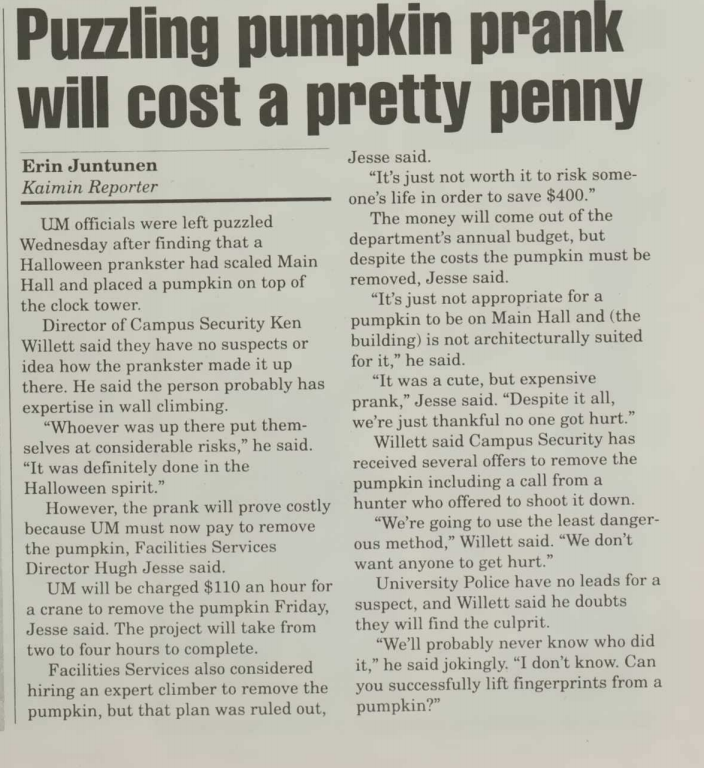 In an article published two days after the spike, "Puzzling Pumpkin Prank Will Cost a Pretty Penny," the Kaimin reported that UM planned to hire a crane operator, at $110 per hour, to get the pumpkin down. Other options that didn't make the cut: hiring an experienced climber to risk the ascent; accepting an offer of a local hunter to shoot it down.
In the end, though, the pumpkin was never taken down. The crane was never hired. A week later, the Kaimin's editorial board applauded UM's decision to let the pumpkin be.
According to Porietis, the pumpkin didn't fall off quickly like he and Hutchinson had expected. It lasted through the fall, froze to the spire in the winter, and shriveled up during the spring and summer. The scrutinized squash rotted onto the Main Hall spire before falling off.
University police had no leads. The director of campus security at the time, Ken Willet, described the prank as cute but costly.
"We will probably never know who did it," Willet said at the time. "I don't know. Can you successfully lift fingerprints from a pumpkin?"
The next year, Willet was ready for the pumpkin pranksters to return. He assigned three students to guard the clock tower on Oct. 30 and 31. To campus security's delight, no climbers attempted a spike during that period. But one day, two weeks later, faculty and students arrived on campus to find two pumpkins impaled on lower spires of Main Hall.
Willet was dismayed, according to a Kaimin article from November 1997. "We weren't ready for a Veteran's Day pumpkin," he said.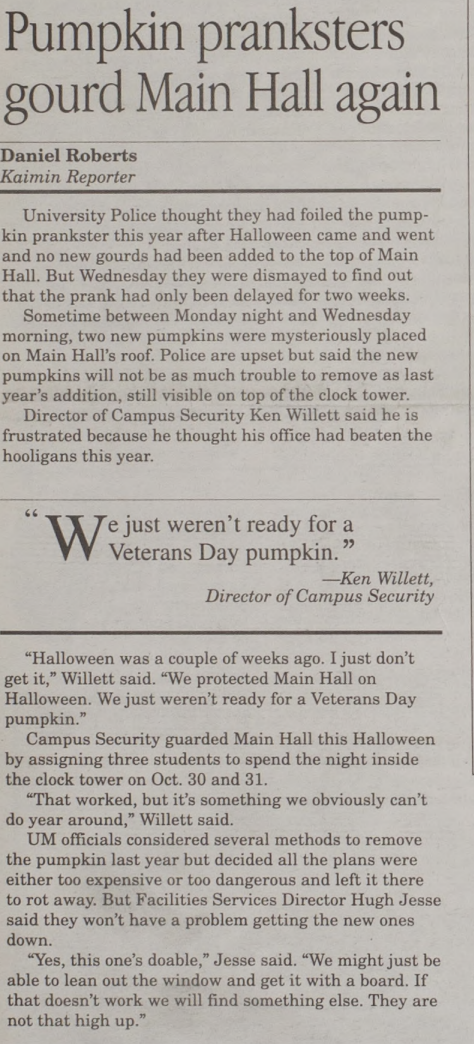 Porietis had already graduated by then, or else he and Hutchinson might have been behind the act. There was a new prankster, or pranksters, this time. The facilities director in 1997, Hugh Jesse, said the pumpkins would be more manageable to get down than the Pumpkin of '96. The University wasn't going to have to hire a crane.
"We might just be able to lean out the window and get it with a board," Jesse said. "If that doesn't work, we will find something else. They are not that high up."
After the Spike of '97, years passed without incident. But in 2003, to UM's bewilderment and a campus chuckle, the prank returned.
"If I were to believe in ghosts," Dennison, by then the president of the University, told the Kaimin in 2004, "that seems to be the most plausible answer."
A pumpkin has graced Main Hall every year since 2003, but only two students have ever been caught in the act.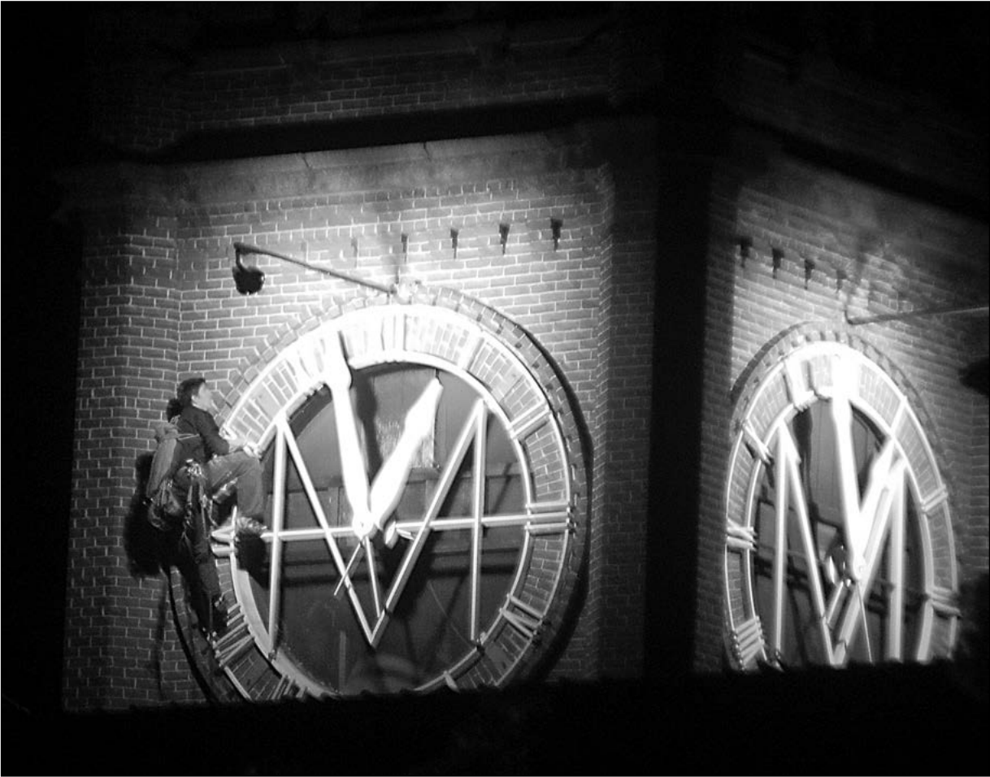 One was reportedly charged with trespassing in 2004, after UMPD traced the climbing gear left at the scene. And in 2016, a UM student, Peter Breigenzer spiked the pumpkin before he was arrested and charged with obstructing a police officer and criminal trespass.
"It's a part of our shared story that we tell about this institution," Kelly Webster, UM chief of staff, said. "People know what it feels like to have a shared lore or story, and we love that. So we celebrate that, and we want to preserve that."
Despite recognizing and promoting the tradition, she said that the University cannot condone any student climbing Main Hall. It is strictly prohibited.
"If we were in person, I would be winking at you," Webster said in a phone interview. "We have worked with people who have been a part of the spiking, to facilitate a safe placement of the pumpkin. In the spirit of preserving some magic — that is all I will say."
Webster said she didn't know if UM has ever had a role in placing the pumpkin before this year. But it seems that UM has only recently become interested in upholding the tradition. For years, it was students involved in UM's rock climbing community who kept the pumpkin spike alive.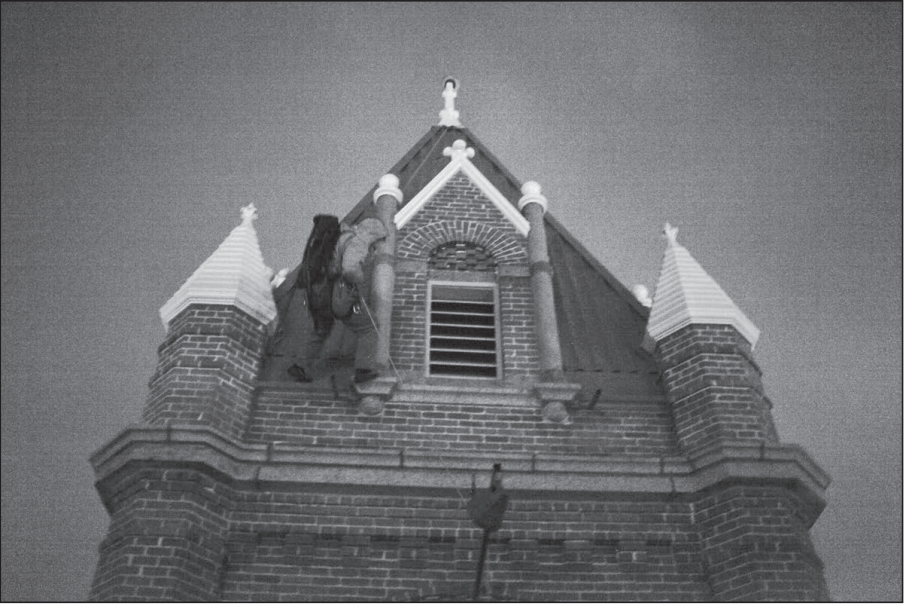 A former student and member of the UM rock climbing community, who spoke on condition of anonymity, said she had ascended the Main Hall clock tower several times to spike the pumpkin. The climber said she has been rock climbing for 15 years but does not get out as much today as she used to while at UM.
She helped orchestrate the annual pumpkin spiking for about 10 years, she said, from 2008 to 2018.
She said that, during each of those years, the UM climbing community chose two students, one to belay (or keep the rope taut) and one to climb and place the pumpkin. Both were usually a junior or a senior with proven climbing skills. But the climber said that, after scaling the clock tower herself, she didn't feel comfortable recommending it to anyone.
"I love this tradition, but it is also one of the dumbest pranks out there," the climber said. "It's frankly just not worth the human life for the amount of risk that you are putting yourself and your belayer in to go do it."
She said that it's simply too dangerous, even for experienced climbers. She also worries about the structural integrity of the 127-year-old building. She was chilled to the bone when the clock face popped outward during one of her climbs, she said. Another time, the clock hands almost cut her rope like a pair of super-sized scissors.
"There is stuff on that building that is going to break someday, and if people keep climbing it, someone is going to die," she said.

Climbing culture has always been about defying authority, she said.
Porietis remembers his own perilous climb.
Pilfering the pumpkin and leaving the ransom note was simple. It was far more complex to scale a building without a planned route.
Porietis slid his blue Schwinn 3-speed cruiser to a stop next to Hutchinson, who unloaded the pumpkin from the wire basket mounted to the front of his bike.
The campus was dark and silent, and they tried to blend in, wearing black sweatpants and black hoodies. They tiptoed up the fire escape at the rear of Main Hall like two cartoon bank robbers, hopped the ledge to the roof and snuck into a nook at the base of the clock tower, facing Mount Sentinel.
They unloaded their bags and prepped for the climb to the sound of their own stifled laughter. Once they laced their shoes, tightened their harnesses and tied the knots in their rope, Porietis let enough slack into his line for Hutchinson to start climbing. He carefully looped some webbing, the seatbelt-like material used in climbing, onto different parts of the building and clipped in, in case he fell. Hutchinson had no idea if this was a good route. He was winging it.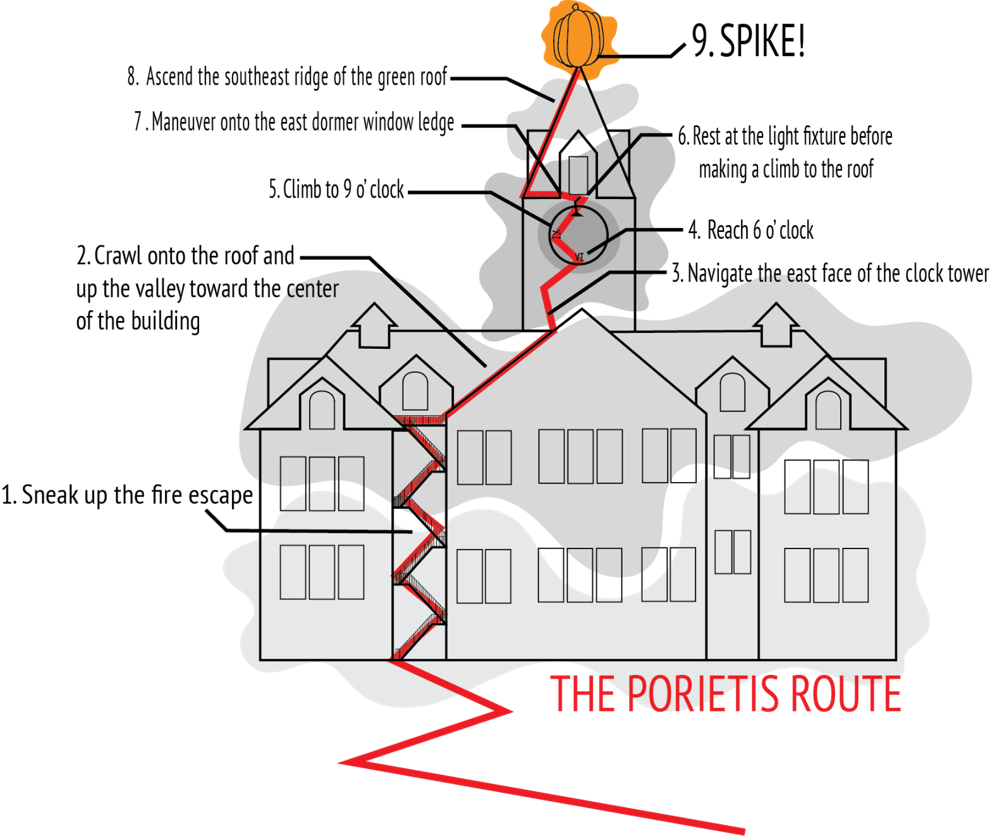 Hutchinson was almost at the 10 on the clock face when Porietis yelled for him to stop.
"Oh, shit. Hold tight. Don't move," Porietis said.
Hutchinson froze in place in front of the brightly lit clock. There was a cop on top of the library parking garage, presumably making his usual rounds.
"I hope he doesn't check the time," Hutchinson said.
Porietis let out a laugh that was quickly followed by a command. He told Hutchinson to hurry and finish the climb. That was close, he thought, as Hutchinson continued up the clock tower.
Using careful and swift maneuvers, Hutchinson grasped the base of the spire. He looped his rope around the spire to secure himself and haul up the pumpkin. He bear-hugged the spire with one arm as he yanked on the rope attached to the pumpkin.
"I remember the pumpkin going across the lit clock face, from 6 o'clock to 12 o'clock," Porietis said. "I was losing my fucking mind. I was cracking up so hard as he was hauling the pumpkin across the entire lit face."
The abnormally large pumpkin made it to Hutchinson, and in one swift spike, it was done—the pumpkin was impaled on the spire. He had successfully completed the climb, the first of many to follow, years after him. He reversed his ascent, and he and Hutchinson got back on their bikes. There was only one casualty: the pumpkin.
Porietis and Hutchison returned to the party at the house, dropped off their gear, changed out of their black clothing and picked up another can of beer. Hutchinson had gotten the idea at 8 p.m., they started climbing by 9:30 and they were back at the party by 10:30, Porietis said.
It took about an hour for the two men to start a UM tradition that has lasted a quarter of a century.
This past summer, TJ took a trip to Missoula with his wife and daughter. While walking the Oval on campus, he told the story of the pumpkin that was stolen from his porch and spiked atop Main Hall.
The Kaimin could not locate Hutchinson for this story, despite repeated attempts. Porietis and TJ said they aren't even sure if Hutchinson was his last name. It could be Hutchings or Henderson.
After years of lying low and leaving the Missoula community to speculate on the identities of the original pumpkin spikers, Porietis hopes that his admission does not stop the tradition.

"There's a part of me that thinks it's really cool that it has become this mystery and that it's fun to carry on the tradition," Porietis said."When you are on the sharp end of an adventure, that's the shit, right? I mean, that's like natural endorphins. That's better than any drug someone is going to do on a Halloween night."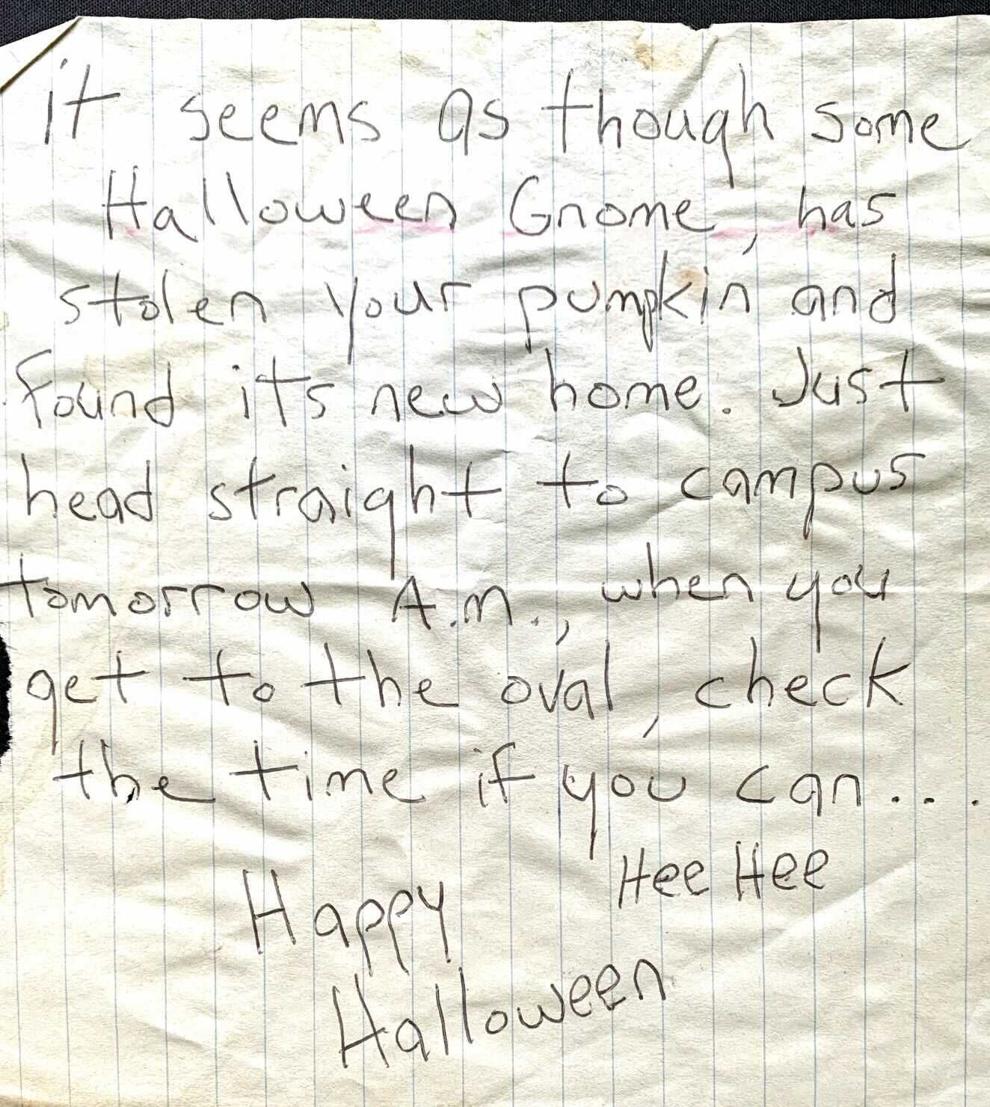 More about the Main Hall Pumpkin over the years: