A voluptuous figure, in a tiny bikini, stood at a glorious 6 feet tall. Her thick skin was smooth and earthy in its tone, her curves rolled and flowed like banks of a river. The woman was something of a dream or maybe a fantasy. With over-the-top proportions, she teased from her work-table pedestal. 
The sculpture's short life was captured in the tantalizing turmoil of Sarah Hendryx's Instagram story last spring. One day, she would be caressing the clay woman, the next, breaking off a finger or two. For weeks, the love-hate relationship played out in popcorn-devouring drama. Hendryx was capturing the pit-in-stomach feeling all great artists know too well: being unsatisfied with your own work, lost and unsure of what to do next. 
Hendryx, who exhibited as a student at the prestigious Archie Bray Foundation for the Ceramic Arts in Helena, lives for this struggle. Well, maybe not lives for it, but runs into it, regardless. She is an artist, after all. Despite the discomfort, art is what makes the most sense to her. She said ceramics and graffiti are the only communities she has ever felt part of, stressing the importance of being able to decompress with others who make a creatively conducive environment.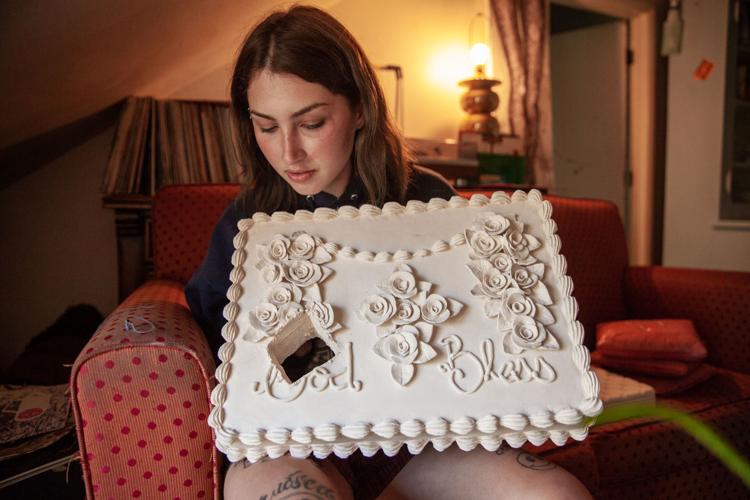 Hendryx, 21, grew up in Missoula and attended Hellgate High School. It was there she became hooked on the cold, calming texture of clay, sneaking out of class just to get her hands on it. 
After graduating, she decided to attend the University of Montana, where she lost interest in journalism and returned to what she already knew about herself: that art was the most honest expression for her. 
She quickly claimed her space in the ceramics program, spending hours upon hours in the clay studio on campus. Assignments went out the window in her Advanced Research course, where she was granted the freedom to make what she wanted and further invest in her own style. It was a time for trial-and-error, with larger discoveries to be made and destroyed. 
So, there stood her glorious clay woman, which she didn't quite intend to bring into the world. It didn't quite fulfill her vision of what she wanted the figure to look like. The disproportion of the woman's body glared Hendryx in the eyes. She knew it would be a waste to fire a clay piece she couldn't feel confident about. 
So, after capturing the exhausting physical and emotional labor of the woman, Hendryx decided to say goodbye. With one shove of a hand, the clay lady met her fate on the concrete ground, her bountiful breasts shattering into a dozen pieces.
"There was a long period of time where I didn't like anything I made, and I was really questioning whether I should be making art at all," she said. 
Trey Hill, an associate professor of ceramics at UM, supported the rise and fall of the clay woman. Hendryx said knowing he cared more about her artistic integrity than finishing unsatisfying work created a trusting relationship between the two. 
The methods of Hill and fellow professor Julia Galloway helped give Hendryx confidence to develop her artistic voice, much like other students, she said. 
"They are super supportive and the perfect balance of critical when they need to be, without being condescending," Hendryx said. 
Hendryx said making what she wants gave her a sense of freedom. Currently, she's interested in removing clay from its historical connotations. 
Lately, she has been sculpting mattresses, exploring ideas of comfort and detrimental habits. She described one as having some "college freshman" filth to it: bong next to the bed, ashtray available, covered in chip bags and Monster cans. 
The mattress stood out in the Archie Bray Foundation for the Ceramic Arts in the spring, where she was selected for an exhibition of MSU and UM student work.
"I've had way more creative opportunities than I would have if I tried to treat everything as a transaction," Hendryx said. 
Hill said he tries to instill this in his students — to not be overly concerned with sales to the point that they start seeing their work in price tags. He wants them to make art they want to be making. He teaches the history and fundamentals of ceramics, but ultimately it is about giving students the tools to realize their goals.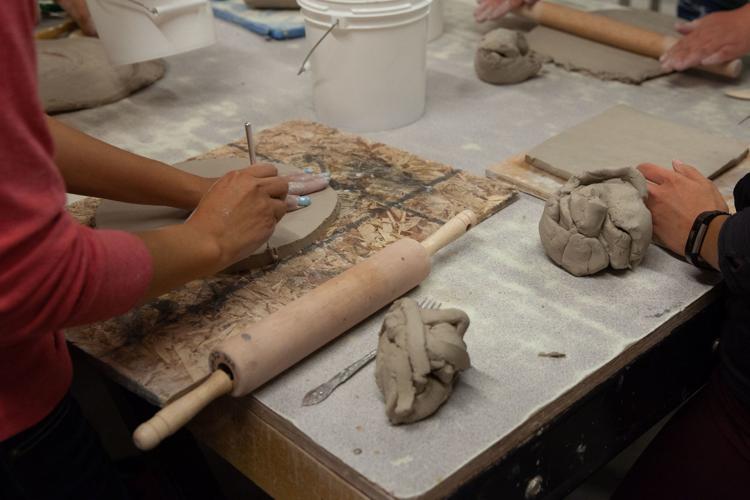 "So much of how we see history and learn of different cultures is through ceramics … That being said, it is just another art-making material, and you can do anything you want with it. It has limitations, but it is also forgiving," he said. 
Ultimately, it's about communicating through objects. 
"I personally believe this is a way of life, a way of thinking and communicating," Hill said. "We are trying to teach students to find their own voice and how to be articulate about their ideas."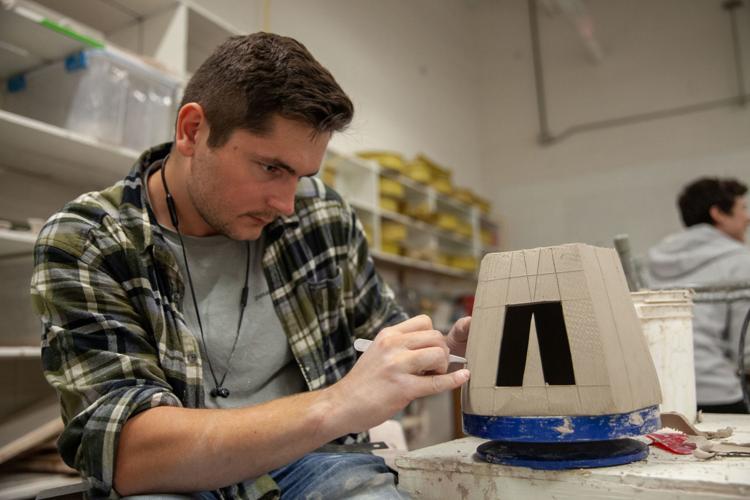 For people to be vulnerable, they need to feel safe — physically and psychologically — in expressing themselves, he said. Students recognize the comfort of the studio and want to spend time there.
The UM ceramics program dates back to the 1970s, when famed Montana ceramist Rudy Autio started the program in an ice-skating shed. 
Retired ceramics professor Beth Lo recalls visiting the facilities as they were being built in 1972.
"The studio walls were built, but the floor was gravel … The ceramics and sculpture studios were heated by large overhead blowers, which was difficult to deal with when trying to dry out ceramic creations evenly, so as not to allow them to crack," Lo said.
Lo studied under Autio, who founded the Archie Bray Foundation. It's one of the oldest and most famous ceramic residency programs in the world. Autio's work, alongside fellow MSU ceramist Peter Voulkos', revolutionized ceramics as a modern art form in the 1970s and 1980s.
"Autio was an internationally renowned figure and pivotal in the ceramics world," Lo said. His works are found all over campus, most notably the bronze bear in the oval, which was cast and built for UM in 1969.
Autio's international acclaim for his style and craft boosted UM's program into the foreground. He and Voulkos used their connections with the abstract expressionist art movement to bring in cutting-edge guests and driven students.
The facilities have come far since the days of the gravel floor. Now, they house dozens of small kilns and five large outdoor kilns, two of which can blast pieces over 9 feet. The busy workshop has offices for six graduate students, who teach and work on their projects in the studio. Most impressive is the connection to an anagama kiln. 
Anagama kilns use wood fires and are usually built deep in the woods. They're basically massive brick ovens several yards long, the size of a small longhouse. The kilns are heated for several weeks and can blast or glaze upward of 1,500 pieces at a time. The ancient-style of kiln is necessary for burning porcelain and stoneware, and can reach up to 2,500 degrees Fahrenheit. Nicknamed "Agnes the Anagama," it was the first of its kind ever built in the United States.  
Under Voulkos and Autio, MSU and UM's ceramics programs thrived. What sets UM's ceramics program apart from most in the nation is its connection to important artists and the sheer amount of time professors spend in the studio working alongside their students. Because of the hands-on nature of the program, professors like Hill and Galloway can develop close personal relationships with their students.
Ryan Caldwell is one of those ceramics students, a third-year pursuing his graduate degree. Caldwell described his work as methodical and reductive, shaving away the clay to find the form underneath. His work is functional, a lot of plates, mugs and bottles. He likes to "create moments and relationships with people" by basing his work around communal activities. 
"Humans have been using clay for thousands of years. It is important to keep clay alive and to keep moving with it. It teaches patience … it instills a process," Brooke Armstrong, a second year graduate student, said. Since moving into her clay studio on campus, she spends the majority of her days there multitasking.
"You always have to have a lot of different things going on," she said, while working away on her ceramic towers, formed out of sections of large pots, textured and painted into unique crystalized shapes, somewhat reminiscent of coral. 
She's preparing for a big exhibition in the UC Gallery starting Oct. 31, and Caldwell is developing his thesis exhibit for the spring. Through the ceramics program, Caldwell also spent a two-week residency at Red Lodge and 6 ½ weeks in Alabama this summer, where he ran a community clay studio and taught classes, a job opportunity he credits to UM faculty connections.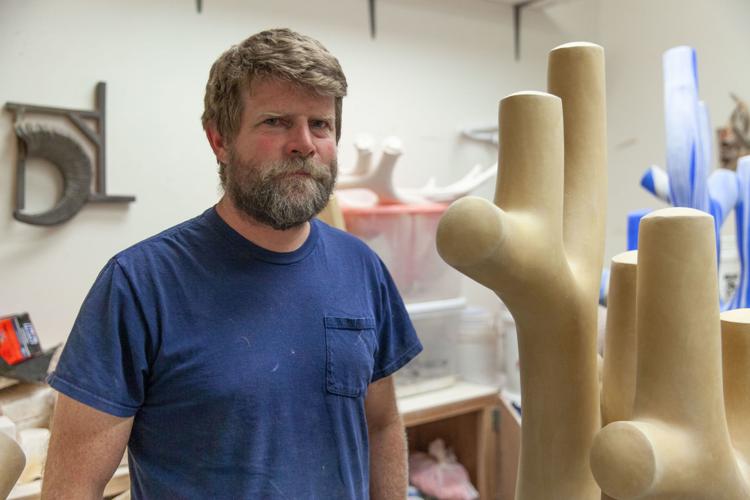 According to Hill, there are many options for applying a ceramics degree: grad school, residencies, working at galleries and museums, and more.
"The art world has an incredible amount of room to allow people to enter into it; we work hard to help them find their place," Hill said. 
Hill recalled recently being called to refer potential hirees from the ceramics program. He says he couldn't think of anyone, because everyone he knew had already secured a job. 
But before entering the professional world, grad students focus on developing thesis exhibitions and passing along their passions to new students. 
Caldwell is teaching Ceramics for Non-Majors this semester, a class most students take to fulfill a gen-ed requirement. 
"I get them used to the material in a space that's safe," Caldwell said. "Their normal coursework can be pretty grueling, and [with ceramics] they don't have to worry about an equation."
And for some non-majors, ceramics is their favorite class.
Fourth-year medical lab science major Brandi Gallo was finally able to take Ceramics for Non-Majors, after waiting nearly seven semesters.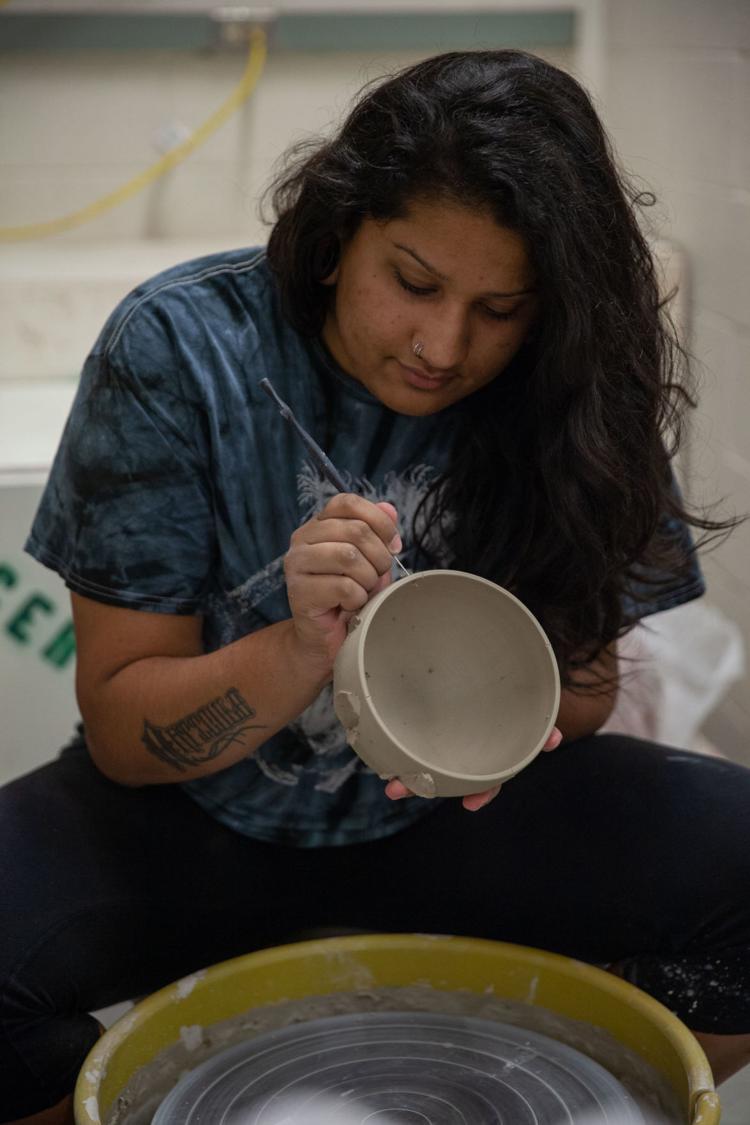 "It fills up really fast," said Gallo. "It's everything I hoped for."
"My grandma always made pottery," said Paige King, junior wildlife biology and parks, tourism and recreation management student. "She was really excited. In high school I took a lot of art classes, but never clay."
"Even if they don't walk away working with clay again, they will never view it the same. It is a way into the art world they didn't realize they had," Hill said of the new students. 
That's certainly been the case for Hendryx. 
"The ceramics program is the only redeeming part of my entire schooling experience," Hendryx said. She feels at home in the studio, adding that her favorite times are when she's there alone. 
"You pretty much own the studio at night, so the freaks come out at night," Hendryx said. 
She spent most of her nights there last year blasting aggressive trap music and drinking Monster. She would spread her station over multiple tables and work until morning. 
For Hendryx, the only shortcomings to the program are monetary ones. She said students can't  solely rely on the materials in the studio. 
She said she's had to choose between groceries and glazes before. 
"To be honest, it's pretty disappointing. I'm not going back to school this semester and that is the only thing keeping me here," Hendryx said.  
Hendryx wants to finish her BFA in ceramic art and is unsure of the path that will follow. She said she is unconcerned about finding a career in ceramics. As long as she has a studio space to work freely, she will be satisfied. 
What matters to her is honing her art by being true to herself, while exploring her aesthetic, and she credits the UM ceramics program for allowing her to do that. 
"I never thought any art program would have that kind of effect on me, where I would stay around for years just because of it," she said.