For nearly two years, Jane Doe's days routinely included gathering documents and filing reports with police, lawyers, prosecutors and University of Montana officials about an alleged rape at a house rented by fraternity members. 
The assault, which she said occurred in December 2017, marked the beginning of a legal and administrative battle that roped in two law firms, a Title IX investigation, four police reports, multiple meetings with UM officials and termination from her sorority. 
Doe didn't give up. The man she said raped her, Patrick Macbean Owen, was charged in July 2018 with one count of sexual intercourse without consent. As Jane Doe (the Kaimin is not using her real name) fought for her case to go to court, Owen and his defense attorney, Paul Ryan, gathered screenshots, testimony and witness statements to prepare for what was shaping up to be an inevitable he-said-she-said battle. 
Two years of preparation. Two years of buildup. And every day Doe found herself asking the same question: 
"How could I have all these people around me and still feel so alone and so unsupported?"
In late October of last year, less than a week before the trial was set to begin, Deputy County Attorney Lacey Lincoln moved to dismiss the case against the former University of Montana fraternity member. District Court Judge Leslie Halligan approved the motion, and the charges were dropped. 
It perplexed some who were anticipating that day in court, and it's still not clear why prosecutors decided against pursuing a case they had agreed, at one point, was strong enough to head to trial. 
Some facts are clear. A woman who was a student at the University of Montana reported to authorities she'd been raped. What happened after that report revealed inconsistencies within the University of Montana's procedures for handling sexual assault reports and how it monitors Greek Life. 
According to charging documents, Jane Doe reported to Missoula police that early in the morning of Dec. 13, 2017, she was raped by former Kappa Sigma member Patrick Macbean Owen in a house he was renting with members of the fraternity. 
Doe said that the night prior, she and other members of her sorority attended a party at Kappa Sigma. Doe said she left the party, but returned to the defendant's house, close to but separate from Kappa Sigma's main house. Doe said she believed the rape took place early in the morning, and she never consented to having sex with the defendant. At the time of the alleged rape, Doe was a member of Alpha Phi. 
According to Ryan, Owen's attorney, his client withdrew from school in November of 2017, prior to the alleged assault in December. Ryan said that because he was no longer a student at the University, Owen was also no longer an active member of Kappa Sigma at the time of the alleged rape.
In an interview with the Kaimin, Ryan said that while Owen agreed he did have sexual relations with Jane Doe that night, he believed she was consenting the entire time. Ryan said that Doe and Owen had allegedly started a sexual relationship before this incident occurred. According to the defendant, this night was simply a continuation of that relationship.  
Owen was charged with one felony count of sexual intercourse without consent. Original charging documents stated, "As Doe and the Defendant had mutual friends, the Defendant became aware that Doe told her friends about the assault. Doe later messaged the Defendant, saying that she didn't understand why he had sexually assaulted her, and the Defendant responded, 'I don't understand why I did it either. Just made a very bad mistake that I regret."' 
---
Owen was scheduled to stand trial on Nov. 4, 2019. In a motion to dismiss, Lincoln stated that documents the court obtained on Oct. 31 caused evidence the prosecution planned on using to be insufficient.  
Lincoln was unable to comment on the specifics of the case, but told the Kaimin in a phone call that the decision to drop was carefully thought through. She told Judge Halligan, "We do believe that we have evidence that does not allow us to proceed at this time." Halligan dismissed the case without prejudice, meaning the state or Doe may be able to pursue the charge against the defendant again.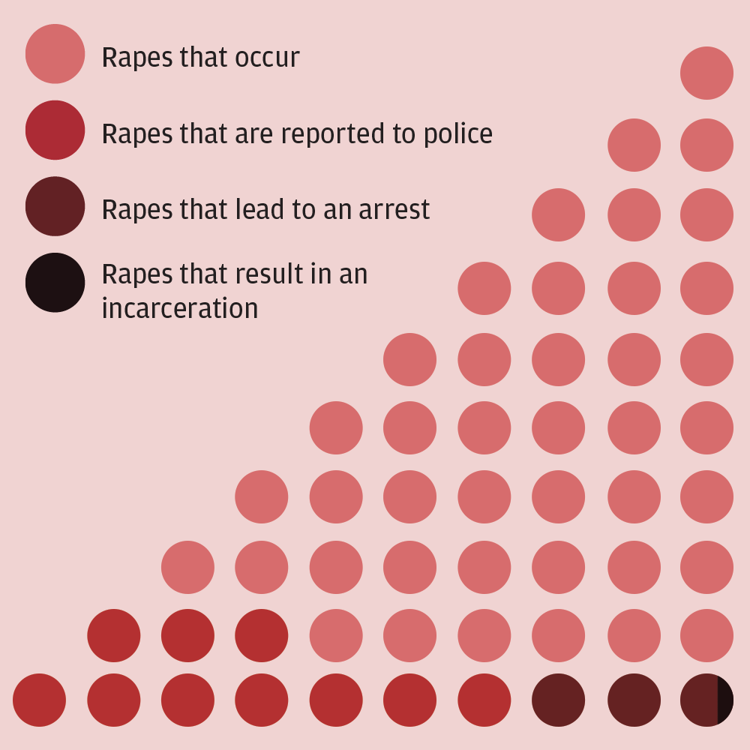 The fact that Doe's case made it into a courtroom in the first place makes it a minority among sexual assault cases.
A study by the nation's largest anti-sexual violence organization, the Rape, Abuse & Incest National Network (RAINN), found that out of 1,000 sexual assaults, only 230 are reported to police. Of these reports, 46 will lead to an arrest. About five rapists will be incarcerated.
According to RAINN, one in five college women will experience rape while in school. 
---
Since the alleged rape occurred off-campus at an unofficial Greek Life chapter house, addressing Doe's reports required coordination among multiple University offices. Doe, who has since graduated from the University, said the process of seeking services and support from UM left her feeling frustrated and retraumatized. 
In a letter addressed to University of Montana President Seth Bodnar, Doe stated, "For almost a year, I have sought assistance from the University. Each office I go to I am met with ... 'Well that is not my responsibility, it is [another office's] responsibility.'" Doe wrote, "This complex system of criminal justice, Title IX, and the Fraternity and Sorority Involvement Office are unfortunately completely disconnected from one another and as a result, re-victimize women who do come forward. Today, I count my blessings for the criminal justice system but feel that I have been re-victimized by the University in unimaginable ways."
Doe said she read the letter out loud to Bodnar at a meeting on Oct. 29, 2018. The letter itself is not dated. 
Bodnar was unable to comment on the specifics of the case or confirm that he received the letter from Doe, but said in a statement that the University takes each report of sexual assault seriously.
"At the University of Montana, we continually work to create an environment that is safe and inclusive for all," he wrote in an email. "When we receive reports of incidents that compromise our efforts to foster this type of environment, we always respond." 
UM spokesperson Paula Short said streamlining the reporting process for survivors is difficult because every single sexual assault case is unique. In compliance with the Family Educational Rights and Privacy Act (FERPA), which protects the privacy of student educational records, Short, campus Title IX and Greek Life directors declined to comment on Doe's case specifically. However, they offered insight into how the University works to support sexual assault victims generally. 
University officials also did not respond specifically to Doe's complaints in an article by the Missoulian's Keila Szpaller in January 2019.
Short emphasized that the University works to empower survivors by offering services and accommodations on an individual basis, according to what the survivor wants. "Always, our goal is not to retraumatize a victim and to really keep things victim-centered and empowering for them to seek the services that they need," Short said. "There's no universal cookie cutter, right? There's no, 'OK, this is the recipe for what you do when someone walks into your office.'"
---
Doe said she reported the alleged rape to her sorority president the day of the alleged assault, to Missoula police the day after, and to various offices at UM in the months that followed. 
Doe said she met with the Title IX office, the Fraternity and Sorority Involvement (FSI) office, the University president and the dean of students, among others. Administrators from these offices were unable to confirm or deny whether they met with Doe because of FERPA, but email records between Doe and administrators within these departments confirm that they communicated during this time.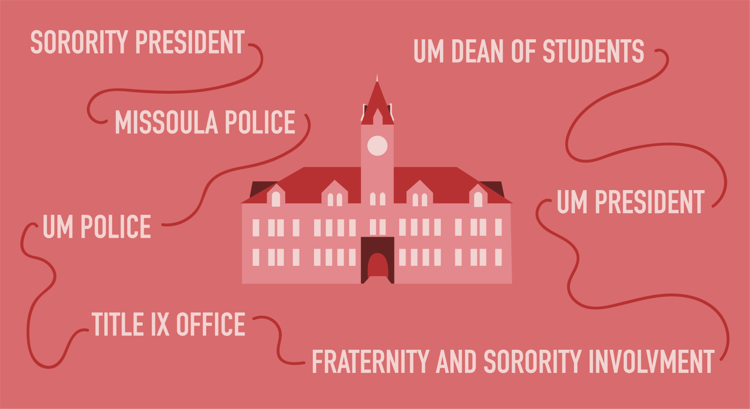 In May 2018, Alpha Phi terminated Doe's membership in the sorority. The Alpha Phi judiciary board took action when it deemed Doe's behavior as "conduct unbecoming of a member," citing her alleged use of racist language in multiple examples.
Doe's final termination notice stated, "It is with sincere regret that we inform of the decision of the International Executive Board is to terminate your membership in Alpha Phi International Fraternity effective on 5/16/2018."  
Doe said she believes her membership was terminated because she criticized the way sorority leadership addressed her sexual assault. She said she believed she was removed from the sorority because she raised concerns about rape culture within Greek Life and intended to report these concerns to the University. 
In an April 18 email addressed to a national representative of Alpha Phi, Doe stated, "I believe I am being retaliated against by both Alpha Phi Chi Chapter and the Fraternity and Sorority Involvement Office because I criticized the chapter's handling of an incident in which I was sexually assaulted by another member of the Greek community this past winter." 
Doe's previous sorority president and current Alpha Phi chapter leadership declined to comment on her accusations, despite multiple emails and phone calls from the Kaimin. However, lawyers representing Alpha Phi International Fraternity, Inc. stated that Doe's accusations against members of her sorority included multiple false statements. 
"The false statements include, but are not limited to: (a) alleged representations made by former officers of the Chi Chapter to [Jane Doe], (b) false statements regarding the chapter's involvement in the Title IX investigation, and (c) false statements regarding the termination of Ms. [Doe's] membership in Alpha Phi," stated Michael Chabraja, a partner at Ice Miller LLP, a Chicago-based law firm, in an email.
---
Shortly after her termination, Doe filed a Title IX complaint with the Equal Opportunity and Affirmative Action Office (EOAA on campus), which was headed by coordinator Jessica Weltman. The EOAA office is now led by Alicia Arant. 
Weltman's investigation into the sorority's decision to terminate Doe's membership concluded in August 2018. She found that there was insufficient evidence to prove that the sorority's actions constituted retaliation. 
In a formal Title IX retaliation investigation, the accuser has to prove there is more than a 50% chance the situation was likely to have occurred. 
Doe appealed Weltman's decision to the University Discrimination Grievance Committee. The eight-member committee consists of students, faculty, staff and administrators who review any aspect of a final EO report. The committee decided Weltman reached the correct conclusion: There wasn't enough evidence to prove that the sorority engaged in retaliation. However, in its final report, the committee recommended that the EOAA office "initiate an investigation into the actions of the sorority as a whole." 
The report stated, "The lack of transparency of the J-Board process is particularly troubling," and "the sorority's opaque policies and procedures make it difficult to fully investigate possible policy violations."
The J-Board refers to the Greek judiciary boards, which are comprised of members and an adviser, and can adjudicate cases internally, based on individual chapter rules. Each chapter has a judicial board which operates under both chapter rules and the umbrella of a mutual agreement between Greek Life and UM. 
Short said that since Greek students live off campus in privately owned homes, the University is more restricted in its powers for handling cases like Doe's. "It's hard for the University to come in and sort of govern what [students] do in [their] private residence," she said. 
But Short also noted that Greek students are more associated with the University than other students living off campus. She said the University enables Greek students to promote events and recruit members — something students living together off-campus don't do. 
Short said that at the moment, administrators want the University to act as a support system for the Greek community.
"Basically, what I'm saying is the University wants to be the entity that can come in there and provide support and resources," Short said. "We don't want those chapters and those leaders to feel like they have to do that alone, or do that through the J-Board process, or try to take care of things on their own."
University administrators could not confirm whether an EO investigation into the chapter as recommended by the grievance committee had been conducted. However, they said that the EO office does not have the jurisdiction to conduct chapter-wide investigations as detailed in the committee's recommendations. 
According to grievance committee procedures, when the committee affirms a final Title IX decision, it can also refer matters within the report back to the EO office or to a new investigator with additional instructions. 
---
Short said that like most Greek Life chapters at UM, Kappa Sigma's national organization does not own the houses that fraternity members rent. Individual members of Kappa Sigma rent together through a landlord, so the University can't hold them to house rules. Kappa Sigma has not had an official chapter house since it was reestablished as a fraternity at UM in 2007.
"These fraternities and sororities are not like a residence hall," Short said. "If you lived in a home with a bunch of roommates, the University would not govern how you live in that home."
Each sorority and fraternity chapter has its own standards when it comes to handling sexual assault, said Lacey Zinke, who oversees Greek Life as fraternity and sorority involvement director for UM. In sexual assault cases, judicial boards can expel accused members from the chapter. 
Currently, Zinke does not need to be informed why or when a member is expelled. Each semester, she requests an updated roster, and that's when she'd see what, if any, changes have been made within the chapter. She said that this is because of the private nature of the Greek system.
"I think a really, really important piece to remember here is that they are private organizations," Zinke said. "All of those situations fall within each individual chapter's housing law; they have a whole judicial process inside of their chapter. They have many bylaws, standing rules, all of that. I don't control any housing because they're private."
Zinke said she is working to provide Greek students with additional training and education about sexual assault. She also said the University president now meets once a semester with members of the Greek Panhellenic Conference (PC) and Interfraternity Council (IFC), the two nationally governing organizations for sororities and fraternities, respectively.
Arant, the current Title IX director, said she has been working with Zinke to improve communication between Greek chapter judiciary boards and UM's internal administration.
"What we don't want to have happen, obviously, is for sororities and fraternities to be adjudicating sexual assault internally through the J-Board process," Arant said.
University administrators agreed that the relationship between Greek Life — a set of private social organizations — and UM — a public institution that accommodates these organizations — makes addressing assaults that occur in fraternities and sororities particularly difficult.
---
Short said Greek Life is not entirely private, and the association between the Greek system and UM is better described as a hybrid.
"With each case, there are certain nuances and details that require maybe some different layering of response or layering that comes with some other jurisdictions," she said.
The difference between the private and public institutions of the Greek system and the University is still a gray area for the administrators who oversee them, Arant said. Determining UM's role in Greek Life has been difficult, especially in regard to cases such as Doe's, she said.
"Figuring out how we, as administrators, and the University, get to fit into that relationship is complicated," she said. "It's difficult to write a three-way kind of relationship and it seems like having a statement of understanding or statement of expectations or some other kind of document can be just as productive."
A "mutual agreement" between Greek Life and UM — the governing document of University-Greek relations — spells out the powers and responsibilities of each entity. It serves as a sort of code of conduct for fraternity and sorority members, dictating how individual chapters interact with the University. 
The mutual agreement states that the "University of Montana does not condone or tolerate any form of assault or abuse … including but not limited to physical or sexual assault … sex without consent (including date rape and gang rape)." 
The document also states that the law requires the University to report incidents of rape and to "take appropriate action through this Relationship Agreement and/or criminal justice system."
The agreement does not require fraternity and sorority presidents to report sexual assault allegations to the University. 
Zinke said in February 2019 that an update to the mutual agreement is in the works, but nearly a year has passed without a new agreement in place. 
The agreement has been undergoing revisions since 2017, when Zinke assumed the director position at FSI. A revised version has yet to be approved, Zinke said, due to pushback from the Panhellenic Conference and Interfraternity Council.
Arant cited a lack of enforceability as a potential deterrent for the PC and IFC. Zinke specified that because the PC and IFC are national agencies, and thus removed from the day-to-day at the University, they are hesitant to agree to a contract where they have no way of monitoring or enforcing the specific actions of their UM members. 
"I think that that's probably nationally what's happening right now, is that people are looking at the actual legal enforceability of some of these agreements," she said. "And they're thinking, 'Maybe this is not the most appropriate mechanism for governing the behavior because a contract that is not enforceable is not really worth it'." 
Arant and Zinke are currently in the process of developing UM's policy, of which they have not yet set a date for completion.
---
Doe is not the first person to criticize UM's procedures for handling sexual assault reports. Notable author Jon Krakauer's 2015 best-seller "Missoula: Rape and the Justice System in a College Town" identified shortcomings in the way the University, campus and city police and county prosecutors handled sexual assault reports between 2008 and 2012.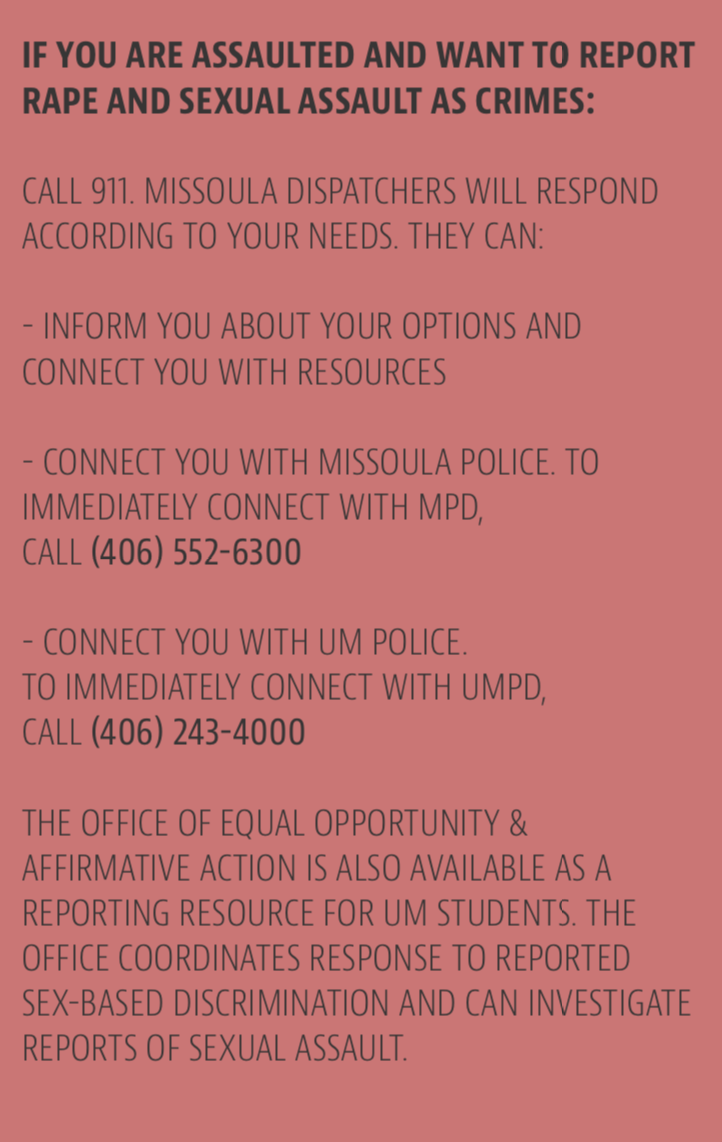 Krakauer's reporting coincided with a Department of Justice investigation, launched in May 2012, into how the University and local authorities handled rape accusations. Investigators found that only 14 out of 85 rape cases handed to Missoula prosecutors resulted in charges filed. 
Krakauer investigated multiple rape accusations against members of the Griz football team, including an accusation against then-quarterback Jordan Johnson. The accusations prompted the athletics department to update the student-athlete code of conduct to address sexual assault directly and clarify penalties against athletes charged with felonies.
The University expelled Johnson in 2013, but the star quarterback was reinstated after the Montana Office of Commissioner of Higher Education reviewed UM's decision. A jury acquitted Johnson of all charges in Missoula County Court in 2013.
Doe said that even though she felt the University institutionally betrayed her, many individuals supported her. 
Doe praised professors who worked to accommodate her needs, including one who offered to lend her a laptop when the court subpoenaed her electronics. She praised other professors who gave her extensions on assignments, educated her on the criminal justice system and counseled her on her career decisions. Doe also praised members of the Associated Students of the University of Montana who established a committee to address sexual assault, and individuals who helped her set up a candlelight vigil for victims of sexual assault.
Doe said she filed a complaint against the University on Nov. 14, 2019 through the Office for Civil Rights. The OCR is a federal sub-agency of the U.S. Department of Education responsible for enforcing civil rights laws in schools that receive federal funding. Doe wants the sub-agency to investigate whether UM violated Title IX in her case.
"To a university, a student is a student for four years," Doe said. "I kind of just want to give the University the idea that yeah, you can graduate, but that doesn't make the trauma go away."  
---