On the first day of school, Hannah Clemenson walked down the old, tree-lined brick path that leads to UM's iron grizzly bear statue. She could hear the trees rustling; she felt the change of texture as her white cane transitioned from smooth cement to uneven brick path.
Clemenson, who is blind, has been guessing her way around campus since the start of school over two weeks ago, using only her white cane as a guide.
Walking among unfamiliar places is already challenging for people with blindness such as Clemenson. Now there are new obstacles. One way halls, entrance only and exit only doors and stickers on the floor indicating a six-foot distance are all inconveniences for the public. For people who can see the signs and markers, it is a somewhat easy transition. For blind people, however, there is no way to know which door is an entrance only door, which hall is an one-way only. They just hope they can guess right.
"I just hope that someone tells me that I am going out the wrong door," Clemenson said. "I just hope someone yells, 'Yo, go out the other door!' I would be like, 'No problem. I just can't see the signs." UM sent out an email to students indicating the implementation of its new rules and regulations, but UM's Disability Services for Students (DSS) said that for hallways, there was little the University could do.

Clemenson is also having numerous problems with Zoom. According to the Association on Higher Education and Disability, nationwide, 74% of students with disabilities have trouble communicating with instructors during remote instruction, compared to the 63% of students without disabilities. While most people type some phrases into the zoom chat, press enter, and continue on, Clemenson cannot see, and thus finds typing hard. She asked her professor for accommodations, but the professor declined. DSS said that it is doing its best to provide students with accommodations.
There are many students like Clemenson who face added challenges in the wake of COVID-19. On the University of Montana campus alone, there are 1300 students, including Clemenson, registered with the Disability Services for Students (DSS), according to lead sign language interpreter Denise May. While COVID-19 is hard for everyone, students with disabilities are feeling its effects even more so. Things like navigating new building rules and regulations, Zoom difficulties and the use of masks make learning and operating on campus even more difficult for students with disabilities. The University has been tasked with providing the solutions for these students. Some still feel like their needs have gone unmet.

During the University of Montana welcome orientation, Carolyn Koefod could not understand the guide. She wasn't given an interpreter. She is deaf in her left ear, and she missed the instructions and basic rules of campus. It was windy, and instead of the guide's voice, the gong, gong, gong of the clock tower bell was the only thing she could hear.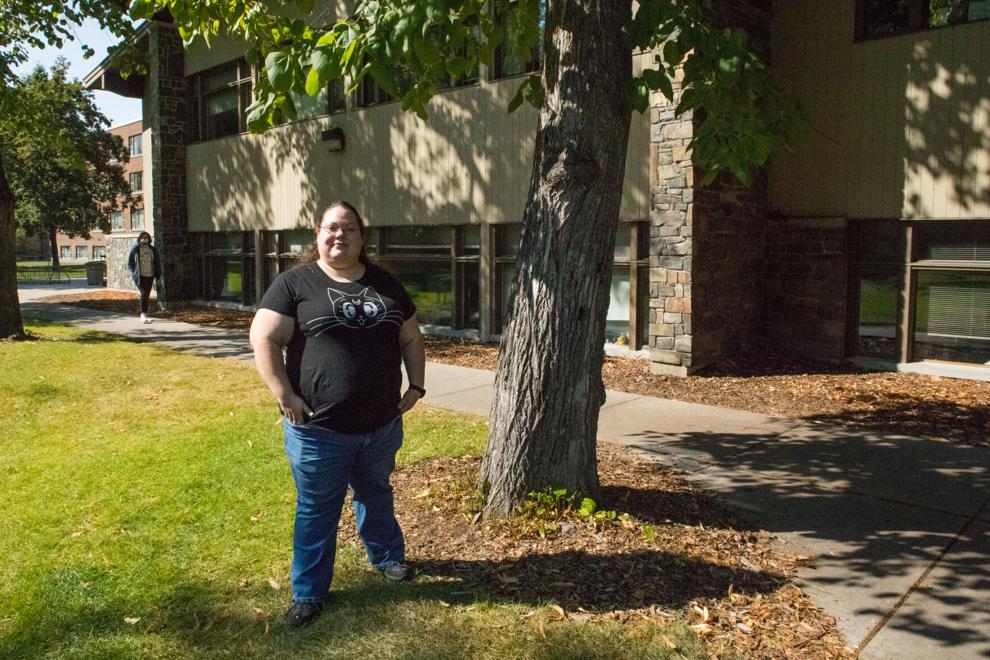 If the gong of bells or the gusts of wind made it difficult for Koefod to understand people before COVID-19, she could rely on lip reading to fill in the blanks. Now, with the use of masks, people who are hard of hearing, like Koefod, simply cannot communicate as well, face-to-face, if at all.
Another UM student, Ben Borhegyi, faced a similar challenge. He was with friends at the UM Oval for the silent disco as part of Griz Welcome week during the first week of fall semester. Everyone was excited to listen to music, to dance, and get a hint, a taste of life's joys before the virus.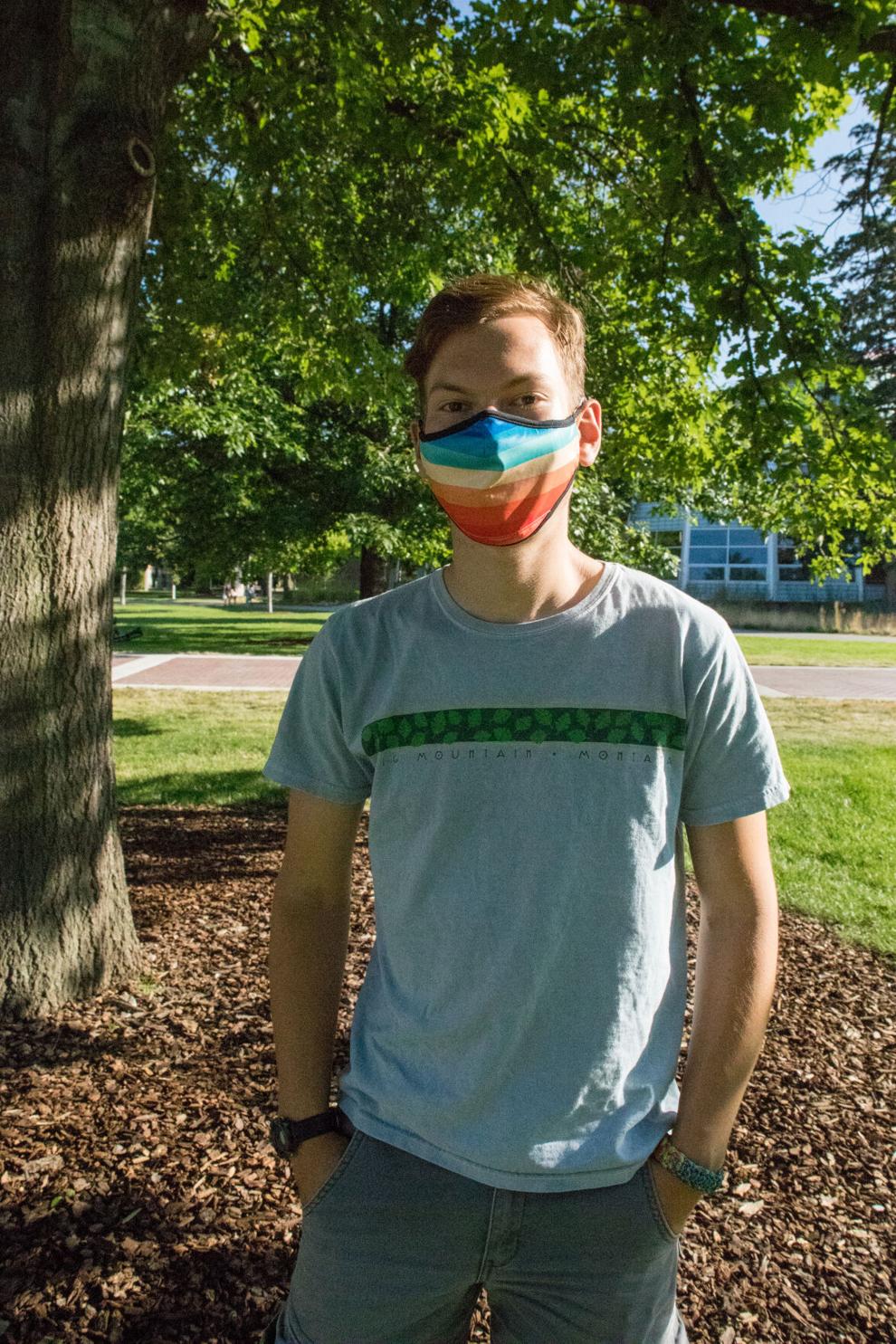 As some of his friends got their earbuds from a table on the Oval, Borhegyi, who is hard of hearing, went up for his. But, he needed headphones, not earbuds, due to the shape of his hearing implants. The table did not have headphones. Borhegyi sat along the side of the Oval and watched his friends dance.
Situations such as these are not uncommon for people who are hard of hearing or deaf. Now, coronavirus adaptations complicate life further. Borhegyi's implants make it easier to hear, but masks make certain accents more difficult. Koefod is only partially deaf, but still cannot communicate well with people because of the masks.
There are ways to work around such a situation. Eliza Kragh, a UM alumna, is a prominent advocate for people who are hard of hearing or deaf in Missoula. She is part of the deaf community herself. Her company, Humanity Communications, promotes the use and distribution of masks that have a clear piece of plastic in the center of the mask, making the mouth visible. Kragh distributes the masks in Missoula, and orders can be made on her website, www.humanitycommunication.com.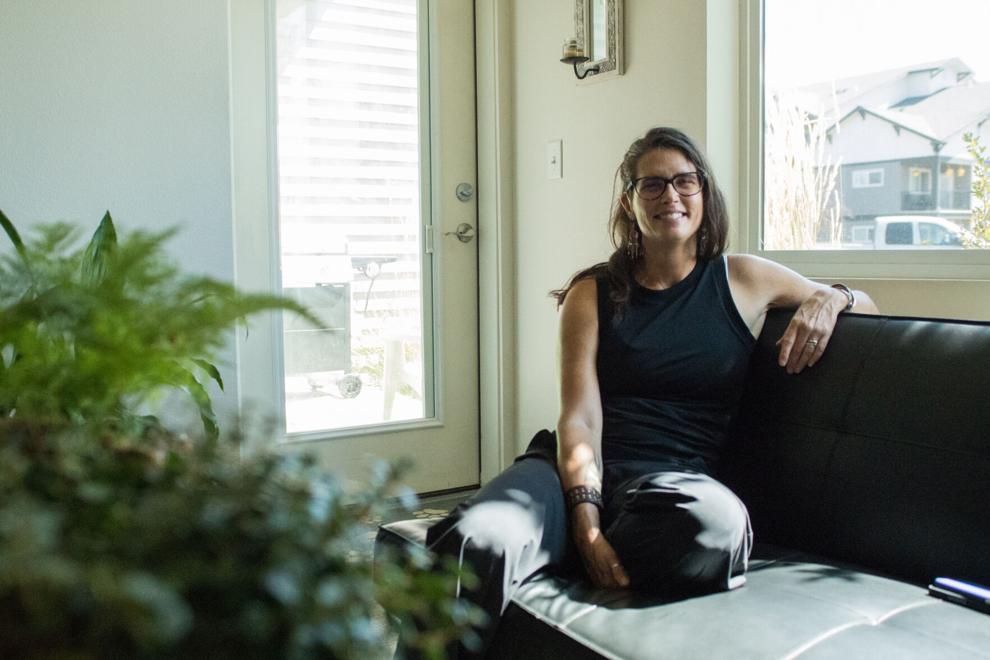 These masks allow people who are hard of hearing or part of the deaf community to read people's lips to catch what they cannot hear. To people who are deaf or hard of hearing, not being able to see someone's lips is not just an inconvenience, it is a physical barrier to one of the most essential parts of society — communication.
"We need to make language and communication accessible to everyone, because language is a right, not a luxury," Kragh said.
DSS ordered enough clear masks for every professor who has deaf or hard-of-hearing students in their classroom.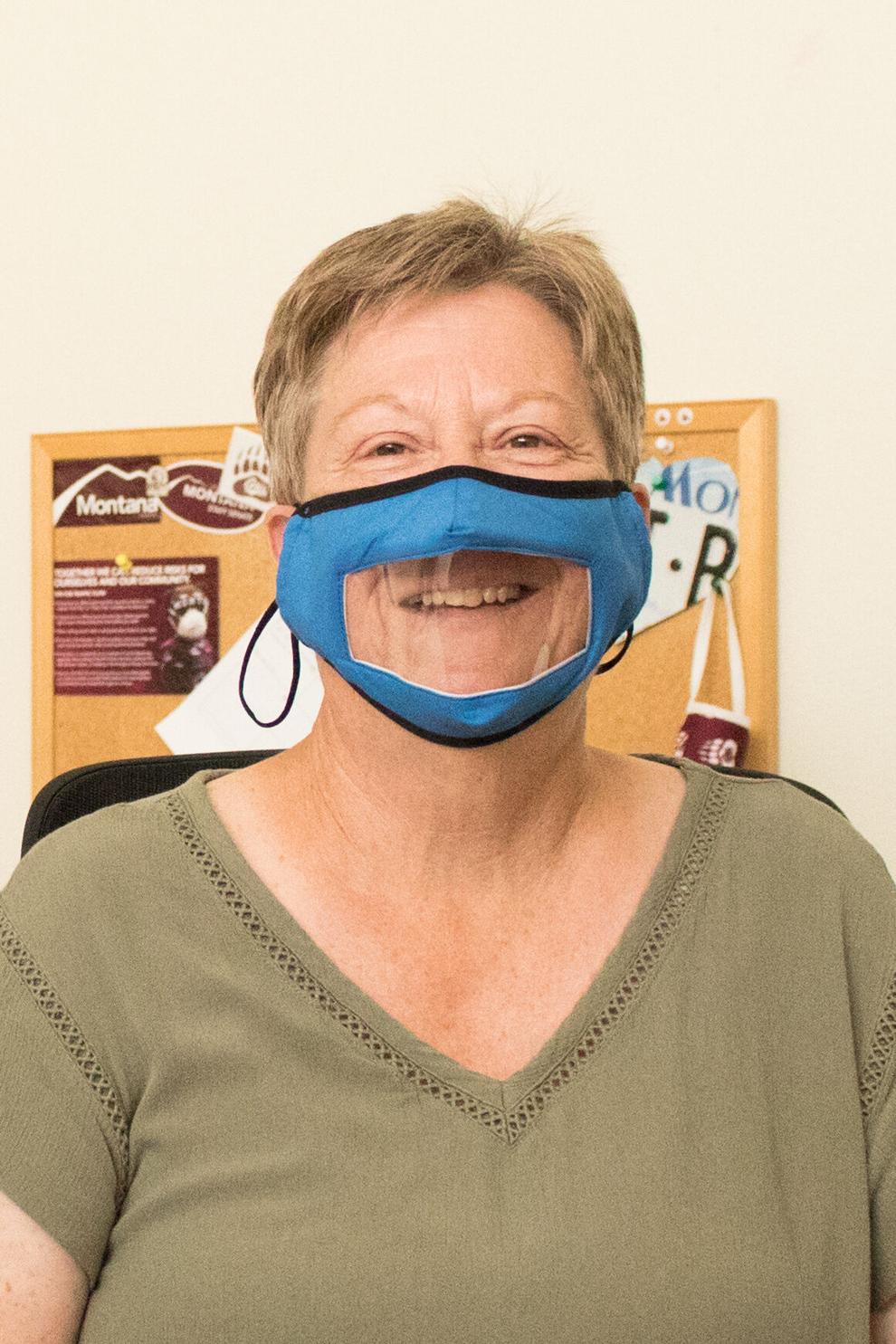 It could not provide one for every student due to budget and a last-minute decision to adopt the clear face masks. DSS originally adopted the use of face shields, which allow hard of hearing students to see a person's mouth and read their lips, according to Capolupo. But the Missoula Health Department declared face shields to be an inadequate face covering.
Mika Watanabe, the Lead Coordinator for the Disability Services for Students, said as long as they qualify for receiving remote learning, DSS provides what it can to help, such as sign language interpreters for hard of hearing students. To qualify for remote learning, however, a person has to have a medical condition that would put them at severe risk if they caught the virus, or if they live with a family member of the same condition. Currently, 190 UM students, of the 1,300 registered through DSS, have qualified for such accommodations.
Depending on a student's disability, the University can still offer them on-staff interpreters (certified sign language translators trained to sign lectures and events), live captioning of an event, or additional testing time, etc. Interpreters can also attend and translate the online Zoom lectures.
"We are driven by the students' needs. So whatever they're requesting we are trying our best to make that happen in the classroom," interpreter May said.
Other schools are doing this as well. Montana State University has adopted the live captioning as well as the online accommodations, according to Capolupo.
Koefod, for example, feels supported by both DSS and her professors. Despite the lack of communication at the student orientation, she has since received help during Zoom lectures as well as in-person classes. She cannot understand sign language, so DSS is providing her with a transcriptor to write what professors are saying during online lectures. Without this service, she said she would be lost.
"When I missed a word in person before COVID, I could read their lips and try to fill in the words that I was missing," Koefod said. "But I can't do that now, at all. Especially in a Zoom class, it is hard to raise a hand and say, 'Can you repeat that please?'"
Her in-person teacher, Professor Garry Kerr, also wears the clear mask, which she said makes it much easier to understand the professor and learn the material.
None of the accommodations can eliminate the feeling of isolation. May said that several students described feeling weary and discouraged.
"I can't imagine, but it would just be so tiring to have to deal with that," May sympathized. "And if you talk with other hard of hearing students, that is the story that you will get. That it is just so hard."
May said there are ways other people can help accommodate students: be aware, be mindful, invest in a clear mask.

The isolation and confusion students who are hard of hearing and deaf can feel is echoed by others.
AJ Williams, a first-year graduate student at the University of Montana, has been quarantining since March of 2020. She was diagnosed with a rare autoimmune disease when she was 14 years old and has had continuous health conditions since, including a kidney transplant. Because of this, she takes immunosuppressant drugs to help with her conditions.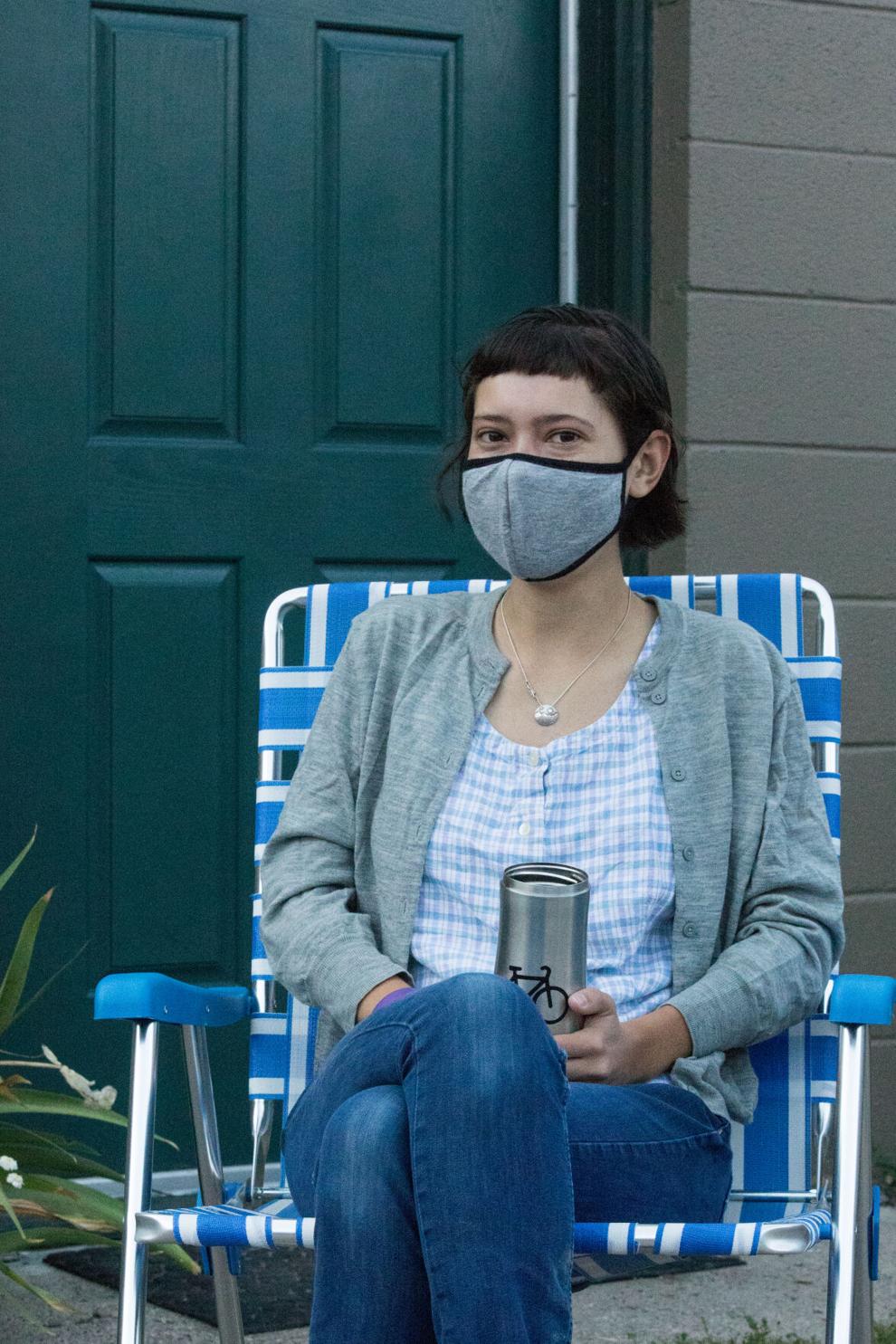 This makes her extremely sensitive to COVID-19 — if she catches the virus, the effects will be severe. Because of this, she has to live remotely: Zoom, Facetime, more Zoom and the occasional socially-distanced visit from friends.
Williams tries not to think about what she misses most: hugging.
"I adamantly try not to miss it, because it is not going to happen anytime soon," Williams said.
She recently moved to Missoula from Minneapolis, never going into gas stations, bringing three days worth of prepared food, and using the bathroom on the side of the road during her journey. While many enjoy the freedom to choose to stay in, Williams is forced to. For her, it is a necessity.
"It's pretty clear for me for the health decision," Williams said. "It's kind of like risking getting sick and losing a kidney and dying or staying remote and staying sheltered basically. It's not really a decision."
Although online education can be lonely and isolating, Williams' classmates and professors are getting creative and trying to lessen the potentially overwhelming emotions.

"My classmates have taken turns handling me on an IPad on a tripod," Williams laughed. "It's been a weird but also great way to get to know people. You have to trust them."
Her adviser, journalism professor Nadia White, has had a game plan since the summer for accommodating students such as Williams. She uses FaceTime, and has even had students join virtually during a live tour of the Rattlesnake Dam Removal Project. Although White admits it is not perfect all the time, it seems to be helping students, Williams included, to feel more accepted and part of the class.
"We both work hard to make the technology work and are forgiving of each other when it falls short. So far, I think it's going pretty well," White said.
Williams is more worried about people without disabilities acting carelessly. She said it is frustrating to see and hear people doing things that are directly inflicting harm on another, but she also states that it is a decision everyone must make for themselves.
"To take risks that other people cannot take is something that every person needs to assess for themselves," Williams said. "As long as we are trying to minimize harm and really trying to minimize risk, we are just not living in a time right now where there is a no-risk situation."
Despite the landslide of opposition and challenges people with disabilities are facing, Williams said, COVID-19 is presenting them with a new opportunity. Capolupo agreed as well, stating that this is an opportunity to move forward and to change the "normal" so things do not go back to the way they were before. For example, according to Capolupo, some students with disabilities have been asking for the kind of flexibility online learning allows for years. Now that is a norm, both Capolupo and Williams hope this trend continues.
"I think that [feeling isolated] is just where we are at the moment for people with disabilities," Williams said.  "But I think this is a really big moment for the movement to really make some bigger headway. Not just fighting for civility rights but fighting for culture rights." 

Progress has been made in accommodating students with disabilities on campus. But in crucial areas, needs have still gone unmet. Coronavirus has exacerbated existing problems within the University's DSS structure.
Take Clemenson, for example, who is blind. To help with the process of becoming familiar with a new surrounding, a service called "orientation mobility" is offered to blind students. A guide familiarizes people who are blind with landmarks, specific turns, and other distinctions on campus by leading them around campus, which makes it easier for the student to get around in the future. This service is offered every orientation.
But, being close and physically guiding the blind student is essential for orientation mobility. Coronavirus, and the six-foot distance regulations that come with it, make the orientation mobility difficult. Guides are forced to direct from afar instead of physically maneuver students. Clemenson also said the University made the process of getting an orientation challenging and had her switch instructors twice. 
After the orientation, Clemenson requested to have a person help her to her classes for the first two weeks of school.  She felt like she needed a guide for longer than the allotted orientation time.

The Disability Services for Students said there are certain things it cannot do for students. It cannot grant actions that could be deemed as personal favors, according to DSS Director Capolupo. For example, DSS could not provide a student with a new computer for online learning. It could, however, provide a student with a mouse that they require for a certain application used for school. In regards to Clemenson's situation, Capolupo could not disclose specifics. Capolupo said the University was instead relying heavily on students to "be on the lookout," and direct students they see struggling. 
Instead of being accompanied by a guide, Clemenson walked to classes alone, using only her white cane to guide her.
"I've emailed [DSS], I've called them, and nothing," Clemenson said.