The end of Engstrom: How UM's president fell from grace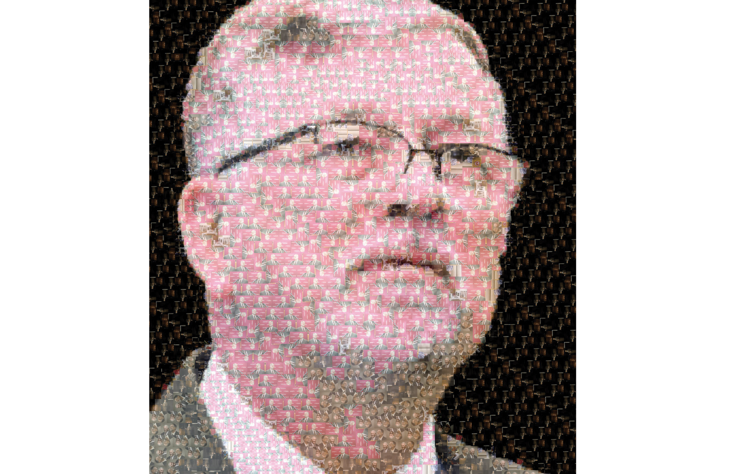 A week before he was ousted, President Royce Engstrom had every intention of continuing to lead the University of Montana, even though the air on campus had a renewed anxiety. Engstrom's response to a Nov. 23 Missoulian article where a Commissioner of Higher Education staffer implied that further cuts should be imposed on UM faculty and staff sounded the alarms of both faculty and students. Phrases like "program prioritization" abounded, leading many to wonder if UM was on track to see a repeat of last school year's sweeping cut of 201 positions.
Engstrom, however, was determined. He was at the helm last time, and would guide the University through the storm once again.
Commissioner of Higher Education Clayton Christian had other ideas. 
Just before 9 a.m. on Thursday, Dec. 1, Christian sent an email to the campus community stating that "after careful discussion and consideration, University of Montana President Royce Engstrom and I have decided that he will step down as UM's President effective December 31."
The night before, UM interest groups had held an emergency meeting to discuss program prioritization efforts, but a resignation was not on their radar. Interim Provost Beverly Edmond later said that she was unaware until the morning the announcement was made.
The announcement came with little warning, shocking both campus and Missoula at large. It was the end of one of the University of Montana's most storied presidencies.
As he makes his exit, President Engstrom leaves behind a complicated legacy, fraught with a multitude of scandals and fierce public sentiment. This is how the former provost, chemist and canoe enthusiast saw a rape scandal and five consecutive years of enrollment decline define his mark on the University of Montana, and where things will go from here.
I. A hopeful beginning
Former President George Dennison announced his retirement from the University of Montana in January of 2010. He was well-known for his 20-year tenure, the longest anyone has held the office at UM, as well as his penchant for constructing new buildings. He chose to hold off retirement until Montana State University concluded its search for a new president, who they found in Waded Cruzado in Oct. 2009.
His departure came at a time when the U.S. economy was still in recovery. A Missoulian article announcing Dennison's departure described UM's financial situation as, "strained," and Dennison was quoted saying that budget cuts and revenue shortfalls are perennial occurrences. A new president would have to bring fresh ideas about how to weather the challenges ahead.
In September of that year, Royce Engstrom was selected as UM's new president. Enrollment was at 15,642.
Formerly the University of Montana's provost, Engstrom assumed office on Oct. 15, 2010. He immediately began shaking things up, promoting Perry Brown to the role of provost from his position of the dean of forestry and conservation. Increased recruitment and retention were essential goals at the beginning of his term, and for a moment, he seemed on the path to success. Engstrom almost immediately began to receive praise. Dean of the College of Visual and Performing Arts Stephen Kalm said in a Missoulian article that Engstrom was going to make a "tremendous" president.
His first year as president saw few major conflicts and little of the broad criticism he would soon face. 
II. Enter the DOJ
Then, on Dec. 16, 2011, when enrollment was at 15,669, the Missoulian published an anonymous tip stating that three UM football players were alleged assailants in a sexual assault investigation.
From there, all hell broke loose.
Former Montana Supreme Court Justice Diane Barz stated on Jan. 31, 2012, that "UM has a problem with sexual assault." Then, on Feb. 10, 2012, two female students reported that an international student had sexually assaulted them. The student fled the country after a campus-wide email was sent out alerting students of the assault, and when the assaults were eventually reported to police, the victims blamed the University of Montana for its inaction. 
Meanwhile, former Griz linebacker Beau Donaldson was being held in Missoula County Jail on $50,000 bail after being charged with sexual assault. Former quarterback Jordan Johnson was the subject of a restraining order filed on March 15 by a female student who said Johnson sexually assaulted her. After the restraining order was dismissed, then-head coach Robin Pflugrad allowed Johnson to return to play for the team on March 24, 2012. 
Days later, on March 27, Engstrom sent an email alerting campus that both Pflugrad's and Athletic Director Jim O'Day's contracts would not be renewed. The swift firing of a winning coach was a gutsy and controversial move at a university where football reigns supreme.
This was quickly overshadowed, however, by the entrance of the United States Department of Justice. In May, the DOJ signaled its intent to investigate roughly 80 rapes that had occurred in Missoula over the previous three years. The Department of Education also opened its own investigation regarding purported violations of Title IX, a law aimed at gender-based discrimination in education.
At the same time, it was revealed that then Vice President for External Relations Jim Foley had asked via email if a student who spoke to the press regarding her sexual assault could be punished.
Foley stepped down in June, and Engstrom continued to make clear his commitment to preventing sexual assaults through educational programs. He also announced that four vice presidential positions needed to be filled, and named Peggy Kuhr vice president for integrated communications in August, a new position created in the wake of the rape scandal.
The Department of Education investigation concluded a year later, in 2013, finding that the University of Montana was not in compliance with Title IX. The DOJ ended its investigation as well, describing UM as a "hostile environment based on sex" with a resolution listing a multitude of requirements for UM going forward. Beau Donaldson pleaded guilty, while Jordan Johnson was acquitted of all charges. 
By fall, enrollment was at 14,525.
Engstrom saw the outcome of these investigations as a "triumph" for the University, according to an October 2013 Kaimin story. But faculty were already beginning to doubt him. History professor Michael Mayer was quoted in that story saying the administration had let the DOJ walk all over the University. 
"I'm not claiming we got this 100 percent right," Engstrom said in the article. "But we took a very campus-centric approach to protect our students and employees. There were bound to be mistakes along the way."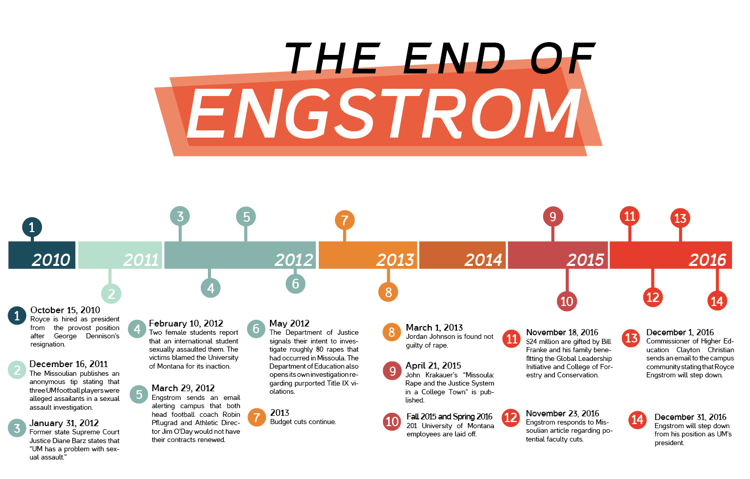 III. Cuts, cuts and more cuts
None of this boded well for enrollment. Under Engstrom, the University of Montana had seen  decreases in student population every year from 2011 to present. The economy had begun to recover in the midst of the sexual assault scandal, which meant less interest in higher education. But as UM failed to bring up its numbers, Montana State University was flourishing.
MSU's enrollment has thus far risen every consecutive year under President Waded Cruzado, currently sitting at a high of 16,440 students. And while UM certainly carries a stigma with regard to sexual assault, that does not seem to be affecting Montana high schoolers' choice of university. The University of Montana has a fundamental recruitment and retention problem.
While Cruzado had a one-year head start on Engstrom, the fact remains that she is largely responsible for MSU's ascension. UM's enrollment has fallen every year since 2011, a 21 percent drop in total. Fewer students has meant fewer dollars. UM administration's frequent ineptitude and inability to retain students over the past half-decade secured Engstrom's legacy as one of budget cuts. 
And cut he did. While some budget cuts were certainly made between 2011 and 2014, it was fall 2015's decimation of 201 positions and veritable gutting of the humanities that will stand as one of Engstrom's defining moments. That year, enrollment was at 13,044.
The University of Montana budgeted for a 5 percent decrease in enrollment in the 2015-2016 school year. Main Hall released a preliminary enrollment report in the beginning of October 2015 reporting that enrollment had only declined 3.8 percent. By November, the numbers were quietly updated on the University's website to a 6.5 percent decrease, with no public announcement from the administration. This did not help with Main Hall's perceived transparency problem, and was a warning sign for the massive axing of faculty and non-faculty positions that came on Nov. 17. While Engstrom did not reveal the budget deficit, Peggy Kuhr reported to Montana Public Radio that it was around $5 million. 
Targeted programs included journalism, anthropology, English, geography, liberal studies, art, political science, forestry management and the Missoula College programs of carpentry, building maintenance and recreational power equipment. Those affected included faculty, staff, student employees, graduate assistants, administrators and part-time positions.
Most of the positions cut were done so through retirements, not filling open positions and 27 individual layoffs. The cuts shocked and infuriated those on and off campus, and Engstrom's efficacy as a leader was again called into question.
It didn't help that he used departmental reviews done by faculty members to determine which programs to cut. 
The tides had shifted. Professors and other faculty felt deceived by the use of the review, conducted in spring 2014. Engstrom initially denied that the reports would be used to determine which programs to cut. Faculty Senate Chair Stephen Lodmell quoted Engstrom as saying via email, "you don't cut your way to success."
It would be a mistake to place the blame for plunging enrollment solely on Engstrom. But, the indiscriminate cuts, as well as the staggering lack of transparency from Main Hall, were poor responses to a chaotic situation. In the years that Engstrom has led UM, the executives have failed to give concise explanations or justifications for many of the innumerable problems facing campus. Par for the course are the murky, conflicting emails sent to students and faculty within the last few weeks regarding further cuts from both Commissioner of Higher Education Clayton Christian and Engstrom
Matters were made worse when news of Engstrom's $500,000 in deferred compensation entered public consciousness in November 2015. While both Engstrom and Cruzado receive such payments, the knowledge that Engstrom would begin receiving annual payments of $50,000 for the next 10 years did not sit well in the wake of the budget cuts. These plans exist to incentivize university system presidents to take the job, as Montana schools pay less annually than neighboring schools in North Dakota and Idaho. 
Yearly, Engstrom made $309,207. When he received a raise of $6,093 in January of this year, he pledged the money to a leadership scholarship. 
Students protested the slashing of the humanities in December of last year. Calling themselves "UM United," the group marched across the Oval chanting "What do we want? Creative solutions." While the movement offered little in the way of concrete suggestions, it is true that Engstrom and his cabinet failed to offer many clear enrollment solutions, relying mostly on harm reduction methods like budget cuts. It was this lack of creativity that helped cause Engstrom's fall from grace.
IV. Denouement
Engstrom also saw the collapse of his cabinet last spring, when long-standing Main Hall inhabitants Teresa Branch, Perry Brown, Peggy Kuhr and Bill Johnston retired in quick succession. Tom Crady and Beverly Edmond were hired as vice president of enrollment management and student affairs, and interim provost, respectively. Mario Schulzke took over Kuhr's position, and was named associate vice president of integrated communications and chief marketing officer. Paula Short was named director of communications, absorbing some of Kuhr's duties. Some of these titles, like Crady's, were new, combining elements of multiple positions.
Despite widespread criticism and some calls for his resignation from community members after the events of last fall and spring, things did not truly fall apart for Engstrom until this fall, when enrollment once again dropped — this time by 6.1 percent, slightly lower than expected.
Engstrom found a guardian angel in Tom Crady, whose actions this fall also showed that UM was committed to making necessary changes. His elimination of roughly 50 potential registration holds, transition to a paperless application system and hiring of an outside firm whose aim is to recruit high school students displayed the kind of creative enrollment solutions so desperately needed.
Another major break came Engstrom's way during this time — a $24 million gift benefitting the College of Forestry and Conservation and the Global Leadership Initiative, a program Engstrom spearheaded during his time as provost. It was the largest single-donor gift ever received by the University. Multiple events across campus were held Nov. 18 in celebration, just two weeks before Engstrom resigned. 
The Associated Students of the University of Montana addressed the issue of program prioritization in October of this year, with President Sam Forstag calling it "the single most important thing this Senate will have the opportunity to deal with." Prioritization was again discussed in the emergency meeting held by ASUM the night before Engstrom's forced resignation.
Engstrom announced that he tasked Beverly Edmond with "designing a process for academic and administrative programs prioritization" in an email sent Nov. 22. He also stated that the Strategic Plan Coordinating Council would have a plan drafted with regard to prioritization by April of next year.
The same day, Clayton Christian denied mandating staffing reductions. While they may not yet have given the order, Kevin McRae said in a Missoulian article that "UM currently has too many faculty and staff." 
There was radio silence from Engstrom himself for an entire day after Christian announced that he was being asked to step down. In his first public statement, on Dec. 2, he asked the campus community to support Sheila Stearns, his interim replacement, during the transition period. He signed off with a "Go Griz!" 
V. The road ahead
Engstrom will depart from the University on Dec. 31, at which time Sheila Stearns will promptly take over his duties until a replacement is found. Enrollment is currently at 12,419. 
His departure will have immediate consequences. UM's relationship with the Montana state legislature will now be helmed by Stearns, who Forstag said should fill the role well.
Still, Forstag questioned the commissioner of higher education's decision.
"We've made some really positive changes recently at UM, and the Office of the Commissioner of Higher Education just stepped in the middle of it all with their comments to the Missoulian," Forstag said. "There is [a] top-down approach happening now where the community has less say in who is leading the U."
Regardless, the search for a new president is already underway. And, in roughly a year, Edmond said more program cuts will be made. With things as unpredictable as they are, those cuts could always come sooner.
The University of Montana has signaled that it is ready for new ideas. What exactly will change in the coming years remains to be seen. But Engstrom's sudden and swift departure signals that more sweeping changes could be coming.
Temporary leadership will guide UM through the next several months, as well as the upcoming legislative session. Royce Engstrom will remain in office until New Year's Eve, at which point his future becomes uncertain. While he has the option of retaining a position in some capacity at the University, he has not said if he intends to do so. He declined to comment for this story. 
He leaves behind a complicated and messy legacy. He took the reins during a difficult financial period, and was unable to make many improvements. It is impossible to quantify the degree to which he is at fault for the problems of the last five years. There is only speculation, and the knowledge that Royce Engstrom, the soft-spoken chemist, will not lead the University into the new year. •
Editor's note: a previous version of this article stated that Engstrom eliminated 201 employees in 2015. It should have read "positions." It has since been updated.
*Additional reporting by Lucy Tompkins, Kasey Bubnash, Matt Neuman, Claire Chandler