Nothing lasts forever. Not this team, or this season, or this moment of Travis DeCuire snipping the last piece of braided nylon dangling from the rim at Dahlberg Arena. A conference championship is something to savor.
Fittingly, the team to beat for the title March 1 was Weber State, Montana's fiercest basketball rival and a down-to-the-wire recruiting competitor for the Griz' newest star Timmy Falls. The finishing touch on what has been the best season during the DeCuire era was on the line, making the 75-57 win that much sweeter. There's no longer any doubt about who the best team in the Big Sky Conference is.
DeCuire waved the net around his head like a lasso and then draped it around his neck. He hugged his players and his coaches and grinned ear-to-ear. Two days later they beat Idaho State, affirming this year's team as one of the best in Montana's storied history.
The Griz will return to the conference spotlight March 8 to compete for the coveted Big Sky tournament crown, a feat that comes with a ticket to the 68-team NCAA Tournament. It's something no one on the team has experienced in their current roles. Neither was the feeling of owning the regular season Big Sky title.
These players will graduate, new ones will come in. Coaches will move on, upsets will happen, other teams will get better. A different team will be posing for photos with the Big Sky trophy, players smiling with bits of nylon stuck behind one ear. But this time, that team was the Griz.
---
There was slight cause for concern when no one could get a shot to fall early. It was a sellout crowd at Dahlberg Arena Feb. 24, and this was Montana State.
Ahmaad Rorie missed his first five. Fabijan Krslovic started 2-for-6. Jamar Akoh landed in foul trouble, and Michael Oguine couldn't find a single clean shot.
Who would take over?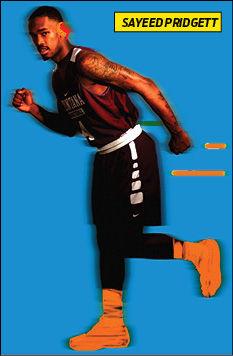 Then, off the bench came Timmy Falls, DeCuire's prize recruit. A slender, 6-foot-2 guard from Dublin, California, with a McGregor-esque wings tattoo across his chest and a curly blond undercut. He has a Robin-like aura and a knack for heating up when his team needs it the most.
Falls' powers were on full display for the first time to Griz fans Dec. 19, when he dropped four threes in as many shots for a 14-point night. Later they celebrated his open rebellion against the referees.
While Oguine, Rorie and Akoh battled double-teams and traps in the opening minutes of Cat-Griz, Falls was left wide open on the perimeter. He bricked his first three-pointer, but drained his second. Then he made his next one. After his third he fell back on defense, intercepted a pass and finished a lay-up in transition with contact. Of course, he didn't miss his free throw.
"Guess the football players have a little bit more respect for the freshmen," Falls joked later that week.
Falls took on a leading role in this, his freshman season. When the Griz have needed a spark or some splash, Falls delivered with clutch jumpers and a sneaky-good drive. He's not always on. But when he is, the Griz offense is usually at its best.
The rest of the Griz followed Falls' lead in the second half. His roommate, Texas high school standout Karl Nicholas, put up 11 points in Akoh's place. Sayeed Pridgett, a sophomore who grew up an hour north of Falls in Oakland, landed 7-of-9 in the second half to complete a 21-point night. Then Rorie heated up, and so did Krslovic and Bobby Moorehead.
Falls didn't disappoint his fans, the 7,000 amateur officials wearing maroon, who were noticeably vicious to the officials after a phantom call on Akoh. What Falls said to the ref was inaudible, but evidently it warranted a technical foul on his way to the bench midway through the second half.
It didn't matter that Falls didn't score the entire second half of that game. Montana went on to dismantle the Bobcats 90-63.
The following game, Falls was honored with his own giant-head poster for the Griz' game against Weber State. The student section's version of Mount Rushmore has grown slowly as more players had their moments throughout the season. Falls joined an elite club. The eight heads -- DeCuire's, Rorie's, Oguine's, Akoh's, Krslovic's, Pridgett's, Falls' and Moorehead's with the headband -- are a discomforting reminder to opponents of what Krslovic described as a collectively selfless mentality:
"Everybody's willing to sacrifice and put the team first, and acknowledge that maybe it's someone else's turn to take over and ride them out."
---
Jamar Akoh came to Missoula in search of something different.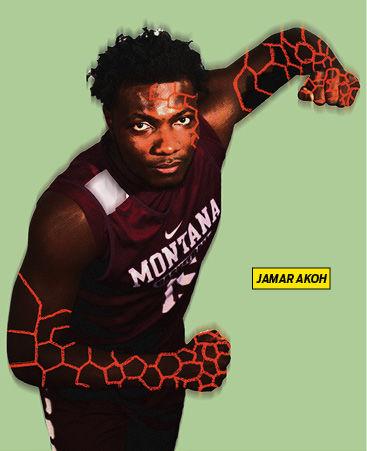 The 6-foot-8 junior from Rancho Cucamonga, California, who's famous for his backboard-rattling dunks and laid-back demeanor, wasn't winning at his old school.
Akoh transferred to Montana in 2016 from California State-Fullerton, where his team went a combined 19-42 in his freshman and sophomore seasons. It didn't take long for Akoh to become a household name in Missoula, even if much of Missoula struggles to pronounce it (not ae-koh or aw-koh, but UH-koh). He put up 34 points to carry the Griz to an 89-80 win over Northern Colorado Jan. 6.
Before practice on Feb. 20, Akoh pointed across the gym at assistant coach Jay Flores bear-hugging the freshman Karl Nicholas.
"(Other teams) say they're together, and you try to preach family and all that, but I think we really have it," Akoh said. "We're hugging each other, a coach and a player ... It's not like they're bigger than us or we're bigger than them. We're not too arrogant to hang out with each other or think like, 'I'm better than the guy who doesn't play or the walk-on.'"
That togetherness manifests itself in how the players genuinely celebrate each other's successes. It's apparent especially in small situations, like in practice Feb. 28, when Moorehead whooped as Krslovic punched home a dunk during an offense-only drill, or when players on the bench went wild after Moorehead threw down a one-handed dunk off a fast-break during the second half of Montana's route of Montana State.
"We're happy with everybody having a good game," Akoh said. "You know, doing what they do."
---
Getting these  players to elaborate on their individual success is about as difficult as it is to complete an interview that doesn't include some variation of the phrase, "thanks to my teammates."
Last year, that wasn't the case.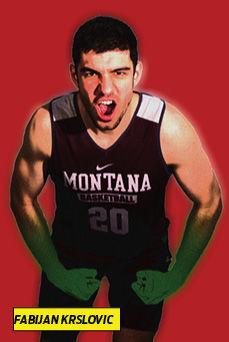 "Guys weren't necessarily bought in to what we were doing all the time," the junior, Moorehead said. "We had different guys with different issues."
The team finished 16-16 last season and lost to Idaho in the first round of the conference tournament. The team scored more points per game than its current average, but sloppiness on the defensive end caused the Griz to lose several close games.
Not only is the team shooting better than it did a year ago, up from 45 to 47 percent, but the Griz are also taking better shots. The team is outscoring opponents by 9.5 points per game. And the team is turning the ball over less, about one fewer turnover per game.
Against Weber State on March 1, the team dished out 22 assists, almost double the average from last season, on its way to the outright regular season conference title.
"It's hard to have guys who are about all of the right things, and if this was a text message the A-L-L would be in caps," DeCuire said. "It's hard to be about playing defense all the time, hustling all the time, taking charges, diving on the floor and not knowing when, or if, you're going to get shots."
---
Bobby Moorehead knows a thing or two about the difference a year can make.
The junior from Tacoma, Washington, struggled last year after a breakout freshman campaign as the team's off-the-bench sharp-shooter. He shot at a clip of just 29 percent, 10 points lower than the previous year.
Now Moorehead's in the middle of the best season of his career, averaging highs in points, rebounds and, naturally, minutes.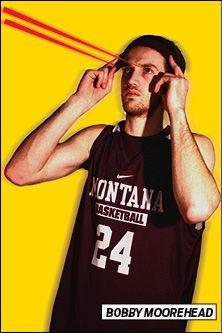 "I just think that when you get in those slumps, you have to think, 'I'm a good shooter and they're bound to go in at some point,'" he said. "So you've just got to keep shooting the ball."
These days, Moorehead is known just as well by his given moniker, "Headband Bobby," which yielded its own hashtag and offered an image rebirth for the Griz forward. His nickname is immortalized in giant-head form and creeps further into legend with each game.
Ben Wineman, a play-by-play announcer for SWX Montana, credited the forehead accessory for Moorehead's fast-break dunk against the Cats.
"We have never seen that from Bobby Moorehead in a basketball game. The headband's working tonight for number 24," Wineman said.
To Moorehead, the headband is practical. He wore one in high school, and Oguine had a spare (he doesn't use one anyway). It keeps the sweat out of his eyes, Moorehead said humbly while observing shootaround headband-less before practice Feb. 20. However, contrary to the principles of mutual causality, he confirmed it does not possess special powers.
"I don't feel any different playing out there in it. It's just something  that makes me look a little bit different," he said. "I just like wearing it."
---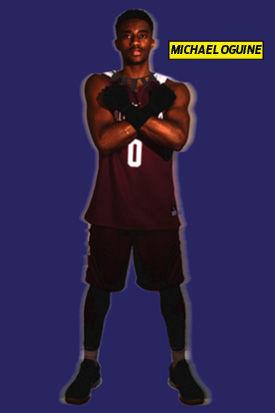 It's typical to see the shooters stay late at practice. The day before Weber State, Mike Oguine and Timmy Falls hung back, allowing their teammates to take first dibs at the photo shoot setup by Kaimin photographers.
Each one looked at the little orange sticky note directing him about what pose would suit them best.
Meanwhile, Oguine was at the far hoop, the one that would be netless 28 hours later, draining three-pointers from every spot on the floor.
In games, fans recognize Oguine by the zero on his back. It feels appropriate for the man with a last name that starts with an O, and it's a convenient symbol for the way Oguine refuses to put himself before the rest of the team.
Picking yourself up off the floor isn't as sexy as hanging on the rim or flashing three fingers to a roaring crowd — Oguine does both — but Oguine prides himself on the less glamorous aspects of the game. He understands as well as anyone on the team the importance of defense and rarely credits his own — or anyone else's — scoring ability as the reason his team wins games.
"There are some people who can appreciate a team that gets stops," Oguine said. "To us, we just know that's what makes us tick. It's not really something you can define. It's just keeping our opponents from getting points that really, for us, keeps us going."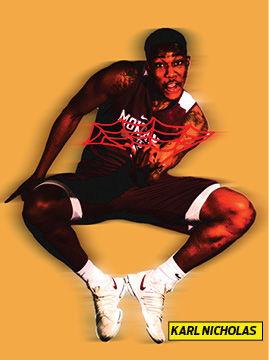 When Oguine, who was named the Big Sky's Defensive Player of the Year Monday, finally joined the photo shoot, he was the last player left in the arena. He looked surprised when his pose was for Captain America.
"Can I be Black Panther instead?" he said. The photographer informed him someone else did a similar pose, and, out of fairness, no one could do Black Panther. "Aw, let them hate," he said, and he crossed his arms in an X across his chest.
---
Travis DeCuire has been in this moment before, climbing a ladder in what is now Dahlberg Arena to cut down the nets. Last time he did it as a player. He's never had the opportunity to make the final cut — only the coach gets those honors.
In 1991, DeCuire still had his trademark mustache and goatee, only back then there were no hints of gray and his Griz uniform was copper and gold. That was the year DeCuire won his first Big Sky championship and made an appearance at the Big Dance. That team lost in the first round, as did DeCuire's '92 team, the last to go undefeated at home before this year's did.
He came close in 2014, his first year as head coach of his alma mater. The Griz shared the regular season title that year with Eastern Washington and lost to the Eagles on their own floor in the conference championship game.
That offseason was DeCuire's chance to assemble the team in his vision. He pulled Rorie away from Oregon and landed an athletic guard from Southern California, Oguine, and a steady shooter from Tacoma later to be known as Headband Bob.
The result of last season would have been decent for any other team. They finished 11-7 in the conference and came close to a first-round win in the tournament. But it wasn't enough. DeCuire said they were just getting started.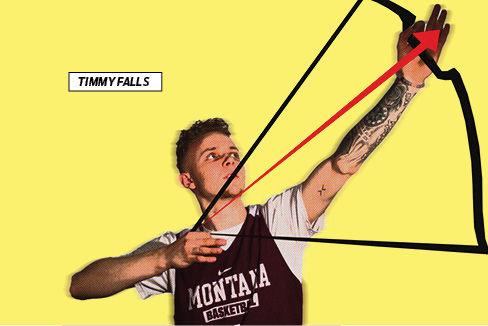 "Sometimes guys don't like roles," DeCuire said. "But if they know what they are, they figure out whether they want to make the most of it or not, and they have plenty of time to do it, rather than having that conversation in December."
It's only right that the man who holds the school record for assists now leads one of the most selfless teams in Griz history. He said this year's team was the first one he's been on — as a head coach, assistant coach or a player — where everyone knew their roles before the season started.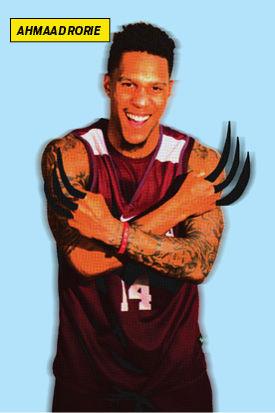 The players point to each other's desire to hang out together as the root of their on-court chemistry. Their initiative to build a bond between them goes as far as eating meals together in equal rotations, going to movies or chatting casually while playing Fortnite, a third-person shooter video game similar to the plot of "The Hunger Games." DeCuire recalled the Griz teams he played on bonding similarly over Sega Genesis. (Now his games of choice include chess and dominos on his phone.)
It started with players like the senior forward Krslovic, who has played on every one of DeCuire's teams and understands better than anyone on the court where each player should be and how DeCuire tries to run the offense. DeCuire sees a lot of himself in Krslovic, which is what sparked a conversation between the two about Krslovic's possible future as a coach.
"Usually it's always the best players on the floor that say, 'Hey, I want to come back and coach,'" DeCuire said. "We never call those guys. They're always on the floor. They never get to see it from the bench ... What you see and what you should see, it's a habit."
The man they call Fab played his 56th and final game in Dahlberg Arena on Saturday and exited with a standing ovation, having played in more games than any Griz before. He didn't reach the 1,000-point mark like Oguine or Rorie, yet he kept himself in the starting lineup all four years as the adhesive that keeps DeCuire's game plan intact.
"This year feels a lot like my freshman year in terms of the cohesiveness of the team and how willing we all are to sacrifice for the team," Krslovic said.
The biggest chunks of practice are spent in walk-throughs, when DeCuire can communicate his vision. He nudges and drags players by the backs of their jerseys to perfect a game plan, removing any barriers of transparency. Before, the problem was having the players know why a play works. This year, the team's IQ has been its biggest strength.
"I think the right conversations are taking place when the coaches aren't around," DeCuire said. "And I think the guys are stepping in on the fact that winning is the most important thing for this team."