Christy Crystal Creek was around 20 when she left home somewhere in the southeast U.S. and started hitchhiking. She stepped out of a semi-truck in the parking lot of a bar and went inside. Soon, she met Wayne Nance, who later shot her twice — point blank, execution style — and left her body in the woods.
Maybe.
No one knows what happened to Christy, or if they do, they're not saying. In September 1985, a bear hunter found skeletal remains scattered across a hillside near East Missoula. When investigators arrived, all they found were the bones, two bullets lodged in the skull and small tufts of hair. There were no personal items like clothing or a purse, only the bare bones of Christy, and no one knew who she was.
 Very little is known about the body of Jane Doe 3UFMT, nicknamed "Christy Crystal Creek" after the road near where her body was found. Nothing is known about how she ended up dead on a hillside outside Missoula, or why she arrived there in the first place. Even her age is an educated guess; she could have been anywhere between 19 and 21.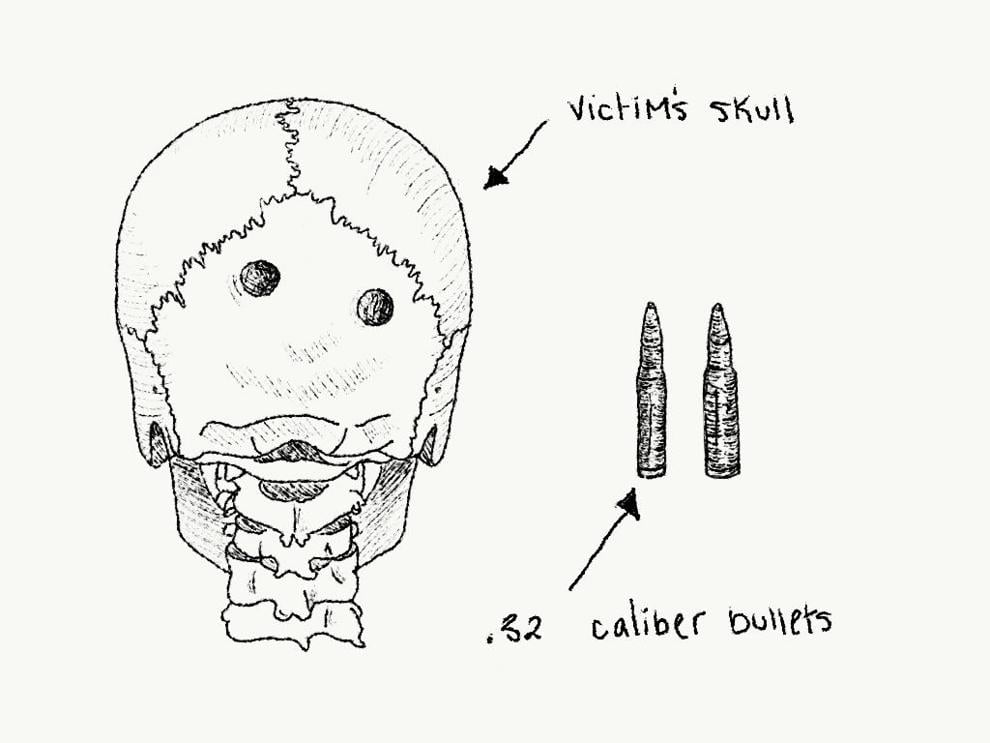 The only absolute things about her are the two .32-caliber bullets that ended her life.
 Sydney Bacon, 43, chose to study Christy's remains for her forensic anthropology master's thesis in 2004 at the University of Montana. Her choice to study Christy was motivated, in part, by the criminal aspect of the case. But what intrigued her most was the mystery surrounding Christy's life and death.
 Bacon hoped studying the bones would nail down some facts about the woman's identity. And she hoped, even though she says she shouldn't have, that she might be the one to finally identify the body.
 In the forensic anthropology lab in the Social Sciences Building at UM, Bacon spent hours measuring Christy's bones and comparing them to other bones of different ages, races, genders and body types.
 She concluded Christy was indeed female, between 4-foot-11 and 5-foot-2. The width of her hips indicated she may have once been pregnant, even given birth.
She died between 1983 and 1985.
She had light brown, wavy hair most likely treated with a perm.
 She underwent extensive and rare dental surgeries up until approximately a year before her death. She probably smoked cigarettes, staining one side of her mouth.
 Christy's body proved she had been well taken care of for most of her life. And now, she was forgotten. She's been stuck in a box, in an evidence locker, for 30 years.
 In what Bacon calls an act of generosity that came too late for the young woman, she bought Christy's bones a new home: a purple Rubbermaid container.
 "Purple was her color," she decided.
 While writing her thesis, Bacon had a difficult time separating her emotions from her research. She was working with the body of someone who was all but forgotten, whose family never found closure and maybe never would, she added. As a scientist, her job is to draw conclusions not from her emotions, but from facts. In the face of a murder victim with two bullet holes through her skull, that was difficult.
 To Bacon, Christy was still a person. She called her "my girl."
According to the National Missing and Unidentified Persons System (NamUs), there are over 12,000 unidentified dead people in the United States, most of whom are murder victims.
Of the approximate 4,000 unidentified bodies found each year, only about a quarter of them are identified within a year of being discovered. NamUs works to identify bodies from police jurisdictions across the country in an effort to give families closure and promote safety if the murderers can be identified, charged and convicted.
"Most of the time, it's really easy to tell," Todd Matthews, 48, said. "People who commit suicide don't bury themselves in a shallow grave."
Matthews' career of identifying bodies started as a hobby in 1998. After his future wife's family moved to Livingston, Tennessee from Georgetown, Kentucky, he learned of an unidentified victim known as "Tent Girl" to Georgetown locals. His father-in-law, Wilbur Riddle, had been the one to find the body in 1968.
In his time away from his mechanic job, Matthews compared composite sketches of unidentified bodies with missing-persons photos and sketches. After finding a missing-persons report in Lexington, he sent the family the information he had on Tent Girl. The family was convinced she was their sister, and Kentucky officials exhumed the body from her grave. DNA tests proved Tent Girl, who died in December 1967, was 24-year-old Barbara Ann Hackmann-Taylor. She had been dead 30 years.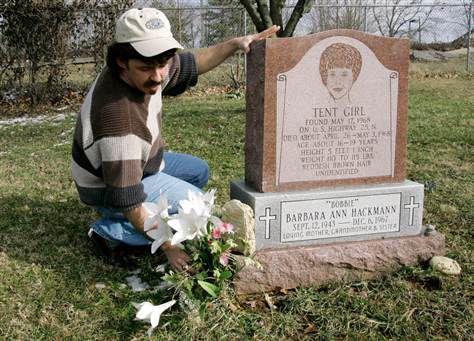 Barbara's family chose to keep her buried in the original gravesite in Georgetown Cemetery, but added a tombstone with her name.
"The living victims in unsolved murders are the families," Matthews said in the 2015 documentary, "The Dead Unknown."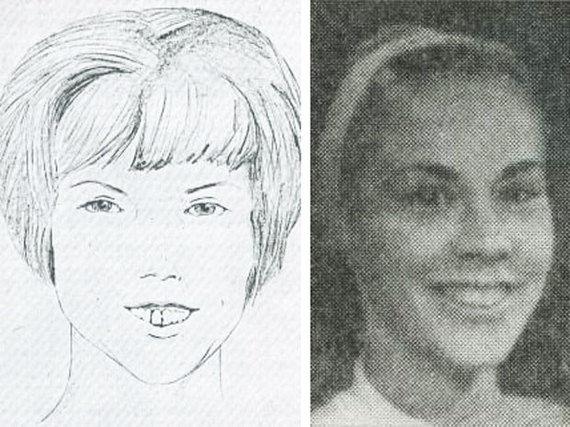 After solving the Tent Girl mystery, Matthews co-founded the Doe Network, a national database for missing persons. In 2007, he began working as case manager and communications director for NamUs.
Since Christy's death, it has been assumed — thanks to books like John Coston's "To Kill and Kill Again: The Terrifying True Story of Montana's Baby-Faced Serial Sex Murderer" — that she was a victim of Wayne Nance. Nance, who allegedly murdered four people in the Missoula area before dying in the botched attempted murder of Kris and Doug Wells, cannot be definitively linked to Christy's murder. The only major connection between Christy and Nance's other victims is the area where their bodies were found.  Nance dumped two murder victims linked to him outside East Missoula, near Turah.
"We can try to assume [Christy was Nance's victim]," said Judge Robert Deschamps, 75, of Missoula, Montana. "But we can't know for sure."
Deschamps was county attorney at the time of Nance's first murder and remembers the panic that set in Missoula as more bodies were discovered. In the mid-1980s, the "Satanic Panic" was taking hold of America, and tensions were on the rise for towns with unsolved murders. But Missoulians had no one to project their fears onto. The murder of Donna Pounds in 1971 remained unsolved, and Nance's status as the person of interest in the case had faded. Many didn't think of him as a suspect in the more recent murders of unidentified women.
Serial killers like Washington state's "Green River Killer," Gary Ridgway and Samuel Little, have more victims attributed to them than they were convicted for, like Nance. Law enforcement attributed unidentified murder victims to killers known to operate in the area, even without direct links. Some killers confessed to more murders than they were convicted for, despite not knowing the names or locations of the victims. If bodies were found, they often weren't identified — especially if the only thing left behind was a skeleton.
Attributing a victim to a prolific murderer won't always give a family peace, said Bacon, the UM researcher. It won't always solve the crime; a murderer could still be free and a family could be left in perpetual mourning with no closure. It won't answer all the questions, she added.
"As we resolve these cases we help to provide resolution for families, and in my opinion, we help maintain a safer society," Matthews said.
The process of identifying skeletal remains is long and difficult, according to UM anthropology professor Meradeth Snow, 36. States like Montana aren't equipped with the budget or staff necessary to effectively work on cold cases like Christy's, and DNA is a faster and easier way to identify bodies.
When DNA degrades, it breaks into smaller and smaller sections, making identification difficult after long periods of time. Time outside of a controlled lab climate and the body location are both factors that affect how well DNA is preserved.
Christy was found in the wintertime, but her body might have been exposed to the elements for two years.
Before Christy's body was found in 1985, the body of Marcella Bachmann was found in the same area. A victim of Nance, she remained unidentified for 32 years, known only as "Debbie Deer Creek." Her brothers, Troy and Mark Bachmann, started looking for their sister in their 20s. Finally, in 2006, they were able to identify Marcella by comparing her DNA with themselves.
Forensic anthropology graduate students at UM work with bones, but are not yet allowed to work with identifying cold cases through DNA. Snow calls it "red tape." A lot of the cases are open and unsolved, so if students could work on them, progress could be made. Unfortunately, it is difficult for people outside of the police department to gain full access to a case, according to Snow.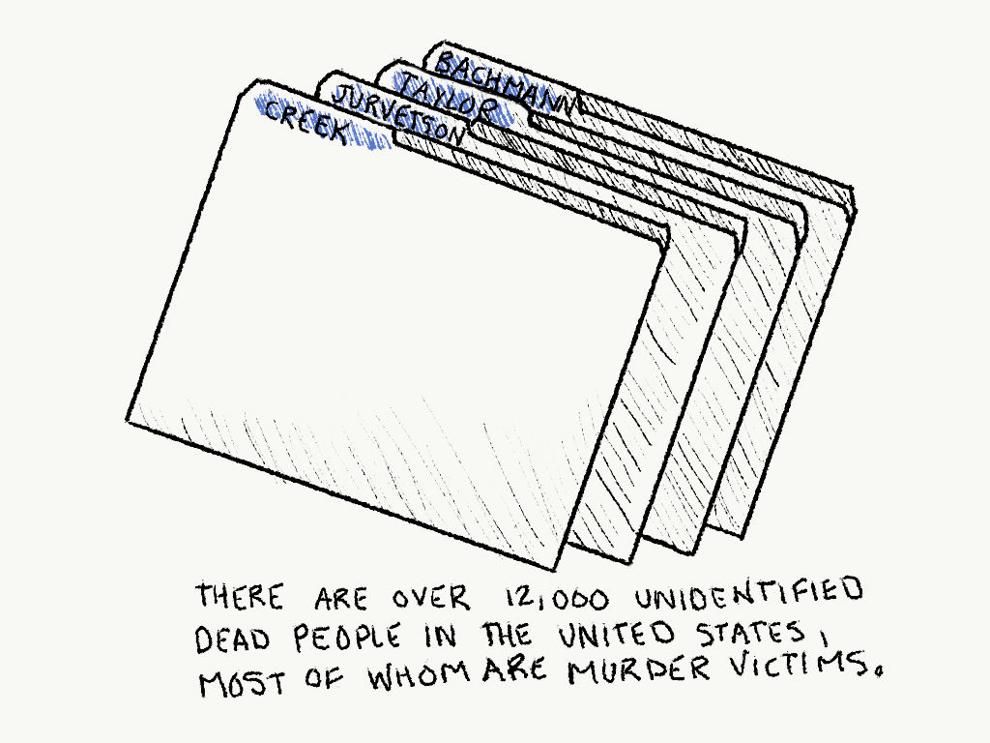 Not many people enjoy working with bones, Snow said, but she hopes someday she can get the UM forensics lab accredited through the Federal Bureau of Investigation. With an accredited lab, Snow could educate students in forensic anthropology while helping identify bodies that have been forgotten. Working on solving cold cases in school would help prepare students for their careers in forensic anthropology.
It's a long and difficult process, she said, but it would be worth it to have students working with both bones and DNA.
Snow successfully extracted DNA from a body that was approximately 1,000 years old.
Both Marcella Bachmann and Devonna Nelson, Nance's other victim, were runaway, transient women who'd left the Pacific Northwest and hitched rides to Montana. Christy could have been in the same situation. These women led what's called "high- risk" lifestyles.
After his arrest in 1986, Richard Kuklinski confessed to killing up to 250 transient men, on top of being a hired hitman for a mafia family. He was charged and convicted for only six murders.
Police assumed the homeless people had been attacking and murdering one another, not that a serial killer was roaming NYC's West Side. The police departments never made the connection until Kuklinski's confession.
Janet Franson, 64, decided she wanted to continue working homicide cases after retiring from her job as a homicide detective in Lakeland, Florida.
"The good Lord knew better what I needed than I knew," Franson said.
She moved to Wyoming with her husband, where she began working with Project ALERT (America's Law Enforcement Retiree Team), a subgroup of the National Center for Missing and Exploited Children. She was deployed to Louisiana to help families locate missing loved ones during Hurricane Katrina in 2005.
The couple then moved to Roundup, Montana, where Franson noticed something unsettling: Native Americans were missing at an alarming rate, and nothing was being done.
She started Lost and Missing in Indian Country on May 25, 2015 — National Missing Children's Day. From her current home in Texas, she runs a website and Facebook page dedicated to helping families of missing people get in touch with police. She describes her work as "getting the police on track" (to) "do something about their loved one's case."
Franson describes the process of identifying bodies as tricky and confusing, and "every case has its own issues and problems," but she feels it's important work that needs to be done, even if there aren't many other people doing it.
"We're all somebody's children," she said.
In 1969, 19-year-old Montreal native Reet Jurvetson moved to Los Angeles, California, to meet a man named either "John" or "Jean." On Halloween, Reet wrote a letter: "Dear mom and dad, the weather is nice… I go frequently to the beach."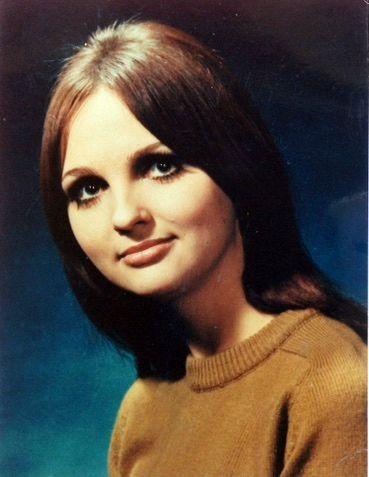 Two weeks later, on Nov. 14, a teenage boy out birdwatching found the brutally murdered body on Mulholland Drive. She had been stabbed over 150 times. Police had no leads in the case, although it was generally assumed she was a victim of the Manson family.
A composite sketch of the young woman, nicknamed Sherry Doe, was released to the public, but no one recognized her face until June 2015. After Anne Jurvetson's friends found Sherry Doe's sketch on the National Missing and Unidentified Persons system, Anne Jurvetson submitted her DNA for comparison to the blood on the bra Reet wore when she was murdered.
Forty-six years after her death, DNA proved Reet and Anne were sisters.
Christy's bones have sat in an evidence locker for 34 years. Bacon, who now works as an archaeologist with the Lolo National Forest, privately wanted to be the one who solved the case, and she wishes now she could still work with Christy. But, she says, she doesn't have the money or the time to do it. But when it comes to identifying an unidentified body, "it's just a matter of who's willing to pick [a cold case] back up."