Guilin is a small town in the southern region of China, about 300 miles away from Hong Kong. It's known for its limestone mountains, which erode easily into caves and watersheds, and for the Li River that irrigates rice fields. It's also the place Ray Lei, a chef at the University of Montana, called home.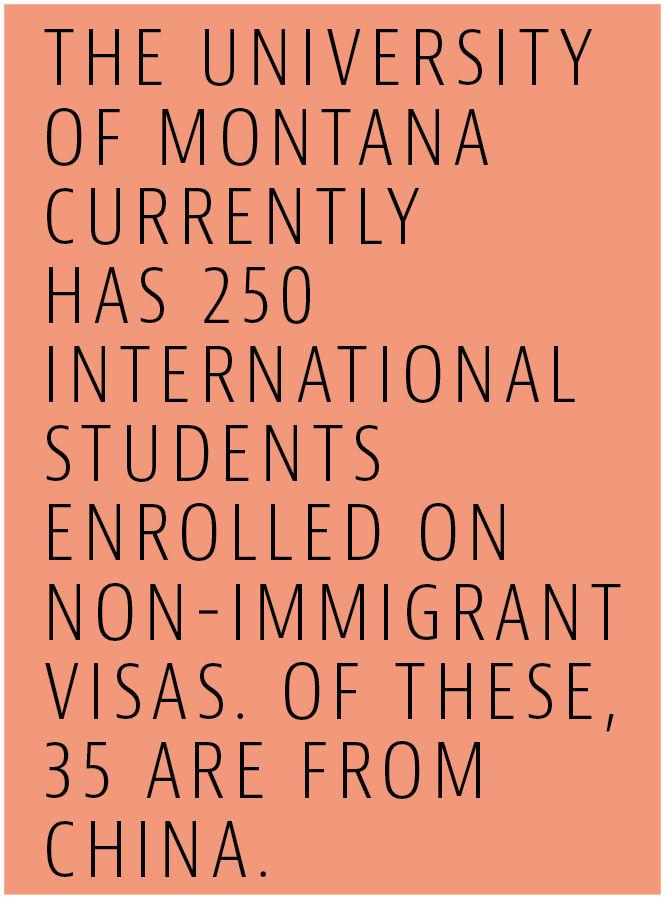 Lei owns Eson Gib on the second floor of the University Center. He's 44, but you'll only find out after you guess first. He and his restaurant have been a presence on the University of Montana campus for almost 11 years and pretty much anyone on campus during those years could tell you they've tried his food before.
Lei and his wife, Yi Li, moved to Missoula in 2008. Within a year of moving, Lei started working with UM Dining Services. He's the one who makes the sushi that's sold across campus, and while he loves it, Lei has been developing and testing dishes that could be a real game-changer when it comes to Asian cuisine in this part of the world, which is not exactly a part of the world known for game-changing Chinese dishes.
It started when a spot opened up at the UC Food Court. Lei and Eson Gib were located in the slightly-less-than-central Lommasson Corner Store selling sushi. When Lei got the chance to move into the Food Court, he decided to expand to include more dishes like fried rice, chow mein and teriyaki chicken. But he says those are what people want, or maybe what they think they want.
"They are not authentic Asian cuisine, period," Lei stresses. "They are Americanized. So I talked to my wife. I said 'Hey, why don't we bring something we believe is real authentic?'"
So Lei started asking around. He sent some messages to a group chat full of Chinese international students on campus. Yueyang Hu is one of them. 
Hu, 22, grew up in Shanghai and is studying history. He earned his bachelor's from the University of Washington, and he's working on his master's degree in Missoula. He says that Lei sent out a message to the group chat a few weeks ago asking about a new product.
"He asked around to see if there was any interest in that [dish]," says Hu. "And apparently there is."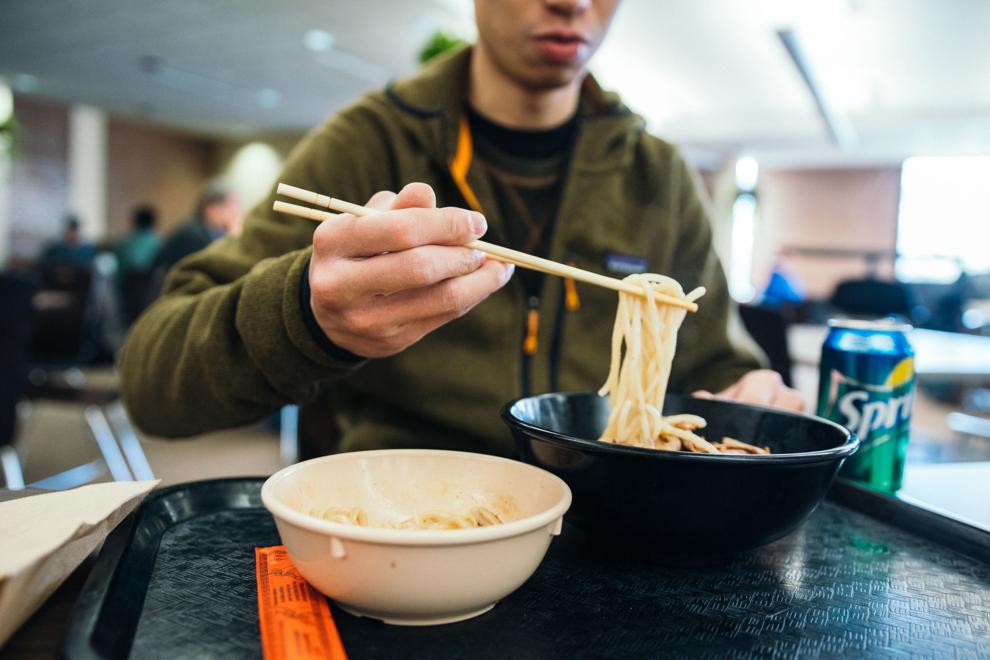 That dish is called Guilin Main Fun, and it's straight out of Guilin. Lei jokes it's like his hometown's version of a Big Mac and a Coke, easily obtained comfort food. But healthier. 
"It can be a snack, you know?" Lei jokes. "If your blood pressure is low, you can just take a few bites and get that back up!"
Guilin Main Fun is a rice noodle dish that originated during the Qing Dynasty, around the 1700s. It's got beef, green onions, baked soybeans and a homemade sauce that takes 15 hours to cook completely. And it's not like 15 hours of sitting there on the burner at a comfortable simmer. Nope. Li, the mastermind behind the sauce, says she'll mix all the ingredients together and stir it — the entire time. She usually sets up an iPad next to the stove to binge-watch some Netflix while she's at it.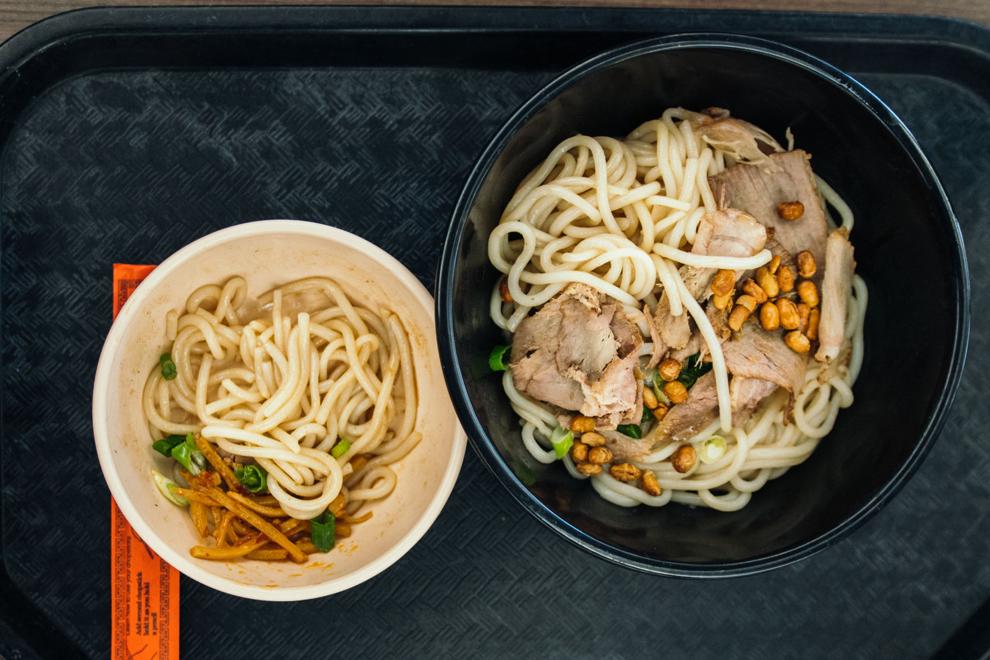 Lei translates for Li: "You have to start with three different bones: beef bones, chicken bones and pork bones in the water. You have to mix over 30 different spices."
Hu says that once he heard about the Guilin Main Fun, he started talking to Li about it. He would taste test and make suggestions about the flavors involved in the dish.
"It's good, it's quite authentic, actually," says Hu. "And it's surprising, you know, to see this kind of food in Montana."
Hu says he was pretty lucky to work on his undergrad in Seattle, a city with a strong Asian influence on culture and cuisine. He says there is a lot of good Asian food back at the UW campus, so he's happy to see Lei's new Guilin Main Fun, something he wasn't expecting from Montana.
Hu also likes Lei's fried rice and wonton soup and stops by Eson Gib more often than not for a meal.
It's really important to Lei and Li that their Guilin Main Fun is made correctly, with all the ingredients working together. Otherwise, they just won't serve it.
"If you're missing one, it's not gonna work," says Lei. "So sometimes if you come here, we'll say that we can't sell it to you because we don't have the right ingredients for it. Those things have to be coming together at one time in your mouth."
"With sushi, it's the same thing. You have to eat the whole thing, with wasabi, with the sauce, everything in one bite to give you the best."
Lei and Li have started to serve Guilin Main Fun at Eson Gib, but only after some serious market research."We know if the Chinese student likes it, then it's right," Lei says. But also, they'll tell him if it's wrong. He says about people from China, "their tongues are built differently. Just like how you know coffee. You can say if it's good or not good, you know right away. But for people like me? I don't know, it's just coffee. For this kind of thing, they know."
The University of Montana currently has 250 international students enrolled on non-immigrant visas, according to Assistant Director of International Students and Scholars Caroline McLean. Of these, 35 are from China. The University of Montana also currently hosts 20 Chinese scholars, including visiting professors, recipients of research grants and those hosted by the Confucius Institute at the Maureen and Mike Mansfield Library.
"That taste, it's a very homecoming taste," Lei says of the Guilin Main Fun, "it brings you memories. We're glad we made this thing right."
Lei isn't kidding about how common the dish is back home in Guilin. People will grab a bowl from street vendors for all three meals of the day, for snacks, for everything. He says it's a tradition in Guilin.
Guilin is home to about a half a million people, which Lei classifies as a "small town" for China. The Li River is the main source of water for crops, and Lei and Li say that it's why Guilin's Guilin Main Fun is the best form of the dish.
"That water is special. It brings special effect to the crops," Lei translates for Li. "The soil, the sun, the moisture all combine and make the noodle very special. It's so hard to find something that's so close."
Lei remembers a lot of things from growing up in Guilin. He remembers the river. He remembers hiking in the mountains and exploring the caves. He remembers biking home from school. And he remembers the rain, so much, he says, that to picture Guilin, picture Seattle, but with more humidity.
He came to the United States in the '90s as an international student at Gonzaga University in Spokane, Washington. He studied business and eventually earned his Master's of Business Administration. Lei lived with an older American couple while in school, and he remembers the conversations he had with his host father as he neared graduation.
"Before I graduated, he said, 'Lei what's your plan?' Of course, I wanted to work, to get a job, but I still want to try my business."
"I was 27 at that time. He said, 'What if you fail? What will that be?' I said, 'Well, if I fail, I don't think I have anything to lose.'" 
"He said, 'Lei, I think you already know what you're gonna do.'"
Lei stayed in Spokane for a few years to feel out what exactly he wanted to work on, and eventually, he started taking sushi classes from a sushi company in Spokane. Sure, Lei learned more about the skill of making sushi, but also learned the business model, and when he left, he was able to start his own sushi business, Eson Gib. He started in Spokane, then expanded to Kalispell after a few years.
Lei got his start at the University of Montana when he came to Missoula to expand his company and sell his sushi at the local Rosauers. He sent some of his rolls to the UC to show the staff at the University that not only was his sushi good, he also meant business. He ended up getting a location on campus to open up shop. Once he and Li decided to settle in Missoula, they closed the other Eson Gib locations and focused entirely on UM.
Lei and Li say this works; they're happy to be living in Missoula. It's much smaller than Guilin, and that's the way they like it. There's a lot of space here compared to where they're from.
"We like this place better. It's just not that crowded, not that noisy," Lei says. "You don't have to worry about bothering somebody just because it's too crowded. We like to live quiet. We're quiet people. We don't party. We just enjoy the day."
Missoula is a lot colder, Lei admits, but he does love the mountains and the river here, too.
Lei came to the U.S. almost half his life ago and says that in one or two more years, this will be his home, and China will be the place he grew up. He still visits every few years, going home to Guilin to see his family and old friends.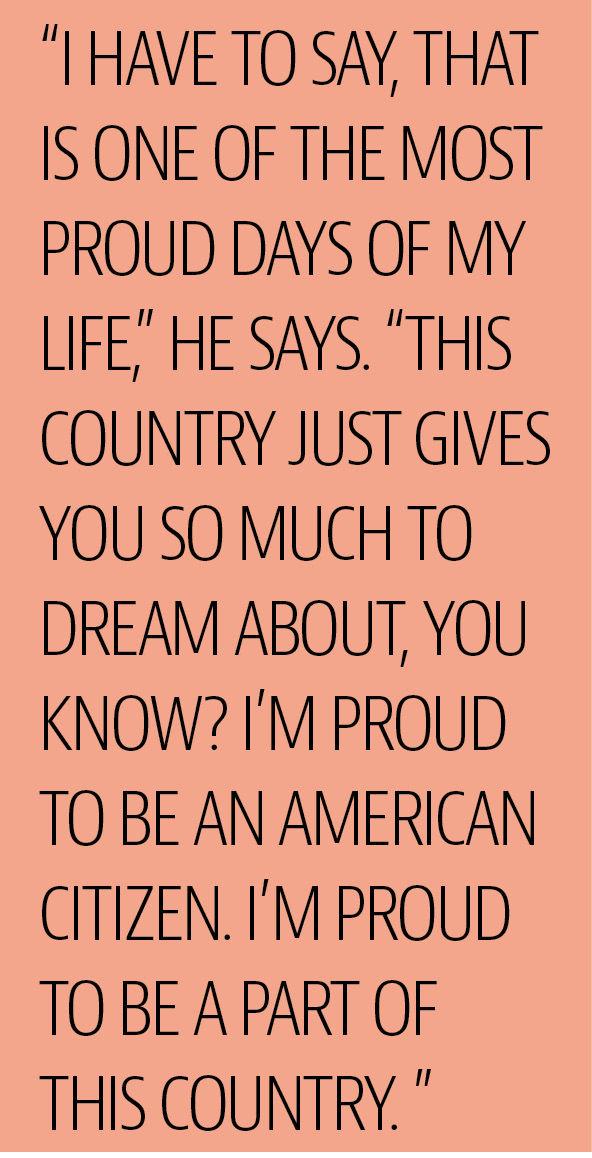 Lei says he came to the United States for the opportunities, for the democracy, the freedom, the "American Dream." He became a U.S. citizen in 2011.
"I have to say, that is one of the most proud days of my life," he says. "This country just gives you so much to dream about, you know? And I still say that to everyone, this is a different country in a better way. I'm proud to be an American citizen. I'm proud to be a part of this country."
Guilin Main Fun isn't just a dish to Lei, it's what connects his past to his present. And, yes, everyone can order it in the UC Food Court now. Lei's been surprised at the number of people who ask for it — people who aren't Chinese students.
"They'll come in and say 'I'd like to order this delicacy, Guilin Main Fun,' I say, 'How do you know this?'" 
Word is spreading fast, and Lei and Li are excited about it. Lei says the cashiers at the food court have noticed the dish, and Chinese students are telling their friends. He's even started giving out free samples of Guilin Main Fun on occasion, offered to anybody who stops by on those days. He's proud that the UM campus has responded so positively to an authentic dish straight from his home. 
"That's what's made myself very happy," Lei says. "I know what I'm doing, and I've been doing it right."