Every day before he went to work, Caryn Schwarze gave her husband a painful shot in his stomach. The blood thinners she injected helped the clot that had formed in his leg — a side effect of chemotherapy. To calm his nerves after the shot, Steve went to the piano in their dining room and played songs from memory.
Before the shots, Caryn never knew how well her husband could play, and she was stunned to discover he could read music. Once she saw the effect it had on him, she bought a gift she knew he'd love: a book of sheet music with Taylor Swift's top hits.
On the bad days, "Wildest Dreams" echoed through their house. Caryn saw it as his therapy at a time when all odds seemed stacked against him. With his diagnosis, only about 10 percent of people survive past five years. About half die within two.
She found comfort where most would lose hope.
"Unless it's zero, I'm OK," she said. "Because I do believe that if it happens for some people, why not for Steve?"
One year ago, Steve Schwarze, a 46-year-old University of Montana communications professor, was diagnosed with stage four cancer — the final stage. It was midsemester and, despite the diagnosis and intense chemotherapy treatments he endured every other week, Steve continued to teach. Since then, his life has been clouded by uncertainty as he tries to heal and avoid being defined by the dismal numbers that forecast his future.
...
Steve grew up in the small town of Glencoe, Minnesota, where his parents owned a farm. To help pay for living expenses at Drake University, he spent his summers working at Glencoe's local Green Giant plant, spraying pesticides from a helicopter on fields of vegetables below. The first in his family to attend college, he went on to earn a doctorate in communication studies at the University of Iowa. In 2000, Steve moved to Missoula and began teaching at UM.
Steve is slender and fit, with a crooked smile and rectangular glasses that sit above a sharp nose. Despite his diagnosis, he keeps a witty sense of humor­­­­­­­­­­­ — his Facebook profile picture is him wearing a T-shirt with the words "STILL KICKIN" across the front in bold.
Caryn and Steve met in Missoula and married in 2004. They have two children who couldn't be more different — an 11-year-old named Charlie and a 4-year-old named Molly. Charlie is introspective, smart and sensitive, while Molly is wild and energetic. They call her a force of nature.
Caryn studied political science in college, but when she and Steve had kids, she decided to stay home and raise them. She's the caretaker of the family, she said, and even with a sick husband and two young children, she exudes energy. She smiles broadly while she tells stories — even about the hard topics.
After her husband's diagnosis, something shifted in Caryn. She remembers talking with her girlfriends in college about when they'd feel like grown-ups. When they got married? When they had kids?
"'No' was my answer for getting married, 'no' was my answer for having kids, but 'yes' was my answer for having a husband with cancer."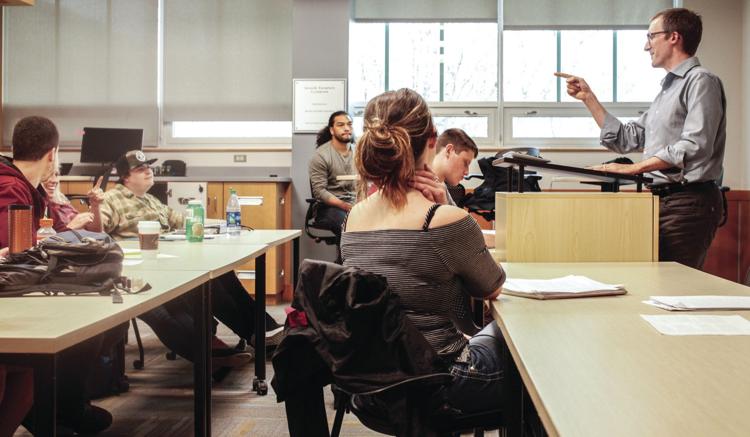 ...
Steve first went to the hospital in February 2016, after suffering through weeks of unrelenting stomach pain. Caryn assumed it was appendicitis or food intolerance, but when his doctor began running tests, the results were concerning. After doctors discovered a tumor on his colon, Steve underwent a PET scan to find out if the cancer had spread. He drank a special radioactive dye that flocks to parts of the body with rapid cell reproduction and entered the scanner. His organs lit up.
Though it began in his colon, the cancer had spread to his liver and, most troubling, to nearby lymph nodes. His doctor didn't sugar coat what that meant. For his brutal honesty, Steve calls his oncologist the "Grim Realist."
"You have a terminal disease, and it's inoperable," he said. 
Caryn felt like she had been punched in the gut. She began asking questions, unable to rationalize how she could be living in a universe in which her husband had cancer. At first, Steve was stoic. At the end of the appointment, Caryn went to pull the car around for Steve, who had to be pushed out in a wheelchair due to minor sedation from a procedure.
She walked out the front doors and, disoriented by construction happening around St. Patrick Hospital, had to ask a woman for help finding the parking garage. When she opened her mouth to speak, she lost her composure. She sobbed while the woman waited.
"That's the day that the world kind of stopped turning," Caryn said.
...
After the initial shock of the diagnosis, Caryn and Steve thought about their kids.
At the time, Molly hadn't yet entered kindergarten, and Charlie was in fourth grade. The couple wondered how to tell their kids and how much to tell them. Steve did the math: with a median survival rate of two years — meaning half of the patients with his diagnosis die within that time — he wouldn't see either of his kids graduate from high school.
"That was the big realization that made me sort of lose it," he said.
The hospital gave them pamphlets with advice for how to tell their kids about cancer, and Steve researched more online before sitting down with then-10-year-old Charlie.
Caryn's favorite book, "The Martian," is about an astronaut who uses his scientific knowledge to survive on Mars after his team accidentally abandons him. She had read some excerpts of the book to Charlie and used it as an example for how they'd proceed — they planned to "science the shit out of it," she told him. They explained that dad had cancer and that he would be getting  chemo regularly. Other details — like the terminal diagnosis — were withheld.
"Like, what do you do when the chemo stops working?" Caryn said. "We didn't share that with him."
After the conversation, which only took about three minutes, Charlie seemed calm. 
"Can I go do my homework now?" he asked.
Steve started chemotherapy mere days after the diagnosis. He had a port implanted in the right side of his chest — a quarter-sized plastic disc that sits directly under the skin through which his chemo medicine is administered. Every two weeks for four months, he went to the hospital for an infusion of three different drugs.
The whole process took about six hours. Doctors took his vitals, drew blood, inquired about his symptoms, waited for new test results and then gave him the chemo infusion. For 46 hours afterward, he carried a small pump around in a fanny pack, which slowly dripped medication into his blood.
The drugs left him depleted.
He slept for entire days afterward and, because he was diagnosed midsemester, canceled some class periods to recover. His students noticed his absences and how tired he sometimes seemed when he did show up. Steve's normal teaching style is unusually energetic. 
In the first week of class, he memorizes every student's name using note cards and animated pointing and guessing. Within days, he knows the names of over 50 students. Accustomed to this kind of enthusiasm, his students could tell something was off when Steve came to class after treatment.
"He just looked like he had his ghost pulled out of him," said Sean Quartz, a communications major who took Steve's "Communication, Consumption and Climate Change" course.
After a few weeks, Steve decided to tell his students about his diagnosis. It was harder than he expected. He didn't want them to feel like they had to tiptoe around him once they knew the truth. He waited until the end of class and then laid it out.
"I've been diagnosed with an illness," he told them. "It's cancer, and it's pretty late in the finding of it."
Some students were notably shell-shocked. Many cried. One walked to the front of class and hugged him. 
"They were pretty great about it," Steve said. "I wasn't surprised."
Kenzie Lombardi, a communications major taking Steve's class when he announced his diagnosis, said she couldn't imagine the department without him and selfishly wanted him to keep teaching. She felt like she had so much left to learn from him, she said. After he shared his diagnosis, Steve told his students he planned to keep teaching, and he explained why.
"He talked about how if he only had numbered days, if his life expectancy really was as short as the doctors were saying it was, that he wanted to be teaching, and he wanted to be doing what he loved," Lombardi said. "He wanted to be talking to us about things that he found so important."
Steve studies rhetoric and communication about environmental issues. In this particular class, he discusses how discourse around climate change affects people's response to the crisis. It calls for a balance between hope and honesty. He tells difficult truths without losing his students' optimism for change. Over the years, Steve has become an expert at managing this balance.
His illness calls for a similar mindset.
Steve's class continued as usual, with teaching assistants filling in when the chemo wore him out too much to teach. He sometimes appeared with a fanny pack with his chemo drip, and he sat down more often than before. But he never lost his desire to teach, and his honesty with his students made them appreciate him even more.
"He's continuing to live life," Lombardi said. "Which I think takes a lot of courage."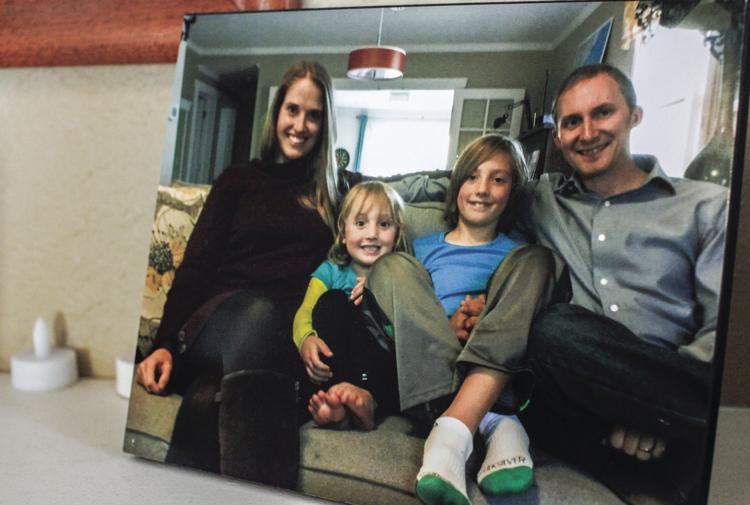 ...
Before her dad's diagnosis, Molly, 3 years old at the time, became fascinated with the workings of the human body. She especially loved a YouTube tutorial that follows a pizza slice through the digestion process. Though she first reacted to her dad's illness by withdrawing from him, his treatments became a way for them to connect.
Molly likes to touch her dad's chest port, where he receives chemo transfusions, while sitting on his lap. Her curiosity led her parents to buy her a clear plastic human anatomy toy with exposed organs for "surgery." She can locate the liver and calls the intestines "the squiggly." 
It made talking about cancer easier. Caryn put it in a way her daughter could better understand.
"Daddy's sick," she told Molly. "He's got some bad cells in his squiggly."
After his diagnosis, Steve joined Facebook groups for people with cancer and started reading every medical journal he could find that offered clues to his future. The forums offered him a place to open up about his diagnosis to people who understood. 
"There's this weird, unusual bond that I've experienced and that I see among cancer patients, regardless of what they have or what stage they're at," Steve said. He found an empathetic community online and reconnected with former students across the country who have cancer diagnoses of their own.
The uncertainty of his diagnosis has been the most difficult part, Steve said.
"Hearing that you've got a terminal disease is hard because now, rather than having this open-ended future that you don't really think about a whole lot, it feels like the clock is ticking."
As Steve received more chemo treatments, side effects began to appear. It was hard to sleep. His hands got tingly, and his feet, which he relied on for mountain biking, running, and walking Molly to school each morning, felt as if they had been stripped of their soft padding as a result of nerve damage from the chemo. He felt like he was walking directly on his bones.
But the chemo was working. After five treatments, Steve had another CT scan. His tumors had shrunk considerably. His cancer, though widespread, was chemoresponsive. The tumor on his colon was hardly detectable, and his lymph nodes returned to their normal size. His diagnosis changed from inoperable to operable.
Suddenly, there was hope. Steve's doctor suggested he go to Seattle for liver surgery, to remove any remaining cancer.
While stage four means there's a high chance the cancer will return, as it has seeped into blood vessels throughout the body and could hibernate undetected for months, the chemo nearly eradicated Steve's tumors. He and his family traveled to Seattle last June, where doctors removed 30 percent of his liver. In a biopsy of the removed tissue, they found that less than 1 percent of cancer cells remained. 
When Steve went to have his staples removed, the doctors let Molly pull some out.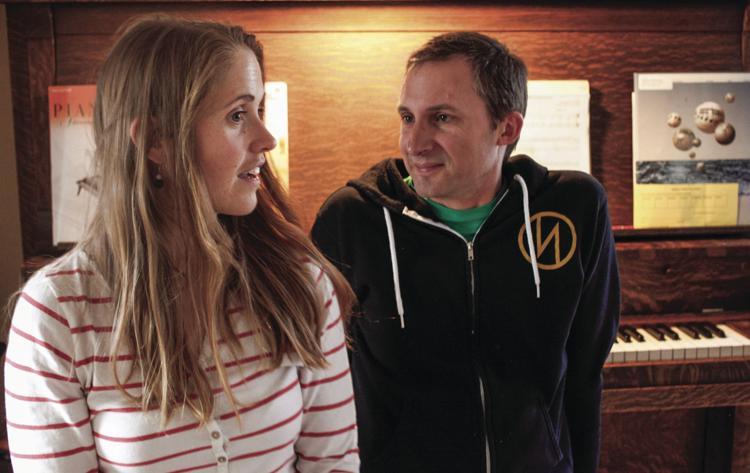 ...
After recovering for six weeks at Caryn's parents' house in Bellevue, Washington, Steve and his family returned to Missoula in August. Steve underwent four more rounds of chemo, just in case. With every round, his side effects worsened. The nerve damage in his hands and feet, called peripheral neuropathy, became more painful. For some people, that nerve damage never heals. 
Steve stopped walking Molly to school in the mornings and got a ride to campus with Caryn.
His surgery and subsequent recovery time interfered with preparation for fall classes, so Steve decided not to teach for the semester. Instead, he took on more advising and administrative responsibilities. 
Steve's doctor hoped the additional four rounds of chemo would destroy the less than 1 percent of cancer cells that remained in his body. Now, he goes to the hospital once every three weeks for maintenance chemo and takes a pill twice daily for two weeks, with one week off. For all but the peripheral neuropathy in his hands and feet, he is symptom free.
His recovery, doctors told him, is somewhat miraculous. But for the next four years, the odds that the cancer will return — mutated and less chemoresponsive — are extremely high. In Caryn's research, she found only about 1 to 3 percent of patients with Steve's diagnosis have the kind of response he's had. Because of this, there's little research about what his future might hold. 
"If things were going poorly, we would know exactly what the next step was," Steve's oncologist told them. "But things are going well, so it's murky."
Caryn plans their lives as far as the next CT scan — three months at a time.
"So I can plan February to May," Caryn said. "And I know what my life will look like, and we can plan trips and activities. So I don't have a life past May 1. And then, when we get the clean scan beginning of May, I will know what my life is until August."
Steve's fear that the cancer may return keeps him from feeling comfortable. Caryn said she keeps looking over her shoulder as he does better. But this anxiety doesn't keep them from living their lives. A few months into his chemo treatments, Steve pitched a new book idea. Living with cancer has inspired him to study the ways in which environmentalism and health intertwine.
He doesn't know how much time he has left, and whether it's two years or 20, Steve wants to spend his time doing things that matter. This summer, despite the painful nerve damage in his feet, he plans to join his buddies for their annual backpacking trip in the mountains.
When the future is uncertain, simply making plans is an act of hope.•