In February 2015, Brenden Sperr bought the truck of his dreams. A friend who knew a lot about trucks helped him pick out a black, heavy-duty Dodge Ram with a deer grill on the front. He named it Sarabeth, after the Rascal Flatts song he loved. He would park her on Gerald Avenue, in front of the fraternity house he was pledging, because he suspected his dorm roommate was taking his keys and driving his truck without asking him. 
Six weeks later, Tammy Sperr and her husband Mark drove 18 hours from Eden Prairie, Minnesota, to Missoula to pick up Sarabeth. Their 19-year-old son had killed himself, and they had to pack up his things. They spent one day in Missoula. They cleaned up Brenden's room and talked to his friends and teachers, searching for a single shred of evidence that would help explain why their son was dead.
Eden Prairie is a picturesque city 20 minutes outside of Minneapolis. It's filled with culs-de-sac and parks, and in 2010 it was named the No. 1 place to live by Money Magazine. It was the perfect place for the Sperrs to raise three boys, with family less than three hours away, a great school district and plenty of opportunities for athletics. 
Brenden was their middle son. He was more of a daredevil than his brothers. He enjoyed rugby, downhill skiing and anything else that allowed him to be outdoors. During high school, Brenden asked to change schools; he would later graduate with 875 people, and his mother suspected that he got a little lost in such a big crowd. 
"He gave the best bear hugs of anyone," Tammy Sperr said. "He hugged you because he wanted to hug you, and he wouldn't let go until you smiled." 
Brenden got along well with his classmates. Jay Halverson, who'd known Brenden since he was 2 years old, said Brenden was the person everyone confided in. 
"I would go to Brenden for absolutely everything that was going on in my life," Halverson said. "He knew me more than I knew myself." 
Her son's move to college was difficult for Tammy. Brenden had never been so far away from home, and the girlfriend he'd had a rocky relationship with was following him to UM. But her son seemed to be doing well during his first semester. He was enjoying his classes, looking into intramural sports and was planning on pledging a fraternity. 
Chase Hulett, a member of the fraternity Brenden pledged, was one of the first people to befriend Brenden. Hulett got along with most people well, but Brenden understood his sense of humor and was fun to be around. 
They both liked to be outdoors, and would often drive around Missoula when it was nice out, arguing about whether or not it was illegal to pull forward in a turn lane before the light turned yellow. 
"If he was here today, we would still argue about that," Hulett said. 
Hulett said Brenden wanted to create bonds with people, and their friendship was built on trust. Brenden would sometimes hide how upset he was about his girlfriend, and Hulett would give him advice on how to get through it. 
"I told him, 'Life is going to be how you make it,'" Hulett said.
Over winter break, Brenden's ex-girlfriend left UM to go to a community college closer to home, and Brenden thrived. He went on a trip to Canada with his fraternity brothers, bought his truck and made plans to go home with Hulett for spring break. Tammy noticed her son was behaving more like himself, and everything seemed so much better. 
"I guess hindsight is 20/20," she said. 
On March 14, 2015, there was a party at the fraternity house. Brenden was planning on going with his ex-girlfriend, who was visiting him for a week.  
"He said he was bringing his ex to the party and that he was going to try and fix everything that had happened between them," Hulett said. 
Hulett met her briefly at the party, in his room on the second floor, where he would often host smaller gatherings with close friends while strangers danced and drank in the basement two floors below. Later, Hulett saw Brenden and his ex-girlfriend in a room at the end of the hallway. They were arguing. At the end of the hall, Brenden shut the door. It would be the last time Hulett would see him. 
Around 11 p.m., Brenden and his girlfriend left the party and walked back to his dorm room. They were both drunk, and got into another argument. 
"She said that it was nothing major, nothing out of the ordinary," Tammy said. 
They parted ways, and Brenden texted his friend Mariah and asked if she was around. He wanted to talk. Mariah had gone home that weekend, and was on a bus back to Missoula when she got Brenden's text. She asked him what was going on and he told her that they could talk when she returned. 
"Ok," she typed. "Are you sure you're alright?" 
"I'm about to be fucking fantastic," he said.  
On March 15, Tammy Sperr woke up to a text from Brenden. 
"Tried calling you," it said. "I know you were going to a movie with a friend. I just wanted to call and let you know how much I love you and how much I miss you and I can't wait to come home." 
Tammy smiled at the message, she guessed that her son had been drinking the night before and was feeling sentimental about the fact that he would be home in less than a week for spring break. 
"Do you think that's all it is?" she asked her husband. 
"Yes," he reassured her.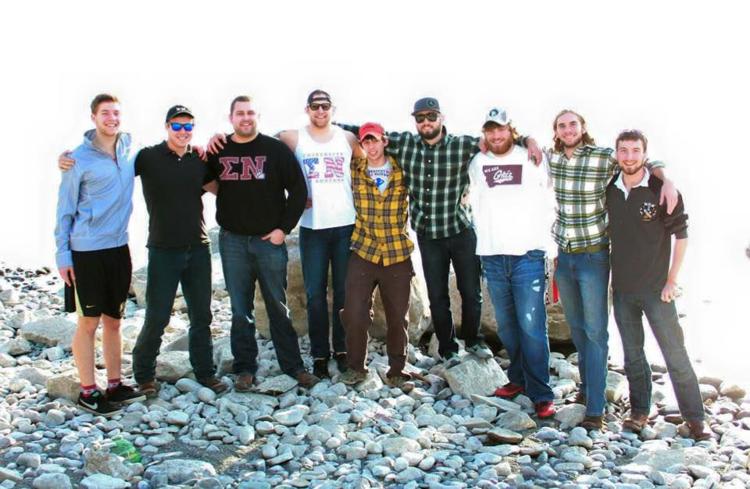 By early Sunday afternoon, Chase Hulett and another fraternity brother, Gus, had started driving around looking for Brenden. He was supposed to be initiated into the fraternity later that day, and no one had heard from him since the party the night before. The two went to Craig Hall and knocked on the door of Brenden's room, yelling his name.  A head poked out from a few doors down and told them the police had carried a body bag out of that same room earlier that day. 
Hulett was in disbelief. 
"I started screaming and yelling and Gus had to hold me back so I wouldn't freak out on the kid," Hulett said. 
They went to the Residence Life director to learn what had happened, then returned to their waiting brothers at the fraternity house. 
"When I walked in the house, everyone was just staring at me." Hulett said. "They all knew what had happened." 
-- 
Tammy Sperr wasn't worried until Sunday night. They still hadn't heard from Brenden, but Tammy knew that he had fraternity events that day. Around 9 p.m. she decided to go upstairs and get ready for bed. Usually her sons called between 8 and 10 p.m. when they were settled down for the day. 
She was in the bathroom when her husband called for her to come downstairs. She told him no, she was waiting for Brenden to call. 
"No Tammy, the cops are here, you need to come," he said. 
"What?" she asked. 
Her husband repeated himself. 
"Brenden?" she asked
"No, something's going on in the neighborhood," he said. 
When Tammy got to the stairs, she saw two police officers and another man in uniform staring up at her.  She crept down the stairs slowly, and when she was two steps from the bottom, she stopped and looked at the policewoman. 
The policewoman's eyes were red, and she wouldn't look at Tammy. She had only been back to work for a few months since she'd had her first baby, and all she could think about was what it would be like to be on the receiving end of the worst call she had ever been on. 
Tammy repeated her son's name to the officers. She told them she and her husband had been trying to get a hold of him all day, which wasn't typical of him. The male officer confirmed that it was about Brenden. Mark Sperr asked if their son had been in an accident, and the officer just stared at them. 
"Oh my God." Tammy whispered. 
"Is he in the hospital?" Mark asked. "Do we need to get to Montana?"
"No." Tammy said. "No, we don't have to go to Montana." 
The policeman asked her how she knew. She said she just did. 
"You're right," the policeman said. "I regret to inform you that the Montana police department called us and said that your son was found dead in his dorm room." 
The next three hours were a blur. They cried. They screamed. They told their two other sons, home for spring break, what had happened. They spoke with the police chaplain, the third person who came to the door that night, and had to decide where to send Brenden's body right then and there. Tammy's parents, who lived an hour away, got to Eden Prairie by 11 p.m. 
"It was like walking in quicksand in the dark," Tammy said. 
On Monday they talked to the funeral director and called friends and family; Jay Halverson, Brenden's lifelong friend, would leave his spring break ski trip to return to Eden Prairie two days later. On Wednesday, Brenden's body came, shattering Tammy's last remaining hope that a mistake had been made. The wake was Friday, the funeral Saturday, then the Sperrs drove to Montana the next Tuesday. 
"No mother should go through a teenage boy's dorm room," Tammy said. 
They found six bottles of Advil (Brenden had three concussions during his life, and Tammy thought his headaches might have been acting up again), some hidden bottles of alcohol and a Montana Grizzlies notebook tucked among Brenden's schoolbooks.  There were only six pages written in it, things that would seem like "normal teenage crap" to many, but showed the deeply rooted insecurities that Brenden didn't share with anyone. 
The Sperrs went to Brenden's fraternity house and met Hulett and the rest of the brothers. The house held a vigil on March 17, and there were still candles melted to the sidewalk when Tammy Sperr arrived, so she took one home with her and lights it every year on the anniversary of Brenden's death. 
"The first year was hell," Tammy said. "The second year was worse in some ways. The devastation is gone but the reality sets in." 
As the third anniversary of Brenden's death neared, those closest to him began to see a shift. They were finally moving forward. Brenden was coming up in conversation again, without the air being sucked out of the room at the mention of his name. 
"We laugh, we have good times … But there's always something missing," Tammy said.
Tammy, Hulett and Halverson all worked through Brenden's death in their own ways.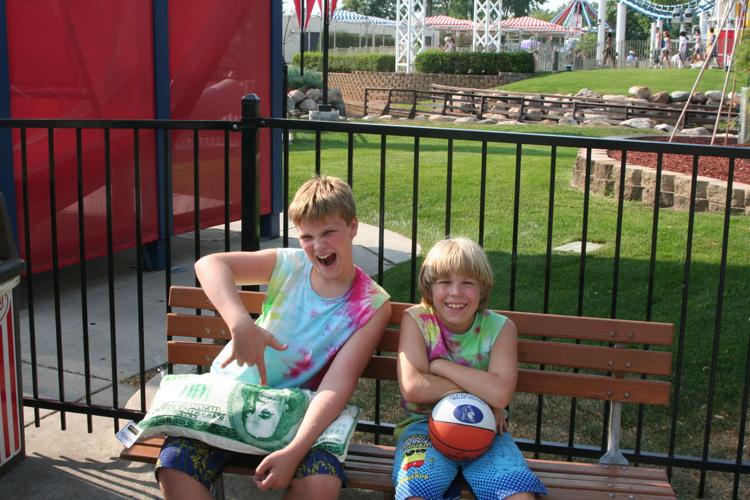 Tammy Sperr and her husband started attending a support group, which she said saved her life. She learned more about suicide and depression, and is taking a grief and death certification class to help others with the stories they carry. 
They started celebrating the Fourth of July again, Brenden's favorite holiday, and got a dog, a German Shepard-Husky mix, the two breeds Brenden always wanted. 
Hulett would call Brenden's phone after he died and listen to his voicemail so he could hear his voice. 
"After a few weeks I called and it said that the phone line had been disconnected," Hulett said. "That really made me realize that I'd never hear his voice again."
Hulett said he hates when people use the phrase "get over it," but he does believe that there is power in focusing on the future and learning to work through life's challenges. 
"It's not about the shit that happens," he said. "It's about how you react to it." 
Jay Halverson drove through Montana two months after Brenden died and hiked the Tower Street Trail that overlooks the Clark Fork River in Missoula, Brenden's favorite place to read and write. 
Halverson takes the day off every year, and said that it's always beautiful outside on March 15.  
He said he's noticed a change within himself since Brenden died. He is no longer the kid who could never sit still, and has become more reserved. 
"I've spent more time in my life focusing on my friends, consoling them, listening to them, being there for them for whatever they need," he said. 
While everyone remembers Brenden in different places and in different ways, one idea they share is that people need to be kinder and more aware of those around them. 
Suicide is the second leading cause of death among men ages 15 to 34, and Tammy Sperr believes that people, especially young people, need to be educated on suicide and depression. 
"They have to know that kids are suffering," she said. "They have to know that depression is real." 
Tammy knows there are many who are unable to get treatment for mental health problems, and those close to young people have to start being better about paying attention. After Brenden's death, Tammy chose to use her pain to help others understand their own pain. 
"It's about actively doing something for someone," she said.  
Hulett, who has struggled with depression himself, said it can be easy to push people away when they have a problem, but that to truly help someone, you have to be dedicated to that person. 
"Let them know that you are there for them, and comfort them, instead of pushing them away," he said. 
Halverson agreed that while it can be uncomfortable to support someone at times, it could have a massive effect on someone's overall attitude.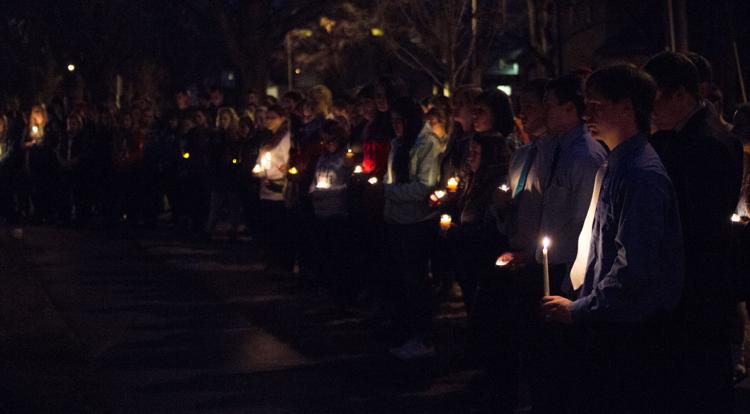 He said if he notices someone who seems like they're  having a bad day he'll reach out, even if he doesn't know the person well, and ask them to get coffee with him. 
 "It's so meaningful," he said. "Just being able to see that someone cares."
In fall 2014, Brenden wrote an article for an adventure writing class that was published on the Make it Missoula website. He wrote about the Tower Street Trail:
"My favorite place on the trail looks like a tree graveyard. There are dead, fallen-over trees everywhere. One tree is perfectly placed, almost as if somebody had picked up this huge trunk and laid it down right next to the river. I sit down on this barkless expanse as I have done so many times before, pull out my book and read for an hour or so. Eventually I put my book down and stare out across the river, admiring the view."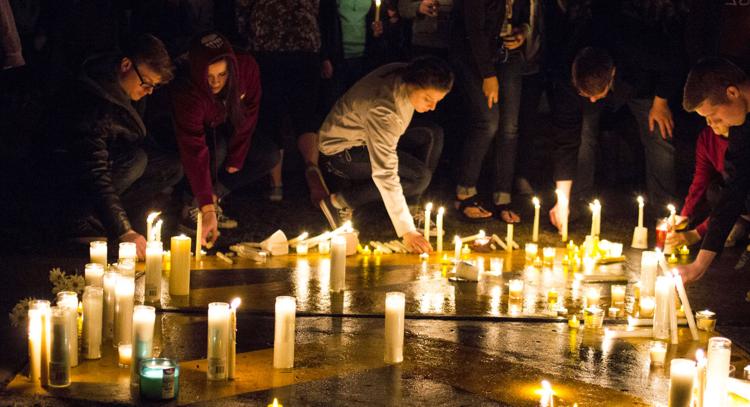 Students experiencing depression or suicidal thoughts can make an appointment with Curry Health Center Counseling by calling 406-243-4711. The National Suicide Prevention Lifeline is available 24 hours a day at 1-800-273-8255.