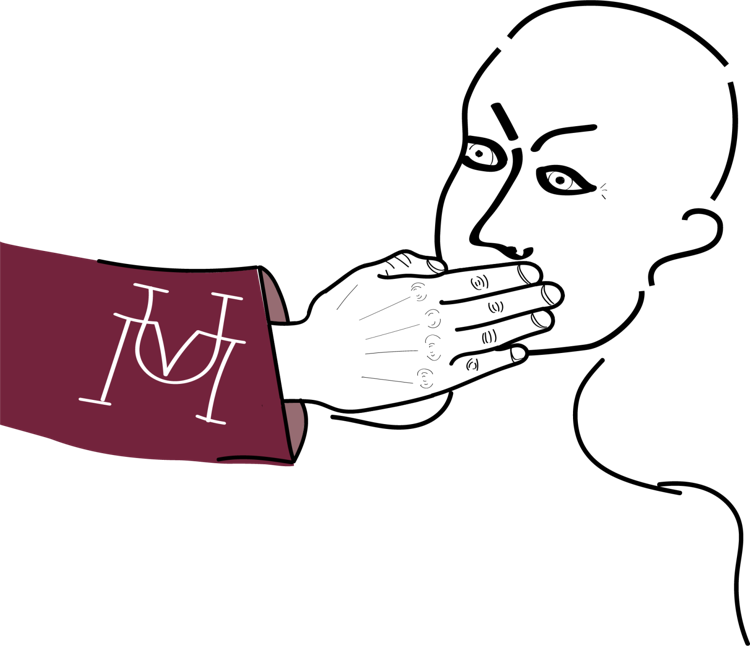 Garret Morrill is impassioned on social media. He's an active Kaimin reader who regularly engages the paper through Facebook comments. 
"I certainly get more aggressive [online]," said Morrill in an interview. 
Morrill said not posting anonymously is a conscious decision. "I want to be held accountable," he said, and wishes others would do the same. 
In person, the ASUM senator is restrained. His buttoned-down shirts are tucked in, his hair is swept back. He sits with his arms in his lap and a static smile keeps his glasses high. His face appears placid but his attention seems elsewhere, as if listening to a parent's lecture for the nth time. But he is absorbing everything. There is a twitch of excitement when his work is mentioned.
For nearly two years, Morrill has been hard at work crafting a new University of Montana free speech policy. His goal is to have a lasting say on how students, staff, faculty and the public express themselves at UM.
At issue are free speech zones: designated public property used for expression. Morrill wants to end the use of such zones on campus, by declaring all outdoor areas on campus free speech areas as long as they're 40 feet away from an entrance to a building.
Morrill graduates with his MBA this spring; this policy will be his legacy. And leaving his fingerprints on an institution is important to him. He said Great Falls High School's bison statue was erected a year after he left, due to an initiative he started. He put his hand out to table height, describing the statue of the school's mascot with pride. 
"It's a vision," he said about his proposed change to UM's policy. In terms of the amount of work and people involved, the free speech resolution is the most daunting of his ASUM career. 
He began writing the policy in fall 2016. In spring 2017, ASUM passed the resolution. It found its way to UM's Office of Legal Counsel, where it was modified before a vote was planned. UM legal counsel Lucy France said the proposal was ultimately pulled to allow for further discussion. 
Then, on Wednesday, Feb. 21, faculty, staff and the president of ASUM met for a free speech workshop in the University Center to discuss what Morrill's draft started: a revision to UM free speech policy. Morrill, tranquil on the exterior, was elated.
"The original [policy] is overly restrictive. Of course, I'm biased. I think mine is delightful," Morrill said.
But figuring out how it works now — and whether or not it is restrictive — is more complicated than it sounds. When UM upped its security at a recent lecture by conservative Townhall.com writer Mike Adams, it led to a discussion about what would and wouldn't happen, and what is and isn't allowed regarding protests.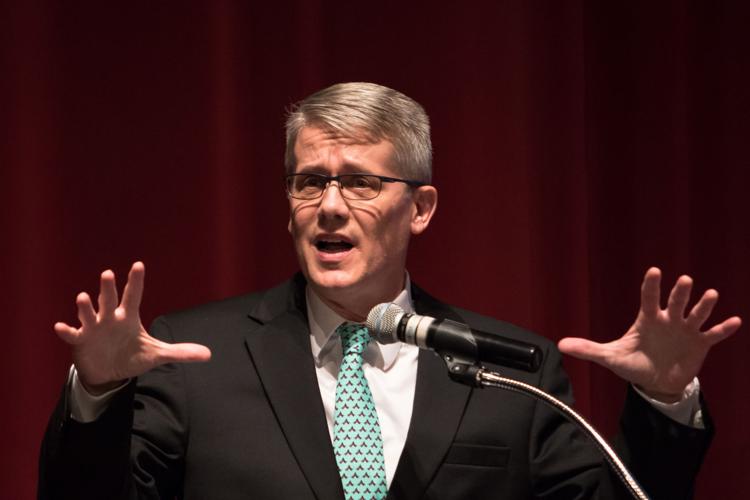 At the Feb. 13 talk, titled, "The Death of Liberal Bias in Higher Education," a handful of disruptions punctuated Adams' lecture and ticket holders walked by both supporters and protesters, some with bull horns. 
No one was arrested. But it raised some questions about what increasingly vocal activism could look like at UM.
UM policy primarily deals with two geographical categories of what it calls "free speech zones." 
The proposed changes would make for a total of 10 zones known as "Mountain Plazas." Current zones include the rolling mounds of grass between the University Center and Mansfield Library, where last year an evangelical who goes by "Brother Jed" yelled out his anti-LGBTQ/anti-women rhetoric while UM protesters danced around him wearing glitter and rainbow flags. Other sites include the bricks encircling the Grizzly Statue and the amphitheater at the foot of the M, a popular smoking spot.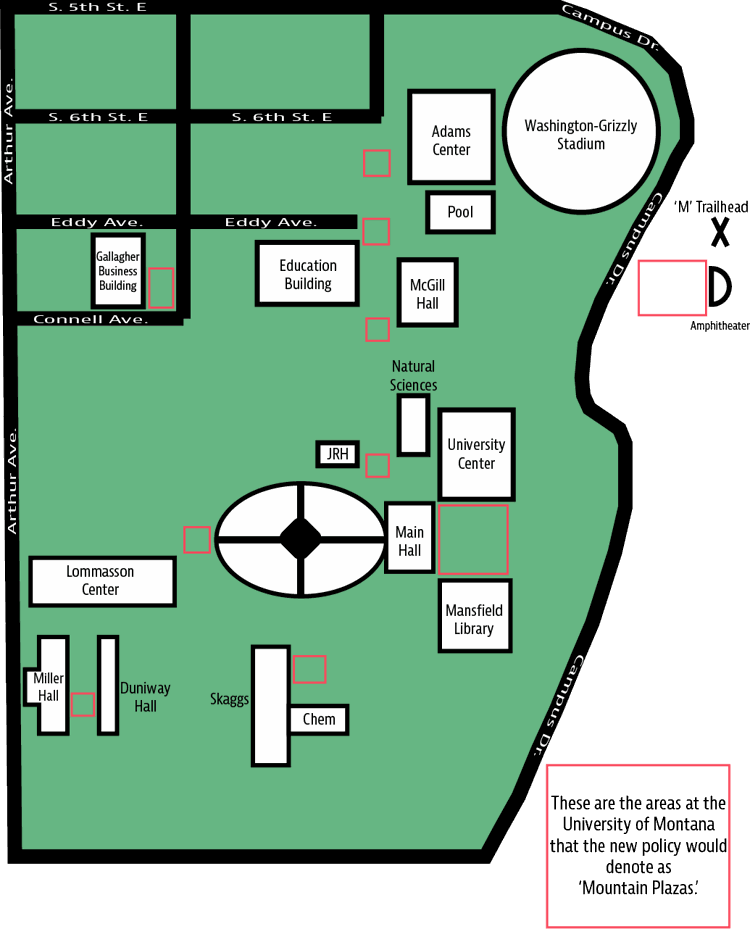 The proposed policy states, "[i]ndividuals and groups are permitted to use the Mountain Plazas for free speech activities … without obtaining approval from any campus official." However, it stipulates that notification to Montana Event Services to reserve a space is encouraged. 
Currently, reserving a plaza is not required. Anyone can go out to the Grizzly Bear statue and start voicing their opinions. People can elevate themselves on the lumps of the campus mall and proclaim anything they like. 
Even reserving a space under the proposal doesn't mean you get it all to yourself. "Reserving a Plaza," the proposal continues, "does not grant exclusive authority over that space for the reserved period…" Individuals and groups could engage demonstrators as long as they maintain a 10-foot distance and "do not defeat the demonstrators' ability to convey their message."
UM would maintain exclusive control over a plaza if the space has been reserved for University purposes.
In the Feb. 21 meeting, Chief Marty Ludemann  of UMPD said groups have attempted to bait UM Police into altercations. "[The Oval] is open to the public. As long as they're not disrupting the learning environment, I'm not going to ask them to leave because legally, I don't think I can."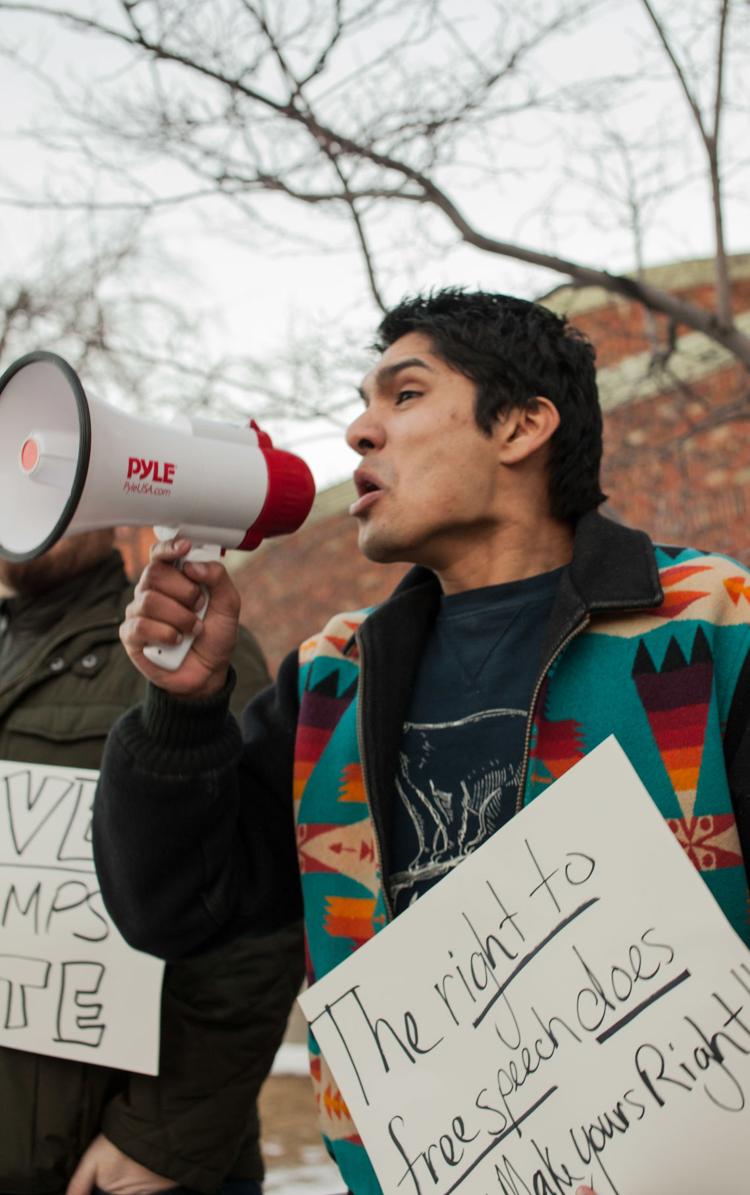 There is no mechanism in place to punish non-students for violating UM's conduct policy, said Shannon Brilz, director of Montana Event Services. 
Brilz describes her office as a "clearing house for events outside, because we have the software capability" for scheduling. Her department has no control over what groups use the free speech zone. No one does.
Groups would be asked to register through UM Events to use plazas. Many groups already register to use the Oval and free speech area, because it reserves a location, permits amplification and provides for safety concerns and trash receptacles.
Brilz said that in fall 2017, the Oval hosted 131 registered events, while the library mall held six. Reserving an area currently prevents another group from beginning its own demonstration during that time. Brilz said when an unregistered group is using the space at the same time as a registered group, the unregistered group is asked to leave. They can say no. They typically do. 
For non-students, this means practically no consequences. They are not breaking a law by simply being in a public area.
For students, staff and faculty who must follow UM Conduct Code, it means they are violating policy. Which means … something.
Rhondie Voorhees, dean of students, told the Kaimin that failure to abide by a policy that is not specified in the code of conduct, but is published elsewhere, still falls under the Student Conduct Code.
Voorhees said any discipline regarding free speech zones is based on behavior, never about the content of the message. She gave the Kaimin a few examples from the student code. UM can pursue disciplinary action under any of the codes.
Unauthorized use, destruction or damage of University property or the property of others on University premises or at University-sponsored activities. If a student damages UM property, a monetary restitution may be required.
Unauthorized entry, use or occupancy of University facilities. If a private event is occuring on campus and you are not invited, you are not authorized to be in that building. 
Intentional obstruction or disruption of normal University or University-sponsored activities. Disruption of the learning environment falls here. 
Interfering with the freedom of expression of others on University premises or at University-sponsored activities.
Disciplinary action varies. Voorhees said the process includes due process rights to protect students. A letter describing possible actions the University may take, with an invitation to meet with Voorhees, is sent. Voorhees said that free speech zone violators typically receive warnings, community service, educational programming, monetary restitution charges or probation. 
When students break a UM policy, UM Police may be notified. UMPD always responds, but its presence during free speech zone infractions lacks bite.
In an interview with the Kaimin, Chief Ludemann said UMPD does not have legal authority to enforce UM Policy. He said there is confusion among UM's administration over the limits of UMPD's authority. 
"When the University tries to limit free speech, that's in direct violation of statute," said Ludemann. 
He said the department exists to uphold the Constitution. He finds it difficult to walk up to a group and tell them, "You can't be here, you have to go over there."
Lucy France is UM's legal counsel. In an interview, she said, "Free speech zones are problematic." 
Other universities with similarly problematic policies have had them challenged in court. Texas Tech University had its free speech area and reservation process declared unconstitutional in 2004 by a district judge. 
Some administrators say UM ought to follow the lead of other universities. Adrianne Donald, director of the University Center, organized the Feb. 21 free speech workshop. She offered the University of California Irvine's policy at the free speech workshop as an example other universities are adopting.
UCI's speech policy states:
"Current rulings by the federal courts have found speech codes, as a general matter, too vague or overbroad. Because the University of California is a state entity, it complies with both the U.S. and California Constitutions."
"We have to protect academic integrity along with Constitutional rights," Donald said.
Other campus activists agree. Ethan Holmes is president of UM's chapter of the Young Americans for Liberty, a national libertarian student group. Holmes, a sophomore studying Russian and political science, is against free speech zones and would like to see UM follow UCI's lead. Holmes believes there are no ethical or legal reasons for free speech zones in public places that use public funds. 
Young Americans for Liberty organized a speech ball event last semester. Holmes said attendees were provided markers and encouraged to write "whatever came to mind, whatever their heart desired" on an enormous beach ball rolled around campus. 
Holmes said the first ball was completely filled and the second was nearly so. Comments were typically inspirational quotes, inside jokes and memes, he said. Most were not political.
"A lot of people drew phalluses," said Holmes. "There's always going to be a few phalluses in the bunch. That's kind of how it goes."
Policing what is and isn't allowed regarding free speech on campus depends on whether what's happening "disrupts the learning environment." The Supreme Court ruled in 1969 that students do not "shed their constitutional rights to freedom of speech or expression at the schoolhouse gate." 
Universities do place restrictions on students' free speech through what are called time, place and manner restrictions. UM can regulate a zone's use if it is not the appropriate time, place or if it's not used in an appropriate manner. 
Anthony Johnstone, a constitutional law professor at UM, said such restrictions are common ways universities regulate free speech. Time, place and manner restrictions are allowable in public forums as long as they are content-neutral, narrowly tailored and leave alternative avenues of expression open.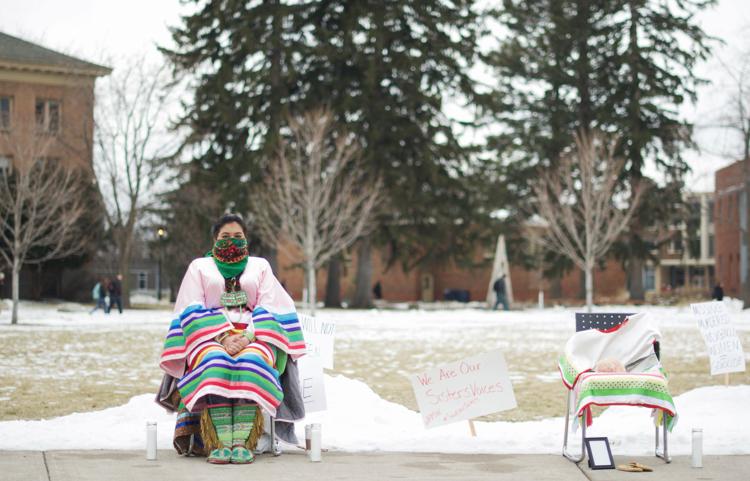 A week before the free speech workshop at the UC, freshman Marita GrowingThunder set herself up on the Oval, bundling up in frigid temperatures and with a scarf over her mouth, alongside empty chairs that represented missing and murdered indigenous women. 
GrowingThunder said she had reserved the Oval two weeks before the demonstration. A reservation is required in order to avoid a Student Conduct Code violation. The Oval request form is available on the Montana Event Service webpage. She said she waited a week for approval, and that the entire process was quick and easy.
GrowingThunder said there is a fine line between free speech and hate speech and "what is hateful to some, may not be hateful to others."
Afterward, Dean Voorhees said, "I am all for students finding their voice and finding ways to express themselves on issues and hear other voices, too."
Voorhees also sees the need to take hate speech and harassment into consideration. She said it is hard to design a policy where we "can all play in a sandbox together so no one is hurt."
Morrill, the ASUM senator, doesn't believe hate speech should be prevented. "Just because you don't hear [hate speech]," he said, "doesn't mean it isn't occurring. It's better to have it out there than in dark corners and places of society."
The free speech workshop wound up in a place uncertain and unclear, a metaphor for the tangled language of the UM Student Conduct Code. 
There was agreement that something needed to be mended and communication among campus, students and the community was important. The group tentatively decided to meet again in the summer to discuss resolving free speech issues through UM's Facility Use Policy.
Morrill said he's disappointed that he'll no longer be enrolled to see the result of his proposal, but understands the process and why these things move slowly. 
"If, at the end, this University has the best procedures on the books and is able to cultivate the best free speech culture in the state, it'll be worth it," he said.
---
A previous version of this feature referred to the president of UM's Young Americans for Liberty chapter as "Ethan Cole." His last name is Holmes. The Kaimin regrets the error.