Students leave behind the uncomfortable plastic seats and fluorescent lights of the lecture room in Stone Hall each Tuesday and Thursday as they're transported across space and time. 
Geographic information systems and cartography lecturer Kevin McManigal weaves together stories of science, maps and adventure in his GIS and cartography courses every week.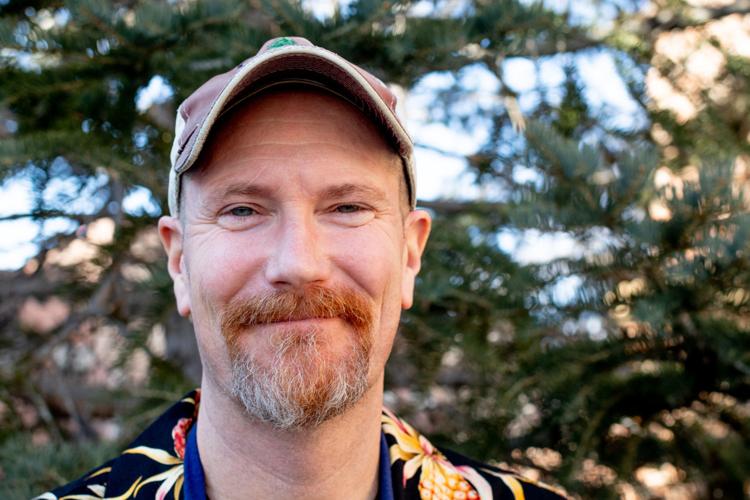 He describes the history of mapping from the scratchings of cavemen, to the entrancing and intricate medieval Mappa Mundi, to Roger Tomlinson introducing the world to GIS in the 20th century.
He describes jets of incredible speed that capture aerial images from above the earth.
He describes his expedition to Mongolia, where wandering families of nomads set up yurts wherever they please, and people roam the wide-open landscape on horses, with nothing but grass and sky for miles and miles. 
McManigal has taught at the University of Montana for just under 10 years, after he finished his Master's degree in geography at UM in 2011. His classes are almost always full as students come back each semester for more of his passionate storytelling.
He spends around 16 hours each week in labs with students, where he can walk them through almost any problem they encounter. He could let his TAs run the labs, but he loves being there to help students through frustrating spots and to see the "light bulb" moment when they find the solution.
"His openness and willingness to help and the effort he puts into helping students is phenomenal," said Darcy Chenoweth, a post-bachelor student who came back to school for her GIS certificate. She's taking an independent study class with McManigal after finishing his three GIS courses.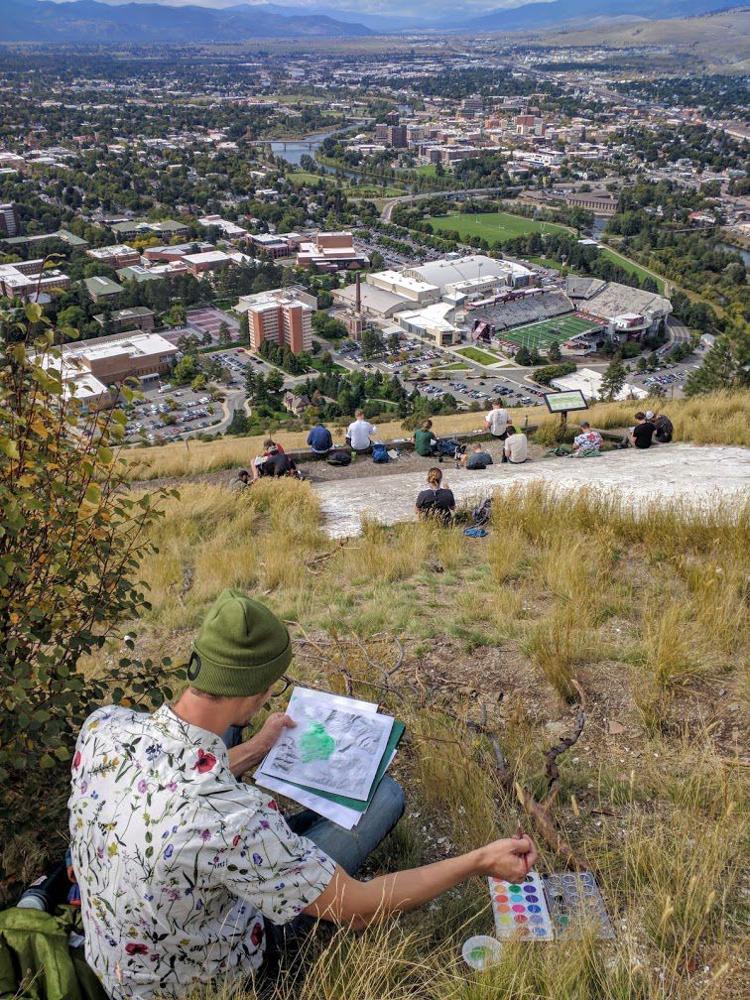 As students move up into the advanced GIS and cartography classes and independent studies, McManigal assigns them to real world projects. As someone with an artistic and scientific background, Chenoweth enjoyed the advanced cartographic design class where she created a map for the Cascade Wolverine Project to track the impact of climate change on the animal's habitat. 
With the help of students, such as Chenoweth and those sitting in his class now, McManigal created vividly detailed maps of uncharted wilderness that made their way to rangers combating tiger poaching over 7,000 miles across the world.
Over the past six years, McManigal has been in partnership with an international wild cat conservation organization called Panthera. He and dozens of his students have worked together to create more than 100 maps for Panthera, 70 of which are high-resolution topographic maps made for navigation.
---
As a kid, McManigal's parents always had National Geographic magazines laying around the house. He would cut out the foldable maps and tape them to his wall. He used to stare at the faraway places depicted on his maps and dream of maybe one day seeing them.
By the time he was an adult, he realized all he needed was a little money and a backpack, and he could fly anywhere.
At 22 years old, he worked his way up to director at the YMCA Bluff Lake summer camp in Big Bear, California, that he had attended since he was 6. He worked there until his late 20s, in that time performing hundreds and hundreds of campfire songs and skits.
From there, he moved on to the Boojum Institute of Experiential Education in Southern California to be a climbing instructor. The school brought kids of all ages on outdoor adventures and into the field to learn about the world around them.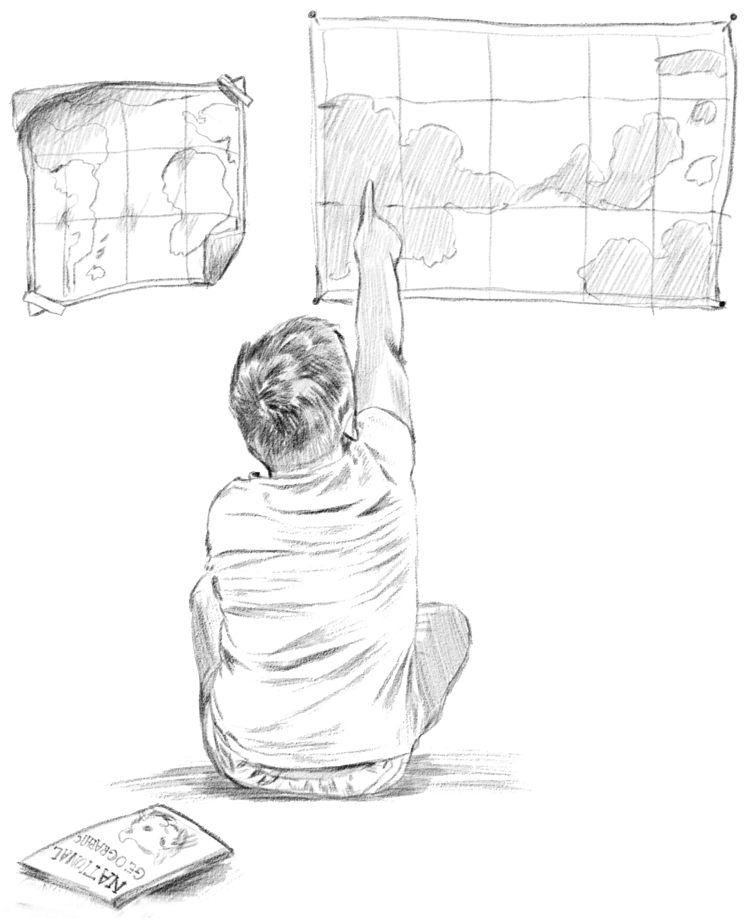 He left Boojum and spent the summer of 1999 sleeping in his tent on the back end of a golf course in Valdez, Alaska, and guiding travelers in a sea kayak to see the beautiful glaciers of the state. It was on one of those trips that he met a traveler from Switzerland who would later become his wife.
He realized he couldn't expect her to live with him in a tent on a golf course, and so, at 30 years old, he decided to go to college and build a more stable life for himself. He attended school in California at the College of the Redwoods and then Humboldt State University. 
He graduated from Humboldt State in 2006 with a degree in geography, a certificate in GIS and a minor in German — so he could attempt to communicate with his wife's family in Switzerland.
After getting his degree, McManigal and his wife took an around-the-world trip ending in Switzerland, where they would live for the next two years.
While living in Switzerland, McManigal had an accident skiing in the Alps and broke his knee. He was helicoptered out and went through intense physical therapy to get back in shape. During the recovery, he started looking into GIS jobs and found two prospects in the States, one in Washington, D.C., and one in Missoula.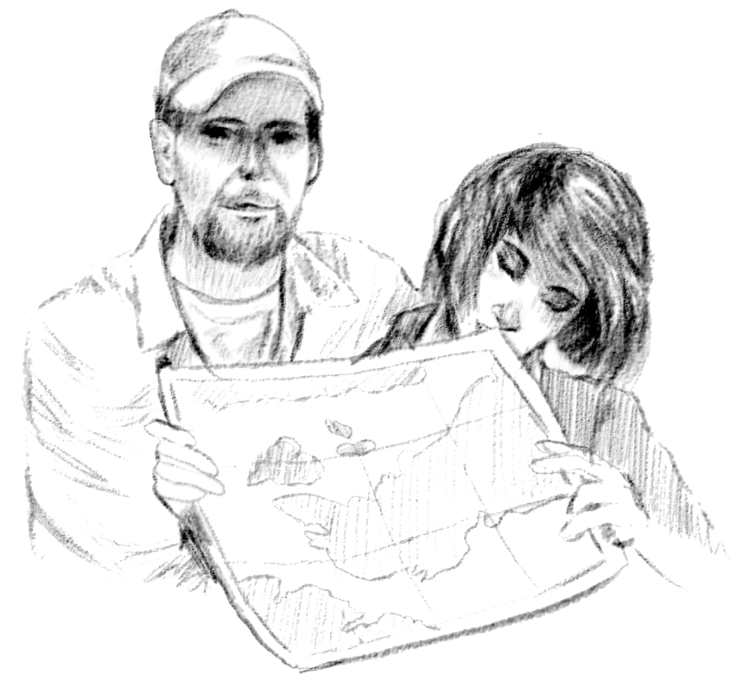 After considering the two options, McManigal and his wife decided on the mountains that Missoula offered. He accepted a job at Adventure Cycling in Missoula and the two moved back to the States on St. Patrick's Day in 2008, so he could earn his Master's degree in geography at UM. 
During his grad school experience, McManigal did two thesis projects after being funded to go to both Bhutan and Mongolia.
He finished his Mongolian expedition with two weeks to spare. During that time, he attended a rock festival, saw what he swears was the apparition of a Ganges-era Mongolian warrior and taught campfire songs to an English teaching summer camp that he came across.
UM offered McManigal a full-time position a year after earning his graduate degree in 2011.
In 2014, he was approached by Hugh Robinson from Panthera with an ambitious project.
---
"We have a problem," Robinson told McManigal, describing the situation of rangers in southern Asian countries fighting poachers. Rangers were patrolling dense jungles without any clue where they were going without decent maps of the regions. Robinson said they needed high resolution paper topographic maps to help the rangers navigate.
"Can we do it?" Robinson asked.
It was possible, but the real question from McManigal was: "Do we have any data?"
"No," Robinson said. 
Robinson is the director of applied science for Panthera, which has headquarters in New York. Robinson can do the work from UM, where he did his post-doctoral research on wolves, caribou and cougars. He has basic knowledge of GIS and often makes small informational maps for the organization, but he didn't have the skills to create highly technical maps needed by rangers from basically nothing.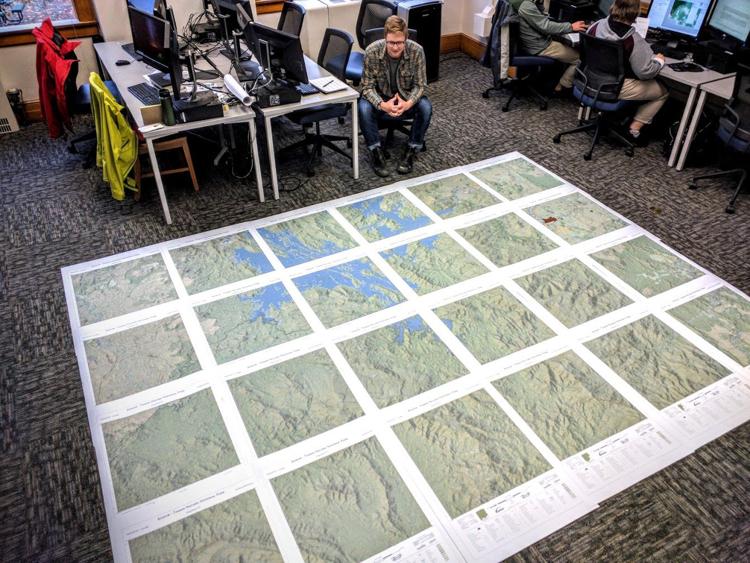 McManigal and a group of his students took on the project. Their first site was Parsa Wildlife Reserve in Nepal. The more than 200,000 acres offer a natural habitat for tigers that have been driven out by poachers.
The worldwide tiger population has decreased by 96% in the last century, and just under 4,000 of them remain in the wild. John Goodrich, Panthera's chief scientist and the director for the tiger program, said there are three main threats to tigers: tiger-human conflict, habitat loss and poaching.
Goodrich said that tigers, and other large cats, are essential to the habitats they live in. As predators on top of the food chain, they impact every other species below them. If they are doing well, Goodrich said, then the rest of the habitat is doing well, too. 
The cultural significance of tigers also makes them what's known as a flagship species. As long as a protected area is being preserved for the sake of tigers, people in countries like India can understand the need for wild habitats. If they lose tigers, there might be nothing stopping people from destroying wilderness that's fundamental in preserving things like water sources. 
"If we can't protect such an iconic species, and a species that the human race so clearly values so strongly, you really have to ask the question: what can you protect?" Goodrich said.
Since no data existed at the resolution needed for the maps, about a dozen GIS students were paid to hand digitize satellite imagery of Parsa donated from DigitalGlobe. The process took months, and each map cost around $1,000 to produce.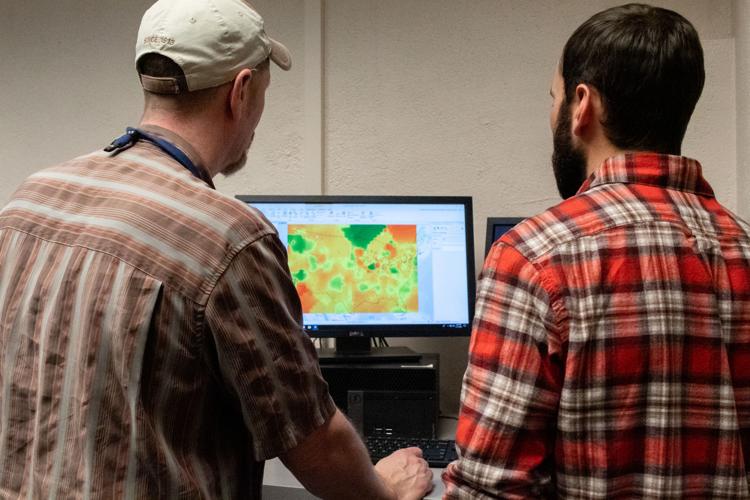 After the Parsa maps, they also made maps for tigers in Manas National Park in India, and Kenyir Taman Negara National Park in Malaysia and then for lions in Niokolo Koba National Park in Senegal.
Nathaniel Robinson (no relation to Hugh Robinson) is a conservation scientist at Panthera. Nathaniel finished his Ph.D in forestry at UM in 2017. 
He took many of McManigal's GIS classes and was a TA for two years. He was also a part of each of the Panthera mapping sites in some capacity. 
Nathaniel remembers outlining every structure he could find in the satellite imagery of Kenyir Taman Negara in Malaysia. Each cartographer spent hours tracing roads and trails centimeter by centimeter, and identifying every random building they encountered in the middle of the dense jungle. By the end, students had an intimate knowledge of a landscape they had never been to.
"Who knew some students in Montana would know some secrets in the forest of Malaysia?" Nathaniel said.
Another student who worked on the Panthera maps, Martin Viereckl, said the most exciting moment of each project was printing the maps. He remembers finishing the 20 maps of Kenyir Taman Negara and laying them out on the computer lab floor in Stone Hall. With the finished products laid side by side, they could see the full scope of their work. 
The locations that were mapped were determined by Panthera biologists, who decided based on factors like funding, cat population, ecosystem health and protected status. McManigal divvied up the work among student cartographers and supervised the process.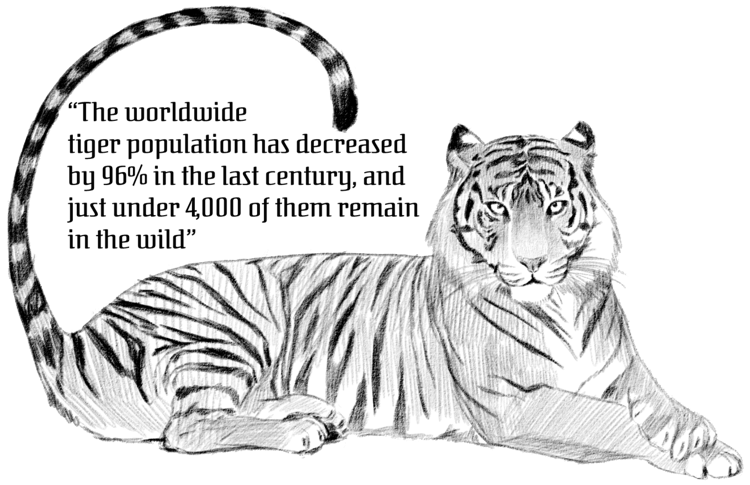 "When we needed it, he was always there with guidance," Viereckl said. "But he definitely left a lot of it up to us to figure out and to be resourceful."
Viereckl said the experience gave him skills he needed to land a GIS job after he graduated with a Master's degree in geography in 2018. 
Right now, McManigal is working with some of his advanced students during a new lab period called GIS Jams to create smaller maps for Panthera.
One is working on a map to track public sentiment on cougars around the U.S., and another is creating a story map for the Panthera website to show declining cougar ranges in North America. 
There are still hundreds of other sites that could use topographic maps. McManigal would love to finish the most pressing tiger sites starting in Malaysia, map the rest of Niokolo Koba National Park or start mapping the western Saudi Arabian mountains for a rare desert leopard.
But, money is tight. Panthera relies on grants and donations to fund projects like McManigal's.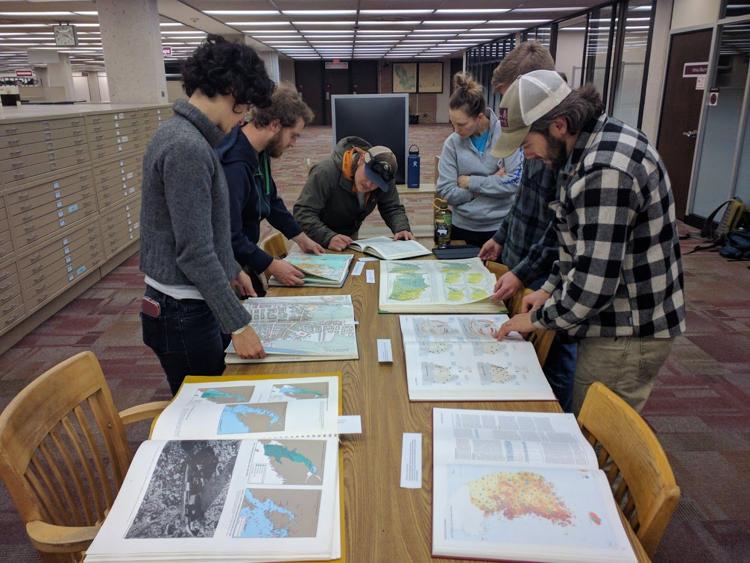 "There's only so much conservation money to go around," McManigal said. "And within the conservation of wildlife, sometimes cartography and mapping aren't the number one priority."
Hugh Robinson said it's hard for some people to understand the importance of maps, because we're all so used to being able to find our way anywhere with GPS. He remembers sitting down with a fundraiser attempting to explain why the maps were needed.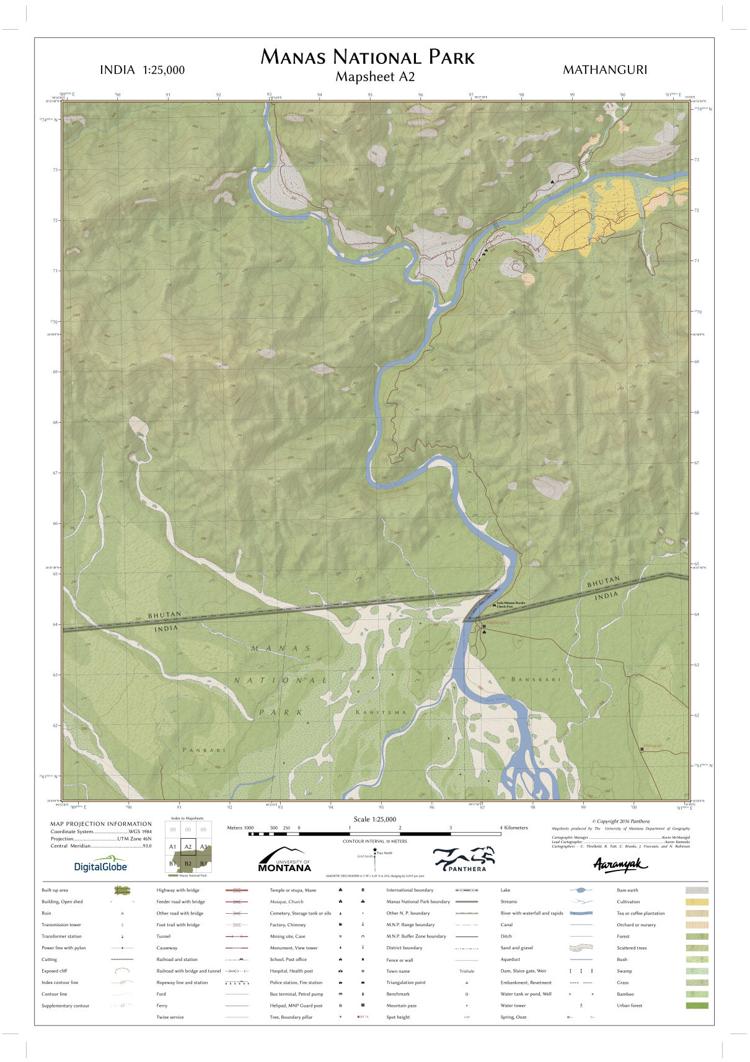 "He was sitting there for 45 minutes, and I don't think he understood until the last 10 minutes that there are places    in this world where there are no maps," Robinson said. 
The maps  McManigal has helped build so far are already making an impact though. Goodrich said that in about a half dozen of Panthera's tiger sites the populations have increased, in part because of the maps. In Manas National Park, tiger numbers have increased by roughly 400%. 
The park also  gained a couple of cubs, the first to be sighted there in years. Rangers in Niokolo Koba saw successes too. With accurate maps of the park they found and patrolled watering holes they hadn't known about before.
They even caught a group of poachers camping at one of the holes.
"It feels really good. It's great to hear those stories, you know?" McManigal said.
---
It was during his work with Panthera that McManigal was hit with the effects of budget cuts at UM. 
McManigal and 32 others received dismissals from the University during the 2017-2018 school year, according to a Montana Kaimin article. Although the dismissal was withdrawn, and he was offered a lower paying part-time position, McManigal declined and left his job as a lecturer in the spring of 2018. 
Tom DeLuca, dean of the W.A. Franke College of Forestry and Conservation, said there was nothing he could do at the time to keep McManigal on, since McManigal was paid through the College of Humanities, which suffered deep budget cuts.
"Kevin is outstanding, and it was a huge loss to have not kept him," DeLuca said.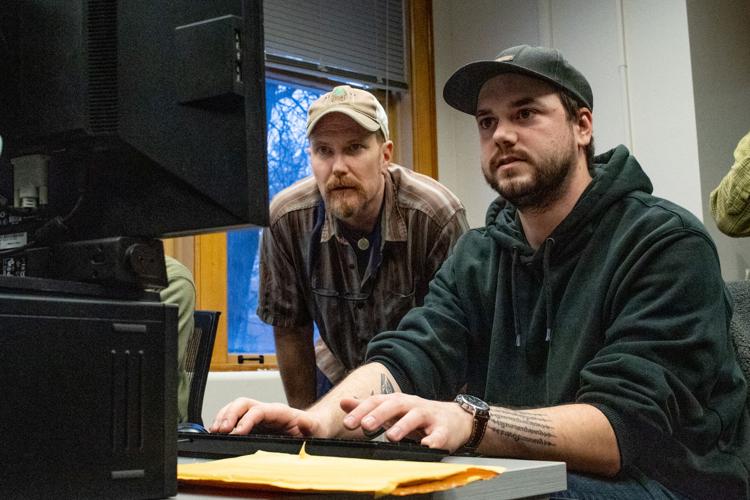 Even though he wasn't McManigal's employer, DeLuca said lots of students came to him to say how unfortunate it was to lose McManigal. 
McManigal retained affiliate status, meaning he could still work with students, but was no longer paid or employed by UM. He came back to campus to work on the Panthera projects with his former students every week. McManigal and DeLuca eventually crossed paths again, and he was asked to come back to teach.
The position was full time again, and DeLuca promised him at least three years of employment within the forestry school. He came back in the fall of 2018.
"Without the Panthera work, I might not have been here," McManigal said. "I might have moved on and I might not be teaching here now."
UM isn't fully out of its budget crisis, and changes are still happening. The entire geography department was absorbed into the forestry school in fall 2019. The GIS certificate is being reduced from 20 credits to 18. Regardless, McManigal thinks things are heading in the right direction, and he's happy to be teaching. 
"It was a trying time. I'm not the only one. A lot of people were really hurt by what they felt was a betrayal after years of great service to the University,"
McManigal said. "But, I don't blame the people up in the administrative offices that had to do the hard thing, which was send pink slips out."
McManigal's classes continue to fill up, and he got a perfect score from his students on his latest evaluation.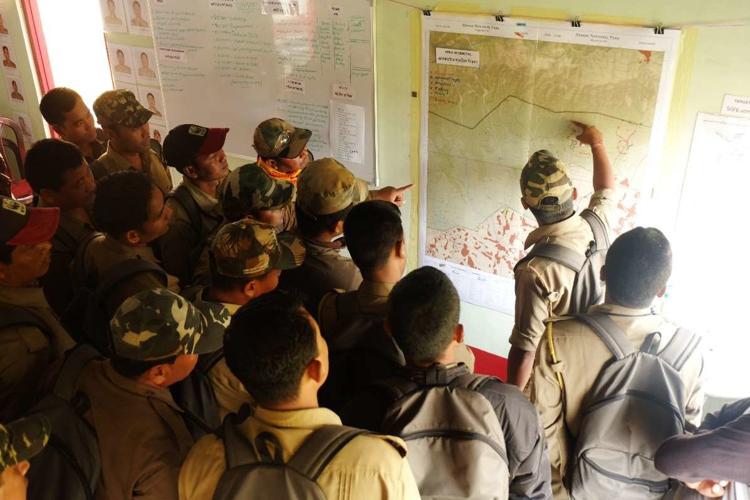 Not only are his classes engaging students, but the skills he teaches are in high demand. According to the U.S. Bureau of Labor Statistics, employment for cartography jobs will increase 15% between 2018 and 2028, three times more than the average occupation. 
"Not everybody's going to be a GIS specialist," McManigal said. "Most people will be fascinated by maps, just because I believe that it's innate in humans. We are born to be mappers."
McManigal said he's heard lots of success stories from previous students who go on to have high paying jobs within GIS and cartography. 
"Once I retire from teaching, that's what I'll miss the most, is those connections with students, and the long-term connections with people, knowing that I was one small step in their successful lives," McManigal said. 
After he retires, he plans to sell everything he owns, hop on a sailboat and slowly circumnavigate the globe with his wife. He's already started preparing. He practices in a small boat on Flathead Lake, takes classes with American Sailing Association and even helped launch the UM Sailing Club which will meet Thursday, Feb. 27 at 5:30 p.m. in Stone Hall room 217. 
Before then, McManigal would like to teach for a few more years, and in a perfect world he would finish mapping every one of the 18 "Tiger Forever" sites as well. 
He hopes to raise $1 million, enough to map the rest of the Panthera sites and designate the GIS lab as the "UM Center for Conservation Cartography." With that they could make maps for other conservation groups as well. 
"I would be able to do everything I hope and dream of doing and leave things in a great place when I decide to get on my boat and sail away," McManigal said. "But that being said, I'll take $50,000 too. An ice cream coupon for Big Dipper? Okay, sure, no problem."