When I told my psychiatrist I vape, she suggested I go back to cigarettes. She said it was probably worse than smoking and definitely not what companies wanting my money were making it out to be.
When the news of vaping-related deaths and serious illnesses started breaking, she asked me, "Aren't you pissed at these companies for lying to you?"
I already knew my JUUL was too good to be true. In retrospect, the vaping epidemic is pretty obvious. Whoever decided to turn smoking cigarettes into a tasty and pleasant experience knew exactly what they were doing, and it wasn't helping smokers quit.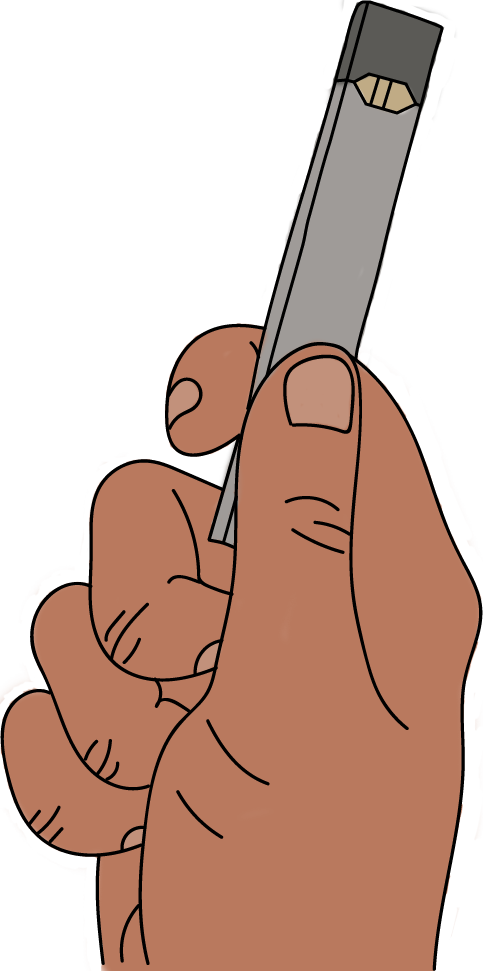 April 2019 marked the first diagnosis of vape-related lung injury reported to the Centers for Disease Control and Prevention (CDC). There have been 2,171 cases of e-cigarette or vaping product use-associated lung injury (EVALI) and 42 fatalities as of Nov. 13. One of those deaths was a Montana teenager this October. Doctors linked the disease to vaping, but unlike other deaths reported by the state health department, would give no other details, not even where it happened. Facts everywhere are iffy on this. Was it tobacco products killing people? Cannabis vapes? Or was it something else entirely?
Before anyone had clear answers, states attempted to ban vapes altogether. Gov. Steve Bullock announced a 120-day ban on flavored vaping products in Montana on Oct. 8. Three vape shops quickly blocked the ban with a lawsuit, including Missoula's own Liberty Vapor Smoke.
A month later, the CDC announced that vitamin E acetate — a chemical used in some THC oil cartridges as a thickening agent — is the probable culprit behind the outbreak. But its website states that "evidence is not yet sufficient to rule out contribution of other chemicals of concern to EVALI," and recommends refraining from all vaping products while the investigation continues.
Still, despite the ban, the reversed ban and the continued headlines about vapers dying, I held out hope that vaping was better than smoking.
But this ban has made me realize something about myself, something I hadn't quite came to terms with:
Hi, my name is Lily and I'm an addict. ("Hi Lily.")
I throw the word "addict" around loosely; I'm also addicted to Target and energy drinks. I'm addicted to perfume samples, frozen lasagna, celebrity tabloids (did you know that Kendall Jenner is a Bionicle? True story). Most of all? I'm addicted to nicotine, and it's not cute.
I JUUL first thing when I wake up and last thing before I fall asleep. I JUUL on the toilet. I JUUL while I cool. I JUUL in a box, with a fox, I JUUL here there and everywhere. Shit, I'm JUULing as I write this.
When I used Adderall five times in one week my sophomore year of college, I feared I'd get dependent, so I quit. When I got drunk more nights than I didn't this summer, I worried I was an alcoholic, so I quit. I even cut back on the lasagna when my jeans started feeling too tight.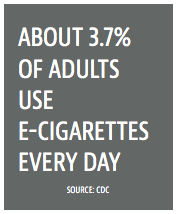 Still, I barely even make an effort to quit JUULing.
I know for a fact that I am, without a doubt, addicted to my JUUL. So addicted that on Morning One of trying to quit, I wanted to drive to Helena to shake my own mother — my favorite person — and scream, "You did this to me!" in her face.
My mom bought me my first JUUL a little over a year ago after reading an article in the New Yorker that claimed JUULs were a health-conscious smoking-alternative. She just wanted to help me quit cigarettes. I allowed her naive approval, despite her lack of scientific understanding, to justify my addiction without giving any serious thought to what it was doing to my body.
That blissful ignorance ended when I learned through Montana Public Radio that a teenager maybe near me died of vape-related illness. A subconscious understanding that my vaping habit will eventually kill me is one thing, but the idea of my lungs giving out, say, tomorrow, is scary.
Still not scary enough for me to, say, quit JUULing, but scary enough to take a step back and learn everything I can about what exactly I'm putting into my lungs.
So I bought some Nicorette gum to ease my cravings and got to researching.
---
Remember in 2007, when everyone was obsessed with Bella and Edward from "Twilight," then collectively recognized how unhealthy their dynamic was? That's kind of what happened with vaping. What we first thought might be a healthy smoking-alternative quickly revealed itself to be a toxic obsession.
While vaping has been around for a hot minute (according to the Consumer Advocates for Smoke Free Alternatives Association, the first "commercially successful" e-cigarette was made in 2003 by Hon Lik, a pharmacist in Beijing), its popularity has skyrocketed in the past few years, thanks in large part to JUUL.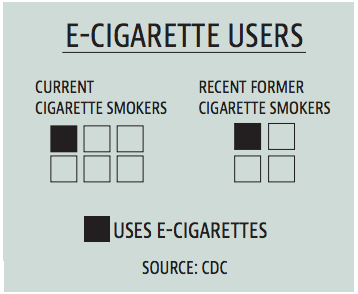 The infamous e-cig, often compared to a flash drive, debuted in 2015 and captured the hearts of middle-schoolers across the country, becoming the most popular e-cigarette brand by 2017 and dominating over 70% of the vape market by the end of 2018. It's small. It's tasty. It's discreet enough to hit in class. You can charge it with your laptop, and if you shake it right after taking a rip, it will go into "party mode" and flash rainbow.
While the company began independent of big tobacco, it has since been bought out by Altria, one of the biggest tobacco corporations in the world — no surprise, given that Altria took a 35% stake ($13 billion) in JUUL in December 2018.
They have since lost $4.5 billion due to the backlash, to which I can only say, "boo-fucking-hoo."
In the span of two months, JUUL has come under fire for knowingly selling 250,000 "contaminated or expired" mint refill kits, announced that CEO Kevin Burns would step down, and said it has a plan to pull mint kits from shelves. It also laid off 16% of its workforce (650 jobs). While JUUL products don't contain the vitamin E acetate currently suspected of causing EVALI, they're still the most universally hated e-cigarette company for marketing to minors — if "party mode" isn't bad enough, New York high schoolers Caleb Mintz and Philip Fuhrman testified to Congress that a JUUL representative came to their school and told ninth graders that JUULs are "totally safe."
According to the Truth Initiative, one JUUL pod contains 20 cigarettes' worth of nicotine. I go through a pod in about a day and a half. Before I JUULed, I only smoked three or four cigarettes a day. Smoking used to be like a palate cleanser for the mind; a rush of dopamine to clear my head and reset myself. Now that I JUUL, nicotine is more a matter of maintenance — I don't necessarily feel good when I use it, but I know that I feel bad if I go too long without. When I smoked cigarettes, I only thought I was addicted to nicotine.
---
I know that vapes are embarrassing. So embarrassing that out of what I can only imagine to be thousands of vape users on campus (I know you're out there, I see your clouds), I could only find one willing to talk to me about it.
Accounting major Polly Urbush, 21, started smoking at 19. She was stationed in Canada for the U.S. Army. "It was something to pass the time, keep you awake," she said.
Urbush doesn't remember when she first vaped, but has fluctuated between her JUUL and cigarettes for at least a year.
"I noticed with vaping, you do it way more and you're way more dependent on nicotine because you're constantly taking it in. You can just do it on a friend's couch. … You can do it anywhere. Go to the library on campus, and I can guarantee you that people are there, taking rips while studying."
It's that convenience that keeps Urbush buying JUUL pods over cigarettes, despite their adverse effect on her fitness. She says she went from running two miles in 17 minutes while smoking, to running the same distance in 18 minutes while vaping, something that poses a problem for keeping up with the military's physical ability standards.
In response to JUUL knowingly selling 250,000 "contaminated" mint refill kits (although no reports have expanded on what "contaminated" means, and no cases of EVALI have been linked to the "contaminated" pods), as well as all of the headlines about EVALI, Urbush is unfazed.
"I do and I don't listen to it. Anything can cause cancer, or issues … Either way, you're inhaling something you really shouldn't be.
"I don't really care. I'm sure I've had some that I had for six months and were expired, and I used them anyway," said Urbush, adding that because legal vapes require FDA regulation, she believes EVALI deaths are linked to black-market products.
Even if someone were to contract the disease using only over-the-counter, non-expired JUUL products, Urbush said she wouldn't quit.
"Anything you do like that — drinking, smoking — it's not ideal for your body," she said. "But people are going to do it. Who's going to stop you?"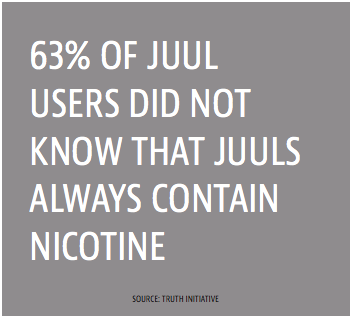 The biggest problem? JUUL isn't FDA approved, nor are any legal vape brands, and they have until May 2020 to submit an application for market approval. Urbush is no less informed a vaper than I am. I had no idea companies were even allowed to sell consumable products without FDA approval. It turns out e-cigarettes weren't under the FDA's domain until 2016, meaning that any vape products made prior can become retroactively approved.
Maura Ganz, a 52-year-old creative writing major, has been smoking since she was 13. She's tried to quit twice, once for three months, but not "intensely." She tried vaping but "didn't enjoy it in the end because there was no finality to it. You could just go forever; I made myself sick," she said. "Where's the end?"
Ganz sees vaping as a new marketing ploy rather than a way to quit smoking. "It's all capitalism," she says. "The whole marketing aspect really bothers me."
---
Some Montana activists don't want to wait around for vaping to be proven toxic or for what happens when the lawsuits and the proposed bans finally settle. Instead, they're vocal about being on the front end of what they know is going to increasingly cause more health problems.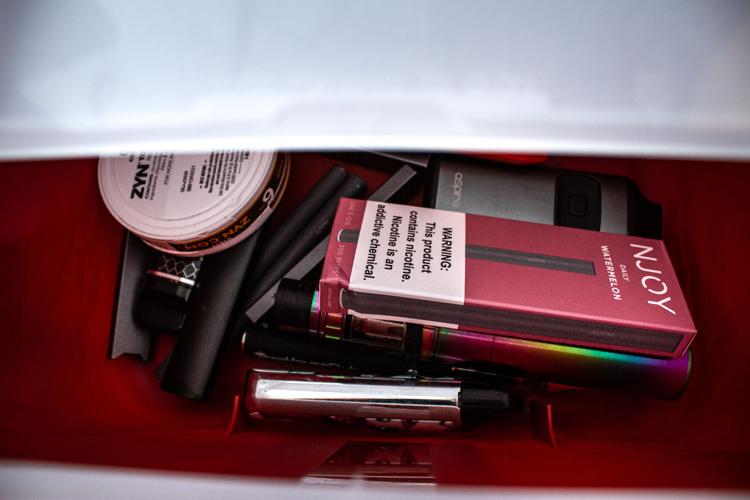 Bobby Sonsteng comes from a long line of smokers. Three of Sonsteng's grandparents have died from cigarette-related illness. His living grandfather beat lung cancer because "he's a tough old bird," Sonsteng said.
A senior majoring in community health, Sonsteng is part of Curry Health Center's PRO (Peers Reaching Out) program. He organized UM's vape pen turn-in drive, which encouraged students to hand over their e-cigarettes in late October for a chance to win prizes that included an Apple Watch or Beats by Dre headphones. 
Sonsteng's living grandfather told him that when he was growing up, cigarettes weren't considered dangerous and were even backed by doctors. "I don't want, 50 years from now, people to have all these illnesses and disease and cancers from vaping. … I see history trying to repeat itself, just with new technology," Sonsteng said.
---
In January 2019, Montana legislator Mary Ann Dunwell introduced House Bill 312, which aimed to prohibit the sale of flavored tobacco products (including e-cigarettes) outside of 18+ establishments. The bill also required stores to keep all e-cigarettes behind the counter in order to keep minors from shoplifting them. This would primarily target convenience stores, which resisted the bill.
Dunwell, a Democrat from Helena, says she and local convenience stores came to a compromise that would allow the shops to keep selling flavored e-cigarettes, as long as they remained behind the counter and away from customers' reach.
Despite support from local gas stations, the compromised bill died in the Business and Labor Committee. "There are some legislators that just seem to support Big Tobacco," said Dunwell. "I have no idea why. You'd have to ask them."
"Big Tobacco tried a new and different, better mouse trap because we were seeing a reduction in children's cigarette use. I don't buy that they came up with vapes as a way to quit," montanakaimin.com November 20, 2019 21 she said. "It's a way, pure and simple, to hook our young folks for the rest of their lives."
Scientists hadn't yet linked EVALI to vitamin E acetate when Dunwell introduced her bill to the Montana legislature. Still, she doesn't believe child vaping to be any less of an epidemic, even if legal vapes won't give them the disease.
"If a young person becomes addicted — which is exactly what Big Tobacco wants to happen — they will be addicted for the rest of their lives and die of lung disease," said Dunwell. "Kill me now or kill me later. Neither is OK in my opinion."
---
While Big Tobacco steadily buys out vape brands, many of Montana's vape shops are locally owned — including Freedom Vapes, Liberty Vapor Smoke and Ublaze Vapor. They're the shops that, along with the Montana Smoke Free Association, filed the lawsuit to overturn Bullock's emergency ban.
The lawsuit states that "if the emergency rules are enforced, Freedom Vapes, Liberty Smoke and Ublaze Vapor will most likely be required to completely shut down … The petitioners want nothing more than to save the lives and health of their friends, neighbors and fellow Montanans from the ravages of (combustible) cigarettes."
I spoke with Sarah Exum and Sarah Hartwig, the respective managers of Piece of Mind and Atmosphere, about how their businesses have been affected.
"Our sales kind of went up once the ban happened. We've sold a lot of e-juice in the past month compared to what we usually do," Hartwig said, adding that only around 5% of Atmosphere's sales come from vape products. "We have a very small selection of vaping stuff."
Exum says Piece of Mind's vape sales are up as well. She finds it "perplexing," but speculates that JUULers might be preparing for a potential ban, as well as stocking up on mint-flavored pods before JUUL pulls them from shelves.
Despite the spikes in sales, both Piece of Mind and Atmosphere are phasing out their JUUL products. While Hartwig cites the potential 120-day ban as reason to pull JUULs from Atmosphere's shelves, Exum says she's uncomfortable with JUUL's business practices.
EVALI has hit under-the-table businesses as well. I spoke with a 22-year-old Missoula pot-dealer — whom the Kaimin is keeping anonymous — known for selling THC cartridges about how his sales have been affected.
"I got a bunch [of cartridges] because they were selling really well, then everyone started freaking out — rightfully so. I had one woman who was convinced there was formaldehyde in it. I was like, 'No, these are on shelves, these are legit.' Then they got pulled off the shelves in Washington. So now I just have a bunch and I don't know what to do with them," he said.
---
The truth is, nobody knows exactly what vaping is doing to our bodies and we won't for years. That's no one's fault — science is slow-moving in its quest for the truth. The conflicting information makes it too easy for people to choose what they want to believe, and addicts like me will almost always use any information they can to justify our addictions.
I've been researching this story for three weeks now. I've gone from feeling certain I'd contract EVALI, to feeling certain I was perfectly safe, to just a giant question mark, really. At this point, I'm pretty sure I'll just die of cancer when I'm old.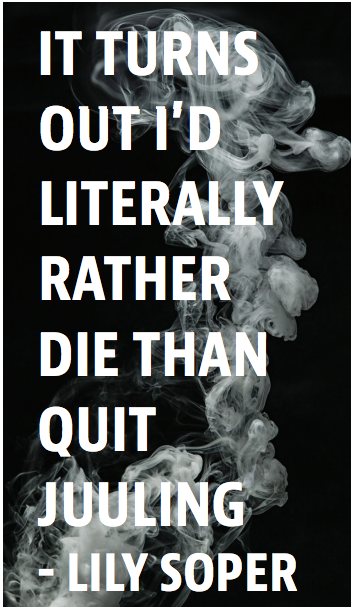 Here's what we know for sure: Vaping isn't harmless. EVALI is not a conspiracy by Big Tobacco to revert people back to smoking because Big Tobacco owns the vaping industry. It's becoming increasingly probable that EVALI is a result of black-market vape products using vitamin E acetate as a thickening agent. That said, just because your vape doesn't have vitamin E acetate doesn't mean it isn't killing you. The vaping industry has every motive to hook teenagers on its product, and its marketing tactics mirror those of cigarettes.
Clearly, vapes are evil. Companies like JUUL took America's first generation that stood a chance at a nicotine-free existence, and asphyxiated them with a cookie-flavored cancer fog.
And despite all this, I'm probably not going to quit.
Crazy, right? It turns out I'd literally rather die than quit JUULing.
Part of me is nervous to write this because I know that if I die of EVALI, anti-vape campaigns will absolutely use me as a cautionary tale. Part of me hopes that if I make it public record, I might get embarrassed enough to quit. Part of me doesn't give a fuck and is content living a short, nicotine-infused existence.
If you are struggling to quit smoking or other nicotine products, call the Montana Quit Line for resources: 1-800-784-8669.
Students can also get free tobacco quit kits from Curry Health Center Wellness (406) 243-2122.