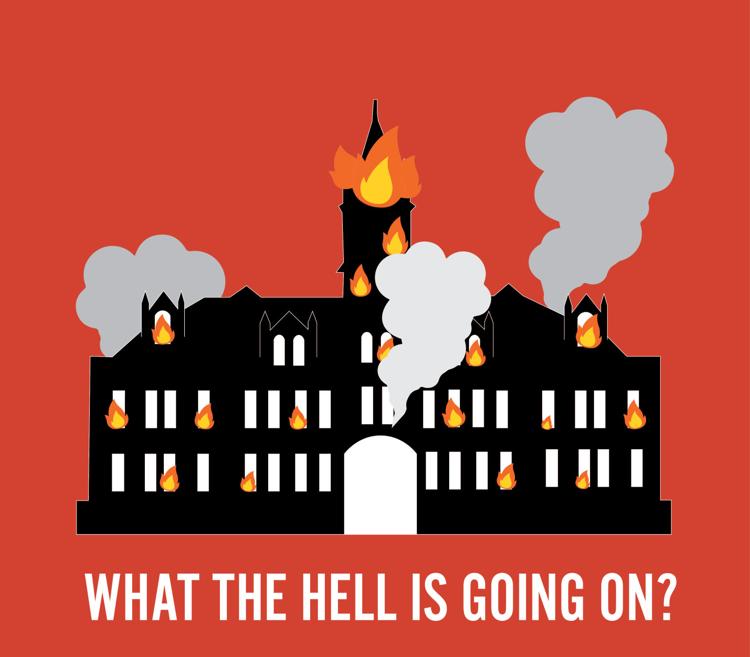 In case you didn't notice, Montana is currently engulfed in flames. A thick blanket of smoke hangs over nearly every corner of the state; scores of homes have been evacuated, and just last week Gov. Steve Bullock declared a state of disaster. Missoula residents bike to work in protective masks. On the worst days, the M is barely visible. 
It's an apt metaphor for the situation at the University of Montana. Once a titan of higher education, UM has been besieged by one setback or controversy after another. Our educators — professors, lecturers — are haunted by the spectre of "program prioritization," a phrase that means just about nothing to the ever-decreasing student body. 
The fog or rather, "smoke," of confusion and uncertainty is thick as we enter fall semester. And with talk of unions filing grievances, programs being cut and the end of the world imminent, it feels as though the fire that produced it might reach us any second.
For as much as we've heard about the struggles at UM, we must also understand that our troubles are just beginning. It's more important than ever that students and faculty have a grip on what's happening now and what is to come. For this reason, the Montana Kaimin Editors have prepared a user's guide to ... whatever the hell is happening. You'll find explanations of terms like "buyouts," understand why the faculty union is so pissed and what the deal with that ritzy new locker room is. 
Dive in, and consider investing in flame resistant clothing. You might need it.
What is "program prioritization"?
"Program prioritization" is one of those obfuscating terms that, much like "corporate synergy," "disruptive innovation" and "core competency," means little to non-business majors. The University of Montana defines the term as a process that "ranks programs according to a set criteria and then uses those rankings to redistribute funds and resources across those programs." 
Six months ago, University of Montana Interim President Sheila Stearns announced the goals of Forward125, an initiative to align university spending with declining enrollment. The Missoulian reported that the projected headcount for Fall of 2017 is 11,000 students, down from last fall's 12,400. The UM budget for the 2017-2018 school year is $143.5 million, a $3 million drop from last school year. "Align university spending with declining enrollment" likely means cuts to program funding. 
But which programs will bear the brunt of these cuts, and how will that be determined? 
In 2016, the University of Montana hosted higher education consultant Robert Dickeson to lead "a workshop on academic and administrative program prioritization" based on his book "Prioritizing Academic Programs and Services: Reallocating Resources to Achieve Strategic Balance."
The Dickeson Model includes ranking programs based on 10 criteria including the program's size, scope, cost, and the revenue it generates, followed by graphing the programs and organizing them into quintiles. 
It's all very complicated. Essentially, the administration is going to assess which departments at UM cost the most while contributing the least, either in terms of revenue or enrollment. Those programs will likely be first in line for "consolidation or elimination." Just as one feels a sense of urgency to visit Glacier National Park while it still has glaciers, take those creative writing workshops while you still can, kids. 
Erin Goudreau
What's a "buyout," and how do I get one?
While Montana legislators debated the merits of funding public higher education, they earmarked $2 million for UM to buy senior faculty into retirement. By offering select faculty a half year's salary as incentive to retire, UM hoped it would, in time, save $4 million in personnel costs.
The Voluntary Early Retirement Incentive Plan, or VERIP, was built to identify senior faculty and offer them buyouts. But executing the program turned out to be harder than planned. 
According to MUS spokesperson Kevin McRae, buyouts should not have targeted only the most ancient faculty, but departments that weren't pulling their weight, the Missoula Independent reported in April. 
McRae told the Indy, "you lose the whole point of what this is about," if the buyouts were offered across the board. 
Buyouts were offered, and taken, this summer — six months before the prioritization process could identify which departments should be targeted for cuts.
UM's only Nobel Prize-winning faculty member, Steve Running, took a buyout. Departments identified in a 2015 review as "poised for growth" lost faculty to buyouts, the Missoulian reported. Even fiery, anti-establishment French professor Michel Valentin took one.
There has been no indication that strategy was deployed with the rollout of VERIP, with the first round being offered to faculty over 65 years old, and a second round to those over 60 after not enough professors in the eldest range accepted the offer.
According to University documents available on its website, the buyouts were indeed offered to any faculty within the targeted age range, despite McRae's early hopes for more strategic offerings.
Matthew Neuman
What about lecturers? Who's the UFA, and why are they pissed?
The University Faculty Association, aka the faculty union, makes sure the Montana University System doesn't bully professors like the nerds they once were and still are. It helps negotiate employee contracts, and holds a seat in the President's Cabinet.
Primarily, it's upset about lecturers being asked to give up any semblance of job security. Lecturers are faculty hired annually that don't qualify for tenure. On Aug. 11, almost all lecturers were sent an encouraging welcome back letter, politely informing them they won't have jobs come Dec. 31. 
"As stated in President Stearns' email dated Aug. 11, 2017, individuals on non-tenurable appointments have no expectation to reappointment or renewal," the letter, signed by Interim Provost Beverly Edmond, said. "Per University Policy 350, the purpose of this letter is to give you one semester's notice that your employment contract with the University of Montana will end as of December 31, 2017 and to clarify that, at this time, we do not have an intent to provide you with a contract thereafter."
UM must provide a minimum of one semester's notice to lecturers before letting them go, which it did. University policy also guarantees lecturers year-long contracts, but with the letters, UM only offered work for the autumn semester. 
The UFA, led by political science professor Paul Haber, decided to fight UM over its treatment of lecturers. In a formal grievance sent to Stearns, the UFA claimed that UM violated its own annual hire policy. If the University does not concede that it made the wrong call, UFA leaders said the battle could go on for months and cause a "domino effect" of further grievances. 
UM has implied that many of the lecturers will actually be hired back in the spring, which seems contradictory to the language of the letter it sent to lecturers.
It would seem UM may have sent out a blanket notice so it could freely cut where needed without worrying about contracts. And, yes, the point of the minimum notice policy is to provide a little heads-up time to find new work, but instead lecturers are left wondering whether they will have a job until decisions are made at the end of the year.
Matthew Neuman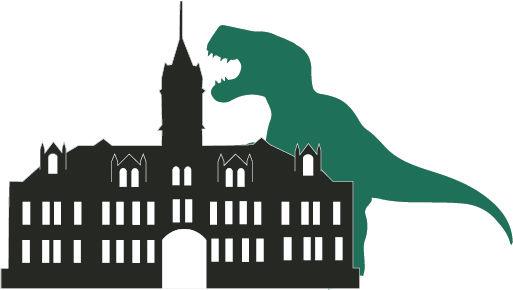 What happened to Royce Engstrom? Who is Sheila Stearns?
Royce Engstrom, a former UM provost who was selected to replace former President George Dennison in 2010, assumed the role of president optimistically. With Engstrom focusing on increasing recruitment and retention of students, the University of Montana was, at the time, the most-attended school in the state. 
Then, in December of 2011 the Missoulian published an anonymous tip alleging that three UM football players were involved in sexual assault investigations. More allegations involving UM students and sexual assault came to light in the years following, culminating in the United States Department of Justice investigating and concluding the university was "a hostile environment based on sex." The University of Montana's enrollment numbers began to fall.
Since the start of Engstrom's presidency, enrollment declined by 21 percent. The school has been plagued with budget cuts and layoffs in attempts to adjust to the belt-tightening since. People weren't happy, and things were in dire need of change. A solution needed to be found.
That solution doesn't include Engstrom. According to Commissioner of Higher Education Clayton Christian, "a change in leadership direction is the right step for UM going forward." Engstrom's presidential term officially ended Dec. 31, 2016.
But finding a replacement takes time, and a school without a president probably wasn't the change in leadership direction Christian had in mind. 
Enter Stearns. The Montana native is a former UM vice president and served as the state commissioner of higher education for a record-breaking nine years from 2003 to 2012. More important still, Stearns has experience managing a school in crisis. As president at Wayne State College in Nebraska, she faced a $1.2 million budget cut from 2002 to 2003. As in most areas of life, experience is everything.
Drew Novak
But Stearns is the interim president, right? So, who's next?
While Stearns continues to lead the campus during this transition period, the University is moving closer and closer to finding a permanent president. In an update on Aug. 31, Commissioner of Higher Education Clayton Christian said candidates would be announced in the near future, and tours of campus will begin in the next few weeks.
There were initially 99 applicants for the job, which was then reduced to the 13 best applicants. Names and faces will be revealed soon for the judgment of the entire campus community.
Christian expects a "substantial update" very shortly after Labor Day, but this process still has a ways to go before we know who the next Royce Engstrom will be.
Stearns has provided some change already after a run of old, white males in charge of campus, and according to Christian, the trend of female leadership may continue. In an update in early August on UM's website, he said nearly half of the candidates are female and there is also other diversity in the finalist pool "in terms of EEO/Affirmative Action protected-class categories."
It would be a welcome change to see diversity in the position, and it just might be a good first step toward rebuilding confidence in the administration on campus.
Jackson Wagner

How's MSU doing through all this?
By now, we're sure you've heard of Montana State University, home to new buildings, skyrocketing enrollment numbers and slightly more breathable air. 
Early estimates for MSU's freshman class are around 3,000 students. Enrollment there has been rising steadily since 2008, and sat at more than 16,000 in fall 2016. Everything from an increased student interest in engineering, which MSU has and we don't, to MSU outclassing us in every aspect of student recruitment has been accredited to its success over UM. The lack of a city-wide sexual assault scandal probably also helps. 
Despite rolling in the tuition dollars, the situation at MSU isn't all pretty, and for that you can credit a state legislature that didn't prioritize higher education. Legislators voted to slash state appropriations to colleges and universities, and now we're facing down additional budget cuts that could amount to up to $44 million over the next two years. McRae, spokesman for the Commissioner of Higher Education, told the Bozeman Daily Chronicle, "Every campus would be cutting educational programs if it's $44 million."
UM probably won't be feeling those cuts this year — the commissioner's office gave us a free pass to get our ducks in a row, i.e. make cuts before absorbing any of the University System cuts. But that means next year will likely be particularly brutal and other campuses across Montana will be taking the hit for us this time around. 
To make up for that loss of funding, tuition has gone up at all state campuses for the first time in eight years. UM students saw an increase of between 3 and 8 percent, depending on their level in school and where they're from. Our tuition is now level with that of MSU. 
Margaret Grayson
One last thing: why are we building a new sports complex?
If you're living in Aber Hall and looking for a convenient parking lot just behind your dorm, you're out of luck. Instead, you get to look out upon construction trucks and fences for the first leg of the semester, at least. 
The athletics department is nearing completion on the newest construction project at UM, the Washington-Grizzly Champions Center. The 50,000-plus square foot facility will mostly serve the Grizzly football team with a new locker room, but it also brings a much-needed improvement to Grizzly Athletics in the form of a new locker room. Oh, and it also cost $14 million.
It may seem outrageous in a time like this to be spending so heavily on weight and locker rooms for athletics, and while it is understandably upsetting for some people, the situation isn't as black-and-white as it may initially appear.
The University privately raised the funds, half of which came from a donation by Kevin and Kyle Washington on behalf of the Dennis and Phyllis Washington Foundation, that led to the construction of the Champions Center. Construction began about a year ago, even though the Board of Regents OK'd the project in 2014. 
The Champions Center will serve all of Grizzly athletics, not just the football team. The current weight rooms inside the Adams Center have seen better days. They are small enough that teams have to separate and schedule just to get workouts in. This new two-story weight room will address those issues.
It's unfortunate that parking is limited, and it is disappointing for a lot of people to see the student-athletes get another nice new building, but the football team and the University could see a benefit in the long run. Let's hope donors start sliding money in the direction of other programs, too.
Jackson Wagner