Last fall, as students made their way back to campus, thick wildfire smoke still hung around the Missoula Valley. The University of Montana was led by a slew of temporary executives, students were rallying against proposed cuts to some of their most beloved lecturers and morale was generally low. As some of you may have noticed, we've been spared the smoke this year, we have an almost entirely new permanent administration filling Main Hall, and all of the lecturers are still here. Wait, scratch that last part. A lot of them are actually gone. 
What else has changed, what will change and how did we get here? We'll try to break it down without getting too technical, and we'll focus on the things that students are probably wondering, like whether or not your major will still be offered come graduation day. We're not trying to beat a dead horse here (what a messed-up saying), but to understand the news, it takes a little context. Here's the basic summation of the last seven years at UM: Declining student enrollment meant less money to run the University. Less money meant cutting faculty and staff, which make up the vast majority of UM's budget. So, what is UM going to do to stop the drop in students before there is nothing left to cut? Here's us laying out the facts and making a couple of predictions along the way.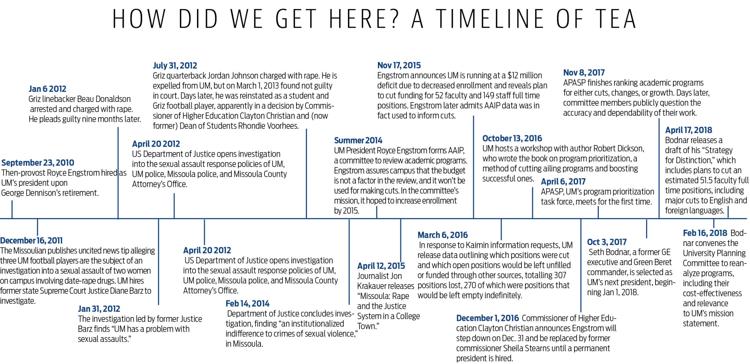 What's up with enrollment and can we fix it?
The University of Montana has been struggling with recruitment, enrollment and retention for nearly a decade. Since 2010, enrollment at UM has dropped nearly 30 percent. But with a newly restructured office and a restored budget, the new vice president of enrollment and strategic communications, Cathy Cole, plans to make social media the star player in her recruitment strategy. 
UM announced in June that Cole was offered the newly created position after former enrollment vice president Tom Crady was let go. Cole comes from the University of North Florida, where she held a similar position. 
Cole said President Seth Bodnar's combination of enrollment and communications, previously two separate offices, was a "genius change." Her enrollment staff now includes not only recruiters, but also videographers, writers and photographers from the communications office. 
Cole also said she wants to aim marketing at younger high school students, and her office will use Instagram and Snapchat to appeal to this demographic. 
The Missoulian reported that Bodnar restored $1 million to the enrollment budget that had been allocated elsewhere a few years ago. This may help UM compete with Montana State University, which has been spending about twice as much as UM on recruiting in the past few years and has seen soaring enrollment. 

Cole confirmed UM signed a contract with the Messina Group, a consulting firm founded in part by UM alum Jim Messina. Messina was campaign manager, then White House deputy chief of staff, for former President Barack Obama. Shortly after the former enrollment vice president, Tom Crady, was asked to leave UM unexpectedly in March, the Missoulian exposed how Bodnar's wife, Chelsea, had sought out Messina to help UM, and requested UM turn over sensitive student data to Messina's firm, which Crady questioned.
Bodnar announced restructuring of the Office of the Provost and Crady's former position at the same time. 
With a larger graduating class last spring and almost 500 students graduating this summer, enrollment is expected to be down again at UM this fall. 
Shaylee Ragar,
News Reporter

Where are all the deans at??
 In the past year, five deans have left their positions and been replaced with interims, either for jobs elsewhere or to return to teaching. 
Deans, who oversee both the academics and staffing of their respective colleges, are among the most influential players at UM. Newly hired Executive Vice President and Provost Jon Harbor recently tasked deans with cutting faculty to meet shrinking budgets by 2021. With so many temporary leaders filling the role of dean, decisions about the future of academic programs will be made by people who may not be around when the changes are actually implemented.
Chris Comer, who was dean of the College of Humanities and Sciences for the past nine years, stepped down to continue teaching. Jenny McNulty, who was associate dean under Comer, has been interim dean since Aug. 15. 
Brock Tessman was hired this summer as deputy commissioner for the Montana University System after about three years as dean of the Davidson Honors College. Tessman confirmed he had been a semifinalist in UM's presidential search which hired Seth Bodnar. He was also a finalist for top administrative positions at the University of Central Arkansas and Lewis-Clark State College, but was not hired. Kaetlyn Cordingley, who has been the DHC's career development coordinator since fall 2017, is acting as interim dean. 
Shannon O'Brien was dean of Missoula College before taking a voluntary buyout in December. Clint Reading served as interim dean until recently, when Roger MacLean, dean of extended and lifelong learning, was called on to work double-dean-duty until a permanent replacement at Missoula College is hired.
Roberta Evans, former dean of the College of Education, stepped down from her position as dean in fall of 2017 but continues at UM as a professor. Adrea Lawrence has been serving as interim dean since January. 
Dean of Students Rhondie Voorhees, was asked to leave in late August for reasons still unclear at print time. Voorhees will continue to be paid until her contract expires in June of 2019. With Voorhees gone, Shali Zhang, dean of libraries, is the only permanent female dean at UM. 
According to UM's Human Resources department, recruitment has not begun to permanently fill any of the vacant dean positions. A timeline has not been set. 
Cassidy Alexander
Daily/Breaking News Editor
Is my major safe?
Three times in the past 4 years, the University has taken a hard look at every major and whether or not it will keep being offered to meet budget constraints. President Seth Bodnar announced the results of the latest review process last May. Dubbed his "Strategy for Distinction," it outlined numerous programs that could be discontinued, merged with others or redesigned, and cuts to more than 50 full-time faculty positions. 
While the plan was not a binding document, merely a draft, it caused an uproar among students who were unsure of the future of their programs. 
During a press conference following Bodnar's State of the University address on Aug. 24, Provost Jon Harbor stressed that the "Strategy for Distinction" is just one part of an ongoing discussion. Harbor described it as an initial proposal, not a final decision.
But last spring as department heads were leaving and professors were taking buyouts it was uncertain how many lecturers' contracts were renewed. The uncertainty caused students to question whether or not they would be able to graduate.
If a program is cut, or phased out as Harbor referred to it, students will still be able to take the courses they need to graduate.
"The University has a commitment that any program that is phased out, all of the students in there will be taught out. They'll get the set of courses they signed up for," Harbor said.
It is unclear what the "teach out" process would look like, but Harbor said it will be created once the decision has been made to phase out a program. 
"No decisions have been made and I do not expect many program closures," Harbor wrote in a follow up email, but as the process continues UM remains in limbo, uncertain of what the future will be.
Keeping students and the campus community aware of the process and engaged in the discussion surrounding program cuts is important, Harbor said. UM's main form of communicating with students is through email, but Harbor said he's constantly trying to learn better ways of communicating about the ongoing changes at UM. 
"We want to be communicating through channels [students] pay attention to," he said. 
If students are wanting to have their voices heard, Harbor suggested reaching out to the student government, ASUM, which represents and advocates for UM students as part of the University's shared governance agreement. Harbor also suggested speaking with academic advisors and faculty mentors. 
Madeline Broom
News Reporter
Why do budget cuts matter to me?
The University is cutting spending on employees as part of its strategy to make up for the budget deficit. Both faculty and staff are at risk to lose their jobs. Provost Jon Harbor has told deans to meet budget needs by cutting faculty. If not enough people agree to resign or retire, UM will consider forcibly cutting tenure contracts to make up the slack. 
Faculty aren't the only UM employees who have been targeted to help lift the University out of its financial woes. Last winter, over 500 UM staff were offered a severance package to cut their losses and move on. After 84 employees took the buyout, student services across campus have become bare. Griz Central, Financial Aid and the Office of Civic Engagement are among the majority of spaces that are now seen empty. As more staff leave and UM determines  the future of its programs, many services students rely on could be reduced to the minimum or disappear entirely. 
Students will feel the structural changes of growing or shrinking programs across campus as they are phased out in the next four years. Some programs and services will disappear entirely in addition to the people who run them. 
Cutting isn't the only solution to solving UM's crippling financial problems. The students on campus have also compensated for less revenue by paying more to attend the University. Last year, tuition increased for undergraduates by 3.2 percent for out-of-state, 8.5 percent for in-state and 9.3 percent for Western Undergraduate Exchange, according to Montana University System documents. This year, out-of-state undergraduate tuition will stay the same while undergraduate tuition for in-state and WUE students will increase by about 2.5 percent. Graduate students and Missoula College students will see tuition increases as well.
Tuition could spike again next fall if the Six Mill Levy, a property tax that is voted on every 10 years to help fund higher education across Montana, is not renewed by voters this November. 
Cassidy Alexander
Daily/Breaking News Editor
The Bookstore went corporate?
After nearly a century as a nonprofit, the UM Bookstore is now managed by a private company. 
Founded in 1921, the UM Bookstore experienced falling sales in recent years, largely due to the enrollment drop, leading it to reduce staff and sell the University Center Market last year. In May, the Bookstore announced it would contract Barnes & Noble College to manage the store, and made the transition on July 2.
 BNC operates 760 campus stores nationwide, according to its website. Its parent company, Barnes & Noble Education, separated from Barnes & Noble in 2015. 
BNC Regional Manager Michele Yanko said BNC followed the Bookstore's lead to keep the Bookstore's brand, rather than adopt Barnes & Noble branding. She said BNC has affordable options for textbooks, including a robust rental program. 
"The relationships that our textbook department has with the various publishers helps us ensure we have pricing that is competitive and we are able to deliver course materials in a manner in which students can save the most," Yanko said. 
The Missoulian reported the Bookstore's five-year contract with BNC provides the nonprofit with a guaranteed minimum payment or a percentage of sales, whichever is greater. 
Bookstore Chief Operating Officer Eamon Fahey said the contract limits BNC to a 25 percent markup on textbooks. He said it also must sell school supplies at or below the manufacturer's suggested retail price. 
The Bookstore will no longer recognize student group index codes, which allow student groups to charge purchases directly to their accounts. Fahey said that was Main Hall's decision. 
Vice President for Administration and Finance Rosi Keller could not be reached for comment.
 "The nonprofit will now act more as a foundation," Fahey said. "It's going to be managing the bookstore's assets." The assets include the BNC contract and Fact & Fiction, a downtown bookstore. He said the nonprofit will invest revenue in student groups, though it has not yet determined which ones.
 The Bookstore also moved its textbook section to the ground floor. University Center Director Adrianne Donald said the UC will rent the upstairs space to the Broader Impacts Group, which is part of the research and creative scholarship office.
Cameron Kia Weix
News Reporter