When Eli Brown took to the podium during a meeting of the Associated Students of the University of Montana Senate on Jan. 30, he critiqued how the senate was run and presented a resolution for ASUM to apologize to the student body before he resigned his seat and stormed out.
"I felt that I haven't been able to get the senate on board for larger action. Bringing things to the senate floor only brings more issues. I didn't feel like I could make an impact," Brown, who started serving on ASUM this fall, said in an interview with the Kaimin.
The ASUM Senate was created in 1906 to represent student interests to the administration, faculty and legislature of Montana. The University of Montana's Collective Bargaining Agreement dictates that ASUM facilitate student representation in University decision making.
Due to a lack of diversity of majors, a high turnover of senators and a shortage of interest in ASUM, the senate often does not meet the standards written in its own governing documents.
In his resignation speech, Brown voiced concerns about the previous week's senate meeting, which he said may have violated senate rules and Montana open meeting laws. He criticized ASUM Vice President Mariah Welch, whom he said brought anonymous testimony to the senate floor and did not allow for discussion on the testimony, and struck the testimony from the minutes.
Welch said she consulted the ASUM legal counsel before and after the meeting, and she does not think that she broke ASUM rules or Montana Open Meeting policies.
"Unless a University investigation is ongoing, it is not private," Brown told the senate. "In my opinion, this is just one instance of ASUM being on the decline this year."
Brown said the result of ASUM meetings are grammatical changes to its constitution, internal resolutions and arguments between senators that "result in nothing."
During his speech, Brown brought up a 2017 resolution in which ASUM had debated animal testing at the University, and noted how the resolution had been passionately debated for three hours.
"No matter how you feel about the substance of the resolution, you can't deny that the people of the resolution cared. It was advocacy of the students who elected them," Brown told the senate.
"The truth of ASUM is it's no longer the representative body it was founded to be," Brown said before he walked out of the meeting. "Only y'all have the ability to redefine that truth."
The senate is made up of 26 available senate seats, the president, vice president and business manager. Students can run for positions on the ASUM Senate every spring, but the senate can approve appointments to fill individual senate seats during the academic year.
All students enrolled in at least seven credits each semester pay the $73 per semester ASUM activity fee. These students have the ability to vote in ASUM elections and run for senate. But since 2009, the average voter turnout was just 17 percent of the student population. The percentage tended to be higher during years in which there were more executive candidates running.
Thomas Hiett, the chair of the ASUM Elections Committee, and President Alex Butler said that ASUM is using campus -wide emails and social media to reach out to students about the upcoming elections, students needed to serve on committees, and to inform students on the efforts of ASUM.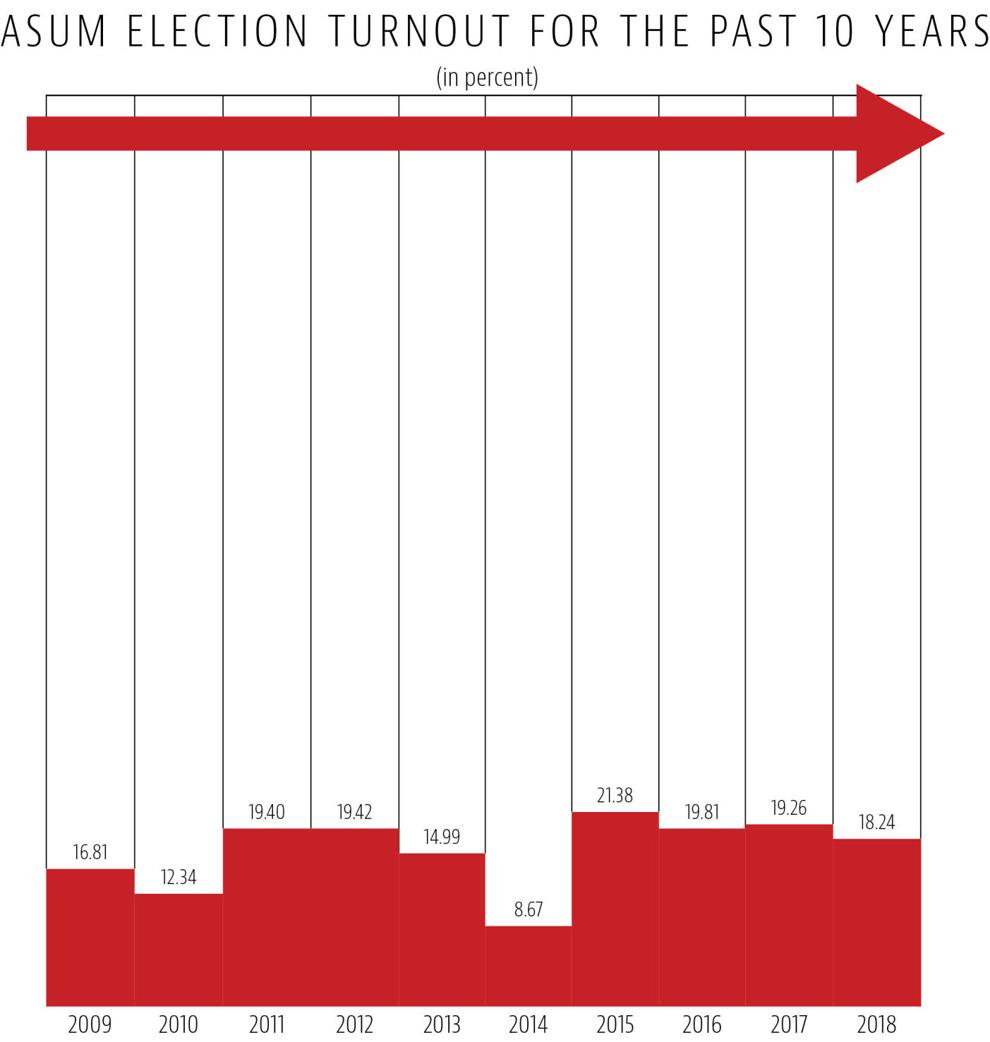 "We are just trying to let people know about the elections and know that they can run," Hiett said.
Marti Liechty, a former ASUM senator and a senior in the journalism school, said it is hard to tell how many students care about ASUM. She resigned after serving for fall semester.
"I think that they are doing a lot, but it is hard to know how effective those methods are. I read the campus emails that Alex sends out, but that doesn't mean that everyone else is reading them," Liechty said.
President Butler said students don't need to understand all that ASUM does, but ASUM tries to make its work accessible to everyone. Senate meetings are open for public comment every Wednesday, and all senators are required to hold office hours every week.
Over half of the senate is made up of political science majors, and only four senators come from majors outside of the College of Humanities and Sciences. There currently is one representative each from Missoula College and the graduate school.
The elections committee said it plans to go to classes to speak to students who might not know a lot about ASUM. Because the majority of the current ASUM Senate is made up of humanities and sciences majors, the committee plans to talk to at least one class from every other college, Hiett said.
"I don't think ASUM has given them a reason to care," said Liechty, a senior journalism major. "Why should they care that this is how ASUM feels when ASUM doesn't represent anyone outside of the humanities and sciences?"
There have been 17 senator resignations since April 2018 — well over half the senate — meaning the majority of current senators were not elected by the student body. ASUM does not keep a record of how many senators resign each year, but the number of resignations has increased in the last few years, Welch said. The high turnover of senators makes it difficult for ASUM to be effective and have power on campus, Liechty said.
"If you have no personal connection, it is hard and you get left out, and that can be hard. That could be why ASUM is mostly political science and humanities majors," Liechty said.
There is a fall retreat for ASUM every year to get to know other senators and learn specifically how ASUM runs. Liechty said it is difficult for senators to come in part way through the year and try to learn everything when the rest of the senate already knows what is going on and learn the constitution and bylaws that govern ASUM.
The role of the vice president is to oversee the work of the senate. This includes keeping track of attendance, following ASUM bylaws and Montana Open Meeting policies for all senate meetings and giving a report at each senate meeting.
"I think [Welch] has grown to be very lenient in holding people accountable for absences. She has no idea if I went to my committee meeting. There is no way to hold people accountable," Liechty said. "There are mechanisms in place to deal with absences, but clearly, I don't think they are working."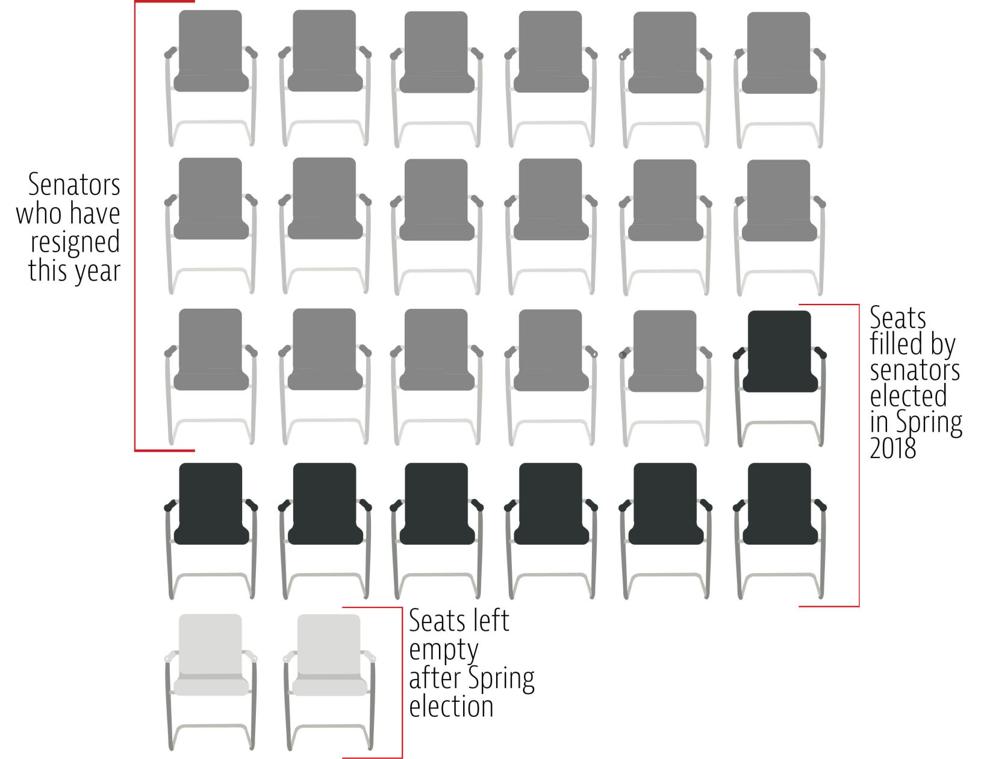 Welch said she has been more harsh on senator absences than past ASUM vice president. Senators can only receive an excused absence for personal or family emergencies.
Brown, the political science and philosphy junior who resigned from the senate in January, said that Welch is more concerned with the feelings of senators than getting necessary work done.
"She is interested in what everyone is doing and what is going on, and she thinks that is what makes her a good leader," Liechty said. "I don't know whether or not I agree with that."
Because more than half of the senate are political science students, the senators spend classes, senate meetings and personal time together. Welch has a difficult job to keep personal lives outside of the work that ASUM does.
"I think I have done a good job this year drawing the line between personal and professional," Welch said. "I don't think that senators let that affect them on the senate floor, and I definitely hope that doesn't affect them in committee meetings."
There are two reserved seats on the senate for a Missoula College student and a graduate student.
"I think that having seats dedicated to Missoula College students and graduate students does show that ASUM does care about representation," Liechty said, "but that does not mean that it is working to represent those students."
ASUM's lack of representation affects the association's institutional integrity, Brown said.
"Until we have more representation and participation, ASUM will not be reflective of the student population," Brown said.
ASUM has a voice in some very major conversations on campus, President Butler said. Its influence at the University comes, in part, from its role in giving student perspectives in decision-making committees on campus.
The ASUM president has the responsibility of appointing students to sit on University and ASUM specific committees, according to the ASUM constitution. Senators are required to serve on at least two boards or committees and be present at all committees and senate meetings unless they are specifically exempted by the vice president. Students not on the ASUM senate can also sit on committees as a student-at-large.
Brown said that most of ASUM's time is being spent making changes to ASUM itself. This includes altering its constitution and giving out money to student groups.
"I think what we see a lot of the time is if there is a resolution that makes it to the floor, too much time is spent on fixing grammatical and formatting mistakes," Liechty said.
Resolutions passed by the senate allow ASUM to take a stance on things happening on campus, in Montana or nationally. Resolutions can also be used to amend or change the documents or create ad hoc committees that meet until the end of the school year.
"They don't do anything," Liechty said.
Brown said the way the senate is run forces senators not to act. He said he tried to talk to the vice president, but he didn't feel like he got anywhere with the conversation.
Brown said that there were times when he brought up issues directly to the vice president. Brown respects Welch, he said, but, "she has chosen to do her job by facilitating ASUM focusing on the opinions and the feelings of different senators."
Brown said the vice president obviously cares very deeply about ASUM and the senators, but this is not the purpose of ASUM. He said the senate should professionally be an exchange of ideas.
"There needs to be room for intellectual conflict on the senate floor and especially with the administration. If it is going to end with an outcome that is better than keeping a good public image," Brown said.
Butler said he thinks that the UM administration is mostly receptive to the ideas of students. Butler said he believes that bringing students into committee meetings can change the administration's ideas of what students want.
"A lot of administrators are removed from students. That is just their position. So for them to be able to have a really pointed, personal experience with a student, that is something new for them," Butler said.
Butler said that he needs to try to find the balance between student input and recognizing gaps where students aren't represented.
But Brown said he thinks senators could do more to fight for student interests. He has also addressed the Faculty Senate and written multiple letters published by the Montana Kaimin.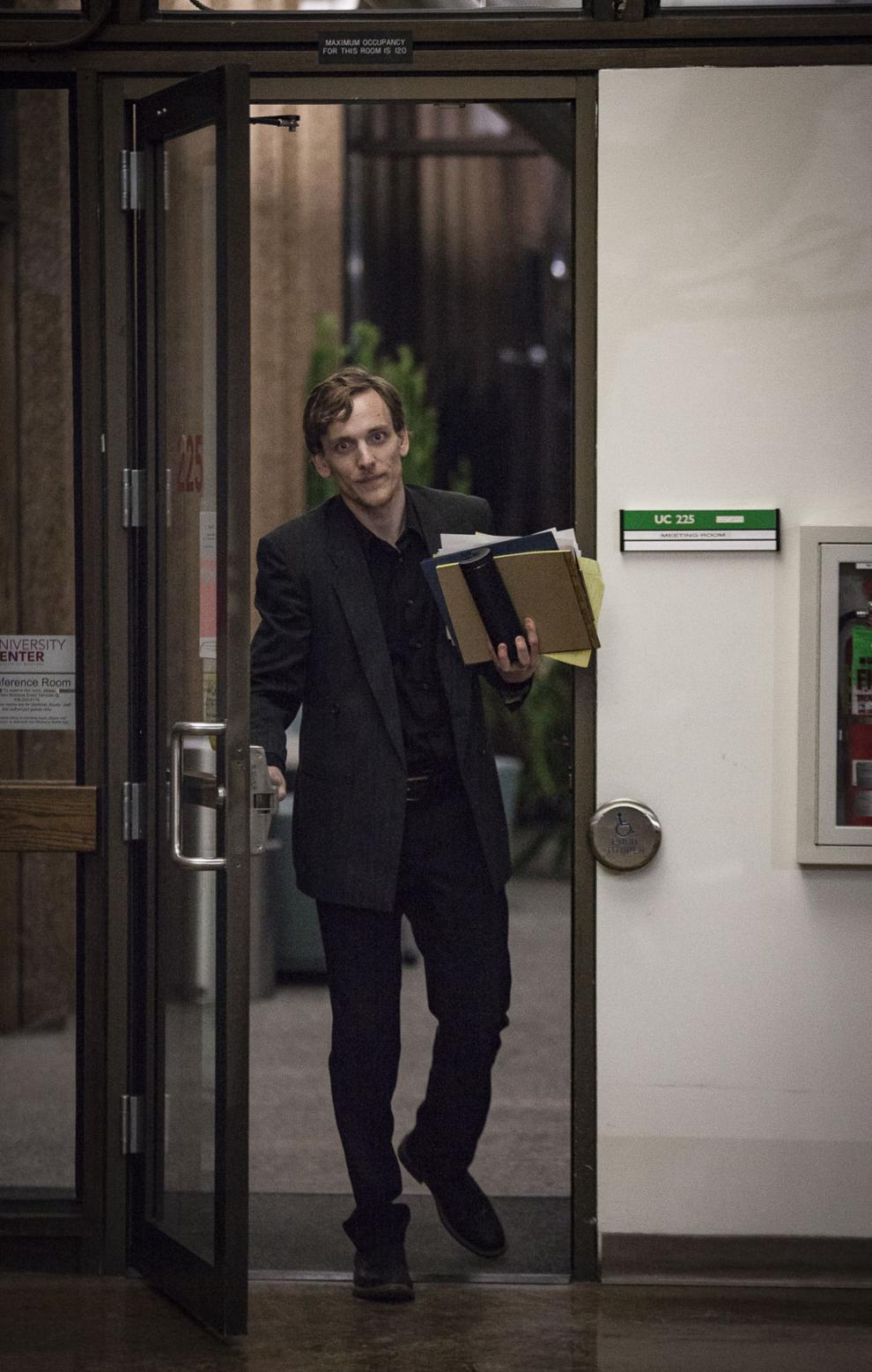 "I think that the focus of the majority of the senate is to appease the administration to make change possible. They are willing to agree with the administration to gain political capital on other issues," Brown said.
"I believe that the current priority of ASUM is directly aligned with the administration's priorities," Brown said.
"I don't necessarily agree with him that we are willing to agree with the administration to gain political capital on other issues, however, I totally think he should continue to express how he feels about ASUM," Butler said.
In October, Brown brought a resolution to the senate floor that requested the provost, Jon Harbor, explain the proposed faculty cuts. The purpose of the resolution was to put pressure on Harbor to be more transparent with students about the decisions being made.
"I felt it was very necessary to get more information," Brown said. Brown asked the senate to call the provost to speak to ASUM about the reasoning behind the budget target decisions. These decisions impact students directly, he said.
Brown said that he was questioned on the senate floor before the resolution was passed about justification to bring the provost to ASUM to speak. He said many senators did not think that this was the role of ASUM.
Brown said he was told to reach out directly to the provost with the questions he had. Brown said that the reason he proposed to ask the provost to the ASUM meeting was because the provost was not easily reachable and did not respond to emails well.
"I believe that was a very productive meeting and that was because he authored the resolution asking him to come to senate, so I really appreciate his willingness to do so," Butler said. The resolution eventually passed.
Liechty said that when Harbor was asked to come to ASUM, he gave "a very bland PowerPoint presentation mostly with information that we already knew. He had very scripted answers, and when he did not have a scripted answer, he said he would have to get back to us," Liechty said. However, she said that bringing administrators to meetings is not always an effective way of making the University administration be more transparent.
"You can't make administrators care," Liechty said.
Liechty said that students most likely view ASUM as a cliquey, liberal organization, and that can deter students from getting involved.
"I joined ASUM knowing I felt that way about it, and I left ASUM still feeling this way," Liechty said. "It is so hard getting anything done. Why should students trust us? What has ASUM done to earn that trust? I don't know."