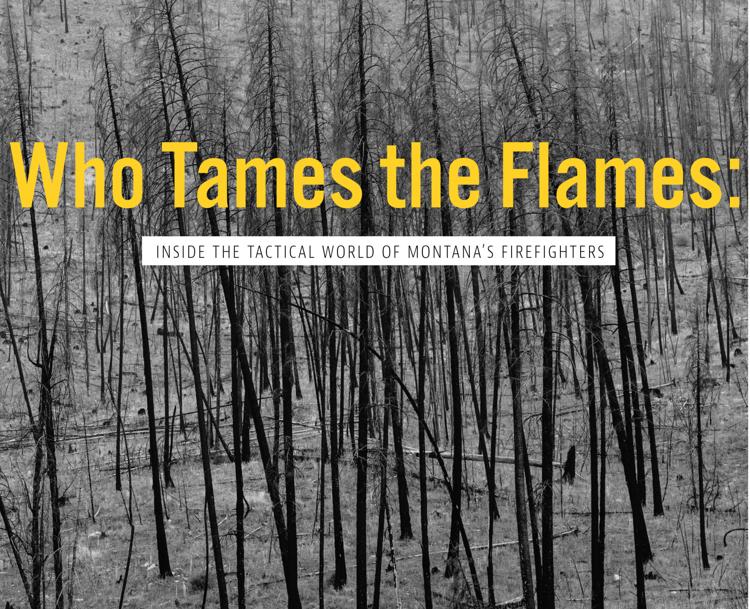 Packing only 10 pairs of underwear, 10 pairs of socks, five t-shirts and his toiletries, Canyon Hohenstein, a 20-year-old economics major and student senator at the University of Montana, left his comfortable world behind for life in fire camp. 
When he arrived, he was greeted by an open field scattered with tents. Unsure if he would be gone for days or weeks, Hohenstein put on his best attitude to greet old friends — fellow firefighters, long missed during the off-season. 
Out of range for cell service and often without access to a shower, the long, exhausting days eventually started to feel normal, but waking up at 5 still felt just as early. When he returned to camp after midnight with his fellow firefighters, they sat down to eat another stomach-churning dinner. 
Despite the late hour, Hohenstein and his crew played their favorite game. He pulled the most essential item from his bag — an axe handle. It's covered in duct tape and missing the blade. Hohenstein and his buddies passed the time by throwing it to each other. It flew through the air left to right, as the crew carefully perfected the way each of them snatches the handle's tape. 
When firefighters like Hohenstein are living at camp, this is what they're left to do. They pass time playing with an axe handle because, as Hohenstein said, "You gotta make the best out of every situation you're in."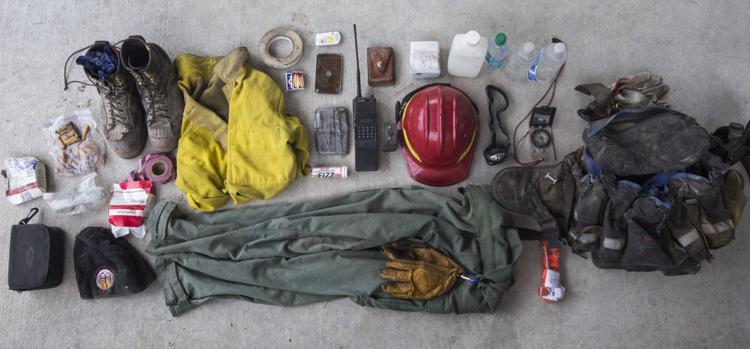 More than a dozen fires burned within 100 miles of Missoula this summer. Spanning more than 450,000 acres all together, the wildfires burned over twice the area of New York City, according to the National Wildfire Coordinating Group. 
Almost all of these fires, including the Lolo Peak, Rice Ridge and Liberty fires, started in mid-July as a result of lightning strikes. As of Monday, September 18, they are still active. 
Fighting fire requires thousands of crew members, huge amounts of funding and months of dedication. Such extreme burning also caused Missoula and surrounding areas to struggle with hazardous air quality due to smoke. 
But there's more to the story than just the impacts of fires on Montanans. Each year, thousands of people excitedly and optimistically come together to stave off the fires as best they can, to protect both the people and land of Montana. 
Mike Goicoechea left the line of scrimmage in Washington-Grizzly Stadium in the mid-'90s for the front lines of wildfires raging through the U.S.
Goicoechea didn't expect to become the deputy incident commander for the Rice Ridge fire near Seeley Lake. In fact, he thought his Health and Human Performance degree would lead to a career as a teacher and coach.
"The first fire you go on, you get what we call 'the fire bug,'" Goicoechea said. "There's adrenaline in the hazards and the danger and the excitement."
However, it wasn't just the rush that made him fall in love with fire, Goicoechea said. What made his time as a firefighter meaningful was the strategic components that reminded him of his passion for football. 
Goicoechea played for the Griz from 1990-1994 as strong safety. Goicoechea was followed by his younger brother, Sean Goicoechea, whose strength in the same football position was critical to helping UM win its first Division 1-AA national title in 1995. 
When we sat down for an interview, Goicoechea took me to the office of his colleague without telling her. Goicoechea has bright blue eyes, and is one of the few wildland firefighters I've met with closely trimmed facial hair. He has robust shoulders and dark grime on his clothing. He speaks slowly and draws diagrams in my notebook as he explains how to fight a fire. 
As the deputy incident commander, Goicoechea's responsibility is the overall management of a fire through determining objectives and strategy, setting priorities, authorizing incident action plans and other key duties, according to the National Park Service. 
Goicoechea said firefighting goals have shifted significantly from prevention and suppression. Wildfire interventionists now work to make landscapes resilient, foster fire-adapted communities and institute safe and efficient wildfire responses, according to the National Cohesive Wildland Fire Management Strategy. 
"When we started intervening, the Forest Service declared war on the fires," Goicoechea said. "People started to realize that fire plays an important ecological role on the landscape and once fires get past a certain point, we don't have the resources to put it out."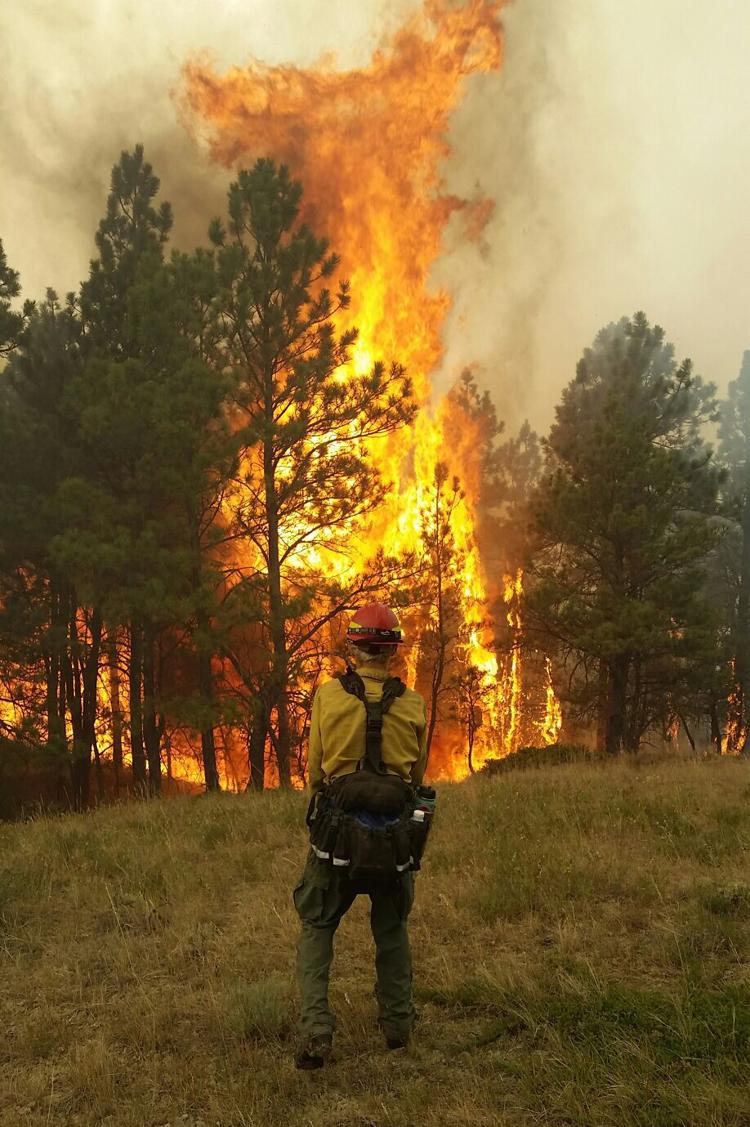 There are three primary fire starters, Goicoechea said: fuel, such as living vegetation and trees, heat and oxygen. These three things must exist in the right proportions to start a fire. 
Goicoechea said that once a fire is started, there are three factors that can influence and control fire behavior: fuel, how much there is of it, topography and weather. All firefighting tactics are based on the fire starters and behavior influencers. 
"We dissect it into segments and try to keep it simple," Goicoechea said. "We say 'you gotta eat the elephant one bite at a time.'"
Goicoechea said the best way to approach fighting a fire is by examining what factors contributing to the fire can be managed. An example of this would be removing dead trees or using resources that are most efficient for the conditions, he said. 
Evaluating priorities is another critical component of deciding how to approach a fire, Goicoechea said. The primary mission of crew members at the Rice Ridge fire has been to "save Seeley Lake," he said. 
Goicoechea said he and his crews carefully decide how to distribute their resources to protect "values at risk." Though he wishes he could protect people, property and critical lands from the harsh flames, he said firefighters do everything they can to knock down the intensity of a fire when it does come into contact with something important. 
Though planning for wildfire season goes year-round, fire analysts were not predicting such an extreme fire season during winter and spring of the past year, Goicoechea said. 
Goicoechea said there was good snow pack that led to good growth of various vegetation in the spring. However, the optimistic winter wasn't complemented with rain in June, July or August, which firefighters rely on to give them some relief during peak fire season. When the rain never came, all the plants that had grown healthy and strong were baked under the sun's rays and dried out, becoming the perfect fuel for burning. 
Ideal strategies weren't going to be enough on fires like Rice Ridge, Goicoechea said. According to NWGC's incident information system for wildfires, the Rice Ridge fire has exceeded burning 160,100 acres as of Sept. 17. In comparison, the entire city of Chicago is only 149,760 acres. 
The Rice Ridge fire and other fires exceeding 40,000 acres on the Lolo National Forest have not only covered huge expanses of land, but also have tremendous height and heat, Goicoechea said.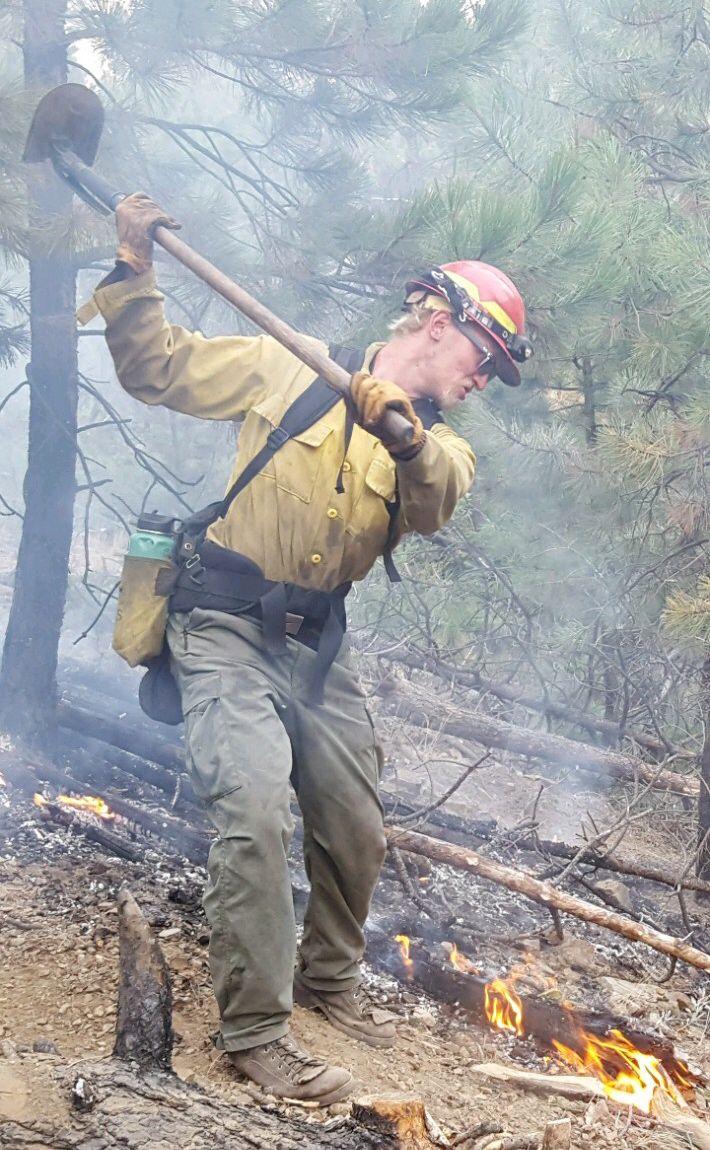 Many fires can be attacked using basic guidelines for what tools to use. Digging lines is an effective strategy for flames under 4 feet tall, while using machinery, such as bulldozers, works well for flames up to 8 feet. Dropping retardant or water from helicopters is successful for flames up to 12 feet tall, Goicoechea said. 
These methods were often useless for fires near Missoula, where flames exceeded 300 feet in height. The best tactic for such an intense fire is to "anchor and flank" by finding a point where the fire has already burned and work to slow the fire from the back and sides, Goioechea said. 
Goicoechea said "there's a human element" to fighting wildfires. Working as a team is critical, especially with what's at stake to lose. 
Charlie Showers spends his spring searching Google Maps for possible fire base camp sites. 
When fire season begins, hundreds of firefighters move to a mini-city of tents, where they will live for weeks at a time. As logistics section chief, Showers carefully plans how he will build a home for these crews from nothing but an empty field. 
Hundreds of tents were scattered around an open field at the base camp of the Lolo Peak fire. At the heart of the camp were about a dozen portable, rectangular office spaces for communications, logistics, supplies and more. Buses and trucks were driving around the camp spraying water to keep the dust down and moving supplies. In the middle of camp sat a wooden stage with large informational signs that are updated daily for the 6 a.m. briefing. A large white canopy draped over the dining area, where the smell of food being cooked lingered in the air. Next to it were two large trailers holding about a dozen shower stalls, each adorned with horse shoes to use as hooks. 
Showers had medium-length dark brown facial hair and cropped hair on his head. He wore the same olive-green pants as everyone else in sight at fire camp. He held one arm over his chest while the other rests on it so he could stroke the end of his beard while he spoke to me. He had a radio strapped to his belt and squinted through the smoke despite it being overcast. His voice is gritty and he laughed each of the three times he told me "you can't build a fire camp without port-a-potties."
Showers said he has to find locations where he can comfortably move in at least 1,000 people. He has only 24 hours to have the space ready for officers and food waiting for crews. 
Showers said pinpointing the right spot can be extremely difficult, especially when his best tool is topography maps on Google Earth. Every year, Showers compiles as many options as possible for camps that are flat and as big as 100 acres. 
Because fire can be such an unpredictable beast, oftentimes the most sought-after location to build camp are schools, Showers said. Toilets, showers and a place to sleep make schools the perfect site for housing crews. 
However, schools may only be a temporary home to firefighters when the academic year approaches, Showers said. This was the case for the base camp of the Lolo Peak fire, which was moved from the Florence Elementary school to an open field across the highway. 
In addition to base camps, some firefighting crews will often live in spike camps, which are much smaller and closer to the fires, public information officer for the Lolo Peak fire Todd Schroeder said. 
Small fire camps might not have the same facilities as larger camps, Schroeder said. As far as large camps go, it's typical to have portable showers and complex office spaces.
Every camp must have, at the most basic level, places to sleep, catered food and medical assistance, Showers said. 
Engine Crew firefighter Canyon Hohenstein said that camp life can be "odd" due to the small amount of time actually spent there and the lack of services. 
"You wake up at 5 a.m., you go have breakfast, then you get briefed and get to work," Hohenstein said. "You might get back around midnight and have some dinner and hang out for a while, maybe play some cards and get ready for the next day."
According to Showers, most services brought to fire camps are brought in by contracted private suppliers. These include catering, showering and port-a-potty companies. Many businesses will devote their services to fire camps to create what resembles a fire supply industry, Showers said.  
Hohenstein, 20, wanted to do something dangerous and unique before he left the small town of Belgrade, Montana for college. When he landed his first job fighting fires in Lincoln, he found all he had hoped for. 
As a firefighter on an engine crew for the Department of Natural Resources and Conservation, Hohenstein began his career in fire only two days after graduating high school. Hohenstein said he experienced "a bit of a culture shock" when he was suddenly on the front lines.
Hohenstein has been fighting fires for three seasons, a choice he said is easy to make each year. He credits his positive experiences on a crew to his fellow firefighters. 
"You live with them, you eat with them, you sleep with them – 24/7 you're with these people," Hohenstein said. "When the season's over, you go your separate ways and you start to miss them. It's always exciting to go back the next year to see those people and see how they've changed."
Hohenstein is tall and lean with platinum blonde hair and blue eyes. The hair above his lip curls up and the sleeves to his jean button-down shirt are rolled up to his elbows. He wore a baseball cap and spoke with his hands. When he got excited to answer a question, he leaned on the table and nodded his head looking for agreement. Hohenstein had nothing negative to say about fighting fire, even when I probed him about his frustrations and fears. He smiled every time he has something to say about his crewmates and repeatedly said his best memories were made while on fire. 
Hohenstein said transitioning between fire camp life and college life can be extremely difficult. 
"You have to be able to go from studying for an exam for four hours a day to all of the sudden the next week being on a 20,000 acre fire working 16 hours a day," Hohenstein said. "Going from fire to school is different. You're doing all these exciting things where you're fighting fires and getting paid to do it but then you're back in school where you're paying to be there and the lifestyle is a lot slower."
Hohenstein and many other firefighters often work 10 to 16 hours a day, six days a week during peak fire season. When he was working in eastern Montana, Hohenstein said he worked 17 days straight and at one point was on the front lines for over 26 hours continuously fighting fire. 
Members of an engine crew will typically have long and demanding work that includes the use of specialized firefighting equipment when on a fire, according to the U.S. Forest Service description. 
The use of such tools and the environment of fighting a fire can be extremely dangerous, Hohenstein said. Despite this, Hohenstein said he has never felt unsafe in a situation he encountered while fighting fire due to extensive training and good relationships with his commanders. 
"One thing they really stress in training is that if you don't feel comfortable doing something, tell somebody and it'll be okay," Hohenstein said. 
Two firefighters lost their lives this summer near Missoula while responding to an incident. Trenton Johnson, 19, and Brent M. Witham, 29, both were killed separately by falling trees. 
Hohenstein said that LCES, which stands for "lookouts, communications, escape routes and safety zones," is "the staple of safety in firefighting." LCES and the 18 watchout situations complement each other to minimize the risk of fighting fires, he said. 
Fire is "a dynamic situation that's always changing," according to Hohenstein. Because of this, staying on the same page with his crewmates is critical to the success of the team. By communicating with his peers, Hohenstein said he can stay safe and sound of mind going into any situation.
Hohenstein said that fighting fire is also a strenuous, exhausting job that isn't right for everyone. However, the experiences he's had and the bonds he's made with his fellow crew members make the suffering well worth it.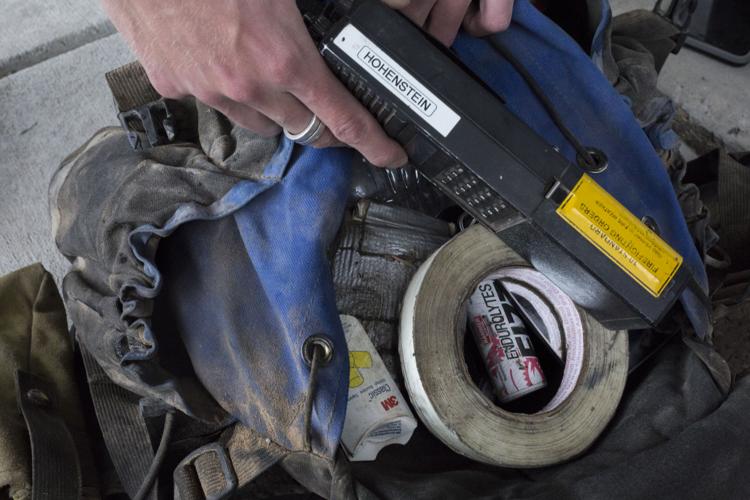 Hohenstein said he is most fond of an incident that happened this summer when his team was assigned to manage a 500-acre fire on Kelly Island near Missoula. 
"In order to get to the fire, we had to wade across the river," Hohenstein said. "We had to strip down to our underwear, throw all of our stuff on our backs and wade across the river. I'd never experienced anything like that in my life."
Hohenstein said that despite the sadness he feels when a structure or life is lost to fire, he is optimistic because he knows fire is critical to the long-term success of the landscape. 
According to the National Park Service, many species depend on fire to reproduce. In addition, it says "fire can create a puzzle-like mosaic of diverse habitats for plants and animals."
"If I see a house destroyed by fire or if I see a life destroyed by fire, it's terrible, but fire is just a natural cycle, it's just part of nature," Hohenstein said. "Though in our lifetimes, we won't be able to see the new forest come back to all it was at before the fire, I still know that one day this burned-up fire I'm looking at will be as beautiful as it was before the fire."
Hohenstein said that the pressure of being a firefighter fuels him to work his hardest. Hohenstein said that the sacrifice of being a firefighter is made bearable despite the frustrations.
"It is my, along with everybody I work with's responsibility to protect people's property, homes and our beautiful outdoors," Hohenstein said. "It's a challenge, but it's a challenge that we've all accepted."
Although it will not be a long-term pursuit of Hohenstein's,  the memories and perspectives he's gained from fighting fires will stay with him through the rest of his life, he said. 
"I remember sitting there on the Lodgepole Complex fires and watching as these hundred-foot trees would just burst into flames," Hohenstein said. "And the feeling is just so exhilarating and so exciting as you're witnessing this amazing spectacle of mother nature ... I've always told myself that nothing will ever be as exciting as firefighting was."