Love is not an emotion most people feel after being pepper-sprayed. But for Bekah Redinger, it was. Well, after the burning subsided. 
It was a warm summer night in June 2021 when Redinger decided it was finally time to attend a public social gathering. He'd stopped going out after the pandemic hit, but was excited on that night. He was looking forward to hanging out with other people and enjoying the atmosphere around him — and then the pepper spray hit. 
Redinger was one of many Missoula locals who were assaulted at Imagine Nation Brewery's back patio during its "Queers and Beers" night last summer. The night was supposed to be one for Missoula's queer community to enjoy each other while sipping beers and kombucha. Instead, it turned into a night Redinger won't soon forget.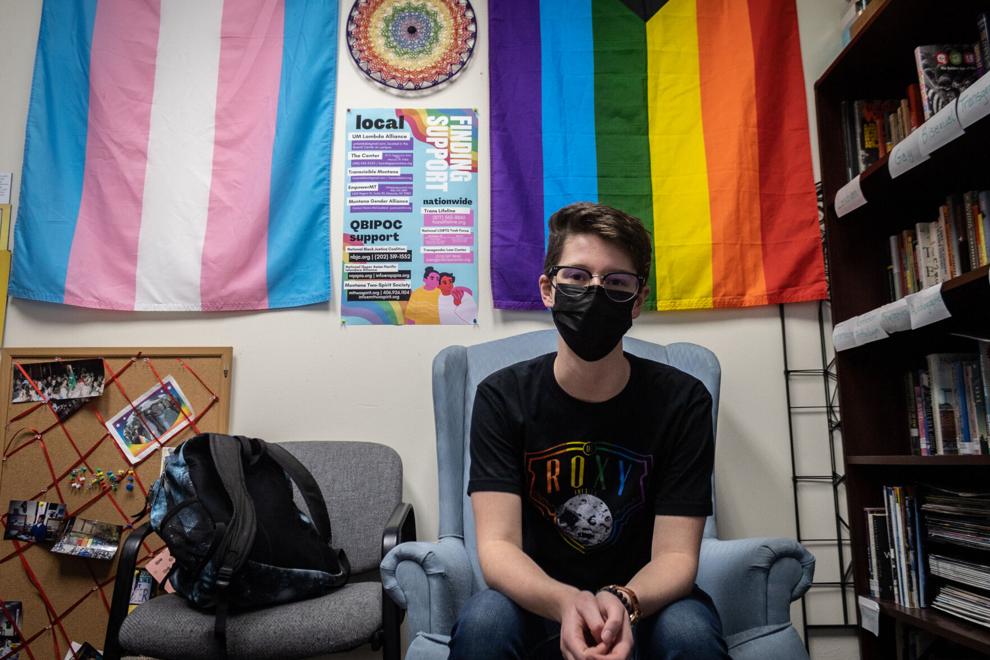 The hate crime threw Redinger off, and it was horrible, he said. The person who pepper-sprayed the "Queers and Beers" night wasn't caught. But for Redinger, the reaction of the people around him was something he hadn't expected. 
"People really leaned into each other, everyone who was there immediately was like, 'Okay, these are people I have to take care of,'" Redinger said. "That's what's so great about the Missoula queer community — is that people instinctively do that."
But an anonymous pepper sprayer is far from the worst antagonizing force in queer people's lives, especially in Montana. Last year, the 2021 state legislature signed a number of bills into law that raised concerns for the queer community — from House Bill 112, the Save Women's Sports Act that stopped transgender people from competing in the sport of their gender identity, to Senate Bill 215, which allows discrimination against queer people on the basis of religion. And just last month in Billings, a school board caught heat for having LGBTQ+ books in high school libraries. 
These attacks haven't stopped Redinger from proudly claiming his identity as a queer person. 
Redinger is the president of UM's LGBTQ community and advocacy group, Lambda Alliance. As president of the group, he leads the promotion of queer-friendly events. He also provides resources and education aimed at visibility and acceptance of the queer community. 
After the pandemic, Lambda had fizzled out. This meant there was no student-run queer outlet for UM students. So Redinger, who identifies as transmasculine non-binary and bisexual, stepped in to revive the group in the fall of 2020 after a long stint of no events or meetings.
He didn't want to take on the role at first. But when he realized what was at stake, he decided to dive into bringing Lambda back to life. 
"It is hard enough to be gay in Montana, especially as a kid and on campus, so why wouldn't I just make a space where we can have fun and be ourselves and enjoy sitting with one another?" 
With a blank slate, Redinger created a new philosophy for how the group would interact on campus: putting all its effort toward creating queer joy.
Growing up, Redinger didn't have much of that. He was in the closet most of high school, but when he began college at UM, Redinger knew it was finally time to be who he is — and advocate for others like him to feel the love that comes with accepting their identities. 
Valentine's Day has historically been a holiday centered on capitalism — disguised as a way to flaunt a relationship through gift-giving, dates and romantic gestures between two people. But love and romance don't always fit in one easy box. 
For queer people, love comes from a variety of places: relationships, friendships, family. And despite the hardships, they still proudly celebrate their love in their own ways. 
Queer on campus
Devin Carpenter was standing outside the University of Montana's University Center in 2015 when his friend texted him the news: The Supreme Court had just legalized gay marriage in all 50 states. 
In "Obergefell v. Hodges," the court ruled that "The Fourteenth Amendment requires a State to license a marriage between two people of the same sex."
When Carpenter heard the news, he had been openly gay for a while. He came out during his time as a student at UM.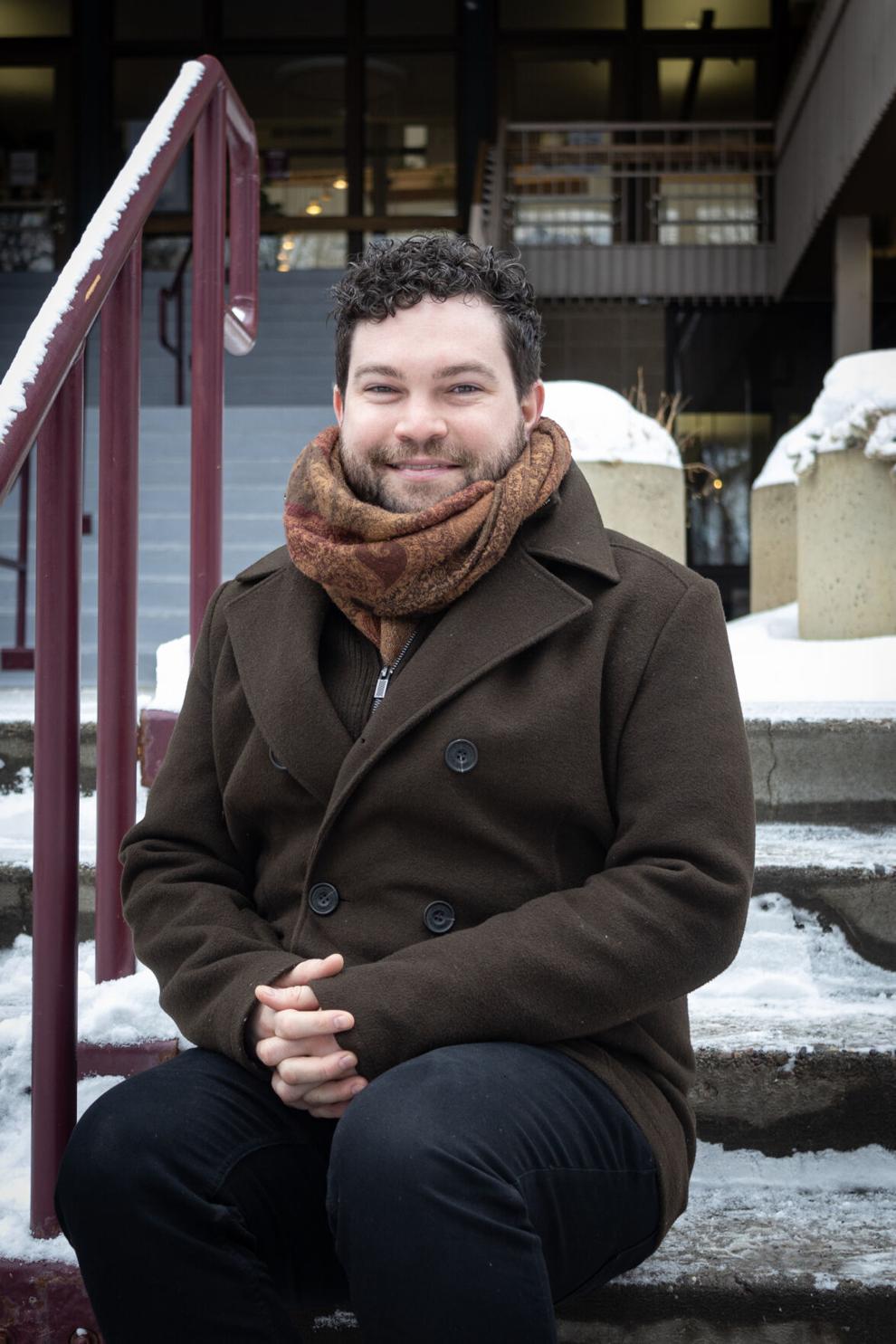 Now, years after he was a student on campus, Carpenter works as the director of New Student Success. He also serves on the executive team of UM's Diversity Advisory Council and is a member of UM's Outfield Alliance. 
Carpenter uses his position at UM to be an activist for queer people and other groups that experience discrimination on campus and across Montana. 
"We're sort of an invisible community, because unless you know something about someone — there's no way for you to know that someone's part of the community," he said.
For Carpenter, pride in who he is as a gay man — even before he was given the right to marry — has shaped his life into one of activism and understanding that every person has a different journey. He hopes students feel safe on campus to be who they are, and he wants to be a resource to students who need it. 
Organizations like Lambda, Outfield Alliance, UM Allies, EmpowerMT and the Western Montana Community Centers are some of the many places on campus and in Missoula that organize to support queer students and Montanans.
Lambda and other queer advocacy groups host meetings and special events for holidays like Valentine's Day as well. 
Lambda is hosting "Drag Night," on Friday, Feb. 11. The event will feature drag performers from the Imperial Sovereign Court of the State of Montana — a group that aims to educate and advocate for LGBTQ+ people through drag — and UM students. All are welcome to join.
"It is Valentine's themed, but it's also self-loving," Redinger said. "Anyone can come, anyone can enjoy themselves. You don't have to be queer — you can literally just be yourself." 
The rainbow-themed "Heart Throb 5K" hosted by the Western Montana Community Center and Run Wild Montana is a run/walk on Saturday, Feb. 12. A portion of its proceeds will go back to the center. The event is meant to be an open, affirming environment for people of all sexual orientations and gender identity expressions.
Carpenter said this Valentine's Day, he hopes queer students understand love doesn't only exist in a traditional form — it takes all shapes and sizes, all sexualities and genders. 
"It's important to know that it's also okay to be uncertain about how you feel about other people, about intimacy, about the kinds of relationships that you want to have," Carpenter said. "There's a lot happening in a student's life in college, and taking some time to explore and feel things out is totally okay — there are spaces that are safe to do that."
For Carpenter, Valentine's Day is more about being grateful for those around you and loving who you choose to love no matter what that love looks like. 
"Be kind to each other. It's okay to be a little uncomfortable and take that leap and go to a Lambda meeting or reach out to someone," he said. "The allies — we're all over campus."
Out and about
Sophomore integrative physiology and exercise science student Tatum McNamara knew she had a crush on her UM track and field teammate's roommate when she met her. But she wasn't sure if the roommate felt the same. 
She did. 
The roommate, Jory Towe, is a junior at UM studying communication. Towe said she never felt the need to define her sexuality or explain her relationships to anyone. But once Towe and McNamara started talking and hanging out, it became obvious they were more than just friends. 
"Last summer Jory and I started talking — and I guess we just haven't stopped talking," McNamara said, laughing.
Towe and McNamara smiled and laughed with ease as they cuddled up on McNamara's couch.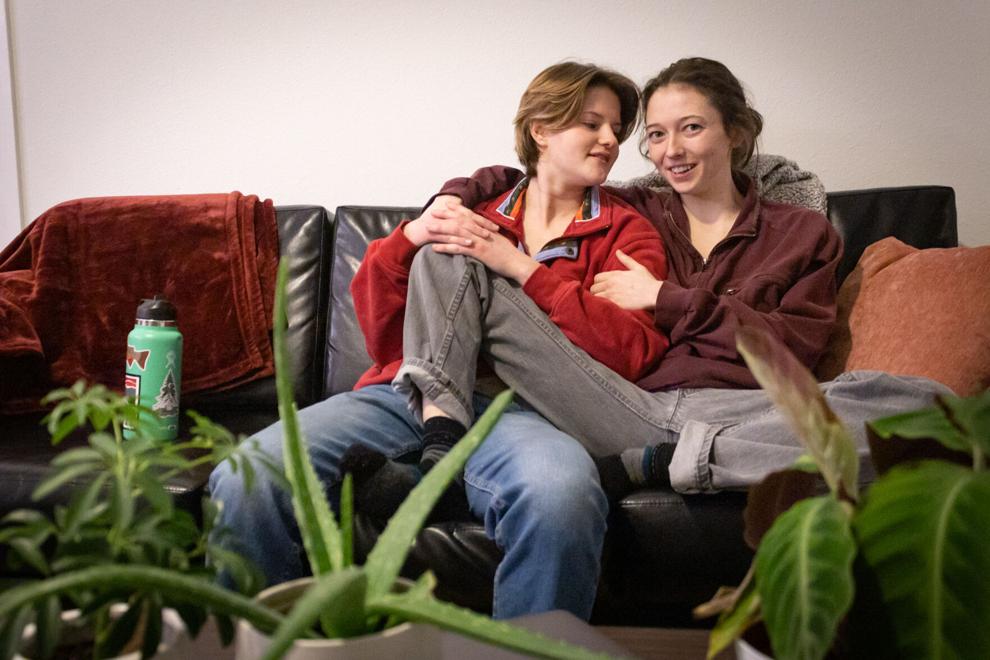 Now over five months into their relationship, McNamara and Towe spend most days together doing homework, going on walks or making dinner and fighting over the dishes together. Since being open about their relationship, the pair have noticed more and more people reaching out to them about their queer experience. 
"I think it's nice to know that there's a community here that is willing to take you in — I've noticed talking to other people about Tatum and my sexuality, that so many people that I didn't know were queer have been telling me, 'I want to start talking to girls, or I want to explore that part of my life,'" Towe said. 
The pair said they feel lucky to go out in public and hold hands and do "couple" activities in Missoula without fear, but know it isn't always the case. 
"I feel like anything out of Missoula is pretty different, but I feel really comfortable in Missoula," McNamara said. "A lot more people are queer than you think."
Towe feels comfortable knowing there is more acceptance of queer people now than there has been before. 
"I definitely think we're in an age where we don't need to define our sexuality, really," Towe said. "It's nice to know that you don't have to call yourself anything. You can just be just how I've been living. It's nice." 
Family time
When Everett Johns gave birth to his daughter in 2019, he always knew he was meant to be a father. 
Johns is a law student at UM, and president of Outlaws, an LGBTQ+ group for law school students and allies. He grew up in rural Montana with two mothers and always understood what it felt like to be seen as different. 
He was assigned at birth as a woman and lived most of his life as one. But something always felt wrong: He was uncomfortable with how his body felt, but didn't really know transitioning genders was an option. 
Not until the social media app Tumblr introduced him to people living openly as transgender did he realize transitioning could be an option. 
"Tumblr, because it was that generation," Johns said, laughing. 
In his late teens, he made the decision to begin transitioning. During that time, he met his now-husband. 
"I had just met my husband who identified as straight at the time. So he thought he was getting into this relationship with a woman. Surprise," Johns said, laughing. 
Though the pair was already in a romantic relationship when Johns came out as a gay transgender man to his now-husband, there was never a question of what would happen between them. They loved each other for who they were, no matter what form that took. 
Johns and his husband married in 2019 and decided to try to biologically conceive a child of their own.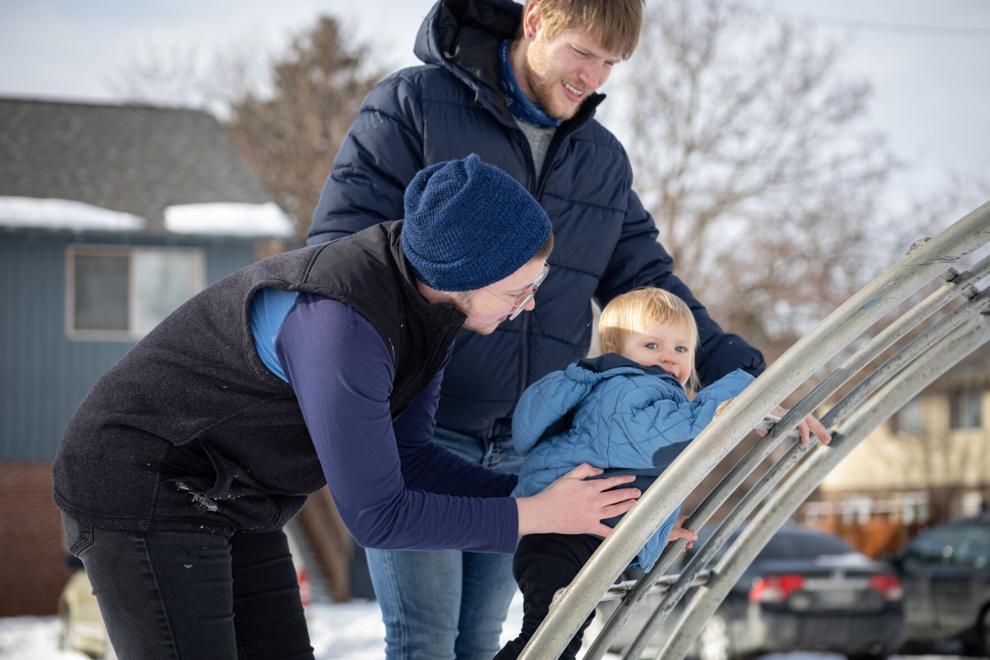 "I stopped taking testosterone and got pregnant," Johns said. "Being pregnant and never really having identified as a woman, I was like, 'Wow, I cannot handle people calling me mommy,' and that really pushed me to be like, 'Actually, I am a man.'"
Today they have an 18-month-old daughter, Faye, who Johns describes as "the light of our lives." 
Johns is proud of the man he has become, and the father he is to his daughter. Johns makes sure his daughter knows that she has two dads. 
"We made that choice early on like, 'No, we're gonna talk to her about it all the time.' We're both her biological parents, even though we're both men," he said.
And he is not afraid to be who he is anymore. He plans to use his law degree to fight injustice, especially gender and race discrimination.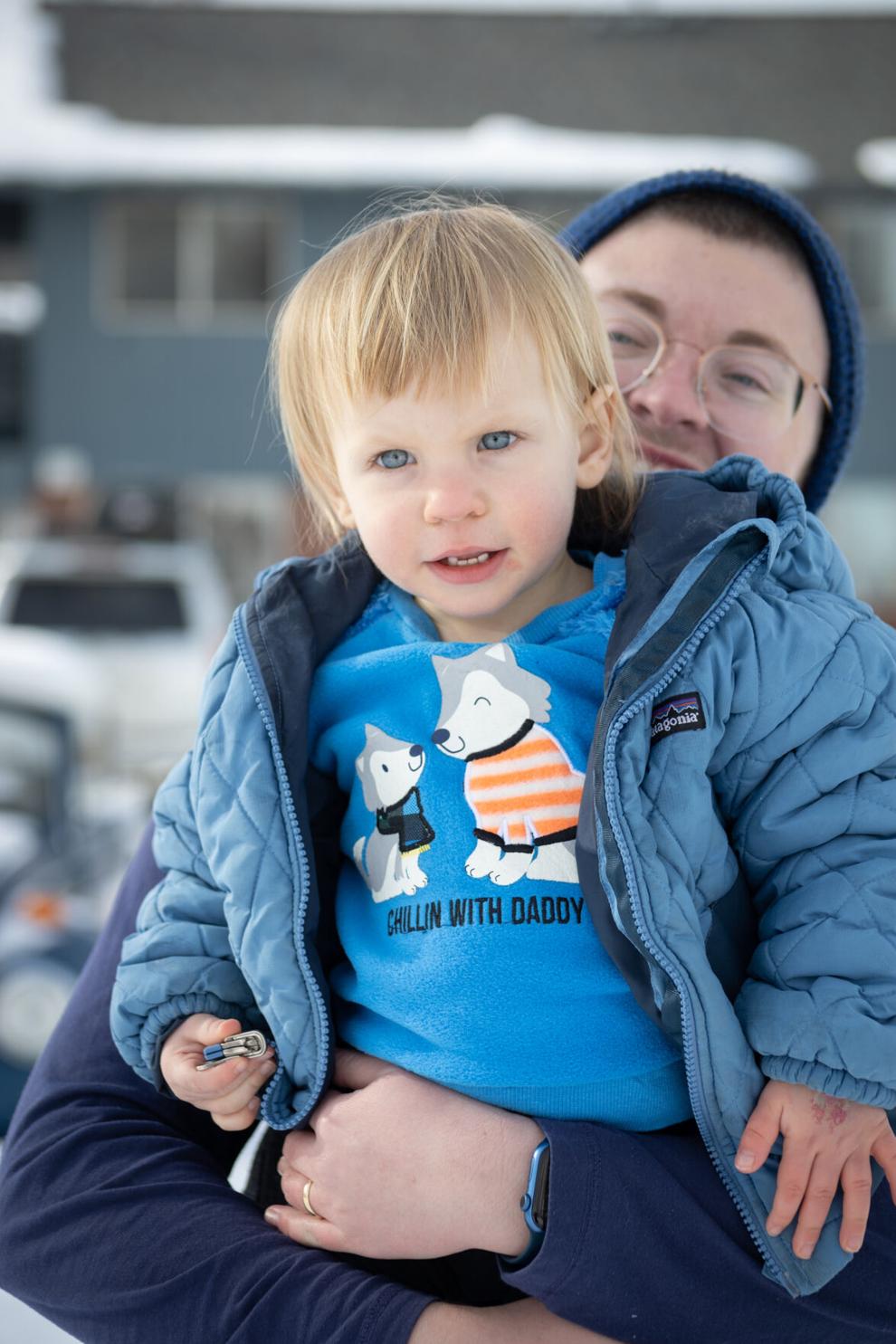 "Trans people can become attorneys — and we can go to law school. We're everywhere — we're important too."
Johns uses his life as a testament to other people who are struggling with their gender. 
"My life isn't perfect. But my life before I came out was just so much worse — I had to hide who I am. There are people out there who will support you and love you for who you are — it really does get better."
Fighting for the future
It wasn't until Zooey Zephyr was 29 years old that she finally found the words to say who she was. It was then a light bulb went off in her head, and she found the courage to take a step toward becoming the person she knew she always was. 
Zephyr is a bisexual transgender woman. Now, four years after coming out, she works at UM as the program manager for the Office of the Provost and is running as a progressive candidate for Montana House District 100. She is running for office to fight social and economic injustices like voting rights, trans rights, housing inequality and climate change. 
Her decision to enter into the legislature was sparked from her own personal experience as a transgender woman in Montana and the struggles she faced to become the person she is today. 
"I had been sitting in fear and been sitting in the questions for so long, that by the time I came out, it was an easy decision to make. Scary, but it's easy because there was nothing else I could be. To not come out was to hide that from the world —  I couldn't do that," Zephyr said. 
Zephyr described coming out as a necessity, and the best decision of her life, but that didn't come without loss and hardship. 
During that time, she left a relationship and was disowned by her family. But the decision to transition never wavered, and she couldn't hide any longer. 
"As tough as some of the fallout was from coming out, my life has blossomed because I have blossomed," Zephyr said. "I think coming to accept your sexuality or gender is a radical act of self-love — and to share that act of self-love with others who have also gone through that act of self-love is magical."
Though Zephyr has lost many people in her life because of coming out as trans — some of whom were important to her — she remains confident in the woman she has become. Through the struggle, she said she found a community that knows who she is and loves her for that. 
"Queer people are here, we're all around, and many of us are living lives, happy lives, full lives. The fears that you have at the beginning are normal. If you are nervous about what it would mean to accept certain sexuality or gender or anything like that," Zephyr said. 
Through becoming more open about her transition and sexuality, Zephyr realized she wanted to help people like her who needed their voice to be heard and who deserved to be loved. She hopes her advocacy on queer issues can help people feel comfortable to be who they are as queer people.
"At the start of my transition, I wondered, 'Will I be loved? Will people want me as a friend? Will I have a community?' And that was 2018. And by the start of 2020, the answer to everything was a resounding yes."
Zephyr wants queer-questioning people to know there is a Missoula queer community that will welcome them wherever they are in their process. 
"You just have so many people who know who they are, and love who they are — and that is beautiful in and of itself. But something that leaves me in awe is when you see an entire community supporting one another, who knows who they are. And it's something special."