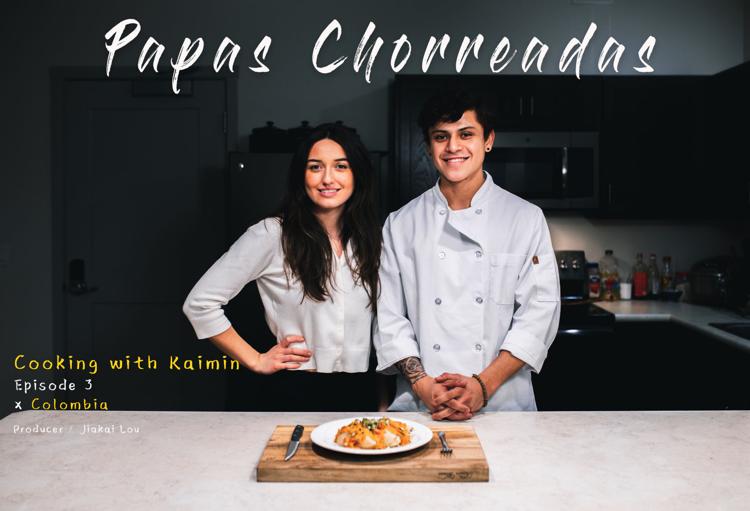 Savannah Anderson is a UM junior studying international business and marketing who draws her heritage from Colombia. Anderson, a first-generation American, was born and raised in Kalispell, Montana. Here, exclusively with Kaimin, Savannah and her cousin David Alarcon, also a UM student, share their recipe for papas chorreadas, a typical Colombian side dish that Savannah's grandma often cooks. 
Papas chorreadas is Spanish for creamy potatoes. It's a dish of potatoes covered with a delicious sauce made with tomatoes, onions, green onions, cream and cheese. Papas chorreadas is also a must as a side dish for Sobrebarriga al Horno, the famous Colombian-style baked flank steak.
INGREDIENTS:
(2 Servings)
2 or 3 potatoes, partially peeled

half onion

one tomato 

chopped green onions to taste 

chopped cilantro to taste 

a tablespoon butter

1 tablespoon vegetable oil

¼ teaspoon cumin

¼ teaspoon salt

¼ teaspoon garlic powder

paprika to taste 

pepper to taste 

1 cup heavy whipping cream

Cheese, usually cheddar but other cheeses can work 
DIRECTIONS:
Partially peel the potatoes. Place the potatoes in a medium saucepan. Cover with water and bring to a boil. Cook about 20 to 30 minutes until tender. Drain and set aside.

While cooking the potatoes, chop tomatoes, onions, green onions and cilantro.

Heat the oil and butter in a frying pan over medium heat. Add tomatoes, onions, stir often and cook for 5 to 7 minutes. 

Add cheese and cream to the pan. Mix well, turn down the heat and cook for 3 minutes or until the cheese has melted. 

Place the potatoes in a serving dish.  Pour the sauce on top. Put the chopped green onions and cilantro on top.