On a frozen November morning in Missoula, Montana, a woman in a pair of thick-soled shoes picked her way carefully across a bed of river rocks near a winding branch of the Clark Fork River. In her gloved hands dangled a pair of garden trimmers. As she worked, her breath formed glittering clouds in the air. 
Snip.
Snip.
Methodically, she trimmed away thin, pliable cuts of willow from the leafless shrubs that lined the riverbank. Her movements were quick and precise, and she wasted no time collecting her materials for the day's project.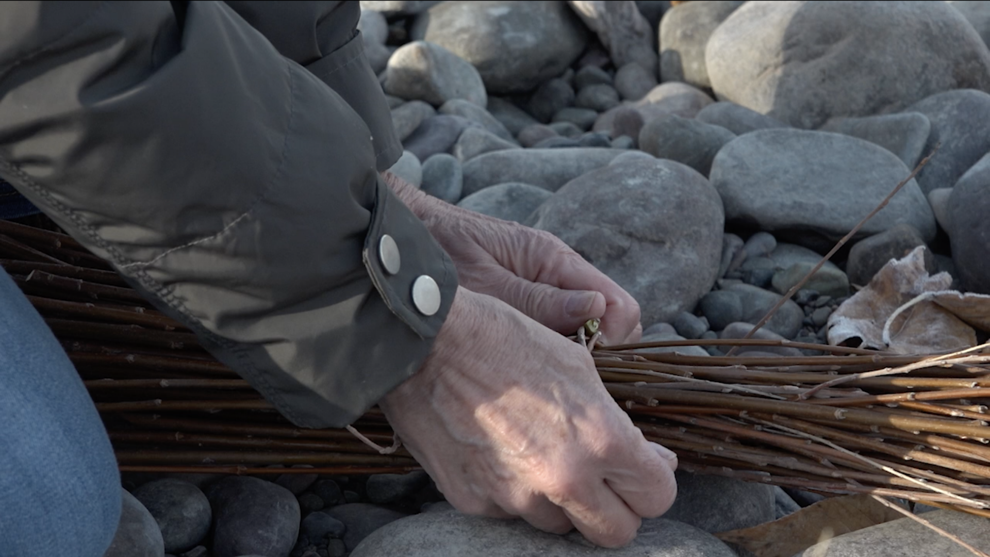 Valerie Veis was cutting willow for a basket, one that she would weave in hours-long sessions, here and there, for the next few months. When it's finished, it could go any number of places alongside her paintings — a craft store, a gallery or perhaps even the Great Western Living and Design Show in Great Falls, which attracts art aficionados from around the world to view some of the best craftsmanship in the West.
But, before she soaked her willow and reed and took to weaving, Veis spent time simply enjoying the morning.
"I love being outside," she said. "I mean, it's where all my inspiration comes from."
Veis, 64, remembers a time when she was a little girl and would walk along a similar river with her stepfather. The birch trees terrified her, their bark appearing to twist into peering eyes that watched her. But, as she grew up, she found herself drawn to the images the trees evoked, painting them into her work alongside horses and, eventually, Native American faces.
For half her life, Veis's attraction to Indigenous art and imagery was inexplicable. 
For half her life, Veis did not know she was Indigenous herself.
The Past in the Past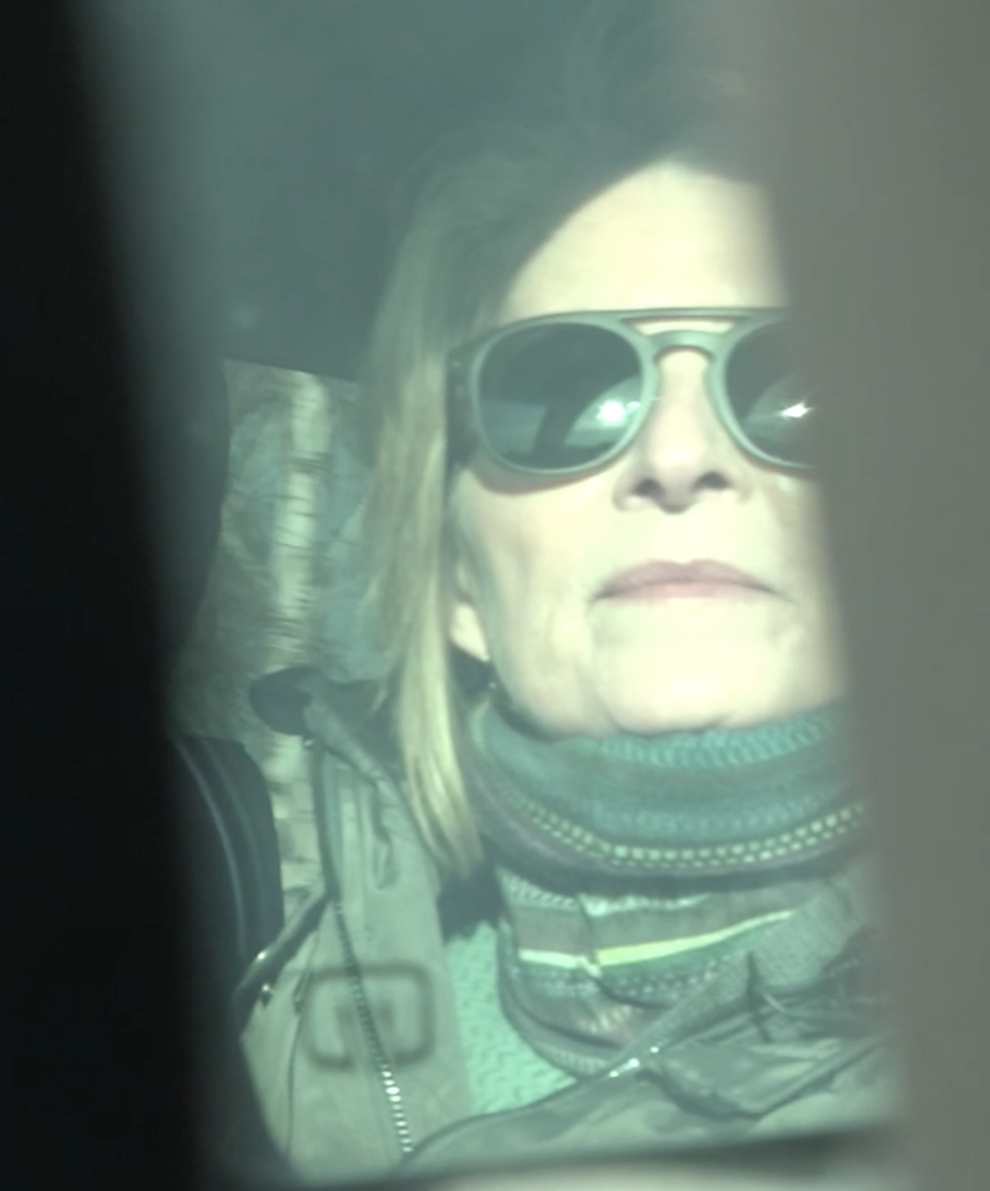 After she had cut enough willow on that morning in 2021, Veis and her husband, Brad, walked back to their truck in the parking lot at the trailhead, side by side. After they loaded their supplies, they wove their way back through the streets of Missoula.
That day, they took the long way to their home in the hills just out of town, soaking in the sunlit vista of the mountains.
Veis has lived in Montana her whole life, and for much of it in tiny highway offshoot towns like Scobey, Circle and Fairfield. Growing up, she said she had no memories of her birth father, who left the family before she was school-age. But, even as Veis aged and her mother remarried and the family grew, she said the topic of her father was never broached.
"I grew up in a generation where parents didn't talk about anything," Veis said. "You just left the past in the past."
Years passed, Valerie and Brad married and had two children, and, when their daughter was nine months old, Veis traveled to Great Falls on a whim and enrolled in an adult education basket weaving class. During the six-week course, something clicked. 
"I just fell in love with it," Veis said. "I think I probably took that class twice."
Veis began weaving baskets regularly, developing her own style and technique and improving her craft with each weave. Eventually, as baskets filled the family home, friends began to suggest she should get them out into the world.
Veis had grown up immersed in a world of hand-made art. She recalls her mother making carnation corsages out of Kleenex that she would take to school and sell for Mother's Day, and her grandmother taught her to embroider. After an order from a gallery in Helena, Veis knew her baskets could be more than just a hobby — it could be a business.
"I knew I needed a name, and I didn't just want to have 'Valerie Veis,' because I make so many other little art things," Veis said. "I mean, I'm from Montana, and I make baskets. So that's how Montana Baskets was born."     
"It All Made Sense"
When the Veises arrived back at their home, Valerie brought the willow she cut into the garage and placed it in a bin to soak with the reed she planned to use in her basket. As the blue morning sunlight filtered through the narrow windows of their garage door, Veis sat in a wooden chair and began to wrap her fingers with Band-Aids. 
"For protection," she explained. After decades bending and pulling unruly reed into basket shape, she said she needs the support.
Veis leaned over, elbows on her knees, and began to form the base of her basket. When she completes it, it will join the hundreds she estimates she's made in the years following an event that changed the course of her life.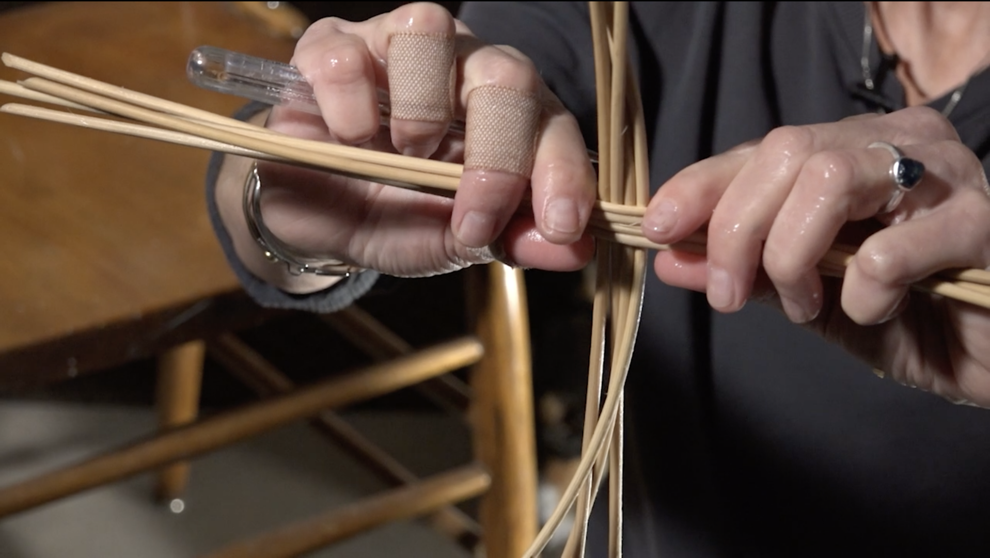 In 1987, when she was 29 years old, Veis got a call. Her brother, Terry, had been in a terrible car accident, and was dying in a Billings hospital. Within hours, Veis and Brad and their newborn son found themselves at Terry's bedside, and Veis encountered an unexpected face — her father, Alex Laroque, who she hadn't seen since Terry's wedding more than a decade ago.
But it wasn't just her father. With him were two Indigenous women she would later learn were her aunts. 
After her brother died, Veis became fixated on an idea, something she'd only heard in offhand comments from her grandmother as a little girl:
What if she was Indigenous?
The thought consumed her as she grieved and began to write a new chapter with her baby boy.
"I had this new baby, and when I went to fill out the baby book, I realized I didn't know who the other side of the family was," Veis said. "It was really important to find out who I was, so I could share that with my children."
It was a time before Google, so Veis's research was analogue. She wrote letters to tribal officials, asking for records. The responses sometimes took years. 
"Maybe you're part of the Turtle Mountain [Band of Chippewa Indians]," Veis recalled one message suggesting. "Maybe you're up there at Rocky Boy."
Veis soon realized she'd need more than speculation to get answers — she'd need to acquire her father's birth certificate. But with no communication with Alex, the court would have to come to her aid.
After years working through the courts, a judge in Great Falls ordered the release of the certificate in the early 1990s. It showed that Alex was an enrolled member of the Little Shell Band of Chippewa Indians.
"And here, lo and behold, some months later, this paper came back that said, 'Yes, you're eligible for enrollment in the Little Shell Tribe of Montana," Veis said.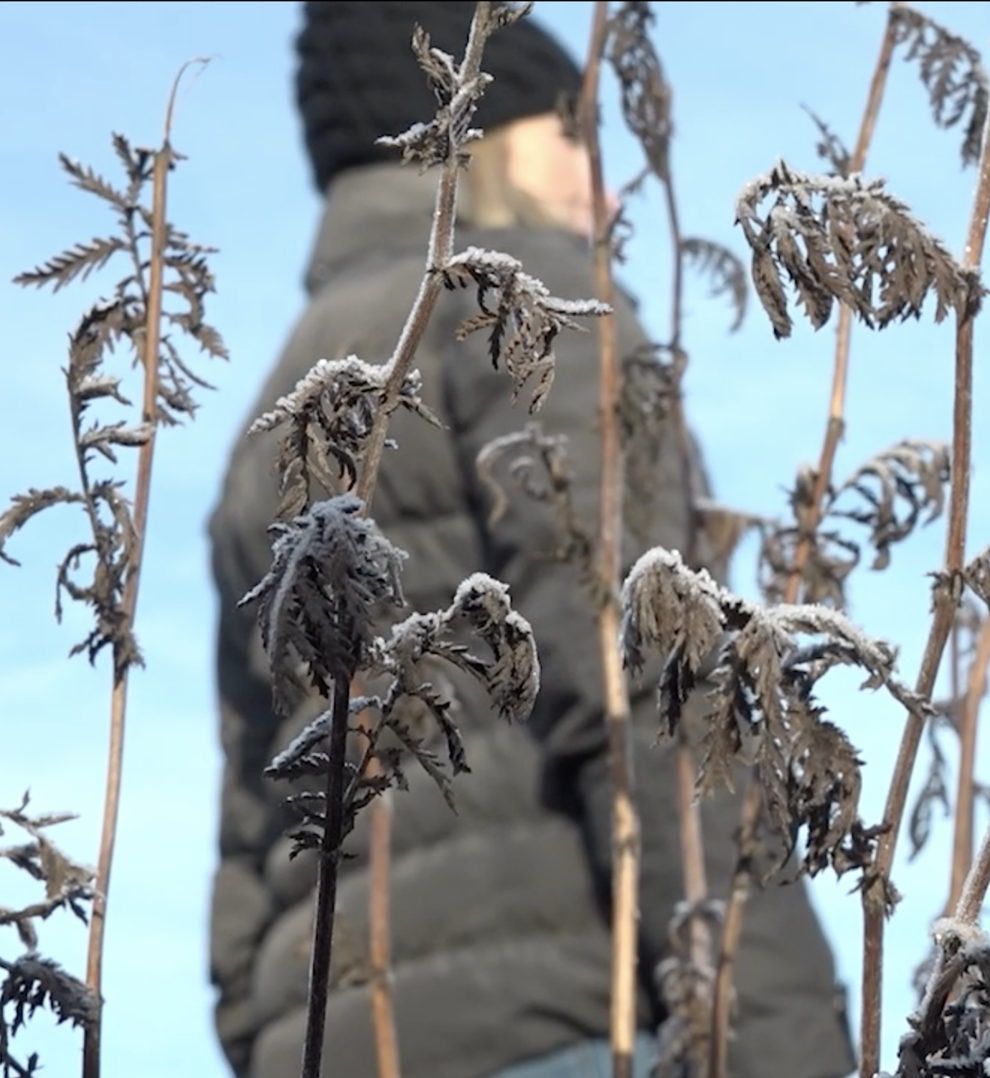 The revelation didn't change much about Veis's daily life, but it did change the way she interacted with her art. In the years since, she's learned to bead, incorporating Indigenous beadwork into her weaving. She paints tipis and stylized portraits of Indigenous people bursting with color. Pottery and sculptures and books on the languages and cultures of various tribes pack the shelves and walls of her and Brad's home.
"Finding out about my Native heritage really answered a lot of questions for me," Veis said. "Why I was attracted to certain sounds, music, art, it all made sense."
Veis has used her discovery as a launchpad for a journey into a world of traditions and art she could never fully embrace without knowing her Indigenous heritage — and she finally got to fill out that baby book properly.
A Family Business
In the garage, Veis's daughter, Natalie Williams, joined her, bringing a mug of tea. They'd been sipping all morning, swapping stories and commiserating about the COVID-19 pandemic. Williams and her husband are preparing to move into a home of their own in Missoula, and Veis said she's thrilled to keep her daughter and grandbaby nearby.
In the garage, the Veises set up a display of Valerie's artwork. It's not just hers, though — Williams has work of her own she displays at shows alongside her mother. 
Williams said she's always remembered her mother as an artist. Growing up, Veis would take her to museums and art shows, and Williams was always drawn to the beadwork she saw on display.
By that time, Veis had been learning more about her place in the Little Shell Band of Chippewa Indians, and worked to engulf her children in an environment of art and music, hoping they would find a similar love. In 2015, she finally got the chance to impart some of her love for craftwork to Williams when the two enrolled in a beading class through the Little Shell Tribal Office in Great Falls. Williams proved to be a natural, and soon, the two were attending art shows side by side.
"Some of the first necklaces I sold were when I was in elementary school in a van at the farmers market in Great Falls alongside my mom," Williams recalled, "And so to be able to share my own beadwork at art shows with her now is just a full-circle moment."
It's also a full-circle moment for Veis.
"I did not grow up in native culture. I mean, everything I've learned, you know, has been through speaking to elders within the Little Shell Tribe, within the community itself," Veis said. "So it was really important to me for my kids and my grandchildren to know their Celtic identity, their Norwegian identity, their German identity in their Native identity through art."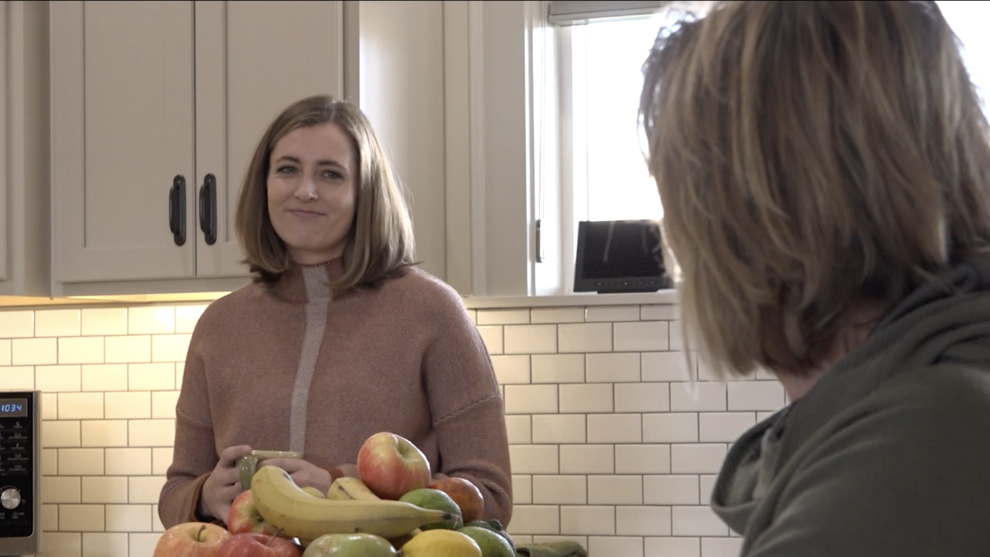 "It's Who I Am"
Veis isn't sure when she'll stop weaving. She knows she's not getting any younger, and if the Band-Aids are any indication, her fingers won't be able to handle the strain weaving causes forever. She knows she'll keep painting and plans to renew her interest in embroidery. But the "Baskets" in Montana Baskets may one day cease to exist.
Veis is preparing for that eventuality. She's set aside baskets for her children and grandchildren to have for themselves — "Maybe they'll want them," she said. And some of her baskets hang on her own walls, reminders of a hobby that became a business that became an inextricable part of her experience as an Indigenous woman.
But, for now, Veis's fingers will hold strong a little longer, permitting her to finish baskets in her own time.
"My art experience for me is therapy," she said, tearing up. "It just calms my soul. It's who I am."