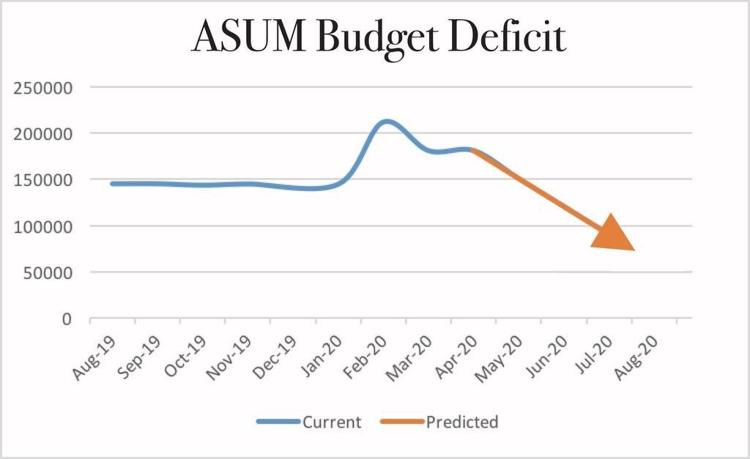 UM is preparing for the possibility that fall classes will begin remotely, and ASUM anticipates a deficit of at least $150,000 as student retention and recruitment next semester remains uncertain.
Funding ASUM personnel, including agency and ASUM employees, in response to campus closures will be an effect of the "inevitable" deficit, according to ASUM President Abbigail Belcher. Additional waived ASUM fees for students, like legal fees and consumer debt problems, will also contribute to the deficit. But Belcher is also concerned about enrollment numbers dropping, resulting in fewer fees brought into the association.
ASUM Final Budgeting, a yearly allocation of funds for all agencies and student groups apart from ASUM Transportation, is supported by the mandatory ASUM activity fee. All students pay the activity fee every semester. The fee is the primary source of funding for the six ASUM agencies and more than 150 student groups on campus. But fewer students enrolled at UM means the association receives fewer funds to support student groups.
UM is currently planning to welcome students back to campus in fall 2020, said Cathy Cole, vice president for enrollment management and strategic communication. She said the UM Enrollment Management sector, which consists of multiple enrollment and communication directors, and other UM staff are reaching out to prospective students via Zoom and social media to "help students see the options they have for this summer, this fall and into 2021."
However, if UM is unable to enroll students into courses on campus because of COVID-19, the University is planning ways for students to start class remotely. This could mean incoming freshmen would start school online at affiliate UM institutions like Helena College and Montana Tech. It could also mean freshmen would get an earlier start at UM through the summer session. All of these options, Cole said, would give students the chance to start school and then transition to UM when the time allows.
"In short, we are working with students where they are, literally and figuratively, to begin an academic career at UM while meeting their intellectual and physical needs," Cole said in an email.
However, the University's plans for the next academic year are still largely uncertain. UM Enrollment is working to field student questions and concerns on a variety of platforms.
"No one can predict what will happen in the fall and how this crisis will impact our future members of the UM family," Cole said.
The immediate and lasting effects of COVID-19 on students and UM could include a drop in tuition revenue and fewer student fees supporting on-campus services and dining halls, the Missoulian reported last month. In response, Montana's state budget would suffer.
Enrollment has dropped at the University of Montana 40% from its record high of 10,567 students in 2011 to 6,321 students in 2019, the Montana Kaimin reported earlier this year. In a bill passed in January, the ASUM Senate wrote that the revenue collected from the activity fee has decreased alongside enrollment over the past 10 years. Students saw this effect in final budgeting this semester.
This fiscal year, ASUM allocated $60,000 less to agencies and student groups than the previous year because of fewer activity fees collected. Additionally, ASUM spent $55,000 to backfill costs connected to asbestos levels closing McGill Hall last year, Belcher said. ASUM runs a daycare center in the basement of McGill.
According to Belcher, while all of the requested funding in final budgeting was allocated, the ASUM account was left "slimmer." Before the rumors about UM's campus closure became a reality earlier this semester, Belcher believed the ASUM was in the clear.
"Although unfortunate, before the COVID-19 situation, I believe the budget would have been okay in the long run," Belcher stated in an email.
Though ASUM does not currently have a negative account balance, and probably won't as a result of the coming deficit, some accounts could run negative from the student government paying out more than it would gain in revenue, Belcher said. She declined to comment on which agencies could run negative as a result of this. However, ASUM is expected to back-fund ASUM Childcare to support employees in the coming months.
All ASUM agencies collect income from various funding sources, including donations and grants. But Childcare is the only ASUM agency that pays its employees strictly out of fees earned. Since Childcare can't offer its services remotely during the campus closure, its employees are out of work.
Funding for Childcare employees would come out of ASUM's zero-base fund account, which, as of April 8, stood at just over $181,000. According to ASUM's fiscal policy, the zero-base account can't drop below $100,000 to backfund agencies unless approved by four-fifths of the senate. ASUM collects unspent student group funds after each fiscal year and collects activity fees each semester, consistently adding to the zero-base budget. But Belcher said the possibility that this budget could fall beneath $100,000 is now a legitimate concern.
Students will vote on raising the ASUM activity fee later this month. The proposed change will appear among other referenda to raise the fee from $67 to $70, effective fall 2020, the Montana Kaimin reported. The fee increase was intended to appear on the ballot to support existing services and student group funding, the resolution reads.
Belcher said students shouldn't see a difference in ASUM agencies because of COVID-19, but it is critical these measures pass to keep these services consistent and accessible.
"Without those fees, it is extremely difficult to maintain the level of service students are used to and support our student groups," she said in an email. "We've made it work, but it's not sustainable."