The Associated Students of the University of Montana's Senate passed a resolution discouraging the use of online proctoring deemed intrusive to students.
James Flanagan, the vice president of ASUM, authored the "Resolution Urging
University of Montana Instructors to Avoid Online Proctoring," which passed unanimously on Oct. 28.
"There are so many other stressful things going on in students' lives that this intense proctoring of exams is not something they should be putting on students," Kylie Stokes, a senior at UM, said. "There is no real, valid reason for them to take it this far."
Stokes has an online class in UM's School of Speech, Language, Hearing and Occupational Sciences. Five days before the midterm, Stokes learned it would be proctored through the third- party service ProctorU. Stokes said she had two days to register for the service or she'd have to pay to take the exam.
Stokes took the test a few days after registering and said when she clicked on ProctorU's Google Chrome extension she was unexpectedly placed on video chat with a proctor. She said the proctor took control of her computer, closed her tabs and set parental controls.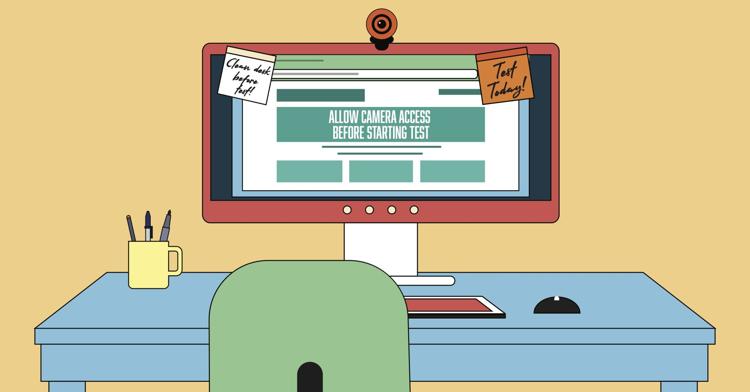 Stokes also said she had to present a photo ID, show her desk, the four walls of her room and was informed background noise could lead to her test being voided.
She said the unexpected live proctor and the feeling that she was expected to cheat caused her to rush through the test.
"I definitely did not do even close to as well as I could have because I was anxious, feeling weird about this thing," Stokes said.
Flanagan said student anxiety is one of the three major issues intrusive proctoring services, such as ProctorU, lead to. He said the other two main issues are the invasion of privacy and the expectation students will have a good environment to take the exam with a clean desk and functioning webcam.
Flanagan is on the Instructional Planning Group, which develops recommendations for teaching this semester during the COVID-19 pandemic. The group sent out best practices for final exams to UM faculty. The best practices are to give open book exams, use essay questions and to do a final project or a timed test when possible.
Flanagan said the resolution is not advocating for in-person proctoring this semester, but rather to start a conversation with faculty over intrusive online proctoring.
"We want to move away from this sort of hostile relationship between faculty and students where it's sort of pitting them against each other with these proctoring programs and instead a more collaborative, compromising relationship," he said.
Flanagan said many faculty were not aware of programs such as ProctorU. The University is not associated with ProctorU, but does distribute a limited number of licenses for the online proctoring service, Proctorio.
Proctorio utilizes artificial intelligence to monitor students testing and flags suspicious behavior that can be reviewed.
It's unclear how many courses at UM are using Proctorio, ProctorU or other similar proctoring services.
Flanagan said the goal is not meant to force professors who have trained and prepared for exams using online proctoring services to completely change their plans. He said the resolution is to further discourage intrusive online proctoring, especially for next semester, and to welcome potential policy changes regarding intrusive online proctoring.
Stokes said it's likely many students on campus have come to terms with this sort of proctoring as an accepted part of online learning.
"People, I think, are too quick to accept that as the new normal, regardless of what it does to their mental health and their test scores," Stokes said.
More news from the Montana Kaimin: