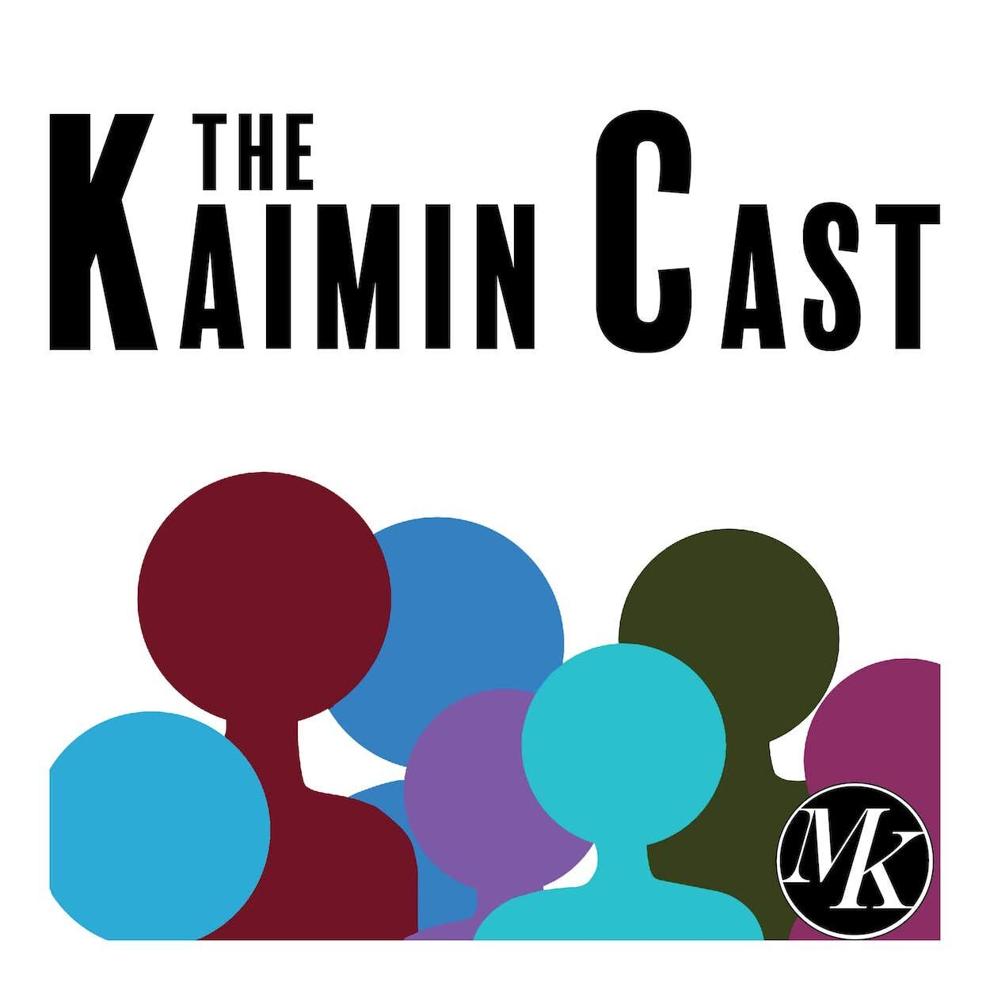 Elinor Smith: From the Montana Kaimin, University of Montana's independent, student-run newspaper, this is the Kaimin ASUM debate.
I'm Elinor Smith. On Tuesday, ASUM candidates clashed onstage in the University Center Theater in a first-ever Kaimin debate. We asked them questions about their qualifications and policies to give students at UM a clearer idea of who's running to represent them at the University. 
Up next is the vice presidential debate. These candidates, paired on a ticket with the presidential contender, will help the president organize the ASUM Senate and advocate policies to the higher-ups at UM.
There are three candidates running for vice president this election: Alexandra Berna, Jack Kuney and Aiden Courtney.
---
Emily Tschetter: All right, everybody. Welcome back to the first-ever, Kaimin-hosted ASUM debate. Here we have vice presidential candidates Senator Jack Kuney and ASUM Secretary Alex Berna. Thank you both for attending. Same ground rules with this debate: you both have two minutes per question with one-minute rebuttals for each. With that, we should just jump right into it, if you guys are ready. We'll start out with you guys having two minutes to introduce yourselves and your reasons and priorities behind running for VP, starting with you, Secretary Berna.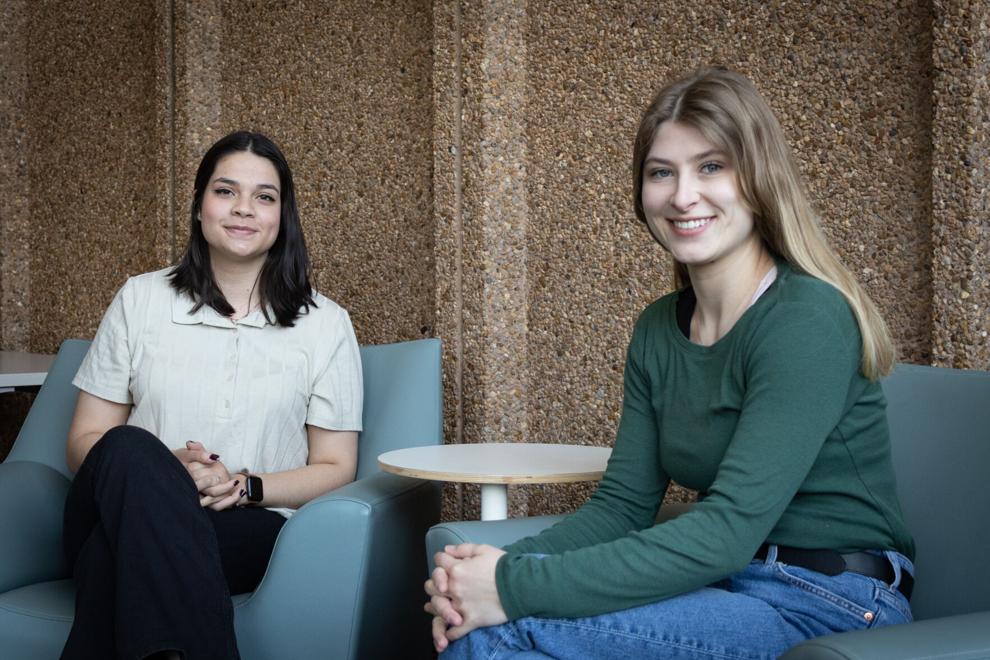 Alexandra Berna: Thank you all for being here. I'm really happy to be here. My name is Alexandra Berna, and I'm the secretary of ASUM and I've been serving with ASUM for nearly two years now. It is one of the biggest joys in my life. The people I've met here have all gotten me to where I am today, sitting in front of you as a vice presidential candidate. A lot of my reasoning for running is that I see the qualities and the skills that I have acquired over the past two years and, honestly, throughout my life as being really valuable in the position of vice president. There's a lot to do with chairing the Senate, but there's a lot outside of that in terms of being able to handle conflict with senators and among the other executives. 
But my biggest reason, at the end of the day, is because I feel the most qualified to serve the students in the capacity of a vice president, not only with my great working relationship with my amazing running mate, Elizabeth Bowles, but I, myself, have a number of skills that are really valuable. And that's something that I've seen over my time in the senate. I've had so much experience not only understanding how a meeting works, and how to chair, but also the different complexities that come along with that, on and off the floor. So I have a really extensive history with that, and I feel like that puts me in the best position to be able to not only serve the senate as the chair, but to go beyond that and serve the students.
I've always been, you know, behind-the-scenes with everything as the secretary, but I've had so many conversations with people about, you know, what bills they want to write, how they can move forward with their advocacy work, and it's something that I feel like I can do on a greater level going forward. I have such a passion for the people that I work with, and I've had the most amazing time with both of the senate bodies that I've served with. So serving the students has always been important to me, and that's something that I'm looking forward to explaining to you all more going forward here. So, thank you.
Tschetter: Thank you. Senator Kuney.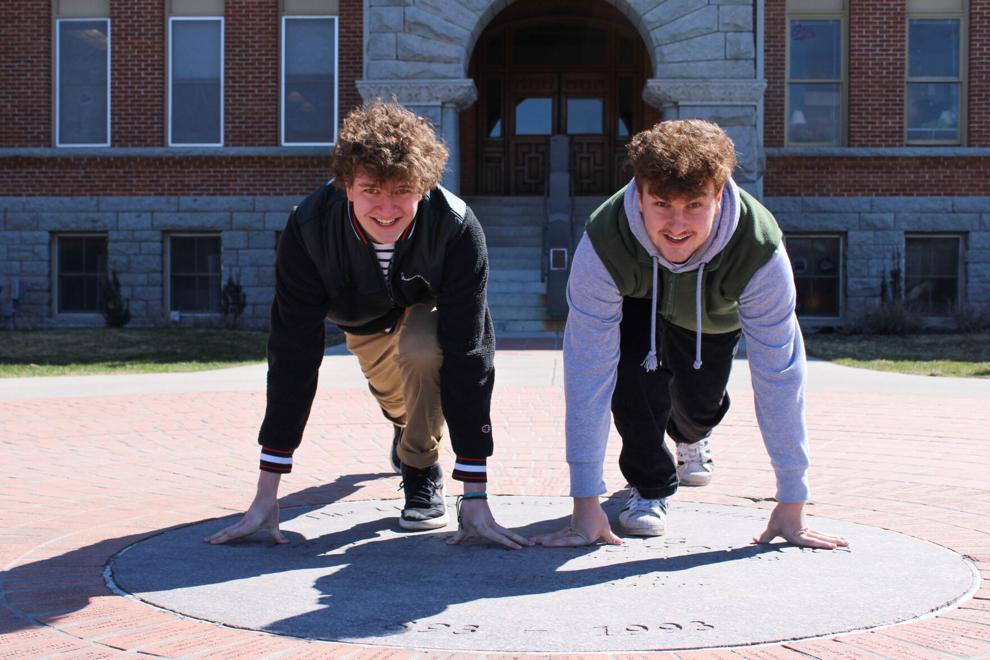 Jack Kuney: Awesome, thank you very much. Well, Noah and I are both very excited and ambitious in our candidacy for ASUM and president and vice president. Our personal relationship spans back to our very first days at the University of Montana. Noah and I were freshman-year roommates and have known each other since basically day one. We've each witnessed each other grow and develop since that introduction. And when I decided to run because we wanted to change the status quo to get students involved and excited about their student government. Noah and I believe that we have what it takes to organize students and to advocate for what the backbone of UM needs and deserves. While I believe that Noah is more than qualified to execute the duties of his office, I'll save that for his debate. What I believe sets me apart from the other candidate for this position as vice president is personability. I'm able to understand many various perspectives, and can weigh different options differently and logically. While I may have strong feelings, I also have a strong willpower to keep my personal conflicts of interest in check and off the senate floor. Being able to see the bigger picture that allows for me to remain impartial while chairing the Senate. 
I'm well-versed in parliamentary procedure, due to my experience with the processes of shared governance. I received exposure to these various processes during my time serving on ASUM as a senator and in participating in various programs such as the American Legion Boys State program, where I was fortunately elected governor and able to practice shared governance from the Montana State Capitol building. I'm confident that I will be able to navigate a complex and stressful legislature with my time spent working as a state senate page. My lifetime familiarity with state politics doesn't hurt, either. As vice president, I want to focus on sustainability, and not just the sustainability of the natural environment in and around Missoula, but also the sustainability of a healthy, safe and inclusive campus here at the University. I have big shoes to fill. There's no question about it. And there have been a number of amazing students serving in this position. 
Tschetter: Time, senator. 
Kuney: Thank you, may I finish up? 
Tschetter: Briefly.
Kuney: All right. I just want to say that it would be my duty to pick up this baton and continue championing for student rights, student interests and student voices. Thank you.
Tschetter: Thank you. Something that's come up this year is the tension between following rules and passing legislation that matters. How will you ensure that politicking and bureaucracy don't get in the way of addressing urgent issues? Starting with Senator Kuney.
Kuney: Thank you. So yeah, following rules and making sure that people don't get caught up in the red tape of things is very important to me and to my candidate partner. So something that I really want to focus on to avoid any confusing bureaucracy is interpersonal conflicts between senators. I think that that is where we've seen the most issues. Serving on senate for the past two years, I've been able to see the good, the bad and the ugly. And so I really want to make sure that the senate has a really strong sense of community that it has fostered, and that I foster. And so that's how I want to ensure following the rules and avoiding bureaucracy, thank you.
Tschetter: Thank you. Secretary Berna, we'll be delineating your time. So you'll have your two minutes and then you can get your option for your one-minute rebuttal.
Berna: I love this question. Because I feel like the word that comes up often in the senate is bureaucracy. It's something that comes up in the internal meetings that we'll have with administrators, it'll be something that comes up when I'm speaking with senators directly. But I think the thing about bureaucracy and ASUM is that we do have rules, but we have certain rules for certain reasons. And if we stray away from them too much, things that aren't great for students tend to happen, and things that don't mesh well with admin also tend to happen. So avoiding bureaucracy isn't necessarily what I would consider a priority of mine. It's understanding the processes that we have — not only the senators understanding it, the executive certainly understanding it, but students understanding it as well. I feel like I've met with many administrators over my time as a secretary, just because I have a lot of personal interest across campus, and I love learning about what's important to students. 
But the thing that often comes up is this idea of red tape and passing things along to administrators. Because that's what ASUM does — we encourage the admin to take action, and to say that we want to completely stray away from bureaucracy or red tape isn't something that ends up being beneficial to students, because those are the processes that admin works with. Those are the processes that the BOR works with. And when we get into the legislative session, those are the same processes that you'll see there. So having a really robust understanding of that is something that not only I have, but I'm certain that I can pass along to the upcoming senate body. It's something that I know, absolutely, my running mate has because we've shared many instances of having to deal with that bureaucracy and we've handled it well every single time. It's not something we shy away from. It's not something I'm personally afraid of either. I feel like bureaucracy in this case is a tool that we can use, and as long as we foster that communication with the student body, I think we're more than okay.
Tschetter: Would you like your minute for rebuttal?
Berna: Yeah, absolutely. I think the main point, not necessarily something that I would disagree with, but I'd like to expound on is the importance of interpersonal conflict management across the Senate body. That's something that is important. Bureaucracy is something that we see so closely during senate meetings, and it's something that extends into our relationships outside of that as a body. But I feel like I can absolutely foster that community within the senate. But that also goes outside of the Senate. Being able to communicate with the student body, what we're doing and why we're doing it is something that ASUM has been lacking in over the past, well, quite a few years, because it's really difficult to address those things with the student body. But I have a number of plans, different opportunities, to make sure that the students understand why we're doing what we're doing, and why it's beneficial to them instead of just going about our processes and not explaining anything to anybody. So it's not only an internal thing to deal with, but it's something that I plan to deal with, with the student body at large.
Tschetter: Senator Kuney, would you like your rebuttal?
Kuney: Thank you. So, yeah, in response to that, I just want to first say that with bureaucracy, one of the most important things that I've noticed in my time serving as a senator is the word "elitism" thrown around a lot. And I think that this word can sometimes accurately reflect the error on the senate. I think that sometimes, when people are caught up too much in the bureaucracy in the red tape of how exactly we say, "X, Y, and Z," how exactly we do this, and that, you lose sight of what's really important, and that's helping out the students. And so while bureaucracy is a tool that can be used to benefit students, it is also a tool that can be overused. And I think that this heavy air of professionalism and elitism that is sometimes associated with the organization is really turning away students, and we wish to change that. Thank you.
Tschetter: Thank you. One big issue is student engagement with ASUM. How do you plan to engage more students in student government? And how can we make campus, frankly, actually care about ASUM? Starting with Senator Kuney?
Kuney: Thank you. Yeah, student engagement is a necessity for a student government. I recently came back from my spring break trip. I went down to California and was able to observe how their student government was set up and how it was operating on campus. And every single student on campus knew exactly what their student government was up to, what it was doing and how they could get involved. And that is our goal for the University of Montana. A lot of students here feel dissociated from the University, and it's important that they know that their student government is representing them accurately and ethically. And, beyond that, we want to make ASUM fun. We want to work with our many great student groups to promote activities both on and off campus, and really foster that sense of community within not only campus, but within the greater Missoula area as well, because students are the greater community around Missoula. And so that's how we really want to focus on student engagement. Thank you.
Tschetter: Thank you. Secretary Berna.
Berna: I love this question, because I can't tell you all how many times I've gone into a classroom or just anywhere where there are students around and if I immediately come out with the question of, "Do you know what ASUM is?", it's really unfortunate that maybe only a few people raise their hands in a large room. So this is something I've thought about extensively over my time on the senate, and I've had the ability to see all the behind-the-scenes work of how we actually engage students with our body and —  I actually went into a classroom the other day and I asked students if they knew what ASUM was and, again, the same response — not many hands. So I decided to ask, "What do you want to see from us?" and, "What haven't you seen from us?" And I think the response I got is that students aren't really asked that question. We have all these ways where, you know, we want to endorse student group events or have them come to our senate meetings. There's a lot of different avenues. But I think what we've been failing to do is just directly ask students what they want. 
I think we have a habit on the senate as a whole of assuming what students want and oftentimes our representatives are correct in what we're looking for. But I think the biggest thing is that there's this drastic opportunity to have these informal engagement sessions with students. It's something that I've done in my time with the body, but just going to students and saying, "Here's how our processes work" — getting them familiarized with that. But what I like to follow that up with is, "What do you want to work on yourself?" Because a lot of time, students will tell us that they don't feel like they have the capacity to carry out the work that is done on the senate. And I always have to disagree, because I feel like every student at the University has not only the ability, but oftentimes the desire to do this advocacy work. And I want to have a lot of informal sessions with students to say, "This is how you write a resolution. Here's our ideas for that." And the same thing goes with our fiscal policy. So there's a lot of room for improvement here.
Tschetter: Secretary Berna, would you like your rebuttal?
Berna: I'd love to. So I'll just follow that up by saying, I feel like there are a lot of students on campus who do care about ASUM. I feel like engaging our student groups is vital. Honestly, at the end of the day, it's something that is really challenging because there's a lot of things that can prevent students from wanting to come to ASUM. And I've spent quite a bit of time thinking about why that is. But I've also spent quite a lot of time going to students in student groups and asking them why they either don't want to engage with ASUM, or what they feel we could be doing better. And that's something that I have a lot of experience in, and I'm not ever shying away from the conversations that I have with people about seeing what they want and what I can do. But I also like to pass the information along to make sure that we're serving students how they want to be served, because at the end of the day, the thing that increases student engagement with us is advocating for students the way they want us to, and that's something that I plan to carry out in my term as the vice president.
Tschetter: Thank you. Senator Kuney, would you like your rebuttal?
Kuney: I could not agree more with my opponent's previous sentiments that students — what they really care about — is the most important thing to bring up student engagement. And I think that when we talk about student engagement, there's two schools of thought: there's student groups, and then students individually. And so it's really important to focus on making all of our bylaws or governing documents accessible and comprehensive to someone who maybe isn't a political science major, who hasn't done Boys State or has no idea what parliamentary procedure is. It's important that not only student groups who actively work with ASUM for funding recognition and other events, but also just regular students know of ASUM, know what ASUM can do and how they can get involved, because that's ultimately our goal: to improve student engagement and make ASUM more fun. Thank you.
Tschetter: Thank you. Nearly every senator on the senate currently is a political science major. So how would you aim to include students from other academic backgrounds on the senate? ASMSU does this by having students represent every college on campus. Do you think that ASUM needs a bylaw overhaul to do something similar to this, so more communities on campus are represented? Why or why not? Starting with Secretary Berna.
Berna: This is a great question, because I'm actually a microbiology major. It's something that people tend to be surprised by, when they realize that I'm a candidate for ASUM. But I feel like the model that ASMSU has is really interesting, and something that I'd love to explore more in the future when I'm looking at the bylaws. But I feel like what would be more helpful with having greater representation in terms of departments on our body is exactly what we just spoke about with student engagement. A lot of the students who tend to be engaged in ASUM are political science majors for a reason, because I feel like there's a narrative across campus that the only people who who have the skills or the desire to be involved in this advocacy work, have a political science background, or maybe a business background, something along that along those lines. But I've spoken with many of my peers in my classes in the health sciences program, and what I've learned from those experiences is that people who want to get involved need to have an awareness that this is work that they can do as much as the next person. 
I've talked to a lot of my friends in my major and in my department, and that I've heard over and over again that ASUM isn't for them because they wouldn't know what they were doing, or they feel like they wouldn't connect with their fellow senators or that maybe our political science majors or have a different background than them. But a lot of my plans are to make sure that all of these students understand that they're more than equipped to do this work and that I plan on fostering an environment where they feel like they can come talk to me, the other executives, their fellow senators and understand that whatever the model is that we have with engaging our students, is one that makes everybody across campus feel like they can be a part of our body, whether that be serving as a senator, whether that be coming to public comment, and writing a student-written resolution. There's a lot of ways to go about that, and that's something I want to look into going forward. 
Tschetter: Senator Kuney.
Kuney: Thank you. Yeah. So, ASMSU does, in fact, do the college-specific senator positions, but don't necessarily think that that's the avenue we need to take. I think a bylaw overhaul is certainly an option for how we could address this problem. But, like Secretary Berna was stating, the biggest thing that we can do is get students engaged in caring about their student government here on campus, we need to get non-political-science majors interested in student government. It's not just a club for those who wish to have a career in politics or administration, or anything like that. It's a chance for students to actively be representing their peers and friends. And it's important to me — it should be important to everyone that we get as broad and representative a range of the University student population that we can. And so that's why it's important for us to expand our reach to make students aware of what all the bylaws do, to make them more comprehensive and restructure them so that even a middle or high-schooler interested in politics or government could look over and see what exactly ASUM does. And with that, I think I'm done. Thank you.
Tschetter: Would you like your rebuttal time, Senator Kuney? 
Kuney: No, thank you.
Tschetter: Secretary Berna.
Berna: I definitely agree with the engagement portion of that. But something that Elizabeth and I have been speaking about during this election cycle is actually taking a look at the elections bylaws, because I feel like the purpose of the elections committee can sometimes get lost. And, of course, this happens every year with these internal things that they have to deal with instead of being able to prioritize engagement with students, because that's where we see a more robust and diverse group of senators coming out. And it's really great to see a competitive race this year. But I feel like there's a lot of room for improvement in terms of what the elections committee has the power to do now, but to also speak about asking students to care about ASUM can be a double-edged sword because they often ask why they should care, and if we care about them the same way we're asking them to care about us. So a lot of what I think we need to be doing going forward is showing support for all the different departments across campus — going to different events that are sponsored by groups outside of political science, and just making sure we're sharing the support across the board.
Tschetter: Thank you. One large issue that ASUM always needs to address is diversity, equity and inclusion. What specific plans do you have to better represent marginalized communities on campus? Secretary Berna.
Berna: DEI is something that I've had a lot of conversations about this year and in the past. I'm not sure a lot of people know this, but I'm biracial myself. So when I have these conversations, the thing I like to lead with is that I certainly don't know everything, and a lot of my peers have a lot of learning to do — I have a lot of learning to do. So in my role as the vice president, I'm always going to make sure I'm holding myself accountable to the fact that I have a lot of learning to do in terms of what my fellow students want. But, in terms of DEI as a platform, it's something that goes so far beyond having as a priority. But it's instead something that we have these really tangible ideas going forward with. 
One of those things is a DEI plan. It's a living plan, as we like to call it — we're adding things to it. And we're going to uphold the accountable steps that ASUM has to do. But we're also planning on proposing quite a few more things that we can do as a body. Something I'd also like to go forward with is something that was passed very recently with the senate. Our current serving senator, Erin Heaton, passed a resolution to fulfill an anti-racism audit with ASUM. And that's something that I absolutely would love to carry out. It's a tremendous idea, and I think it will bring a lot of value to what we do going forward. I plan on using the results of that audit to continue with our plans for DEI across campus. 
And another thing I'm very excited to say I'm a part of and will be a part of in the coming months is the collective bargaining agreement working group. Not every section of that is open, so we can't necessarily look at the things that pertain to the racist professors that we've seen this year. But that's something I plan on working on so we can propose language for future senate bodies to use so that it can be amended to better serve students and make sure that we're holding accountable everybody across this campus, whether it be students, faculty, staff — and that includes ourselves.
Tschetter: Thank you. Senator Kuney.
Kuney: Thank you. I think that, first and foremost, I mean, we just need to address the elephant in the room: Noah and I are white. We are not members of any marginalized community on campus. But that being said, that doesn't necessarily mean that we don't want to or that we don't want to help represent our different student groups. So one thing to ensure that is done to hold ASUM faculty and administration accountable for their words on and off campus, is through the establishment of a civil bench. ASMSU, along with numerous other colleges across the country, all have some sort of judicial system. And this not only alleviates pressure from the Senate and the legislative processes, but also gives students an outlet for their voices to not only be heard, but listened to by administration and higher-ups in education. ASUM currently only has one student committee regarding diversity, equity and inclusion issues. And I think that there should be more that we need to have platforms for students who are in these marginalized groups, students that I do not share the same lived experiences with students that experience racism, microaggressions and discrimination on a daily basis, to give these students a platform to have their voices heard and elevated. Thank you.
Tschetter: Would you like your one minute rebuttal, Senator Kuney?
Kuney: Yeah, so just, in rebuttal, I also want to commend the work of this year's current senate in starting the anti-racist audit. I think that that's an excellent step. There's been numerous other initiatives done this current year that have helped push the DEI issues. We've worked closely with the University while they develop their DEI General Education Plan, and have been working on anti-bias training for senators. So there's a lot of different avenues for future development with the issues. And I'm excited to explore every single one to benefit all our students. Thank you.
Tschetter: Thank you. Secretary Berna, would you like your rebuttal?
Berna: To just speak briefly about the civil bench, the thing I'm fearful for, in that case, is the fact that, as was addressed earlier, we have a majority-white body, at the moment. And that's something that we'll probably see in the coming years. But with a civil bench, I think there's other avenues we can go about, especially upholding our current DEI committee while they do their work. But the civil bench is something I'd like to explore, but I caution in terms of how we select members of that bench to make sure we're actually being equitable. And to go off of that, something that we spoke about earlier with the elitist aspect of ASUM, that's something I would like to address and something that Elizabeth and I have worked on this semester and in the past is being able to pay our senators. Oftentimes, the people who can serve on senate and are able to spend time with us every Wednesday at 6 p.m. tend to be a whiter demographic, and to move away from that would be to incentivize other groups who are willing to advocate for their fellow students, and paying them is the best way to do that.
Tschetter: Thank you. A large part of the vice presidential role is that it's, in essence, a managerial role in the senate. What leadership experience do you have, and how has this prepared you to be in a managerial role, even more than as a politician? Starting with Senator Kuney.
Kuney: Thank you. Yeah, so I can cite a few instances of experience in which I've had some sort of managerial role that would help me best perform my vice presidential duties. The first off is something that I actually touched on earlier, which was my elected appointment to Boys State Governor. And so that was really one of my first instances of exposure to politics and to shared governance, to parliamentary procedure, and to all of this entire atmosphere, and it really gave me a lot to work on. And so, as governor, there's like a tradition every year to try and impeach the governor for Boys State — it's just kind of a thing. And so during my impeachment process I had to remain impartial and really have a sense of professionalism about this, despite not only the goofing around from a bunch of high school boys, but also from a fake governor. And so that was really my first instance of a managerial position. And then the second is my current outside-of-school job right now, which is working at Washington Middle School. I've been working a lot with elementary and middle school-aged kids. And so conflict management comes up a lot, and I think that really helps me to manage conflicts, on the senate floor as well as in the classroom. And so I'm really excited to be given the opportunity to express these qualifications that I believe I have for vice president. Thank you.
Tschetter: Secretary Berna.
Berna: I have really extensive experience in terms of managing different groups, whether that be across the senate or in the past. The thing that everyone tells me about my job as a secretary is that I'm managing everybody all the time, and it's something I love to do. But it's something that's really challenging. I like to say I have a knack for it. But it's goes far beyond that and saying that I've developed a lot of skills over the years in being able to not only manage conflict across the senate, but as was stated in a very kind endorsement video from current sitting Senator Birdinground, I've seen the senate at these really high places, but I've also seen it at really low places, and I've been able to get through it just the same.
People like to joke that my office is their crying spot — it's also mine. But it's a great place, because I've had so many conversations with people in terms of how they want to manage their own conflicts with their peers, with their executives, and how to navigate those experiences, and it tends to go in a very positive direction. But beyond that, in my role I've learned the really, really important skill of being able to manage people. And that's knowing when to ask for help. I'm always in our current executives' offices, asking how to go forward with different situations, asking for advice, and making sure I'm giving people around me the best information that I can. And beyond that, I have a lot of understanding of how to not only chair the senate, but to deal with the conflicts that come outside of that. A lot of what I do is having conversations with people, and the best part about my job is that I have the ability to remain neutral because I don't have a vote on the floor. I don't have a stake in the game. In that sense. I'm a student as everybody else is, but I can't vote. So every conversation I have, I've learned to be impartial; I've learned to hear both sides. And that's something I'm very excited to share with you all more when I'm chairing the senate.
Tschetter: Would you like your one-minute rebuttal?
Berna: Please. To go beyond that, I think conflict management is a tricky one. I too have worked with younger folks like my opponent has. But I've also been able to work within the senate. And I understand that I don't serve in the senate, but I've seen not only what happens on the floor, but everything that happens behind the scenes. And that's given me so much knowledge as to how to handle the tricky situations. But new things come up every day. And that's something that I've been able to manage not only throughout this campaign, but throughout my time with ASUM. And I think it's really important to understand that every person is different. Every person that sits on our body is different, every student is different. And knowing how to navigate those challenges is really important. And that's something I absolutely have the skill to do, because I do it every day. That's something that I feel like should maybe be listed in my job description, because I always have these conversations with people and I always am learning something new about how to better serve the people around me.
Tschetter: Senator Kuney, would you like your rebuttal?
Kuney: Awesome. So, yeah, in response to that, I think that the biggest thing that I would stress in a vice presidential role for being in any sort of managerial situation is teamwork and cohesion: teamwork between your executive partners, and teamwork between yourself in the senate and a cohesive student body behind that. So that's really what I find most important. And, you know, as a long-serving senator, I've been able to witness multiple executive teams and I've been able to see what works and what doesn't, and from my experience, I can definitively say that teamwork is the most important factor when considering the duties of any managerial role, and I think that my ability to be a team player and make friends is important.
Tschetter: Thank you. Well, we are on to closing statements. You each have one minute, starting with Secretary Berna.
Berna: Well, first, I'd thank everybody at the Kaimin and everybody at the elections committee for putting this debate on tonight. It's really awesome to see you all here. And I think something that I feel like has been brought up before, not not only in this debate, but in my experiences on the campaign is the fact that I'm not a senator. I never ran for Senate. I've never served on the senate. But I've served the senate — I've served ASUM, and, beyond that, I've served the student body. I've never shied away from going well beyond my job experience. You know, I send the documents every day, I make sure things are going right internally, but I've gone so far beyond that. And that's what's prepared me to be sitting in front of you all today as a candidate. And I think something to keep in mind when you vote is that I have a very genuine desire to fulfill this position. I love and care about this campus and the students within it so much, and I feel like I am the most qualified and the most careful in fulfilling this.
Tschetter: Thank you. Senator Kuney.
Kuney: Awesome, well, in conclusion, I want to also, first off, thank the Kaimin for this super awesome, amazing debate setup with collaboration at the ASUM elections committee. And, yeah, to wrap things up, I really just want to say that Noah and I are here for you. We want to make ASUM work for you — every single student individually. How can we help you? It's important to me and to us that every single student here feels safe and protected here on campus, that students are proud to be a Griz. I believe that, in this position, we can effectively and efficiently execute our duties and improve the quality of life for all students here on campus. And just, to wrap things up, I just want to say: vote. Vote, please vote. Make sure that it's counted.
---
Smith: You can catch a full transcript of this debate online now at montanakaimin.com. The Kaimin CAst is produced and edited by Austin Amestoy and me, Elinor Smith.
That's it for the vice presidential debate. Check back tomorrow to hear ASUM presidential hopefuls battle it out on stage. I'll see you there.