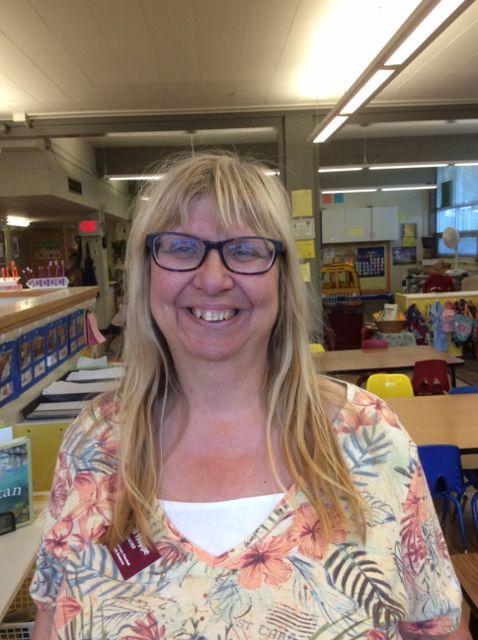 She hadn't seen the kids in years, but when they came in the room she lit up with recognition, a smile warming her face.
Pam Hoppe encouraged the little boy and girl to come to her side and hold her hands.
"Lachlan," she said addressing the 9 year old. "I need you to build me heaven out of Legos." 
Then she turned to Amelia, a 7-year-old with a competitive streak, and asked her how the Olympic training was coming. Hoppe always swore the kid would grow up to be in the Olympics. 
Lachlan and Amelia Lurgio weren't the only kids to visit Hoppe at the hospital during her battle with ovarian cancer. Dozens and dozens of children came to see "Teacher Pam," the woman who dedicated her life to helping them learn and grow. She remembered every one of them. 
Hoppe died Dec. 4, 2019, at 60 years old. She spent 23 years teaching at ASUM Childcare. The classroom she once taught in will be renamed to "Pam Hoppe's Preschool: Pam's Happy Place," in her memory.
Hoppe was born on Feb 2, 1959, in Peoria, Illinois. She moved around a bit as a kid, but her family eventually ended up in Montana. Throughout her life, she consistently loved kids and was devoted to her faith as a Christian. 
She was a baker at St. Patrick Hospital for several years, but in 1985 she quit to start an in-home day care. From then on, she devoted her life to taking care of children. She worked at another childcare center for a few years and then began working as an assistant teacher at ASUM Childcare in 1996. It wasn't long before she worked her way up to lead teacher. 
Throughout her life Hoppe also fostered children. She loved the kids who came into her home like her own and even adopted a couple of them. Her daughter Mary came into Hoppe's life at age 3. She was disabled and Hoppe cared for her well into her adult years, until Hoppe became sick. 
"Children were her life, and she loved being with them, and she was just amazing with the children," said Vicki Olson, director of ASUM Childcare.
Olson met Hoppe while they were both in school studying early childhood development at University of Montana Western. Hoppe went back to school while she was teaching at ASUM and devoted herself to learning about the children she worked with every day.
"She knew early childhood, she knew how to make it fun and there was not a kid that came out of her classroom that was not ready for kindergarten," Olson said. 
Maureen Bookwalter sent both her daughters, Willa and Wren, to ASUM Childcare. She said that she trusted Hoppe's opinion as if she were her kid's pediatrician. 
Bookwalter said Hoppe taught her kids by example, showing them kindness and patience. She welcomed every kid at the door and told them, "I'm so glad you're here today."
Hoppe also had a special talent for dealing with children who some might call problem kids. She could reason with any child and walk them through any problem with patience. 
Bookwalter remembers Hoppe sending a note home with Willa, saying how proud she was of the young child who stood up for a new classmate. 
Hoppe also had a knack for pranks. She was quick-witted and childlike in nature. She loved to laugh. 
One summer, ASUM Childcare teacher Jennifer Duvall kept finding extra kids' shoes everywhere on the playground. She was befuddled to find that all of the kids in her class already had their shoes on. She never knew what to do with the extra shoes. 
Duvall found out at the end of the summer that Hoppe was the one messing with the teachers.
Hoppe did everything with love and selflessness, any people who knew her said she was the most saintly person they knew. 
"She was always giving to other people and taking care of other people," said Candice Moore, the psychology coordinator at ASUM Childcare. "It was never about Pam, it was always about everyone else."
Moore remembers one day finding a folded piece of paper on her desk with her son's name on it. When she opened it there was a $50 bill and an unsigned note that read: "Get Bentley new school shoes."
When Moore thanked her, Hoppe's reply was, "Oh, it wasn't me. It must've been the shoe fairy."
"She just, she was kindness," Moore said. "So I'd like to take some of that with me."