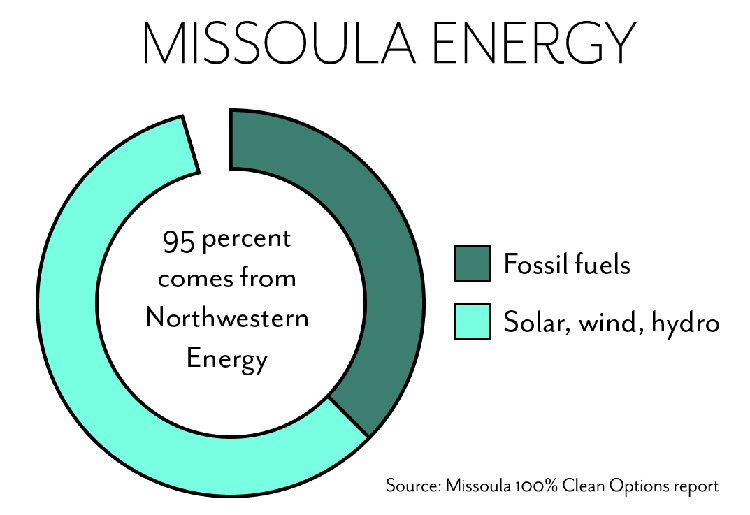 Missoula City Council plans for Missoula to transition to 100 percent clean electricity by 2030, after a unanimous vote April 3. Students presented a recently passed student senate resolution with the same goal for the University of Montana.
The city of Missoula defines clean electricity as coming from sources other than fossil fuels. Currently, 95 percent of Missoula's electricity comes from Northwestern Energy. Roughly 60 percent of that electricity comes from solar, wind and hydro, according to Northwestern Energy.
"For years, the science has been clear. The climate is changing, and human activities specifically emissions of carbon dioxide and other greenhouse gases caused by the combustion of fossil fuels is a contributor to that change," Missoula County energy conservation and sustainability coordinator, Diana Meneta said.
Cory Beattie and Daniel Carlino, members of the Climate Action Collective at the University, voiced their support for Missoula City Council's resolution at the meeting and gave a copy of a passed ASUM resolution supporting UM's transition to 100 percent clean energy by 2030.
ASUM's resolution in support of renewable energy in the Missoula Community passed March 20, with 20 out of 22 senators voting in its favor. Carlino, a senior studying environmental science and wildlife biology, helped write ASUM's resolution.
ASUM committed to support and push UM administrators and city officials to transition to clean energy in Missoula and on campus. In addition to Missoula City Council, ASUM sent the resolution to UM President Seth Bodnar, faculty senate, the sustainability coordinator, Northwestern Energy and other groups in Missoula and on campus.
"Our plan now is to push it through faculty senate just to get the whole school's support for the future. A resolution from both the student and faculty senate would be a strong starting point and a goal to work towards cleaner energy on campus," Carlino said.
In October, Missoula County published Missoula's 100% Clean Electricity Options Report, which outlines the need for Missoula to transition to clean electricity and the steps to achieve that goal.
Beatie is president of the Climate Action Collective, a University student group created in November. At the April 3 city council meeting, she said the group was created in November, 2018, in support of Missoula's options report. There are roughly 10 active members in the Climate Action Collective and the group meets twice a month.
Along with the ASUM resolution, the collective participates in the sunrise movement, a national organization advocating to make climate change a priority. It also encourages students to reach out to their state and local representatives to sign a pledge to not take money from companies that produce and sell fossil fuels.