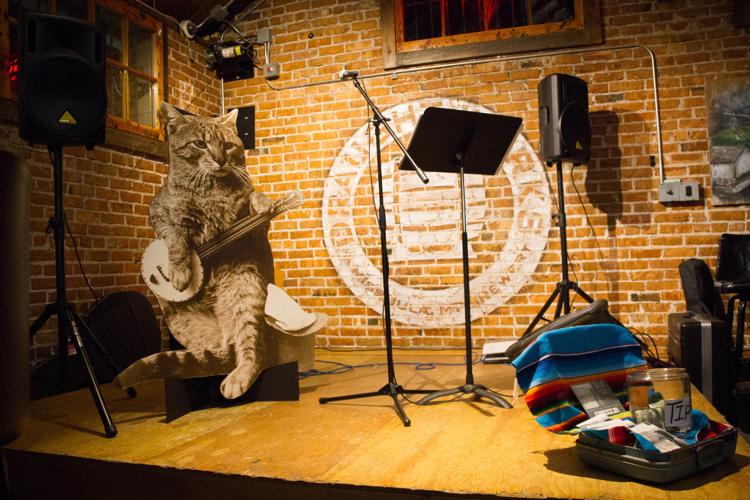 The Maureen and Mike Mansfield Library's Banjo Cat Jones appeared on stage Saturday at Draught Works, with staff from the library's archives and special collections to help decide what to make of swimmers standing on their heads, a couple fighting over a fawn and a baby next to a bear cub.
The library's mascot stood next to oral history curator Hannah Soukup as she announced the winners of the archives' 2019 photo caption contest.
"We've got tens of thousands of photos, and a lot of them end up being kind of weird and kind of funny," Soukup said.
This year's contest marked the first time the archives expanded its pool of submissions for the contest from just the library to three Missoula breweries and one distillery. The Four winners earned both bragging rights and gift cards to Draught Works, Great Burn, Montgomery Distillery and Highlander Brewery.
"At first they were a little confused, like they didn't know what it was for," said Soukup. "But eventually they turned around, and they've been a big help in pulling this off."
According to Soukup, the UM archives received close to 100 submissions, far surpassing those of the past years.
Since 2012, the UM archives has hosted its semi-annual photo caption contest, with archive staff pulling some of the stranger snapshots they come across. After deciding if the photos are caption-worthy, the staffers narrow the collection down to four.
Banjo Cat Jones appeared in one of the original photos pulled for captioning in 2012. The photo of a cat picking at a banjo dates back to the late 1800s in Boston. The image ended up on a postcard mailed to Gerald Higgins, the son of Missoula cofounder Christopher P. Higgins.
Banjo Cat might have competition from a baby and a bear, however. Its winning caption was "Some people are just born Griz fans."
"This is the last time I'm picking you two up from the brewery," was the winning caption for the photo of a man carrying a deer while an indignant woman walked away.
Digital archivist Erin Baucom, who also attended the event, preferred one of the runner-up captions: "One of the earliest instances of a tourist rescuing wildlife from Yellowstone." T
he two other winners included the caption "Hold my beer—Watch this!" for a shot of two people doing a beachside handstand, and "When she says she doesn't drink beer," for a photo of a man cringing.
Although no winners came to collect their prizes in person, archives staff passed out free bottle openers and pins to those who happened to be grabbing a beer at Draught Works Saturday night. Soukup said winners will also be notified via email.