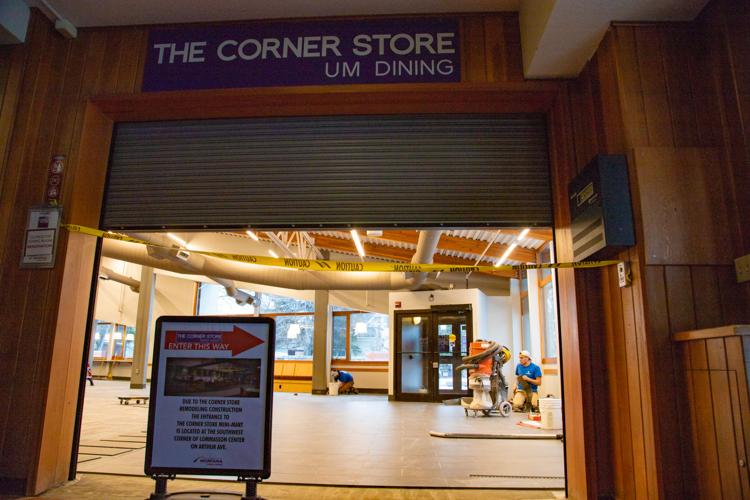 The Corner Store is reopening Thursday, Jan. 23, after nearly two months of construction, said a UM Campus Dining (UMCD) official. New features will include lighting, a stage and extended closing hours.
"Ideally, we were going to be up and rolling on the 13th when the students were back," said Patrick Browne, associate director of UMCD.
There are always complications with construction projects, Browne said, especially since a lot of the work happened over the holidays. But he said the week-and-a-half delay is minor. 
The Corner Store has been running a mini mart out of Le Peak, a coffee shop in the corner of the Lommasson building, since construction started in December. In the first month of its reopening, there will be limited seating. Browne said that some of the new furniture will come in February.
For the time being, Le Peak will also have no furniture and no changes are happening with food venues in the Corner Store. However, Browne said there is talk of a phase two for the project. 
The renovations in the Corner Store are part of an effort to create student-centered spaces in the Lommasson Center, Browne said.
Funds for the renovation came from the UM Plant Fund. Browne said the Corner Store hasn't been refurbished since it opened in 2000, so the improvements are needed. In particular, he thinks the new furniture will make the space an ideal place for students to study or hang out. 
The area will have new flooring, lighting and sound. Once new furniture comes in, the seating will be comfier and there will be a stage and a screen to support student-centered events like poetry readings, movie screenings or karaoke, Browne said. Hours will be extended from 8:30 p.m. to 10 p.m. 
"We just think it's going to be a great place for the students, and they'll enjoy hanging out in the newly renovated area once it's fully furnished and up and running," Browne said.