Usually by this time in the semester, football games would be in full swing on the weekends, and the University of Montana campus would be flooded with fans cheering on the Grizzlies.
This year, though, weekends are quiet on campus. Football is nowhere to be found.
The goal of the Big Sky Conference decision to postpone the fall football season was to prevent coronavirus spread. On Sept. 25, UM reported having 76 cases of coronavirus. Close contacts could have reached from each case to an average of five additional people. The postponed season has caused frustration in athletes, coaches and fans alike.
In an email from UM in mid-September, Greek Life and Athletics were identified as COVID-19 clusters. Several athletes across UM Athletics were placed in quarantine. Earlier this week, Grizzly football players took to Twitter to talk about being in quarantine.
Redshirt freshman Kale Edwards tagged the Missoula City-County Health Department and Missoula County in a tweet Sept. 18.
"Total deaths in MT from COVID to date: 143. State pop 1,070,000. By age group: ZERO deaths under 30. 1 death under 40. 5 total deaths under 50. But let's quarantine the 18-22 year old football team?" Edwards tweeted.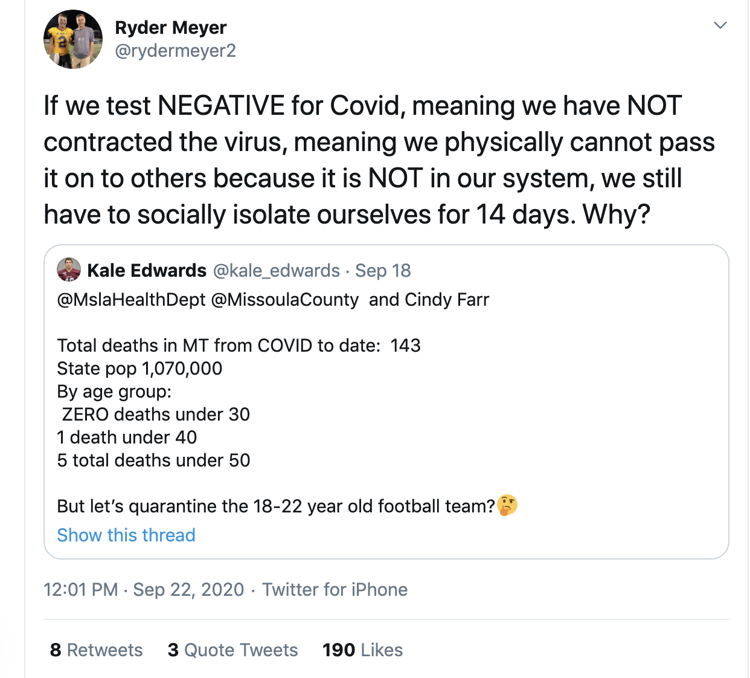 Teammate Ryder Meyer, a sophomore, also tweeted about the football players being in quarantine.
"If we test NEGATIVE for Covid, meaning we have NOT contracted the virus, meaning we physically cannot pass it on to others because it is NOT in our system, we still have to socially isolate ourselves for 14 days. Why?" Meyer said in a tweet.
After the UM football players sent their tweets, the Missoula Health Department sent off a series of replies to both players' tweets.
"The continuing presence of COVID is frustrating for our community, and it's especially frustrating for those who have to quarantine even when they test negative," the health department account responded. "For close contacts to a positive case, a negative test on a particular day merely indicates you do not have COVID on that day."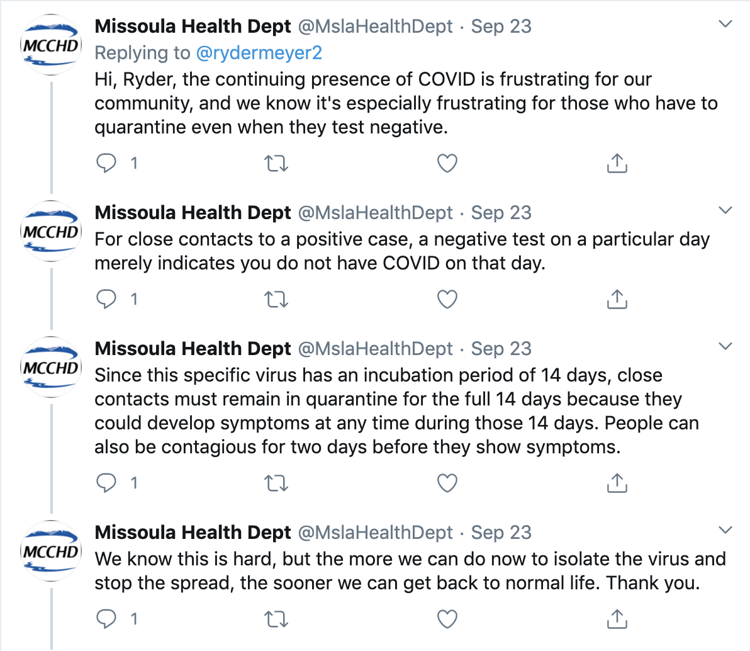 The health department went on to explain that close contacts need to quarantine for 14 days because of the two-week incubation period for the virus. Symptoms can develop at any time in those 14 days, so while someone might test negative immediately, they still have a chance of developing symptoms later on.
According to a Missoulian article published Friday, both Edwards and Meyer have since apologized for their tweets.
For Griz football fans, as well as those who work around the team, the fall without football is taking an effect.
"I sense that whether it's players, students, people of Montana or staff, they're all very depressed that we don't have football on Saturdays, including me," Bobby Hauck, head coach of the UM football team, said in an interview.
Eric Taber, the Director of Communications for Grizzly football, agreed.
"Grizzly football affects not just people in the athletic department and at the University, but people throughout the whole community," Taber said.
He added that, even though many are disappointed without the football season, people generally understand.
"Playing sports might not be the best idea with a pandemic that's going around the world," Taber said.
As far as game day workers go, Taber said the UM athletic department was running an elite operation and has seen no real drastic employment changes. He added that employees who work only on game days will be needed when football returns to help run a world-class game day experience.
As for students on campus, freshman finance major Herman Haw said campus feels dull this year without football.
"It definitely feels like we're missing something, and like there's a lot less pride on campus," he said.
Hauck said that, while the team has been working out together since early June, they have yet to hold an official practice. The team also had its spring practices cut short, only being able to hold six out of 15 spring practices. The Big Sky Conference has said teams will be playing in a spring season. Weber State, a fellow Big Sky Conference team located in Ogden, Utah, has already held full football practices in the fall of 2020.
"I'm still trying to digest the feasibility of a spring season," Hauck said.
Hauck said he isn't sure what will be different in January and February for Grizzly football to be able to play that is not in place now. He said he needs to get some questions answered before he proceeds in any way.
While attending games is a safety concern for coronavirus, Hauck said the chance of someone getting COVID-19 just by playing football is miniscule.
The office of UM President Seth Bodnar has been encouraging students in campus-wide emails to be careful in their social interactions off campus in order to minimize the spread of coronavirus. They have emphasized that safety procedures taken on campus are minimizing coronavirus spread in classrooms and campus events, and that much of the spread is due to off-campus activities.