A student-run campaign to cut the University of Montana's energy consumption by more than a third is inching forward after the global COVID-19 pandemic pushed activism online. 
"One thing COVID-19 is going to tell us is if you ignore science, people die," said Melody Hollar, student activist and president of the UM Climate Response club. 
Two weeks before classes went online, Hollar was tabling on campus to spread the word about a campaign she's spearheading with fellow club members called, "35% Less Energy By 2025." The campaign aims to reduce energy consumption on campus in order to fight climate change.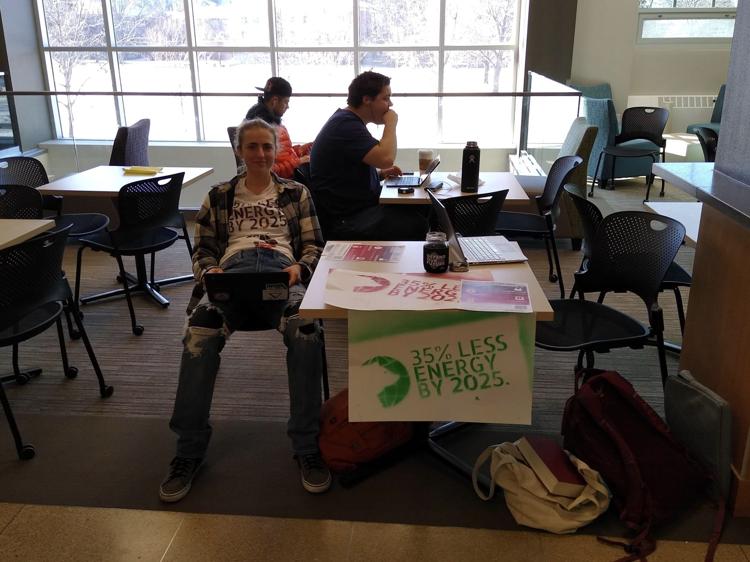 More than 300 signatures have been gathered in support of the goal so far, but Hollar said she does get pushback. 
"The bigger challenge is the title isn't exactly sexy. Because it's small, it's palatable to the administration, but maybe not to the people who want everything to change right now," Hollar said. "Everything does need to change. It's just, can we actually do that?"
Although the request is less daunting than eliminating all UM's fossil fuel consumption or forbidding the use of plastic, it's still ambitious. Accomplishing such an energy reduction goal could take millions of dollars, according to UM Sustainability Coordinator Eva Rocke.
On Sept. 5, 2019, UM completed a successful bond sale of $146.8 million. The bond sale generated approximately $63 million, which UM's administration intends to invest in student-serving infrastructure. 
Campaigners for 35% Less Energy By 202" aim to pivot that money toward their goal. 
Last fiscal year, UM spent about $4 million on energy at the Missoula campus. Electricity and natural gas were the energy sources used.
According to Brian Kerns, an engineer from Facility Services, the University spent about $837,000 on natural gas to heat buildings with steam during the 2019 fiscal year. Over three times as much (about $3 million) was spent on electricity to power other facilities.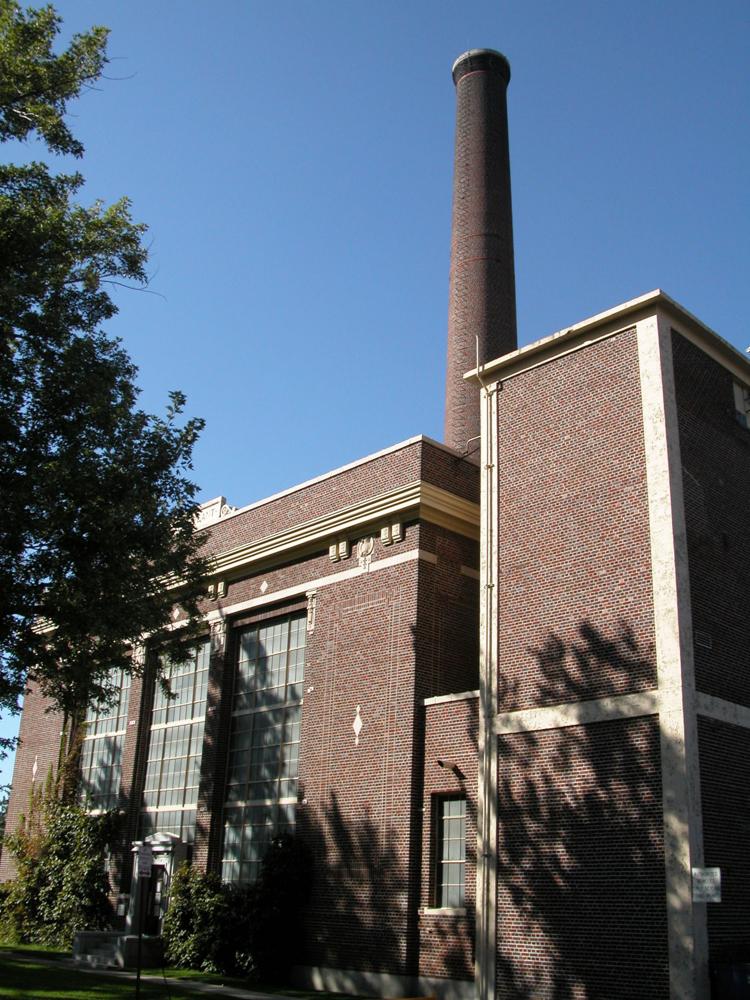 The carbon cost of the University's energy consumption during the 2019 fiscal year was approximately 23,500 metric tons of CO2, according to an ASUM senate bill. That's equivalent to the carbon emitted from 5,000 vehicles driven over a year or about 300 tanker trucks' worth of gasoline, according to the EPA Greenhouse Gas Equivalency calculator. 
UM's options are limited when it comes to decreasing its carbon footprint via energy consumption. 
The University is a NorthWestern Energy customer by default due to a 1998 state legislative decision that gave UM a one-time opportunity to choose how it would purchase electricity. Now, the University can't purchase electricity from any company other than NorthWestern. This leaves the University with little authority over how the energy it consumes is produced, and UM can't know whether it is consuming coal, natural gas or solar energy.
"Until that status changes, the levers we have for changing what type of power we use and how much are limited. We can either reduce our energy use on campus or build energy projects on campus, but we can't buy electricity from other places," Rocke said. 
Overall, Rocke said two-thirds of UM's greenhouse gas emissions come from energy consumption – that's everything from plugged-in iMacs to ventilation systems. The remaining third of emissions come from other sources, like campus transportation, lawn fertilizer and waste management. 
According to Rocke, UM lacks the data to understand how individual buildings' energy systems perform. When people fiddle with thermostats, leave windows open or even change lightbulbs, energy systems become less efficient.
"We don't have enough staff to monitor building performance. There's a lot of potential to miss something," Rocke said. 
Because of its inability to monitor energy consumption in buildings, unknown inefficiencies could be costing UM money and contributing to the global carbon budget.
"If we really want to meet aggressive goal setting and cap our emissions when we start Fiscal Year 2021, we would have to potentially invest millions in our buildings. That's significant, and it's hard to compete with other things we have to spend money on," Rocke said.  
The Associated Students of the University of Montana is now involved in 35% Less Energy By 2020. During a Zoom meeting on April 1, the student senate unanimously passed a resolution endorsing the initiative.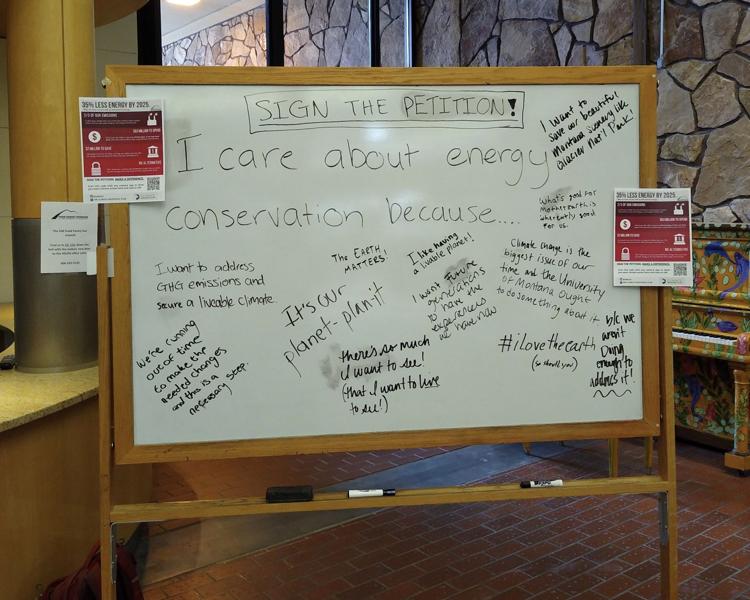 Noah Durnell, an ASUM senator who co-sponsored the resolution, said the next step for the campaign's supporters will be to meet with administrators and advocate for the bond sale money to go toward energy conservation. Durnell said activism and ASUM support can not finalize UM's financial campus commitments alone.  
"It's the admin's decision whether it becomes practice or not," Durnell said. 
Durnell also said the novel coronavirus has complicated the initiative's progress. 
"Initiatives on campus have been on the back-burner because COVID-19 needs to take precedence," Durnell said. "As soon as the pandemic slows down, I want to see this initiative taken up at a quick pace."
While campus is adjusting to the new paradigm of social distancing and online learning, the administration is not ignoring the continuing pressure to become more sustainable. 
At a Sustainability Campus Committee Zoom meeting April 13, Rocke announced about $200,000 will be spent for a partnering engineering firm to assess building efficiency — a step forward in uncovering unknowns surrounding energy use on campus.
McKinstry, the Seattle-based firm, will be paid to perform an energy audit on campus over the summer. That analysis will include recommendations to increase energy efficiency with estimated savings in UM's budget. McKinstry has worked with the University of Washington and University of Idaho on other energy efficiency projects.
Rocke later said via email that UM administrators weren't ready to confirm specific costs prematurely, and will have a more precise number by the end of the summer. 
UM Vice President Paul Lasiter declined to comment on the feasibility of the student-proposed energy goal or how it would be weighed against other financial priorities. As for Hollar and the other Climate Response Club members, the COVID-19 outbreak has put signature gathering and face-to-face activism to a defining halt. 
"I'm bummed out. I was just starting to get strength to the movement. Then COVID-19 happened and everything went online. Now I feel like I have to completely change my tactics," Hollar said.  
However, Hollar is optimistic and is working on ways to engage students and administration from a distance. When asked whether she had any hope for collective action on climate change because of the novel coronavirus, Hollar said, "people don't trust the seriousness of issues. It's been a maddening decade. The facts are out there. We just have to respond."