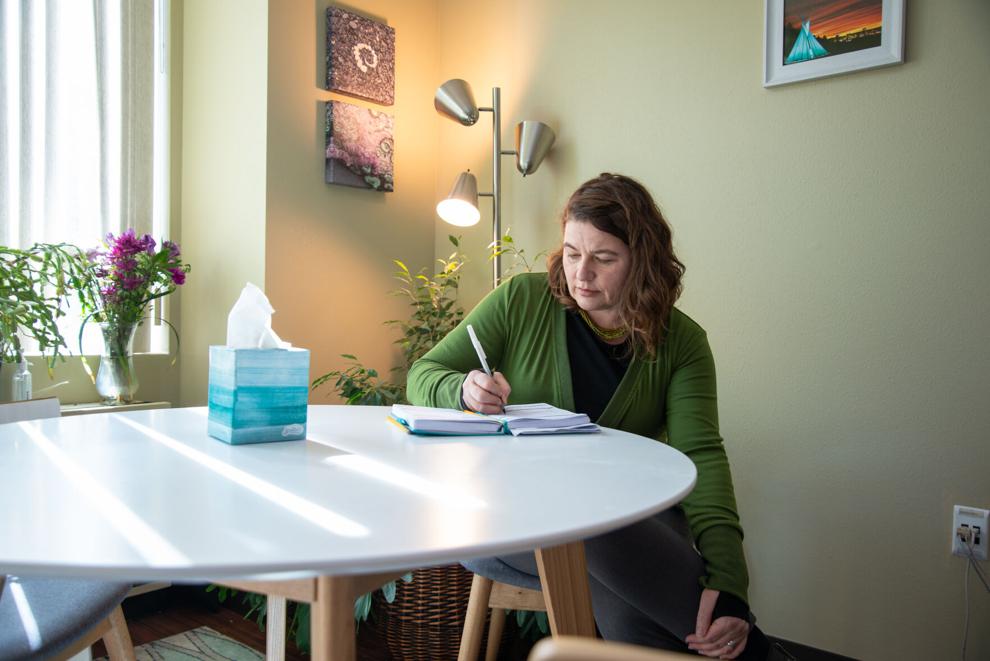 Mental health struggles among college students became more prevalent and widely recognized as a problem during the pandemic, and the University of Montana is no exception.
A recent UM survey found 62% of UM students reported lacking companionship and feeling isolated from others. The 2021 UM National College Health Assessment, which surveyed 1,320 students, also found a 15% increase in students feeling nervous and hopeless most or all of the time, and an 8% increase in students reporting moderate-to-severe levels of psychological distress since March 2020.
After moving online last semester, both Curry Health Center and the Student Advocacy Resource Center are once again offering in-person counseling. Both said they are determined to meet increased student mental health care demands.
Megan Westover, a licensed clinical professional counselor candidate with Curry counseling, started working as a staff counselor in fall 2021. Westover said she had no counseling experience prior to the pandemic. She has been impressed with her coworkers' resilience in the face of COVID-19 surges and heavier workloads to meet student needs.
"We're facing challenges globally that we have never had to navigate, and it's been really rewarding to be able to provide a space for students to be able to process all of that," Westover said. "Just getting through your day can be hard right now, so being able to talk about it is so important."
Curry offers general counseling services with a free initial consultation and $25 subsequent sessions, while SARC counseling is reserved for victims of identity-based discrimination for up to 14 free sessions. 
Brooke Nicklay, a senior psychology student, began work as a peer advocate with SARC in fall 2021. She coordinates outreach efforts and helps run SARC's 24-hour support line with the YWCA. When she started her work, she recognized differences in stigmas around mental health care in Montana compared to her home state Colorado.
"Mental health has definitely gotten worse on campus because of isolation in the pandemic, and there is an energy of judgment towards therapy here. You mention that you go to therapy and the first thought people have is 'Well, there must be something wrong with you,'" Nicklay said. "I think it's good to promote that you don't have to have anything wrong with you mentally to seek therapy, and all students could benefit from it. Sometimes it's just nice to talk to someone."
Like most other offices on campus, SARC is understaffed to meet increasing demand, Nicklay said. SARC Director Jen Euell said Curry's tight schedule complicates referring clients to outside counselors after their free session. SARC hired two new staff members, doubling its staff in the past year, and has seven graduate student interns to provide counseling services. 
Euell is confident in UM's ability to see every student seeking care, whether it be for regular counseling or emergency crisis resources.
Euell first directed SARC from 2000-02, and said she immediately recognized the center's more professional organization and services when returning almost 20 years later.
"I was so excited to come back and work with folks who are young, energetic and have a lot of drive for change. We're at a unique place where this work, especially around Diversity, Equity and Inclusion, has a lot of potential for changing the rest of campus," Euell said. "Twenty years ago this was not nearly as professional of a service, and the better advocacy now has been crucial through the pandemic."
Both Euell and Westover said while tele-health counseling over Zoom was uncharted territory for most counselors, SARC and Curry will preserve the online option for students.
"Everyone was nervous about moving online initially because many of us had no clue what therapy over Zoom could look like," Westover said. "We've been pleasantly surprised to find many prefer the telehealth option, and for a lot of people, it's better so they can make appointments between classes. It uniquely meets the needs of students, so we'll keep it as an option permanently."
Workers at SARC and Curry are trained to mitigate what Westover called "the parallel process," when mental health professionals internalize their client's traumas as their own. Nicklay said without her training on self-care, the issues she helps students navigate would be harder for her to contend with.
"I'm lucky that we're trained on trauma responses, but also on maintaining self-care and having boundaries in dealing with these difficult circumstances. You don't want to take someone else's trauma on, and it's really hard in the pandemic because everyone has had their own experiences that are hard not to apply to yourself," Nicklay said. "I go to a therapist, and without their help and prioritizing doing the things I love to do, it would be a lot harder."
Euell hopes SARC and Curry can continue expanding their services to not only meet student needs, but to change mental health culture on campus.
"We want to create a culture of care here with our services. We have more capacity to check in on people and make sure they're okay, so we encourage friends and coworkers to check on those around them, as we all learned the pandemic can be incredibly isolating," Euell said. "Operating with a broader culture where self-advocacy and asking for help is well accepted would make things a lot better."