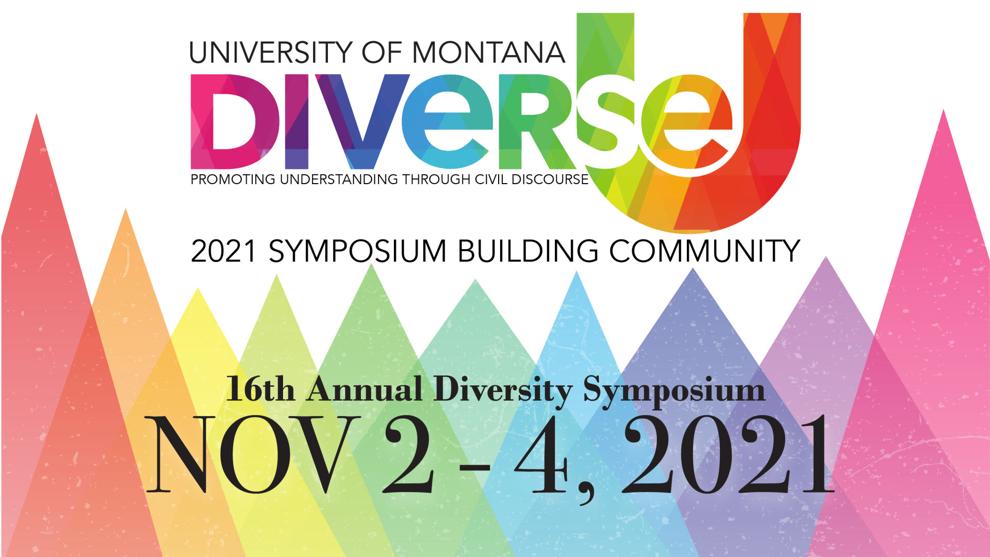 The 16th year of the University of Montana's premiere diversity lecture series by students, faculty and community members is returning to campus Nov. 2 with a hybrid presentation model and new diversity and sucide prevention trainings free to students. 
DiverseU, a four-day series of lectures in the University Center, features roughly 40 topics from firearm misconceptions to gender bias. Compared to 2020, which was completely virtual, the series has more presentations and well-rounded activities like a student-only event kick off. 
"What students have been asking for is to meet in a safe place and have civil discourse," said Emily Ferguson, UM's director of student engagement. "We want students to have the space to have conversations with people they don't necessarily agree with."
Ferguson called the public forums "brave spaces," where people are physically safe, but ideas and personal beliefs might be questioned. A majority of the presentations will have both in-person and Zoom options, with a few exceptions. 
Three speeches will be Zoom only, in part because the faculty and student speakers are living outside of Missoula. One live-streamed event, the Nov. 4 Presidential Lecture Series, showcases author Viet Thahn Nguyen, the editor of "The Displaced," a series of stories from refugees around the world. The book has been used as the campus-wide "Griz Read."
Other events will have no Zoom option, including a nationally-accredited suicide prevention training, happening both Nov. 2 and 3. Participation is limited to 30 people total. Another training, the University's Diversity Equity and Inclusion training, will also be in-person only.
Many of the lectures will be run by teams of students and professors. Jade Gordon, a student in UM's Speech Language and Pathology program, will be providing tools to help students like those who are autistic or have ADHD in the presentation "Creating Neurodiverse Inclusive Spaces." at 10 a.m. Tuesday.
"Being neurodiverse means your brain works a little differently, and you learn a little bit differently," Gordon said. "One barrier to learning is that people don't really know what neurodiversity is."
One tool Gordon wanted in more classrooms would be textbook audio converters for those who struggle reading. Although Gordon said many of the tools being discussed should be implemented in all ages of education, the talk will focus on college classes. 
Chistopher Davey, a UM student and hunter safety instructor, is giving a talk called "Five Myths and Misconceptions of the AR-15." He said the national conversation around the gun is often misrepresented. 
"The biggest shocker to me is that statistics on gun violence show the AR-15 is not used for violence as much as we think," Davey said. "Taking it away would not impact crime like many others say."
His talk will center on gun violence facts, and four other facts Davey said are not discussed when making gun control policy. His speech starts at 10 a.m Wednesday. 
Tobin Miller-Shearer, a professor of history and director of the African American Studies program, has presented at every DiverseU. For the 2021 session, he plans to talk about his new book called "Been in the Struggle: Pursuing an Anti-Racist Spirituality" at 2 p.m. Tuesday. 
Miller-Shearer and co-author Dr. Regina Shands Stoltzfus made the book in the last year, centering on the idea of using spirituality to combat long-term racism. During his speech Wednesday, he plans to engage the audience with tools to be antiracist. 
"We are inviting people to bring their own spirit to confronting racism," Miller-Shearer said. 
On top of all the speeches, Ferguson said there will be a student only reception in the UC ballroom Monday night from 4 to 6 p.m. She added food will be provided and paired with activities booths for students.
"We have one booth that gives prizes away," Ferguson said as tubs full of colorful toys, gloves and scarfs sat in the back of her office. "It's about student gatherings and getting to talk to people you wouldn't otherwise."
To see the full schedule for DiverseU, head to their UM website, or click here.