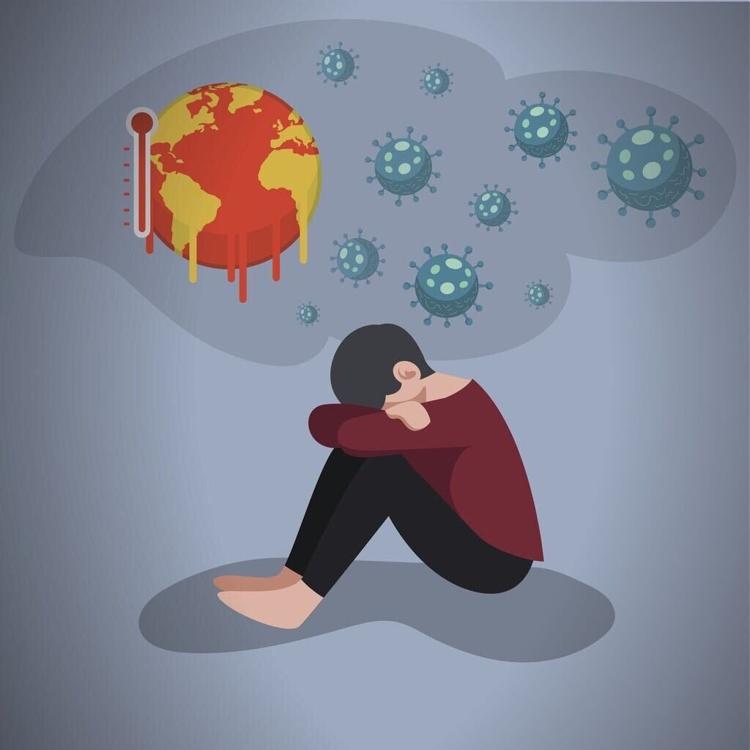 In September, Kyle Wonders, a freshman at the University of Montana studying Wildlife Biology, was presented with a cartoon in his Intro to Climate Change: Science and Society course.
The cartoon, however, was no laughing matter.
It depicted multiple tidal waves soon to crash over a city. One wave was labeled COVID-19. Another: global warming.
A speech bubble hovering over the city contained a prognosis dry with sarcasm: "Be sure to wash your hands and all will be well."
This tart sentiment seems far from the truth for many students at the UM.
For these students, already dealing with anxieties related to the coronavirus pandemic and its life-altering restrictions, learning about climate change has exacerbated feelings of distress and depression.
"It definitely leaves me pretty frustrated at times and just disappointed leading into a depression cycle," Wonders said.
Wonders moved to Missoula from Southern California earlier this year and lives on campus. His freshman year has been far from the stereotypical experience.
Despite constraints imposed by the coronavirus pandemic, Wonders slowly began finding ways to connect with others in his dorm and build community.
Yet, his studies pertaining to climate change have added an additional layer of unease, leaving him stressed and pessimistic.
"There's just so many problems looming over us that it definitely can be easy to feel overwhelmed," he said.
Peter McDonough, the climate change studies program coordinator at the University of Montana, teaches several undergraduate courses on climate change.
On the first day of his classes, McDonough conducts informal mental-health check-ins with his students to gauge their feelings and emotions in regard to climate change.
He said some of his students show resolve and have faith in human's capacity to figure this urgent issue out. Others adopt a more cynical outlook.
"There are students who are straight up depressed. They do not see a way out of this," McDonough said. "They feel lonely because they are surrounded by people who don't take it seriously either in their own communities or even just here at UM."
These anxieties around climate change can weigh heavily on students and often elicit emotions such as hopelessness and powerlessness.
It has become increasingly commonplace for professors at UM who teach environmental subjects to talk with their students about the potential mental health toll.
Organized groups, such as the climate response club, have popped up on campus to help students cope. This club advocates the use of mindfulness exercises for those struggling with climate related grief.
It also acts as a support group, helping students build community and realize they are not the only ones experiencing these worrisome emotions.
The five stages of grief have even crept into some professor's curriculum as a tool to help students deal with their emotions and normalize the sensation of experiencing grief.
Keena Karjala, a senior studying Ecosystem Science and Restoration, said thinking about the future while dealing with the coronavirus pandemic and climate anxiety frequently feels like a daunting endeavor.
The feelings have been amplified with graduation looming. 
"Being a senior, everything is close to crunch time right now," Karjala said. "I don't know what my future looks like because I can't really plan anything with COVID happening. And then in the far, far future, I can't plan anything because of climate change."
Karjala struggles to ignore these issues and is often besieged with news about both topics, leaving her feeling debilitated at times. 
"There are some days where I do feel just so overwhelmed with the state of the world," she said. "Some days it is just tough to get out of bed and face another day."
Mike Frost, the director of counseling services at UM's Curry Health Center, said therapy professionals are beginning to address climate anxiety. The center has seen an influx in the number of students seeking counseling in the last several months. COVID-19 plays a large part in that, he said.
Routines and social life, especially important for college students, have been completely upended. Classes conducted via Zoom have further cut into student's ability to socialize and ingrain themselves into the college community.
"We are kind of like the dogs, you know. We're pack animals," Frost said. "We need each other. And when we are isolated, we don't function as well."
To help students address concerns over the pandemic and climate change, Frost tries to reframe their thinking.
"Whatever the circumstances are in this world, you are not done living yet," he tells students. "You are not done with what your life is about. You got to get on it, get to it, don't give up on it."