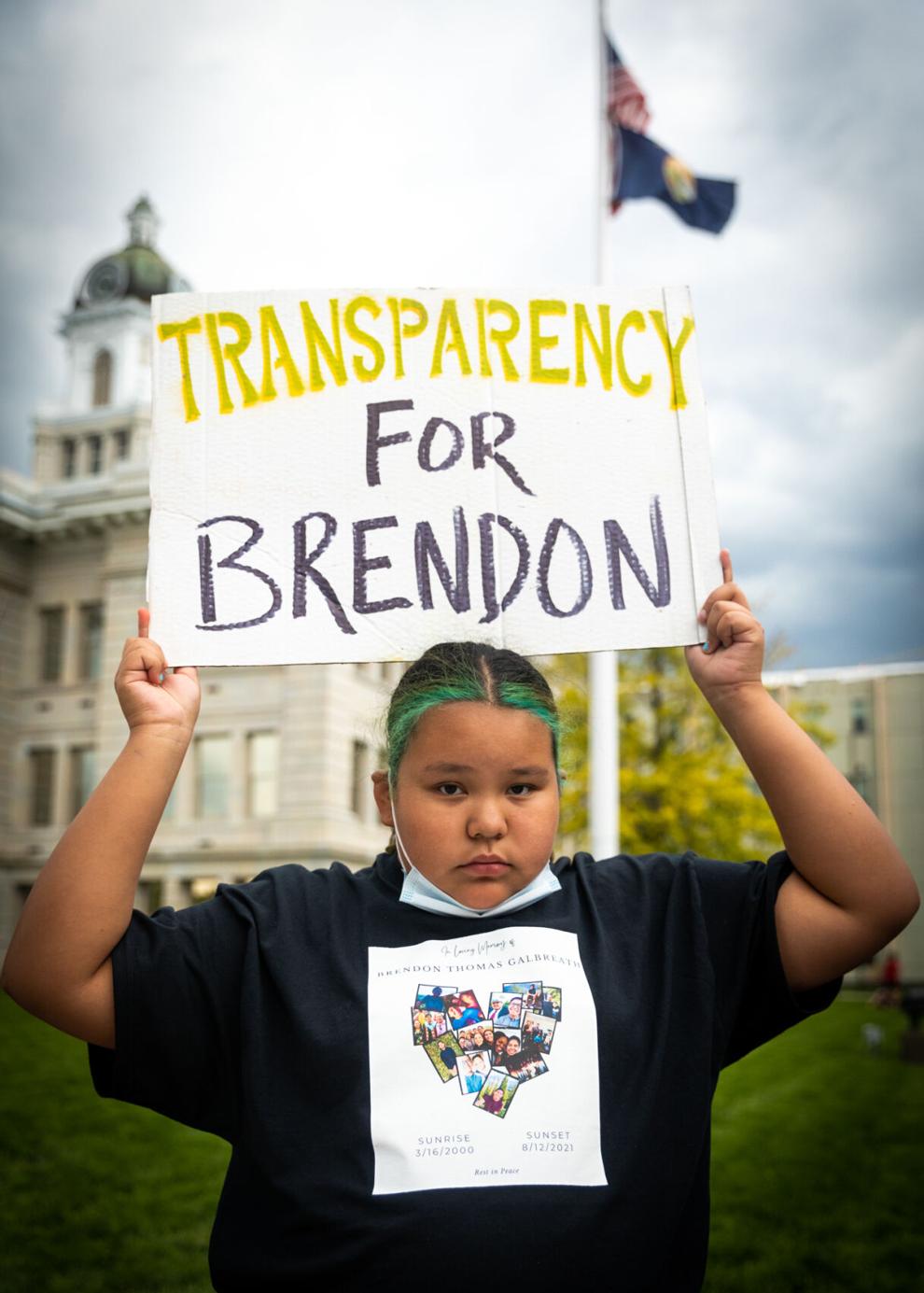 The family of Brendon Galbreath is alleging he did not receive immediate medical attention following an officer-involved shooting that resulted in the 21-year-old's death. 
The allegation comes weeks after the family began calling for transparency into the incident, which the Montana Department of Justice's Division of Criminal Investigation is currently investigating. 
"There's some key pieces that I don't even want to tell you, that they're saying to us, and I don't even know if it's even a key piece, but it's something we have that I know we don't want to give away," Terrence LaFromboise, Galbreath's half brother, said. 
LaFromboise said the family would not disclose the reasons behind the allegation to avoid compromising any potential legal action. 
On the morning of Aug. 12, Galbreath was involved in a police chase that ended at the intersection of Stephens and Florence, according to the DCI's Aug. 16 statement. An officer reported seeing a handgun raised before hearing gunfire. The officer fired one shot that struck Galbreath's vehicle. 
The DCI said the initial findings of its investigation indicated Galbreath died from a self-inflicted gunshot wound following the high speed chase. 
On Aug. 12, Missoula Police Chief Jaeson White said in a video statement that "immediately afterwards, officers on scene rendered medical aid and called for assistance from EMS. The 21-year-old male was taken to St. Patrick's Hospital where he passed away a little bit later."
LaFromboise said he talked with an officer from the Missoula County Sheriff's office that morning. The officer told him Galbreath had been killed in an officer-involved shooting after a slow-speed chase. 
He said when his mother and Galbreath's dad met with the Missoula Police Department on Aug. 20, they were shown still images that they were told showed Galbreath cocking a gun. LaFromboise said the images were pixelated and what the police called a gun looked like a cell phone. He said the family has still not seen body camera footage from the incident.  
Galbreath was an enrolled member of the Blackfeet nation. Lafromboise said his brother was not a fan of guns. He said the story is larger than his brother.
"I'm not afforded the same voice my non-Indigenous counterparts are," he said. "I start to get angry and mad and ask for questions — I'm labeled a typical angry Native American, but there is something that isn't typical about this story." 
Lydia Arnold, MPD public information officer, declined to answer any questions about the incident, citing the DCI's ongoing investigation. Arnold referred the Kaimin to the DCI, which referred to the Attorney General's communications director. 
The director sent the Kaimin DCI Administrator Bryan Lockerby's statement from Aug. 16, which said no new information will be released at this time since the evidence is considered "criminal justice information." 
"That final [investigation] report will be submitted to the Missoula County attorney for review and will likely follow the coroner's inquest process," Lockerby said. "The evidence and information we gathered during this tragic event will then be available as a matter of public record."
LaFromboise said the family received help from groups like the Montana Racial Equity Project and an organization for murdered and missing Indigenous people. 
He said they've been told it could be months before a coroner's inquest is conducted on Galbreath's death. 
The Chief Criminal Deputy County Attorney Matt Jennings said a coroner's inquest is a public proceeding similar to a jury trial that determines if a person died by criminal means in custody or while being taken into custody by law enforcement.The relevant evidence presented at the inquest becomes public information.
Jennings said the coroner's inquest for Jesse James Kale Brown, who died after an officer-involved shooting last November, could be several months away. He said the Missoula County Attorney's Office received the files from DCI's investigation into Brown's death in early August, according to employee notes. 
He said information like the name of officers and the footage of the incident can not be released to the public before an inquest under Montana Annotated Code 44-5-303. However, Jennings said he'd be open to reforming the law. 
"We have no objection or problem with the legislature changing all that around, especially in an instance where somebody might die because of their interaction with law enforcement," he said. "But until somebody else much above my paygrade makes that decision, we're stuck with the rules, too."
Jennings said, despite the law, members of the public could petition for information about the incident involving Brown, which is a step many don't pursue. 
"I think that the public probably could get a lot of information with the judge's permission, but we don't really see folks taking that step, and I'm not sure why," he said. "I would think some people might look into that." 
LaFromboise said he heard from Brown's family and they encouraged him to keep pushing for answers.
"That family had reached out to me and they said 'don't stop fighting,' he said. "They say, 'use your voice, get legal help.'"