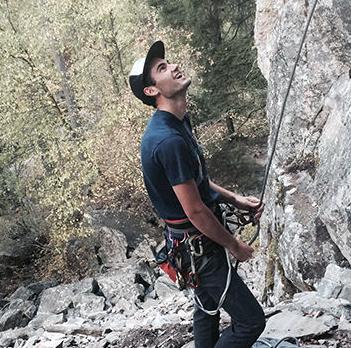 It was one of the first hot days of spring in 2017, and Bryson Allen and Colin Brust were determined to climb the towering granite cliffside, specifically a route named "My Mom's Muscle Shirt," in Blodgett Canyon, Montana. It is eight pitches and about 900 feet tall. 
Over halfway up the cliffside, Allen and Brust dropped their second rope, leaving no option but to give up and rappel down. They had been up there for hours, without enough food or water. By the time they reached the ground again, Brust was grumpy. But Allen was still enthused.
"We got down and he was just stoked," Brust said. "And I was, like, 'Why are you stoked?' And he's like, 'I'm stoked that we tried the route. I'm stoked that we get to come back and do it again. And I'm stoked to go buy pickles at the gas station.'"
Four months later, the pair went back, and finished the route. 
Allen died June 28, 2019, from injuries suffered in a climbing accident on the Mendenhall Towers in Alaska. After summiting a giant granite tower, he was rapelling down and his equipment malfunctioned, dropping  him. He was 23 years old. 
Allen was born Jan. 25, 1996, in Minneapolis. Four years later, his older sister, Haley Allen, his parents, Cezanne and Demi Allen, and Bryson moved to Bainbridge Island in Washington. 
As a child, Bryson was the type to stand up to bullies, bring spiders outside instead of killing them and remind others to marvel at the sky. However, he was not a thrill seeker, Cezanne said.
Once, when he was 3 or 4 years old, his family took him to a slide that went down a mountainside. He refused to go down until his mom made him go with her. It took a push, but he found out how fun it was.
Bryson discovered his passion for the outdoors on his family's first backpacking trip in the Three Sisters Wilderness in Oregon. Bryson looked up at a snow-capped mountain and in that moment, the awe and wonder of nature clicked for him, as he would later write in a high school essay.
"He felt a sense of the divine out in the wilderness," Cezanne said. 
Bryson came to the University of Montana for college, where he participated in the first-ever Freshman Wilderness Experience (FWE). He also took a climbing class, and before long, he was the one teaching it. He was a FWE leader throughout his years at UM and earned his wilderness EMT license. He immersed himself in the community of adventure he found in the Outdoor Program. In 2018, he graduated with a degree in wildlife biology and the University Scholar Distinction from the Davidson Honors College. 
After graduating, he let his love for adventure lead him to beautiful places. He led guided trips with Northstar Trekking in Juneau, Alaska, in the summer. He  helicoptered into Mendenhall Glacier twice a day to guide tourists. In the winter, he worked at Alta Ski Lodge just outside of Salt Lake City, so he could ski on his off hours.
Bryson almost never posted on social media or bragged to people about his accomplishments. He had always been quiet, but he lit up whenever he talked about climbing. His closest friends and family said he never said no to a challenge, and he tackled each one with positivity. He recognized the beauty he surrounded himself with, and helped others to see it as well.
Bryson's girlfriend, Samantha Pelliciotta, spoke at his celebration of life in July. She said that in the moment before he died, he had it all: love from her and his family, friends he could trust his life with and a conquered climb he'd been dreaming of.
"I read this thing on the internet, and it said 'When people pass in sudden accidents or crazy things that can't be explained, it's because they figured out the meaning of life, and the world took them before they could tell anybody else,'" Pelliciotta said. "And that's really how I pictured him. He figured something out a little too soon, and he didn't get to share it."
Bryson's family and the Outdoor Program set up a scholarship for FWE: The Bryson Allen Wilderness Fund. Their goal is to raise $29,000.