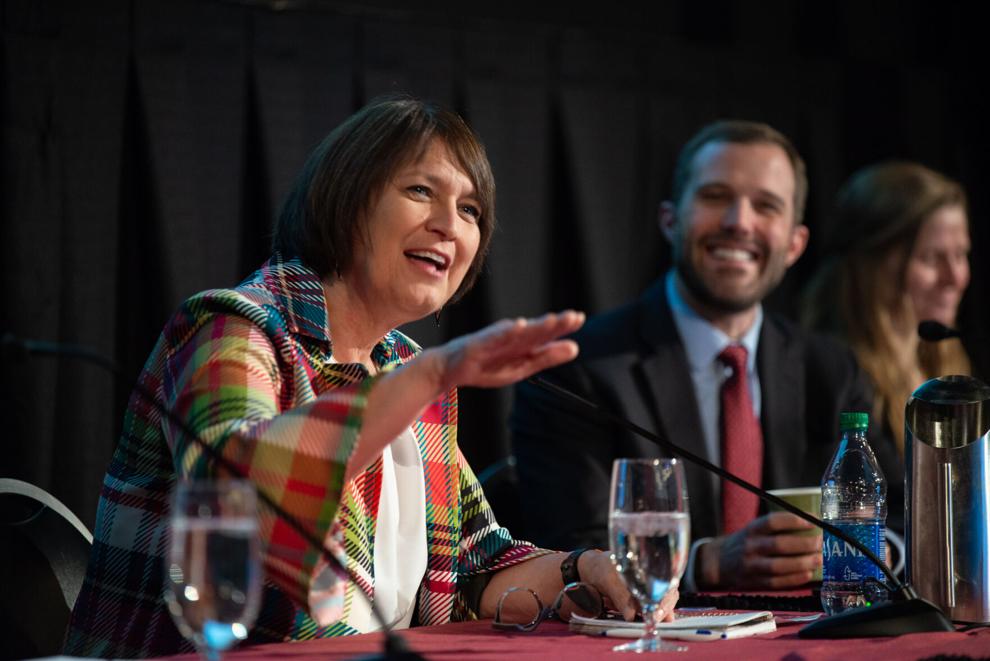 Before high ranking diplomats addressed the future of democracy, at the annual Mike and Maureen Mansfield Lecture, former State Superintendent Denise Juneau and former Governor of Montana Marc Racicot focused on bridging the divide between political sides for the common good.
University of Montana President Seth Bodner joined the panel to discuss his views on democracy within UM's campus alongside Truman Scholar Beatrix Frissell, who introduced the speakers April 18.
The Mansfield lecture followed up Racicot and Juneau with a Zoom lecture from Former U.S. Secretary of State Condoleezza Rice and Michael McFaul — the featured speakers. Rice and Mcfaul spoke about democracy and the ongoing conflict between Russia and Ukraine to more than 900 Zoom attendees and an at-capacity UC Theater.
Frissell, the co-captain of the cross-country team, is majoring in political science and environmental science and sustainability. She was one of 58 students across the nation named Truman Scholars in 2022. The scholarship is awarded to students who demonstrate academic excellence, outstanding leadership and a commitment to public service, according to Bodner.
"As our country faces pernicious polarization and conflict, we battle threats to our democracy that demand to be taken seriously," Frissell said. "It is open conversations like these that will ultimately sustain the shared values we hold as Americans."
Bodner referred to the University as a "fierce protector" of informed and respectful dialogue. He said the University is a place where people can disagree, a place where there can be debate, but to do so on the basis of respect and common sense.
"We live as we all know in a very hyper-partisan world," Bodner said. "We live in a world that has 24 hours a day seven-day news cycle, we live in a world of social media and make no mistake about it. These are fueled by outrage and by animosity against the other side."
Juneau, a member of the Mandan Hidatsa Tribes and a descendant of the Blackfeet Tribe and the Tlingit and Haida Tribes, became the first Indigenous woman elected to a statewide executive office in the U.S. when she was elected as Montana's State Superintendent of Public Education in 2008. 
She said in her role as state superintendent she worked with young people across Montana who were not afraid to be engaged in respectful conversation.
"We often don't let them engage in conversations as adults because we think they can't handle it but I'm telling you they can handle it," Juneau said.
Juneau said the bedrock of democracy is free and fair elections and how people can be represented in government. She said the U.S. has a Congress not taking action, federal courts who don't want to engage, and state legislatures where it's a "free-for-all and food fight about voter rights."
"When we talk about the United States, everything seems to be a fight," Juneau said. "I remember in Montana when the biggest fight used to be around the Cat-Griz game, but now we have rural-urban divides in this country, we have a lot of strife around racial issues, gender, the culture wars across the country, and those issues are showing up on every ballot no matter where we look."
Juneau said inclusion always leads to opportunity and now that Americans have access and representation, they need to get that optimism back. The only way to stop "this assault on voting," according to Juneau, is if older generations hold the door open for the younger people, bringing them along to engage in change and conversation.
Racicot, elected Governor of Montana in 1992, sought to improve government efficiency and favored reducing government during his time in office. While serving his eight years as governor, Racicot eliminated two executive departments.
Racicot said lack of compromise in drafting policy is only one of the many ominous and unmistakable warning signs that a constitutional government is at risk.
"People who cannot talk to or listen to each other, who do not respect each other, who will not sincerely consider the thoughts of each other, who do not trust each other, and who cannot reason with each other– simply cannot live long in freedom," Racicot said.
Racicot voiced his concern about a devolutionary process that is "eroding" the confidence and belief in the capacity to govern ourselves and referred to the state of our democracy as "very very urgent moments."
Racicot referred to the state of the nation "in the throws of a challenge." He said that these challenges call upon each citizen of the U.S. and Montana to work with each other, to believe in each other and respect each other. 
Having patience and understanding that democracy works on the basis of compromise, he said, is what will allow public-policy to ultimately serve the people.
"It is our responsibility, each one of us, to make certain that we don't go down the path of devolution any further," Racicot said.