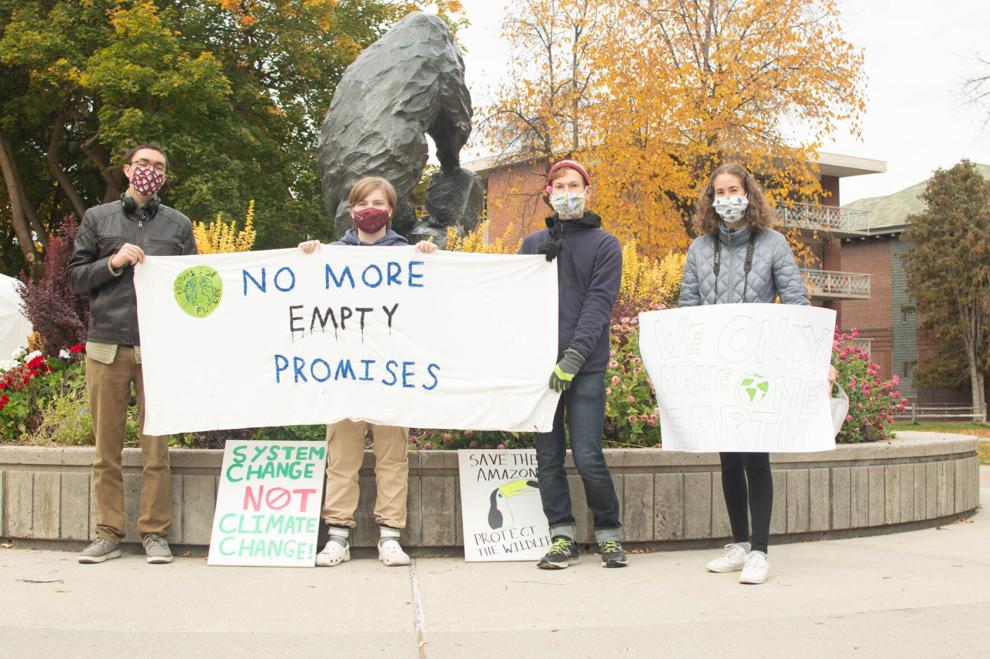 Two masked students sat in front of the Griz Statue Friday at noon surrounded by signs, a banner and a poster propped in the bear's metal paws that read "System Change Not Climate Change." 
The weekly climate strike, known as Fridays for Future, continued Oct. 29 as it has for roughly a year. There was no indication that the day before, President Biden had announced a framework for his "Build Back Better" plan that includes $555 billion for addressing climate change. 
Elani Borhegyi, a junior majoring in environmental science and sustainability, said they're grateful for the historic investment in climate change, but it doesn't go far enough. 
"I'm really frustrated with it because it's not nearly enough, but I understand that this is the compromise that had to be made in order to get something passed," they said. 
Borhegyi is one of the handful of students who populate the Friday demonstration Gabbie Byers, a sophomore at UM, began last fall. 
Byers said the investment could be a good starting point, but what's most important is what is done with the money. 
"There's been, so far in the government, a lot of talk and no action," she said. 
According to the White House's website, the $555 billion includes a tax credit that'll lower American-made electric vehicle prices by $12,500 for middle class families and create a 300,000 member "Civilian Climate Corps." 
Byers said she began the group alone after discovering the organization, which originated in Europe. She said the group's goal is encouraging renewable energy in Missoula and at UM. 
One thing Byers said could be done locally is transitioning all city and University buses to electric. Borhegyi said another small step is making the University's heating and cooling systems more energy efficient. 
But the group's consistent presence on the Oval hasn't led to substantial engagement.  
Byers said most people just walk past the demonstration. The trend remained Friday as only a few people stopped by and some only snapped a picture of the Griz Statue with its climate sign before walking away. 
Most students who stopped by did so on the statue's other side where fraternities tabled and threw a football around. 
Byers said she tries to be understanding that some are not educated on the issue and others may not be comfortable approaching them to talk. She said she continues each week because of her passion for others,the environment and for her mental well-being. 
"I just care so deeply about it," she said. "If I was to do nothing then I would feel like I'm a bad person."
Borhegyi said they've only talked with a handful of people during the climate strikes. 
Byers said she and every other climate activist feels ignored by leaders from the federal level down to the University. She said campus leadership has not reached out to the group. 
Borhegyi said more has to be done and systemic change is needed. 
"I think what we really need is systemic change in which we uproot the politicians that don't care as much about our future and instead vote for politicians that really give a shit," they said. 
According to the Intergovernmental Panel on Climate Change's August report, the Earth's surface temperature has increased more in the last 50 years than any 50-year period in the last 2,000 years.