Walking into the University of Montana's Modular Data Center, an unassuming building tucked away on the northeasternmost edge of campus, is like entering the Death Star, or some equally impressive and confusing techy conglomerate. Fans whir loudly and lights blink at random intervals. The walls are filled on all sides with removable panels, each representing a particular research project being conducted at the University.
When asked where the actual, physical UM Shared Computing Cluster (UMSCC) is, Zachary Rossmiller, who's directing this particular tour, smiled.
"You're inside of it," Rossmiller said.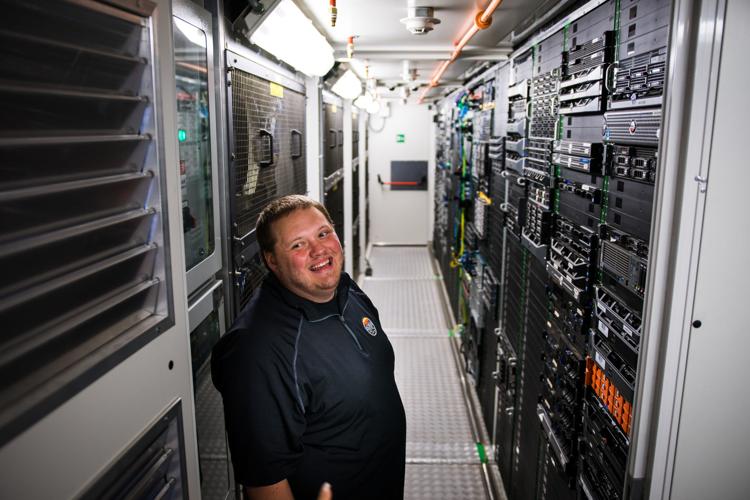 Rossmiller may be the bearer of the world's coolest title, "executive director of cyber infrastructure." He was crucial in the development of the data center, the only self-sustaining and environmentally friendly facility in the region. He also wrote the grant application that won the University of Montana $400,000 for a new supercomputer in February 2019.
The grant, which Rossmiller described as more difficult to complete than his master's degree, was written to expand the UMSCC, housed inside the Modular Data Center. The data center itself played a large role in the grant, Rossmiller said.
UM was the first university in the United States to use this kind of environmentally friendly data center, according to the Datacenter Dynamic Archive. The facility has been able to shut down six inefficient and redundant server rooms across campus.
In the summer, the data center uses outside air to maintain its temperature, and in the winter, heat from the machinery is recycled back in. While Rossmiller said the data center is nothing like artificial intelligence, it is self-correcting and environmentally sustainable, two qualities that made the supercomputer grant more attractive.
"We're always trying to figure out how to be as green as possible," Rossmiller said. "And that's important to lots of people."
The supercomputer itself, which will be funded by the National Science Foundation, will aid deep learning and machine learning, Rossmiller said —things like DNA structuring and national disaster modeling. The machinery will act as a virtual server, allowing individual persons or research groups to work on their own projects but store them in a collective location.
For UM, this technology will be a huge update, Rossmiller said. Maybe not nationally, though.
"[Other schools with highly-advanced supercomputers] would laugh at me, I think," Rossmiller explained. "They'd say, 'That's cute. That's what we had 15 years ago.'"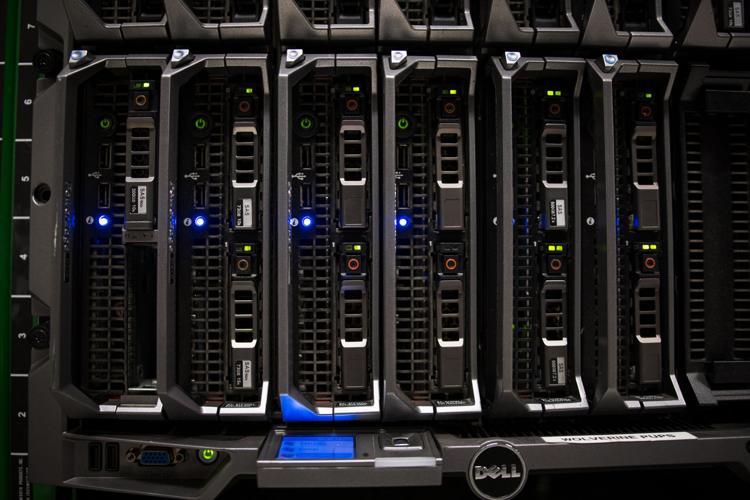 Regardless, Rossmiller is excited at the possibilities this shared computing cluster will facilitate.
"I'm excited to see where this takes us in general," Rossmiller said. "I've always wanted IT to have a large presence in research. What we're going to accomplish with this is having a centralized server for researchers, students, whoever. It will be available for whoever needs to use it."
Scott Whittenburg, director of creative scholarship at UM, said the supercomputer will help attract both external funding and faculty and research personnel. He also mentioned students and staff are already working on projects at the University.
"Projects [at UM] range from studies of the Greenland ice sheet to a repository for NASA satellite data," Whittenburg said. "[They all] require visualization, high-speed computing and large amounts of storage that this system will provide."
Whittenburg added that with the addition of the supercomputer to the cluster, it will become one of, if not the largest, computing clusters in the state.
According to Rossmiller, this will also open the doors to external collaboration with researchers and prospective faculty, which is something that UM could improve.
"I've been trying to drive home this point: We're trying to build something special here," Rossmiller said. "We're trying to create something. The grant is the first domino, the first stepping stone."
Jeffrey Good, associate professor of biological sciences at UM, is studying evolutionary genomics. He was among four principal investigators helping Rossmiller with the grant.
Good works with data sets of genome sequences. A human set, for example, contains three billion base pairs. To do this, he needs to generate a lot of data.
"The things that have always been missing at the University of Montana are ways to generate that data, and a centralized data computing presence," Good said.
Good also emphasized how important it is for a university to be research-oriented.
"Otherwise you have to develop [your research] on your own," he said. "And I'm a biologist, not a computer scientist."
Good said he was excited for the potential shift toward a more IT-focused campus, which he hopes will lead to more University support.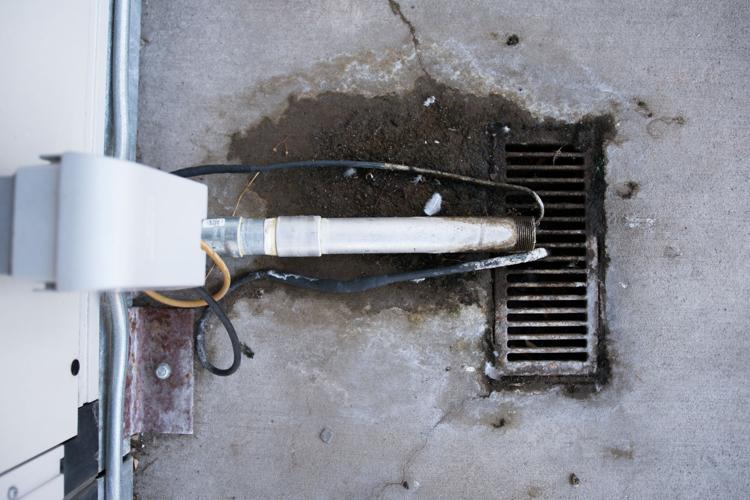 "We've been screaming about it for 10 years," Good said. "So hopefully people start to notice."
No exact date has been set, but Rossmiller said the supercomputer will arrive at UM in the upcoming few weeks.