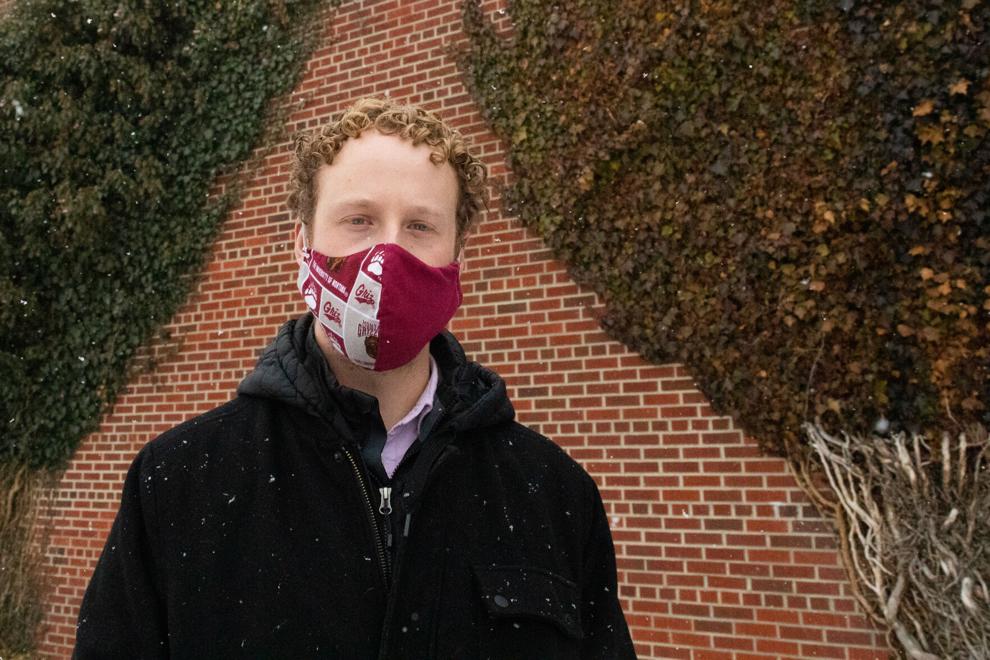 For Dac Cederberg, it was a shock being back in a classroom in January after nearly a year of the COVID-19 pandemic. 
As a student teacher, Cederberg has spent nearly a month at Sentinel High School in Missoula. 
"In this time when a lot of us have been so isolated, it's been great to meet students and get a chance to connect with them," Cederberg said. 
Cederberg decided he wanted to teach after obtaining his undergraduate degree in English literature. Following graduation, Cederberg moved to Spain and taught English, and worked at a theater camp during the summer. 
"I wanted to do that for forever, and then realized I could," Cederberg said. 
He then applied to get his masters degree in education at the University of Montana, with the goal of becoming a teacher. 
Cederberg said his experience as a student teacher has allowed him to make connections with students, but doing this during a pandemic brings challenges. 
Dani Smith, the director of field experiences at UM's School of Education, said those in the student teaching program this year have been anxious about in-person placements. Typically, Smith said these placements can be international, out of state or in state, but this year has been different. Those wanting an in-person experience have had to choose mainly from in-state placements.
In addition, Smith said, there's been uncertainty about how the situation in the classroom will look day to day. 
For example, during Cederberg's first month of student teaching at Sentinel High, Missoula County Public Schools has been following a hybrid model for students' presence in the classroom. According to the MCPS Return to School overview, the hybrid model splits students into two separate groups based on their last names. Each group attends school for two days a week, with the extra day dedicated to cleaning the school facilities. 
At the last Missoula school board meeting, the board decided that high school districts and elementary districts will be transitioning to the next phase of their reopening plan. Phase 2 will bring Sentinel High School to nearly full capacity. According to the MCPS website, the transition period will start with four-day weeks. Sentinel planned to transition to Phase 2 on Tuesday, Feb. 2. 
For Cederberg, this means that hallways will be filled with more students. Cederberg said it's tough to keep distance with these conditions, but he thought students and staff at Sentinel are doing a great job following COVID-19 safety precautions.
Smith said the uncertainty on a day-to-day basis, like the changing COVID-19, has not been a total negative. 
"One of the qualities you need to have as a teacher is flexibility," the School of Education's Smith said. "Flexibility and versatility have been challenges our candidates have risen to."
Cederberg concurred. With the hybrid model, he said he has had to learn how to operate Google Classroom, teach virtually and provide online assignments. He also said all of the basic principles of teaching he's learned at UM still apply, whether the school is remote or in person. 
"Good teaching is good teaching," Cederberg said. 
In the future, he plans to incorporate some of the new virtual learning activities into his classes, specifically online assignments. 
Smith said that while this period has required flexibility and learning on the parts of student teachers, their job prospects for the future are good. 
"Teachers have really proven how resilient and flexible they can be during COVID," she said. 
She hopes the overall estimation of teachers will increase as a result of the pandemic. She also said there is a great need for teachers right now, and employment prospects for future graduates, like Cederberg, are hopeful. 
This is good news for Cederberg, who hopes to one day be the head of his own drama department. He said that while this kind of position is difficult to obtain, he is gearing up to apply for jobs in the coming months. He added that he would be willing to move in order to meet his future professional goals. 
For now though, Cederberg must brave the crowded hallways of Sentinel High.