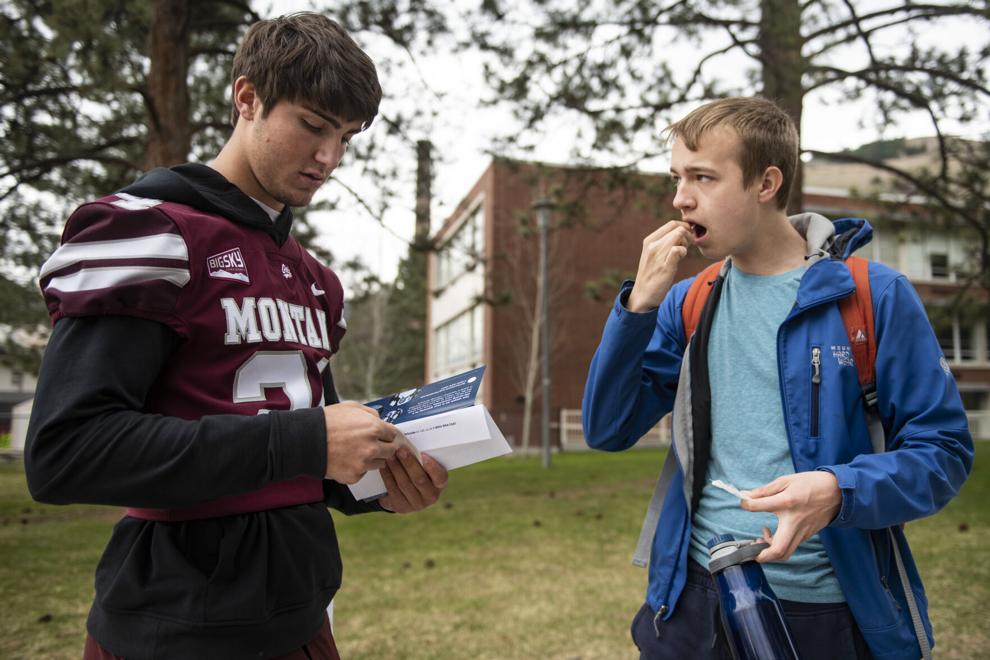 University of Montana football player Kale Edwards stood behind a small white folding table, his imposing height making it seem even smaller. A small stack of envelopes fanned out across the table in front of the redshirt sophomore linebacker.
"Do you have five minutes to save a life?" he called out to passersby. 
Most people present at this, the quietest time of day in the University Center, were working in the nearby UC Market and politely declined. A few students in transit between classes stopped to hear Edwards' pitch. But it didn't stop the young athlete from trying.
Edwards, along with a contingent of other football team members, was collecting saliva samples for Be The Match, a nonprofit foundation which seeks to match potential bone marrow donors with people suffering from life-threatening blood cancers.
"We're getting as many people as we can into the registry and they're going to see if they can be the match for individuals with leukemia or sickle cell anemia," Edwards said.
Bone marrow transplants are used to replace unhealthy blood-forming cells with healthy ones. According to Be The Match, bone marrow transfusions can be used to treat more than 70 diseases, and there is a big need for a diverse pool of potential donors.
Only 30% of people have matching donors within their immediate family, and the other 70% must rely on the off-chance of finding a match within donor networks.
"It's hard to match the right people; even identical twins don't always match," Edwards said. "So, as many people as we can get involved with is kind of our goal."
Be The Match and other foundations seek to expand the pool of potential donors so that 70% of patients have a greater chance of finding a donor and a better chance of surviving. The foundation has been teaming up with collegiate sports to raise awareness and inspire people to register for years.
Griz football has hosted donor events in the past and encourages every member of their team to register. Although they haven't had an in-person donor drive since 2019, Head Coach Bobby Hauck said they've continued to register as a team.
"We've been selected as donors, I don't know, five or six times I believe," Hauck said.
According to Hauck, a few past players and even an assistant coach were found to be matches in the past and donated bone marrow through Be The Match. He lauds the program as an easy way to help save a life.
"If you are selected as a match then it takes about a half hour; it's a blood transfusion. It's not hammering a needle into your hip bone anymore," Hauck said. 
Anyone between the ages of 18 and 40 can register as a potential donor. A simple mouth swab test collects all the data needed to find matches and the foundation contacts donors if a match is found.
"We're all part of it, and the coaching staff," Edwards said. "Everybody that's between 18 and 40. So, some of our coaches can't."
People interested in registering as donors can do so at in-person donor drives like the one in the UC, or by signing up to receive a sample kit by mail at bethematch.org.