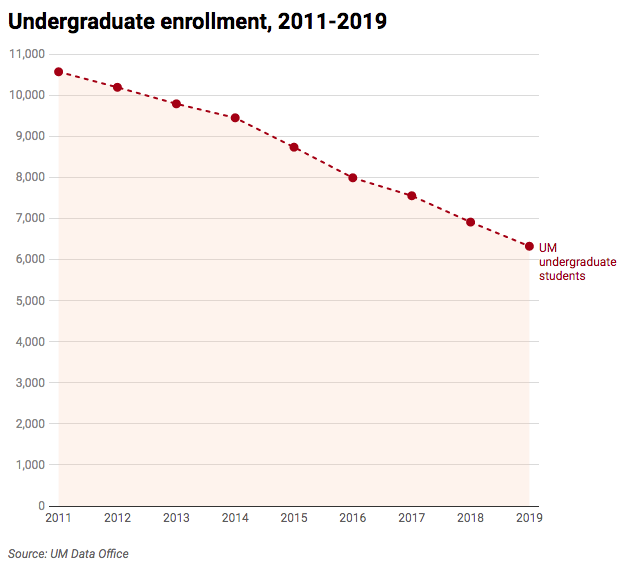 The number of students attending UM has dropped for the eighth year in a row. 
Since enrollment started declining in 2011, less revenue from tuition has led to cuts to faculty and staff, terminating programs and shrinking resources for students. The number of undergraduate students has declined by 40.2% since then, when it peaked at 10,567.
Undergraduate enrollment is now at 6,321 students, an 8.5% decrease from last year, according to a report published by the UM data office. Despite this, UM spokesperson Paula Short said this is a positive report for the University. 
Incoming freshman enrollment increased by 2.7%, with 1,065 students in this year's incoming class. 
Most notable, according to Short, is the increase in first-year retention, which is the number of students who are still attending UM in their sophomore year. First-year retention increased from 68.4% last year to 71.4% this year.
Graduate and law student enrollment both saw increases as well, at 4.2% and 6.3%, respectively. 
"Those gains are small, they're incremental, but those gains are where we grow from here," Short said. 
UM officials predicted an enrollment drop this year, and according to Budget Director Stacey Eve, the University planned for fewer students when making its annual budget. 
"From my perspective, hard stop, no unexpected cuts," Vice President for Operations and Finance Paul Lasiter said about how enrollment affects the University's budget. 
Overall enrollment dropped 4.3% to 10,962 students who are registered for classes and have either paid their registration bills or have bills pending this year. 
Missoula College enrollment only budged slightly, decreasing by 0.3%. Freshman enrollment, however, dropped by 7.7% to 289 students at the campus this year. 
Enrollment numbers likely will not be set in stone until the end of the term in December or January, Short said. 
Veteran student enrollment decreased by 6% on UM's main campus and did not change at Missoula College. Native American student enrollment increased by 4.5% at UM and by a whopping 31.5% at Missoula College. 
This story will be updated as more information becomes available. Read UM's fall census report here.