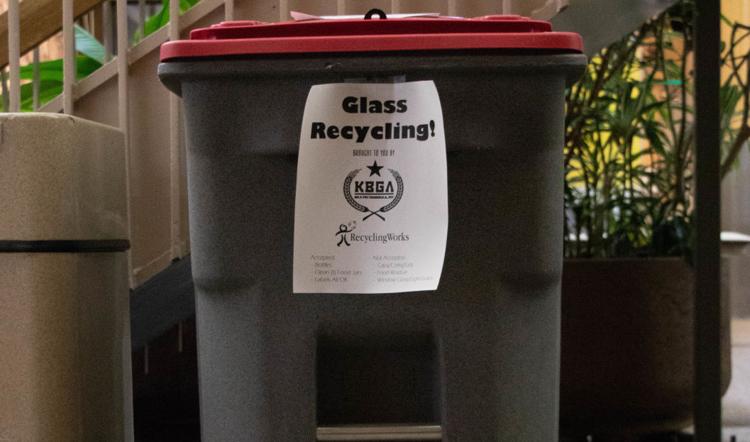 KBGA and a local non-profit partnered up to bring glass recycling bins to the University Center, a service offered nowhere else on campus.
Second-year student Madison Olsen is the KBGA volunteer coordinator and outreach manager. She also works at Recycling Works Inc., the only glass-recycling company in Missoula. The company is a benefit corporation, which got its start in October 2018 under the Missoula Interfaith Collaborative (MIC).
The project started when the KBGA staff wanted to get a glass recycling bin in its office. "We were kind of like, 'Why stop there?'" Olsen said. "I have been wanting to see glass recycling on campus for a really long time."
KBGA was able to sponsor two bins in the UC by mentioning Recycling Works during air time. One is located in the atrium across from The Market and one is in the Branch Center's kitchen area.
"We convinced [the University] that this was something amazing for the students to take advantage of, and something good for the University as a whole," Olsen said. "So hopefully it will grow to the rest of the University, not just the University Center. But for now, that's what KBGA is bringing to the table."
Recycling Works also does pickups at residences and larger companies around Missoula. The company drives all of the glass it picks up around town 500 miles to a processing plant in Utah, the closest one to Missoula. Recycling Works is working on a carbon emissions offset program to counteract its own emissions. It also uses funds from curb-side pickups to rehouse homeless people in Missoula through the MIC Family Promise program.
Recycling Works operations manager Sarah Nesci said that in addition to the long drive, other factors make glass recycling unviable for most recycling companies in Missoula. Glass is heavier, and it's also a safety hazard, which makes sorting more difficult. Recycling doesn't work if materials are cross-contaminated.
Nesci says getting glass recycling all around the University is a long-term goal, but it will take a lot of work. She says students need to be educated on the importance of putting things in the correct bins.
Olsen said she checks the Branch Center bin often. "Whenever I check it, there's plastic in there," she said. "So, I have to fish it out and that's really annoying. So I hope people will start actually take it seriously and putting glass in there."
Despite the factors making it more difficult, glass recycling has benefits.
"Things like plastic, paper and aluminum, you can only reuse them so many times before they're just not usable anymore to make new material," Nesci said, "whereas glass doesn't have that problem You can break it down and reuse it again and again."
Materials accepted by Recycling Works are glass bottles and jars. It's okay to leave on labels, but not caps, lids, corks or food residue. Also, lightbulbs and window glass are not accepted.