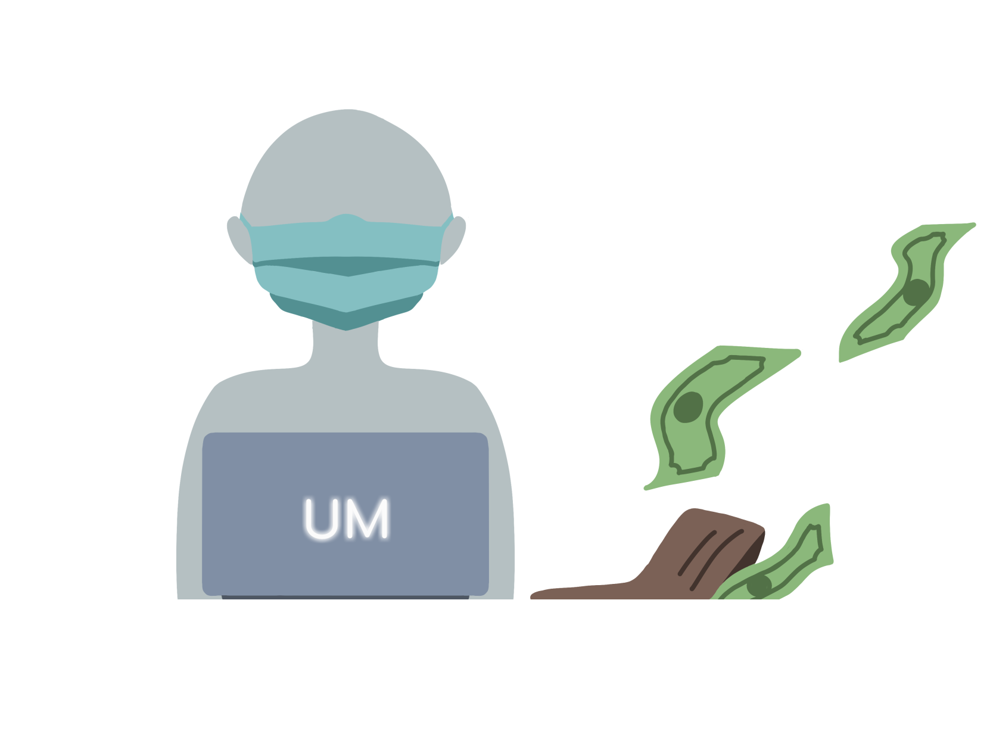 The University of Montana's latest fee proposal would increase student fees by more than 7% next year, with an estimate that tuition could increase by roughly 3%.
The proposal, which would increase fees by $77 per semester, was presented to ASUM for feedback on March 3. The fee proposal is a revised version of one presented in late January that would have increased fees by a little less than 7%.
Former ASUM Senator Vince Tarallo spoke out against the fees during the meeting. He said the financial burden families have dealt with the past year makes it the wrong time for a fee increase.
"Given all of that, what's going on, for the University to come at us to say, 'Hey, we're going to hike your tuition, hike fees, pretty much across the board, and possibly add one or two fees on top of it all' and just kind of act like 'Oh yeah, no big deal.' It was insulting. I mean it's a slap in the face, it's ridiculous," Tarallo said.
The proposal would have some fees remain the same, such as the registration and transportation fees, but it also includes significant increases in the facilities and technology fees — $15 and $11, respectively. The proposal also adds two new fees: a $21 fee for the Student Advocacy Resource Center, and a $25 arts and culture fee.
The new SARC fee would reduce the health service fee by $6, and make the funding for SARC and the Curry Health Center separate from each other. The arts and culture fee would allow students free entry into events like plays and dance performances.
Tarallo said he has nothing against the arts, but he's paid less than a total of $25 in his three years at UM seeing shows. He said he wishes there were more opt-out fees in general, such as the athletics fee.
Noah Durnell, a current ASUM Senator, spoke to the Kaimin in his capacity as a student. Durnell said the SARC and arts and culture fees are important.
He highlighted the work the Curry Health Center has done for students over the past year, and said creating a separate SARC fee would better financially support Curry Health Center.
Durnell said the arts and culture fee is key to helping promote diversity on campus.
"I think it's a time where we need to reflect on how important cultural diversity is to students on campus," Durnell said.
He said unless there's support for the fee, students will continue to have limited access to culturally diverse and unique events.
Durnell said that, while COVID-19 has affected everyone financially and socially, some groups have been particularly affected. He said COVID-19 is an example of why fees exist and how they can help create equity regardless of gender, race or socioeconomic status.
Durnell pointed out the health service fee, which allows students to get medical care at a reduced cost that some students may not be able to afford at full price.
He said he understands that the fee increases come from a place of need, but he's not in support of the entire student body experiencing an increase of 7.41%. He said he would be in support of a smaller increase in the range of 3-5%.
"I understand that the University's in a tough spot. I don't want them to be," Durnell said. "If they need fee proposals, I don't want them to be hyperbolic in their requests. I want to make sure that it's extremely practical, that every dollar has a really good use and that every dollar is transparent to students."
Dave Kuntz, the director of strategic communications at UM, said the University works hard to maintain its academic standard and services, while keeping UM affordable compared to other public universities in the West. He said the fees address rising costs in necessities such as the price of building materials, fuel and healthcare.
Kuntz said the technology fee increase would cover additional costs associated with the University shifting to remote last spring and remaining hybrid this semester, including licensing and maintaining technology.
"It's never a good time to raise fees, but it's something that the University's always conscious about, and that's why we try to do it in the most modest fashion possible," Kuntz said.
Kuntz said the proposed increase in fees are all specifically for "student-facing support services" and would not go toward bonuses or salaries, unlike tuition. He said tuition goes to all parts of campus, including salaries.
The latest proposal included a tuition increase of roughly 3% for resident and non-resident students, an increase of $80 and $296 respectively. Kuntz said this figure was just an estimate but tuition would likely experience "a modest increase" because there has no been no tuition freeze included in the state's budget this year, unlike in the past. He said tuition rates would not be determined until after the state budget was finalized in May, but he said over the past ten years tuition rates have remained "competitively low."
According to the Montana University System's website, UM has had the state's highest mandatory fees for in-state, full-time students since the 2010-2011 academic year.
One of the other mandatory fees that might increase is the facilities fee. Paul Lasiter, vice president for operations and finance, said the facilities fee would help support maintaining the current buildings on campus and establish the cash flow to help the University get started on its multi-million dollar Student Life Campus Plan rather than waiting a few years.
The Student Life Campus Plan includes renovating Knowles Hall, creating a new dining hall and updating signage. Projects like this are what Tarallo sees as misguided at the present time.
"The Food Zoo's a great place, [the] Lomasson building's a great place, why do we need to be tearing it down right now and dropping money on that?" Tarallo said. "And in the same breath telling students, 'Hey, we're having a really hard time with money. You need to pay more in tuition, even though you've had this last year and a half of just financial distress.' It doesn't make any sense."
Tarallo said he thinks the University has the best intentions but is likely looking at things from a narrow perspective. But he thinks it's not completely the University's fault, citing the lack of pushback from ASUM on the proposal.
The revised proposal was received well by most senators who spoke publicly at the March 3 ASUM meeting, and much of the positive responses focused on the new fees, particularly the arts and culture fee.
Several members said it will be important to explain to the student body where the fees will be going.
The arts and culture fee will be included as a referendum on the ballot in April with ASUM senate and executive candidates. If the fee gets majority support, ASUM can endorse it before the fees are presented to the Office of the Commissioner of Higher Education on April 28.
Kuntz said the University realizes that the cost of college is rising and how this especially affects UM's large population of first generation college students and those utilizing Pell Grants. He said the University is always looking for scholarship opportunities to offer students.
"We'll continue to fight and scrape for any sort of scholarship support that we can for our students," he said.