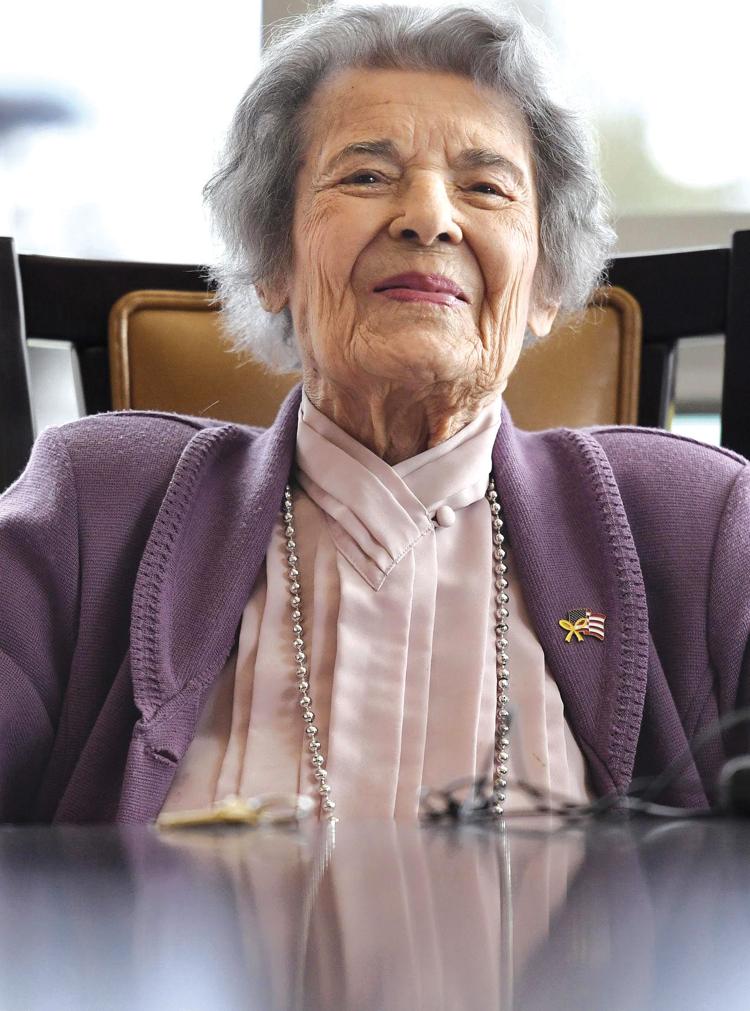 In 1978, long before students could register for classes on Cyberbear, first-generation freshman Jed Liston struggled to get into his classes. After seeing a sign denoting another full class, he heaved an exasperated sigh.
"Having trouble, big man?" a small woman asked, tugging him down by the shirt to her eye level.
Liston shared his dilemma.
"Come along with me," she said. "I know some people here."
She dragged him around the Adams Center gym to the various department tables. She talked professors into letting him into their classes, building him a schedule.
Then she introduced herself as Emma Lommasson.
Over 20 years later, in 2001, then University of Montana President George Dennison named a building after Lommasson. Liston was working in that building at the time.
On the day of the building's dedication, Liston was heading inside after his lunch break. He spotted a car driving slowly, and, thinking the people were lost, he waved them down. The car pulled up next to him and rolled down the window to reveal Lommasson inside.
"Well, hello big man," she said to him. "Do you think if somebody was going to get her name on a building that you could find her a parking place?"
Emma Bravo Lommasson died Nov. 20, 2019, at 107 years old.
Lommasson was born Dec. 10, 1911, to Italian immigrants. She was raised in Sand Coulee, Montana.
Her first language was Italian, but she made it her mission to master English during grade school. She succeeded, but found that her true passion was for mathematics.
Lommasson graduated from Centerville High School in 1929 as valedictorian before setting off to start a college career at the University of Montana that would shape the rest of her life.
Lommasson took the courses for an education certificate, majored in mathematics and minored in chemistry at the University of Montana — when it was still named Montana State University. She graduated in 1933 and went back to Sand Coulee to teach math, Latin and Spanish at Centerville High School.
She returned to Missoula in 1937 to continue doing what she loved — learning. She worked under mathematics professor Dr. N. J. Lennes and helped him type and edit his math textbooks. She also continued her education and received a master's in mathematics in 1939. That same year she married Tom Lommasson and helped raise his 14-year-old son.
After completing her master's degree, Emma taught classes in the math department. During WWII, she also taught classes designed to prepare students for the U.S. Air Force. Once the war ended, she became the veteran's adviser and assistant registrar.
Eventually Lommasson was promoted to the registrar and assistant director of admissions and records. She also advised a women's auxiliary drill team called the Air Force ROTC Angel Flight. She retired in 1977, although she continued to volunteer as a student adviser for another decade.
Throughout her life, Lommasson won many awards, including the Distinguished Alumni Award. But she stayed humble, said retired professor and Lommason's longtime friend Martin Burke. To Lommasson, it was all about the students and helping them reach their potential, he said.
She always had enormous Griz pride, listening to or attending almost every football game. She met all but the first four of UM's 19 presidents. She ate dinner at the Food Zoo on her birthday each year and told her stories to the staff. She also had enormous pride for all of the students she met in her 40-plus years at UM.
She had an incredible memory and ability to make people feel important, said math professor Mark Kayll. His friendship with Lommasson began on her 100th birthday. When he congratulated her, she turned the conversation around and made him feel special, Kayll said. After that, he started visiting her in her retirement home and calling her to talk.
"She was a fantastic role model of the sort of person that we'd like to be," Kayll said. "In her optimism and her positivity about life, and her positivity about people."
Emma often told people that the secret to her long life was always staying positive and surrounding herself with young people.
On her 106th birthday, Emma said, "The University's been my life and the University students, my number-one love."